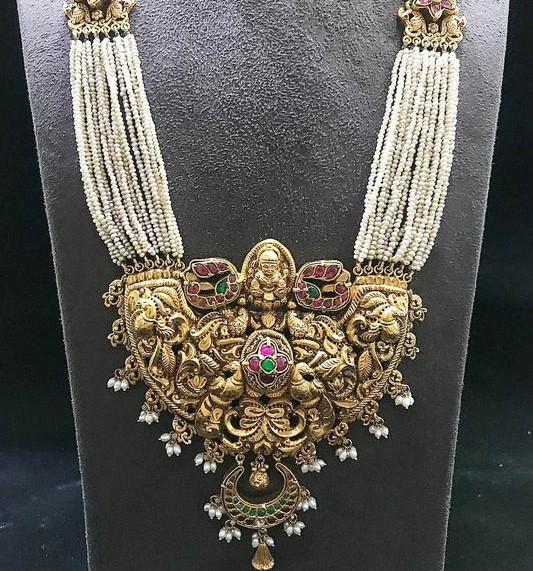 Pearl is probably the most favorite gemstone for most of the women. The pleasing look and its versatility to suit several attires makes it the beloved choice.
Pearls are unique among gemstones because they don't arise from the depths of the earth but from the sea. They require no special cutting or polishing to maximize their lustrous beauty, which has been treasured since ancient times and ensures that pearl jewelry is always in style.
Pearl necklaces draw out the inner beauty and achieve a look of classic elegance. Have a look at these splendid pearl Haaras and get inspired!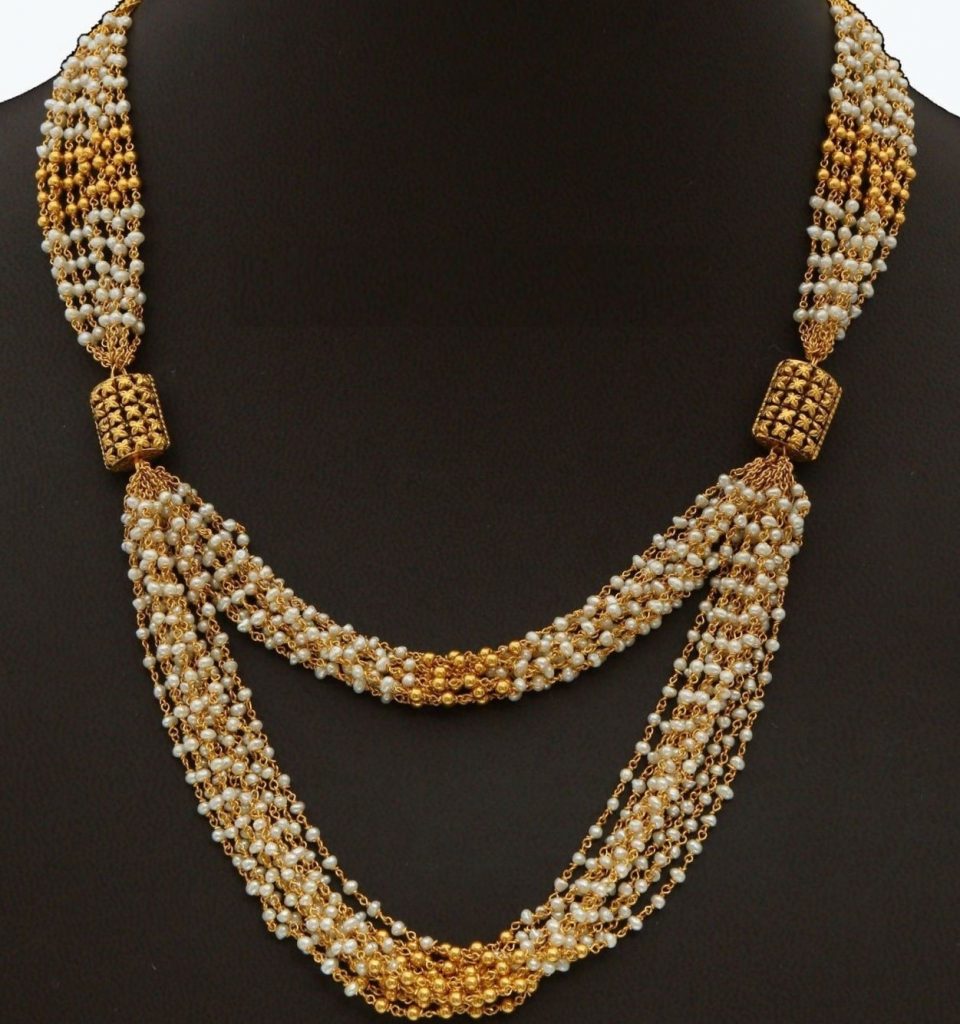 Isn't this a chic ? This stylish haara with small pearls is exquisite. The knot kind appearance with a rectangular side pendants gives a modish look. This pattern in entirety is unique and bekoning!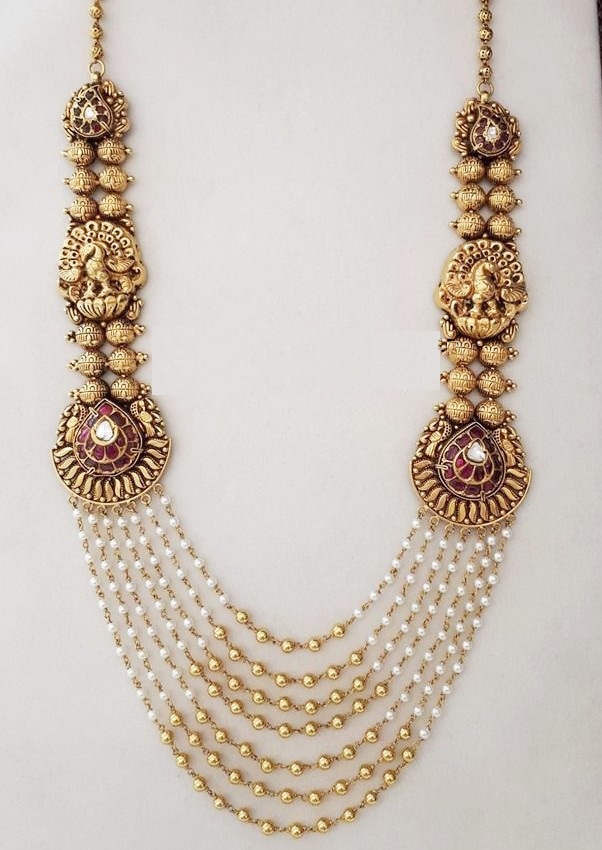 This traditional and majestic haara with peacock motif is enticing. This jewelry in antique finish steals a regal look. Further, the alternating gold and pearls layers in the bottom adds to its elegance!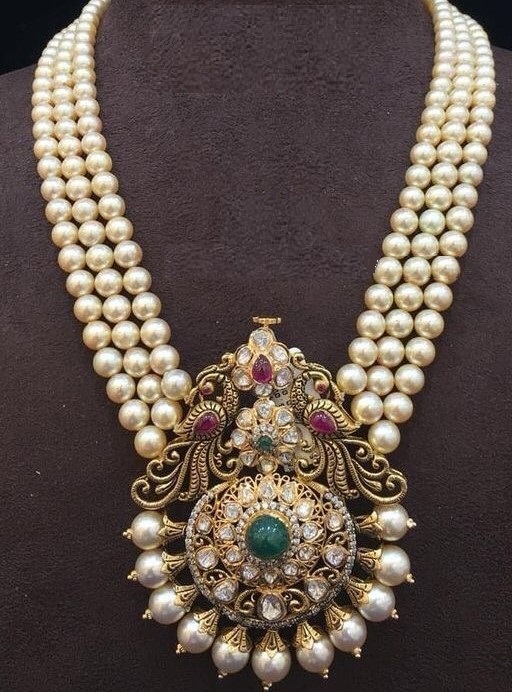 Gorgeous pearl haara made with big south sea pearls. This necklace with a giant antique pendant in peacock motif is stunning.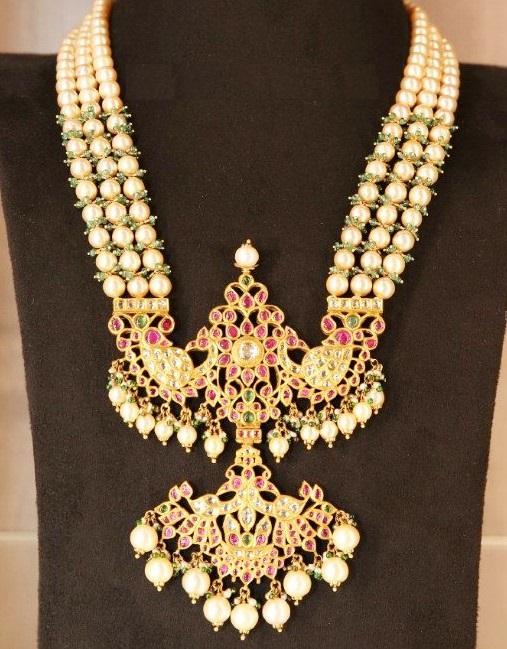 This three lined pearl haara with a traditional pendant is magnificent.The small light green beads around pearls is adding the glam. Further, rubies studded in this necklace makes it a captivating one!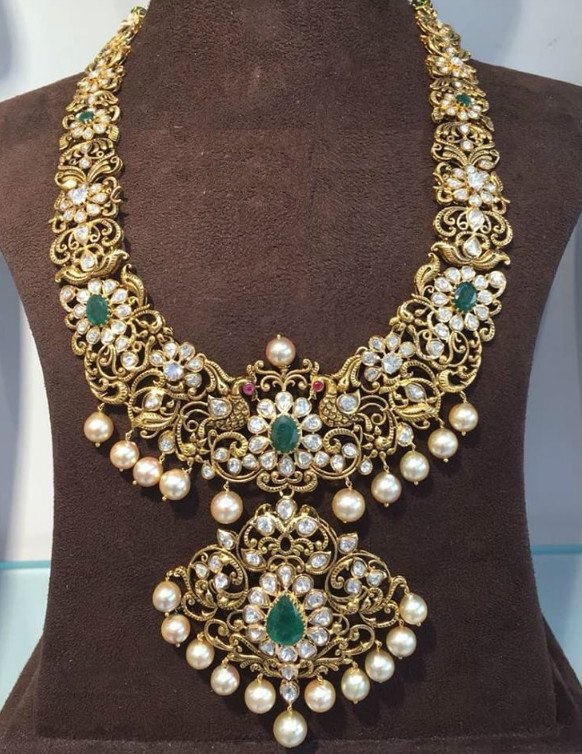 The fine craftsmanship of this majestic nakshi design necklace in peacock motif is worth all the praise. We loved the elegance that the bright emeralds is adding to this regal masterpiece. This necklace would definitely make your jaws drop!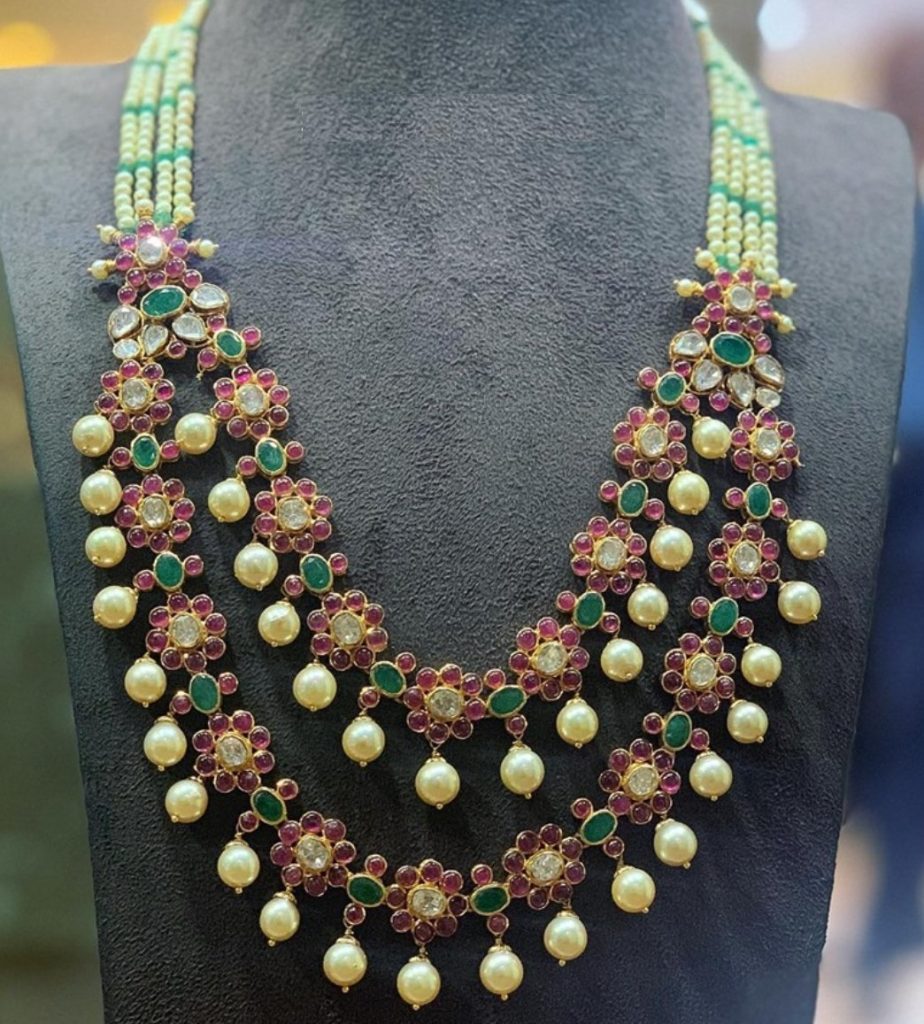 This gorgeous floral pattern necklace in rubies interlocked with emeralds with dangling south sea pearls is breath taking! You would definitely steal the show if you step out with this ravishing neck piece.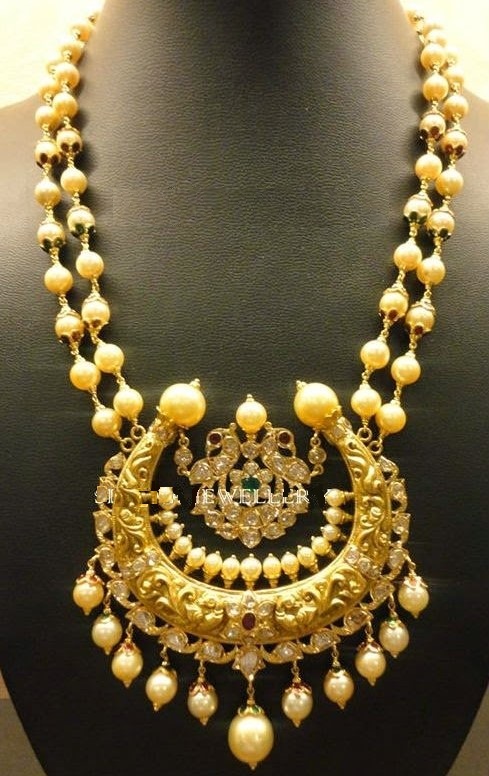 A traditional, yet trendy, necklace in 22k yellow gold, featuring a chandbali pendant worked in antique style. Set with real stones, uncut diamonds and strung on South Sea pearls .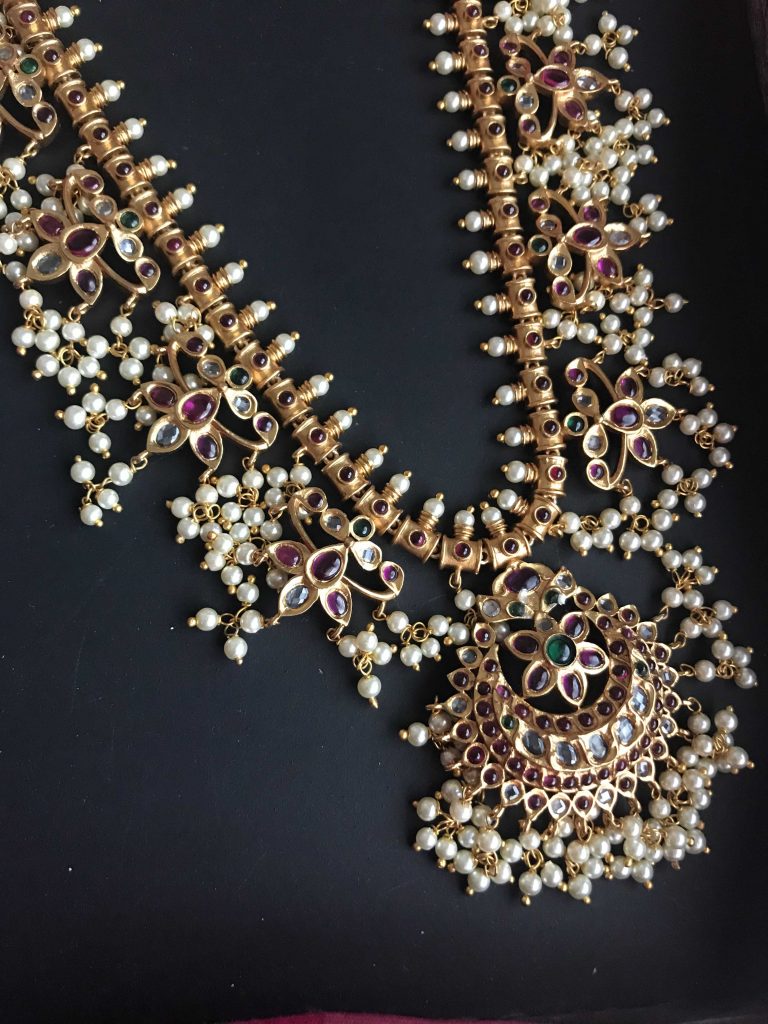 This guttapusalu style necklace is a traditional style originated in coastal areas of Andhra Pradesh. They are usually made with bunch of small pearls or any colored beads. This one with a traditional chandbali pendant embedded with rubies is splendid.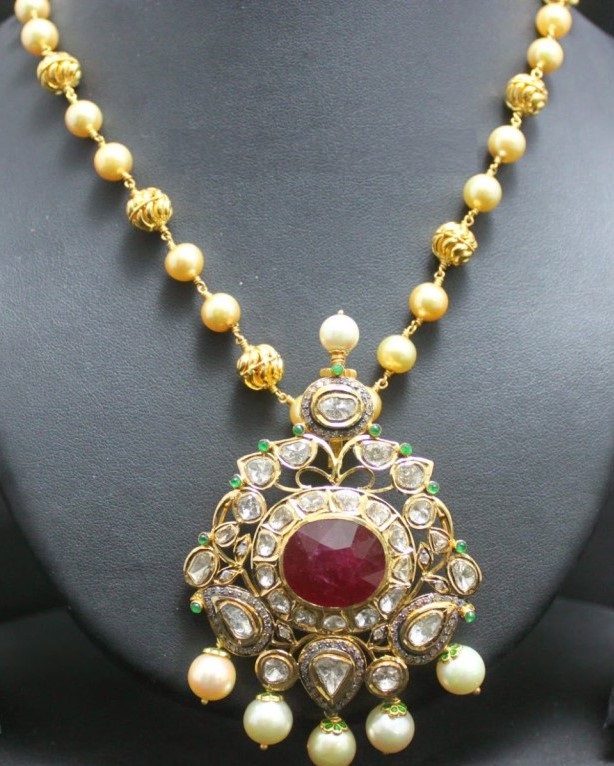 Simple yet elegant, single line south sea pearl necklace adorned with a beautiful pendant. The pendnat complemented with polki work and a big bright ruby makes it all stand out!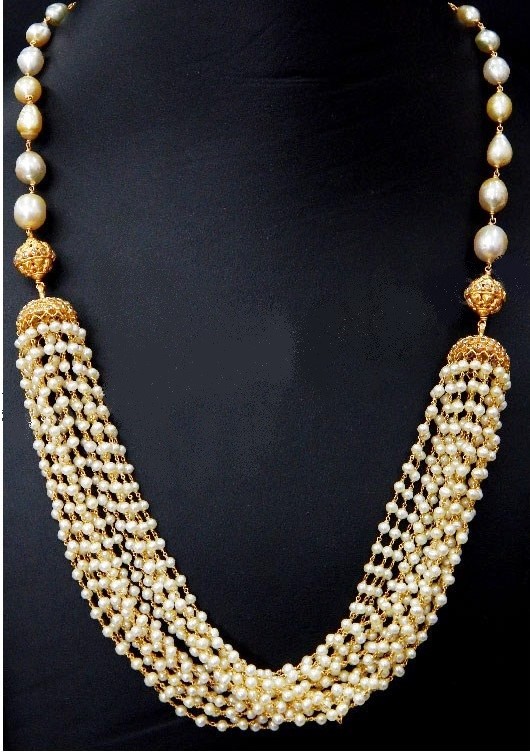 A delightful 22 carat yellow gold pearl necklace. Its jhumka style side pendants connecting bunch of small pearl chains is fascinating. This one is classy and fashionable.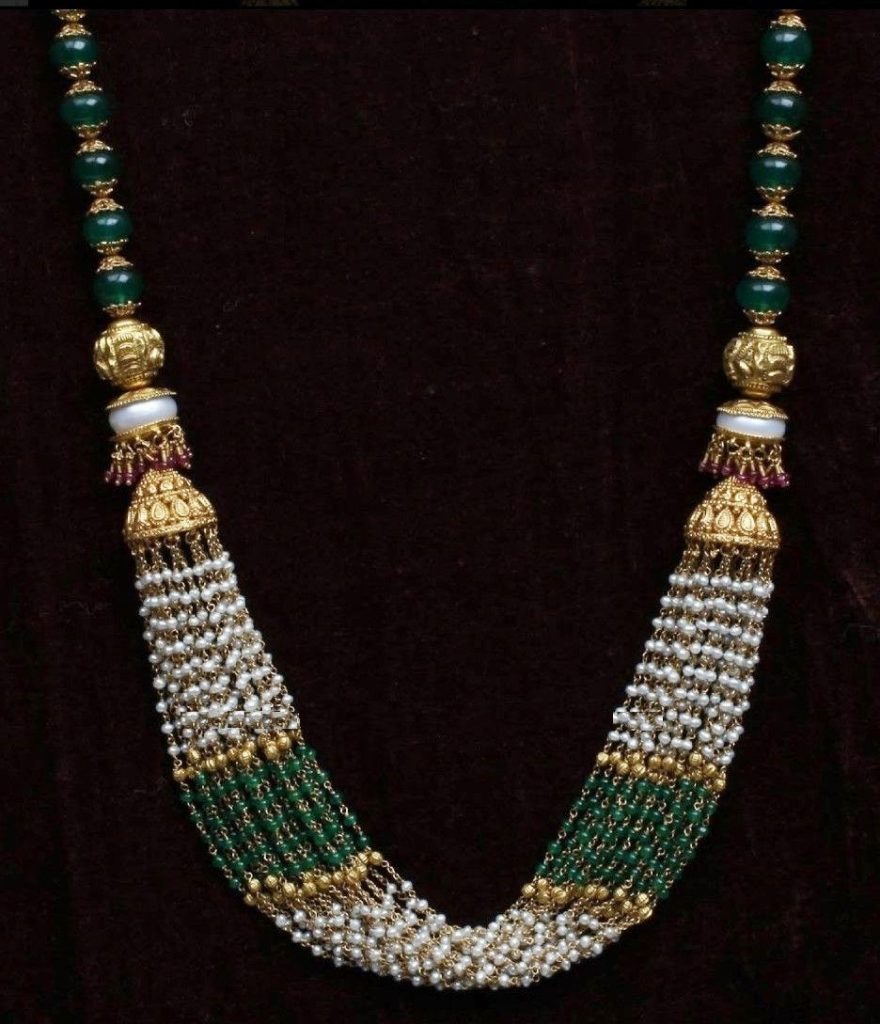 Wear this and look pretty! Traditional yet stylish long pearl haara adorned with green beads is alluring. Nakshi balls and jhumka patterns are adding to the grandeur! Wear this on a lovely silk saree and flaunt your beauty.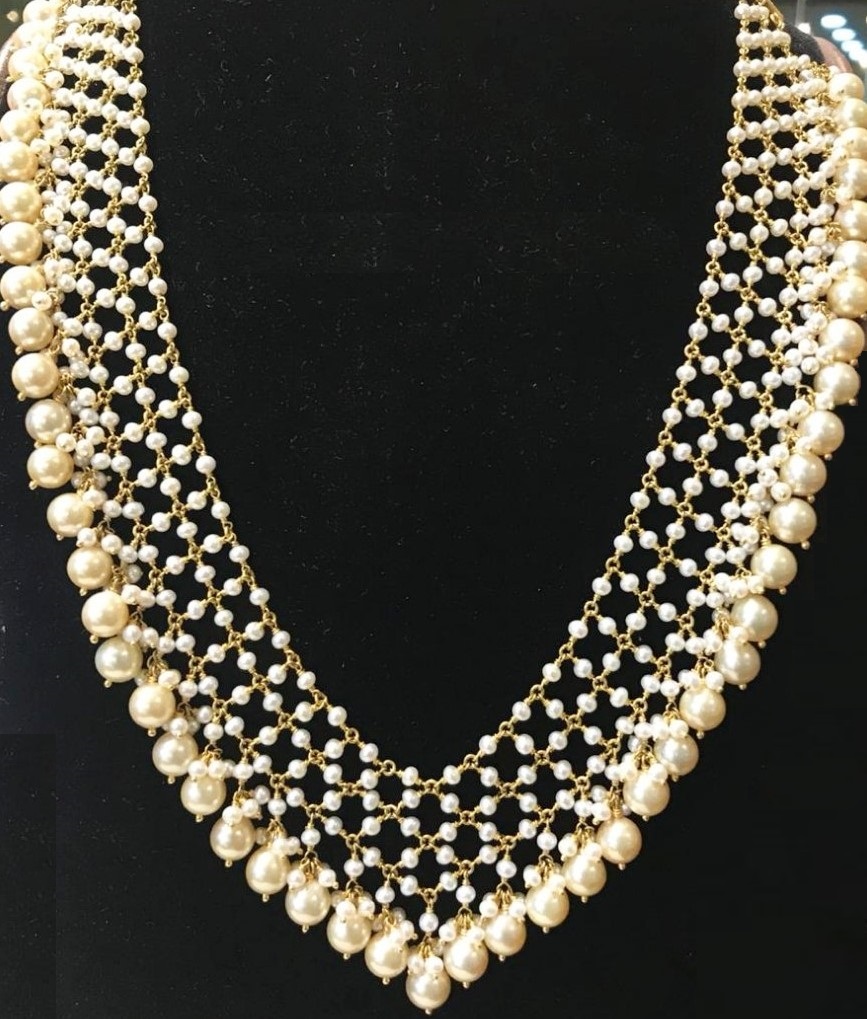 Isn't this so adorable? Very unique in its kind, meshed pearl chain ended with big south sea pearls is stunning. This looks great even on a cocktail attire!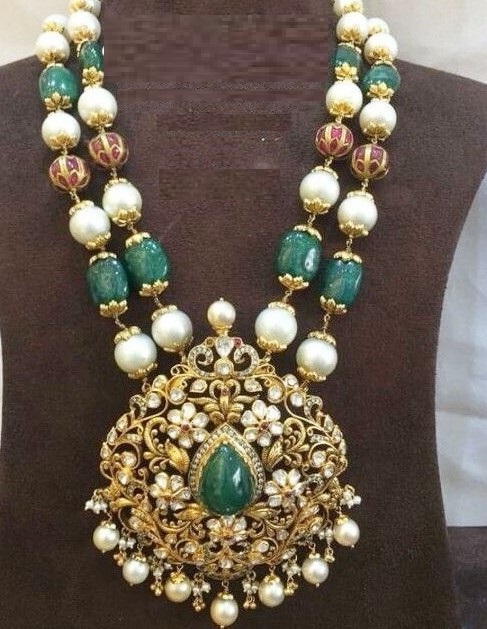 A stunning, antique-finished necklace of excellent craftsmanship. The highlights of this piece are emeralds , red beads and pearls. The pearl accented grand pendant in floral motif add to its beauty.