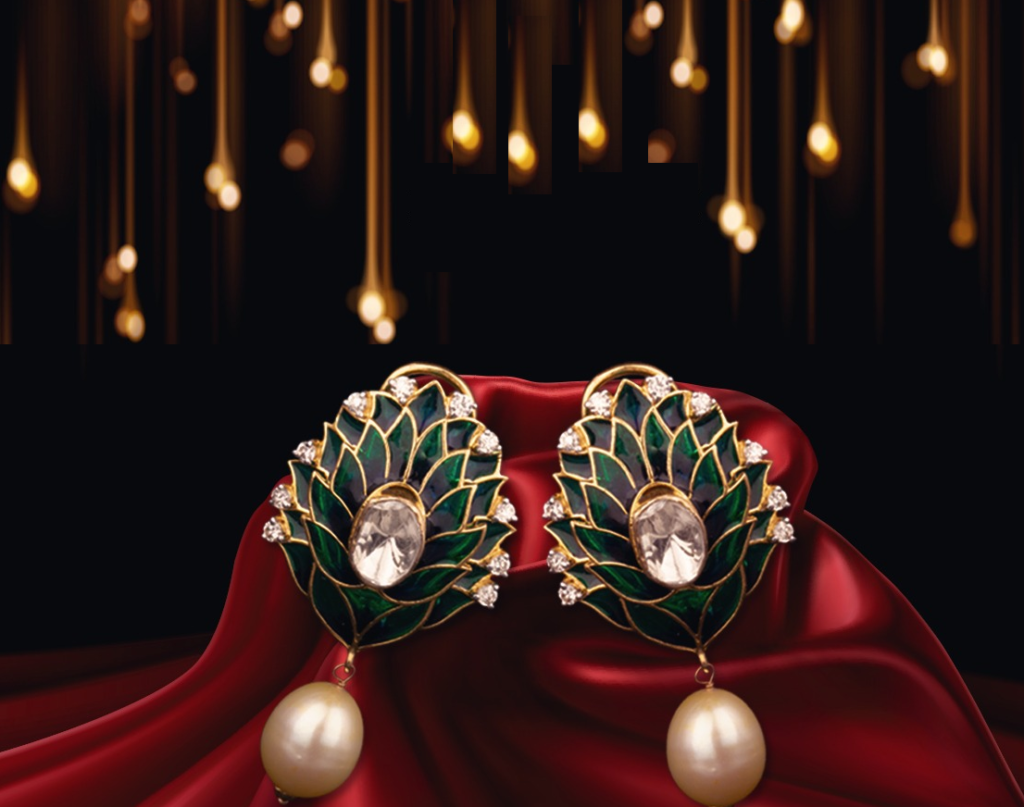 Festivals are an important part of Indian culture. Diwali, traditionally known as Deepawali , festival of lights , is one of the biggest festivals of India. Diwali is an auspicious festival that symbolizes the triumph of good over evil. Hindus celebrate this festival to commemorate the homecoming of Lord Rama after 14 year-long years in exile and his victory over Ravana. It is believed that Diwali honours the Hindu goddess of wealth, Lakshmi. The lights and lamps are said to help Lakshmi find her way into peoples' homes, bringing prosperity in the year to come!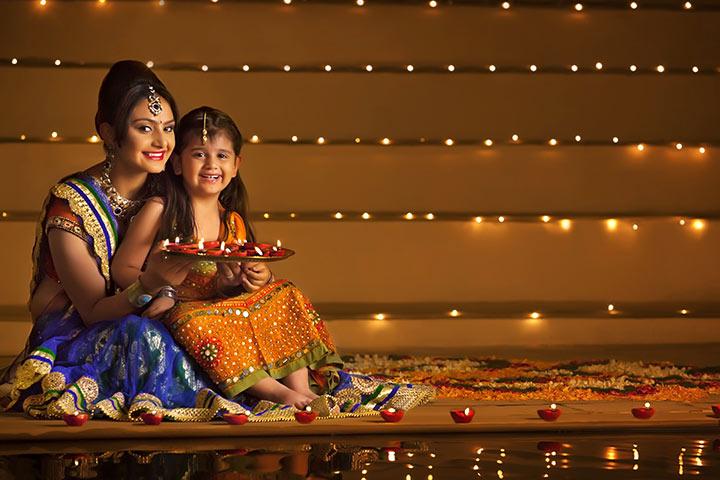 Well, while that was about the significance of Diwali festival, other important aspect is about getting decked up during festival. Especially for ladies, its about newest ethnic wear and jewelry! So, if your looking for latest jewelry designs for this Diwali, we are here to help you with fresh jewelry trends. This Diwali go vivid with colorful jewelry. Check these lovely jewelry designs that are new!
Dazzling Earrings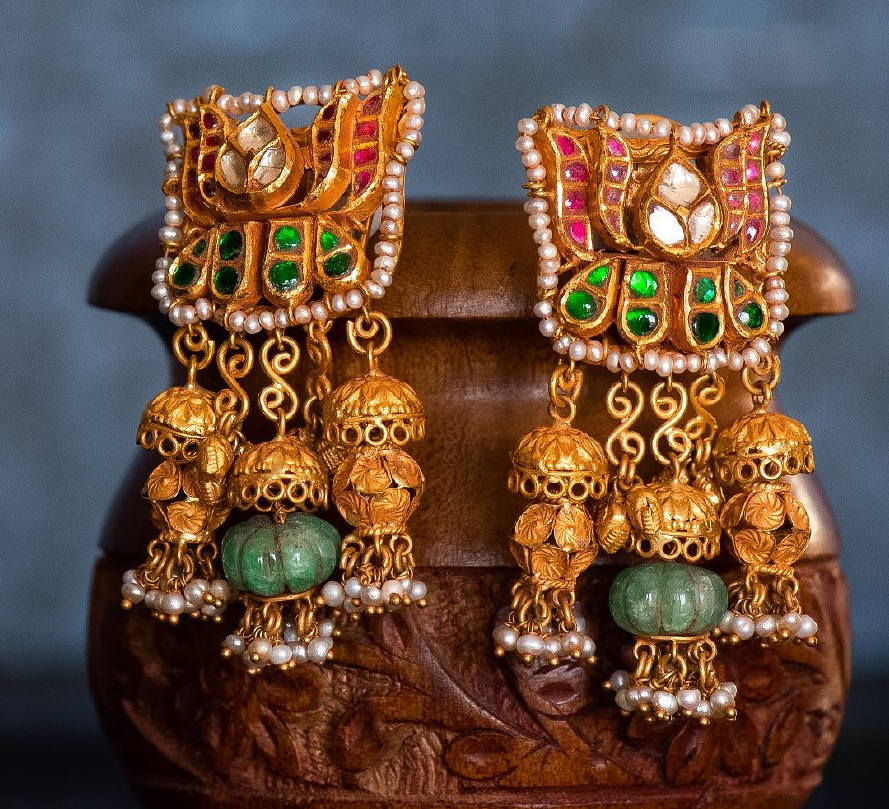 There's nothing quite like wearing silent statements that say a lot, without uttering a word. Designed to dazzle, these earrings in lotus design is resplendent.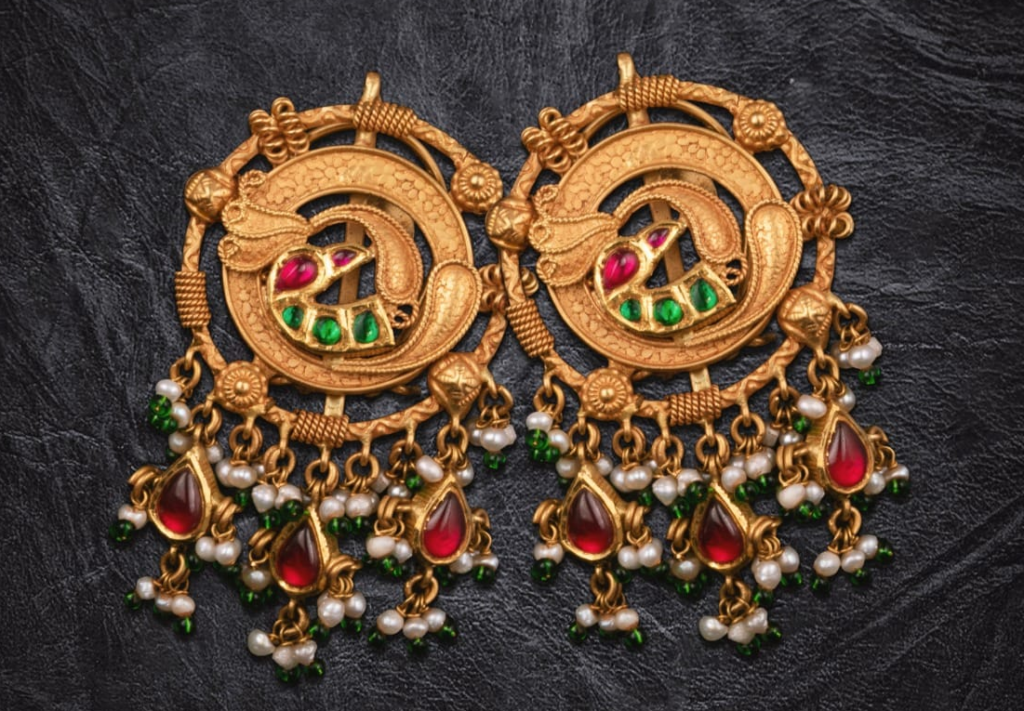 Set underneath a curving silhouette, resplendent in ethereal glory. These exquisite earrings in 22k gold are adorned with pearls, rubies and emeralds that highlights elegance.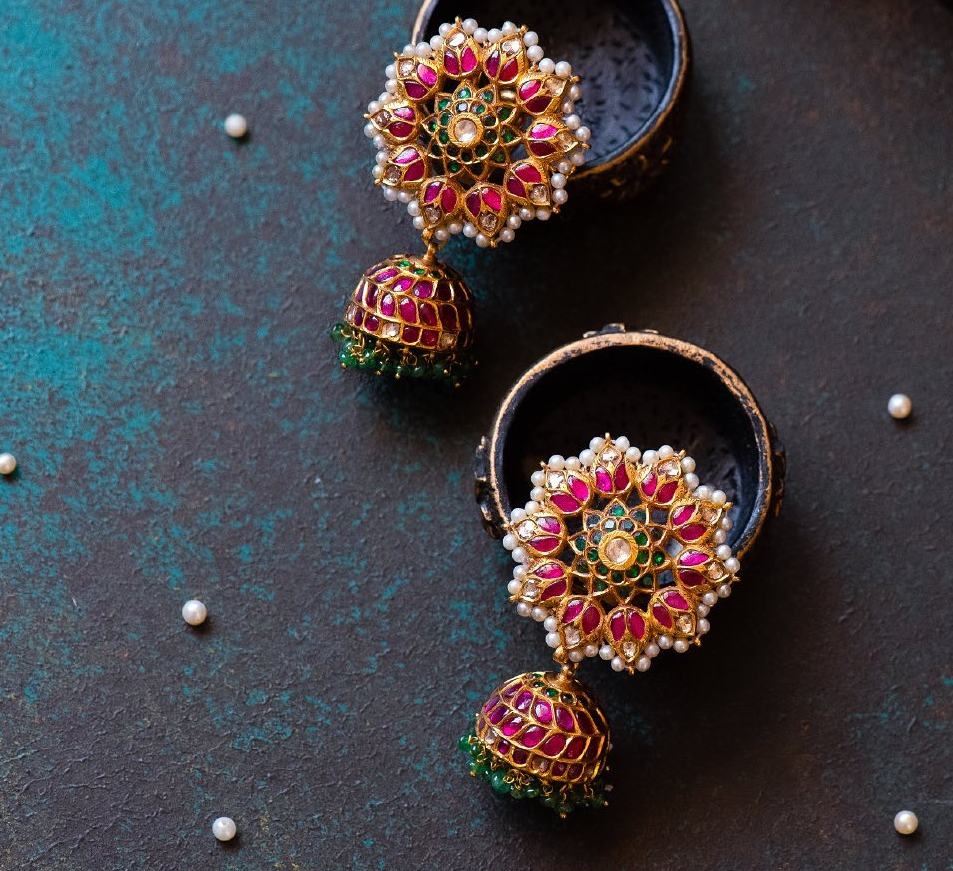 Stunningly crafted closed setting earrings in floral pattern, accentuated by a pretty jhumka hanging at the bottom in 22k gold looks angelic.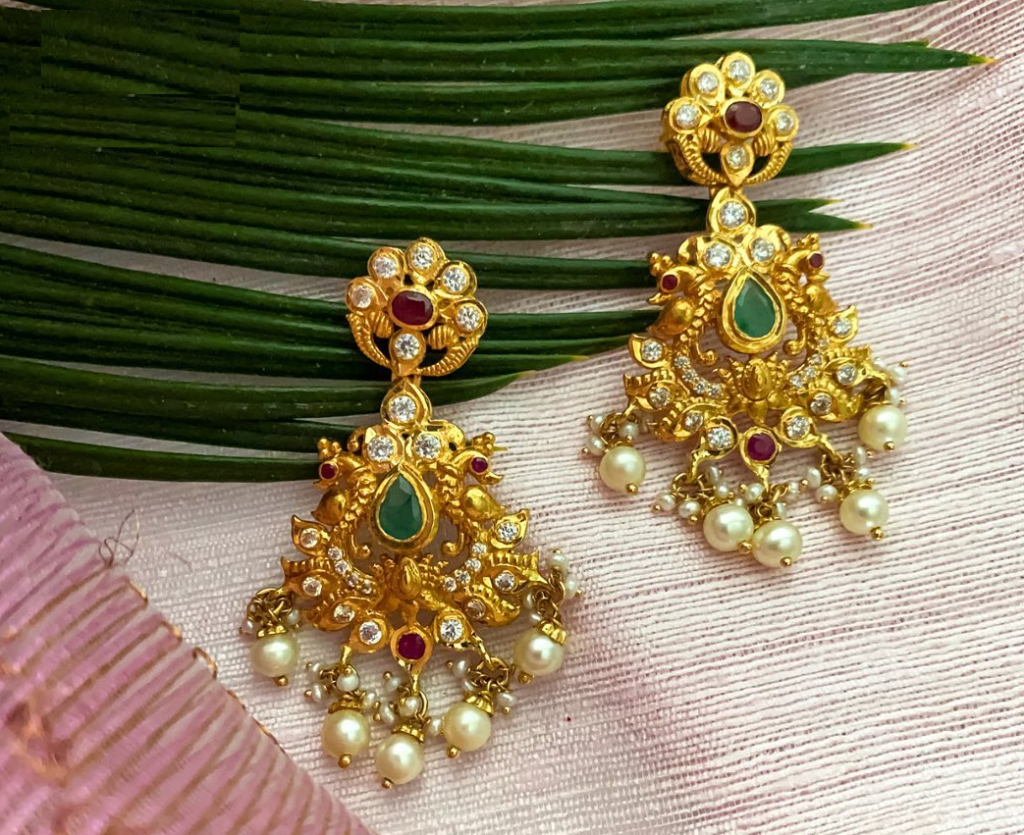 Casual yet complete! These Pachi work Hangings work like magic to pair with any Pachi work Necklace Haar or choker!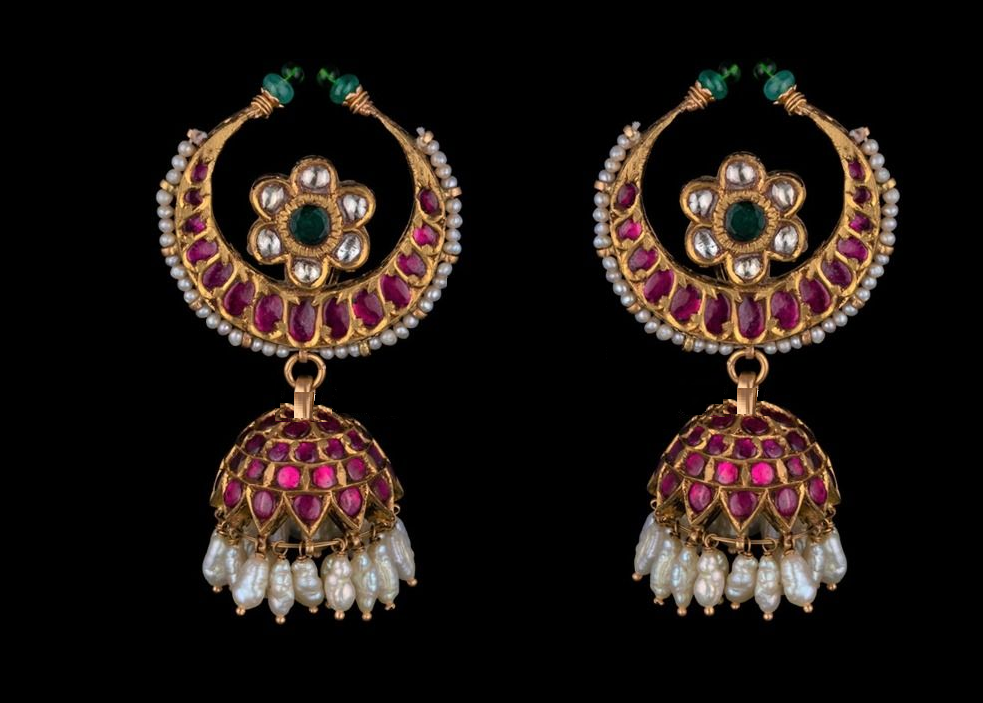 This carefully curated pair of 22kt yellow gold drop earrings features authentic traditional jhumkas and chandbali workmanship.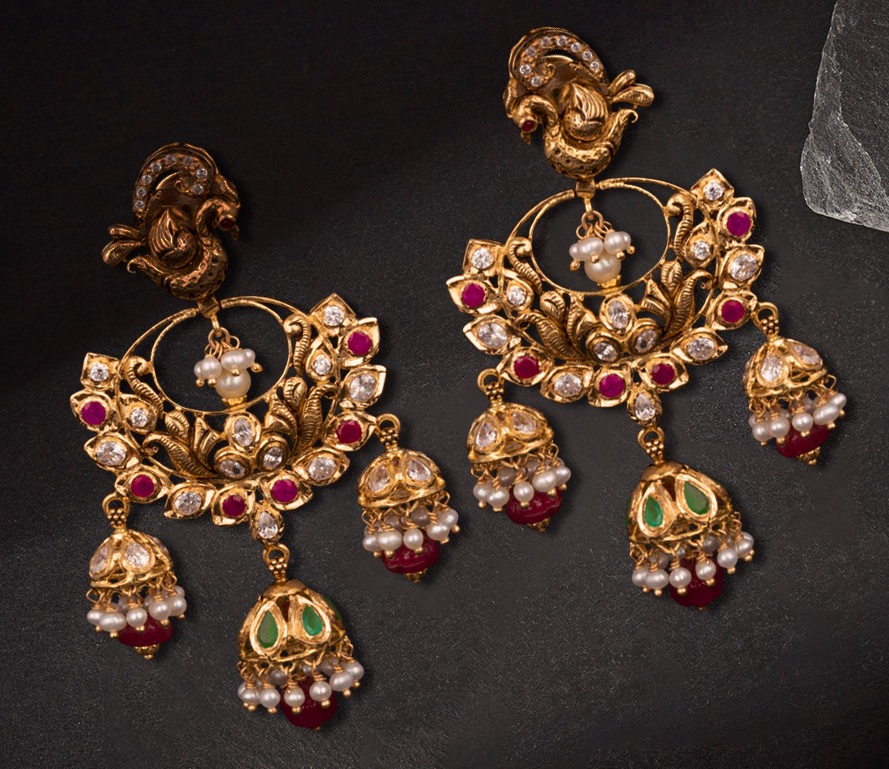 Lend your ears to the charm of these exquisite multi Jhumka hangings. Adorned with flat polkis, rubies, emeralds and pearls, these earrings would gasp all the admiration around you.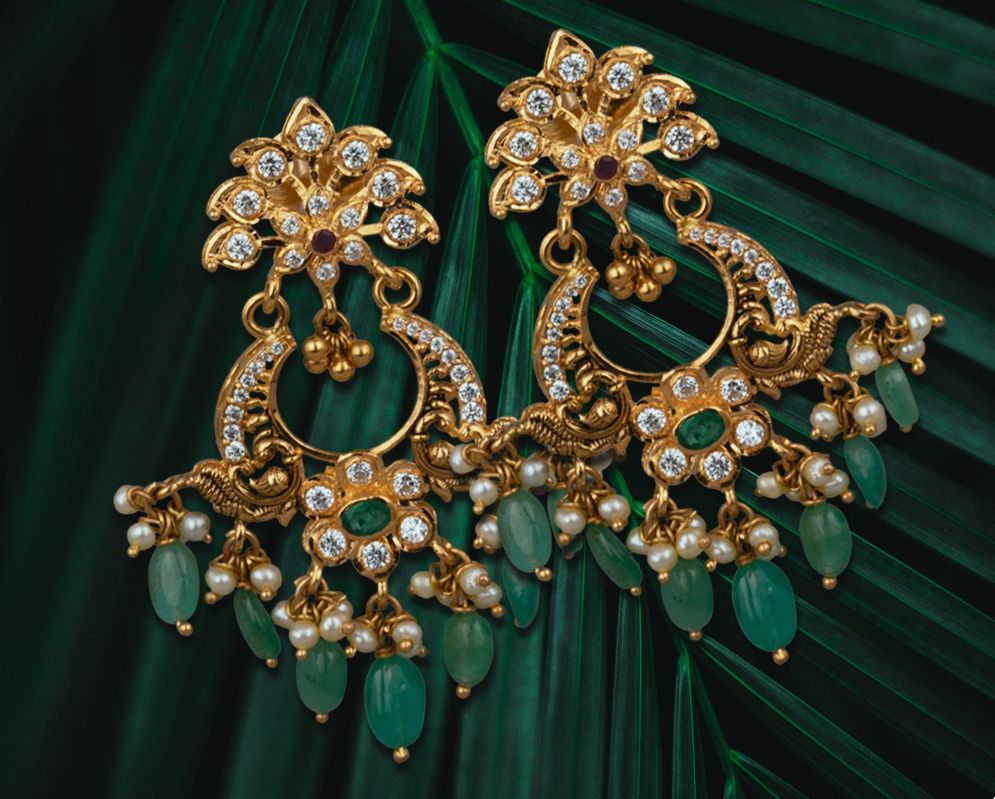 Plumbing the depths of the beauty, a tradition that adorned royalty for centuries, comes this lovely earring set in green.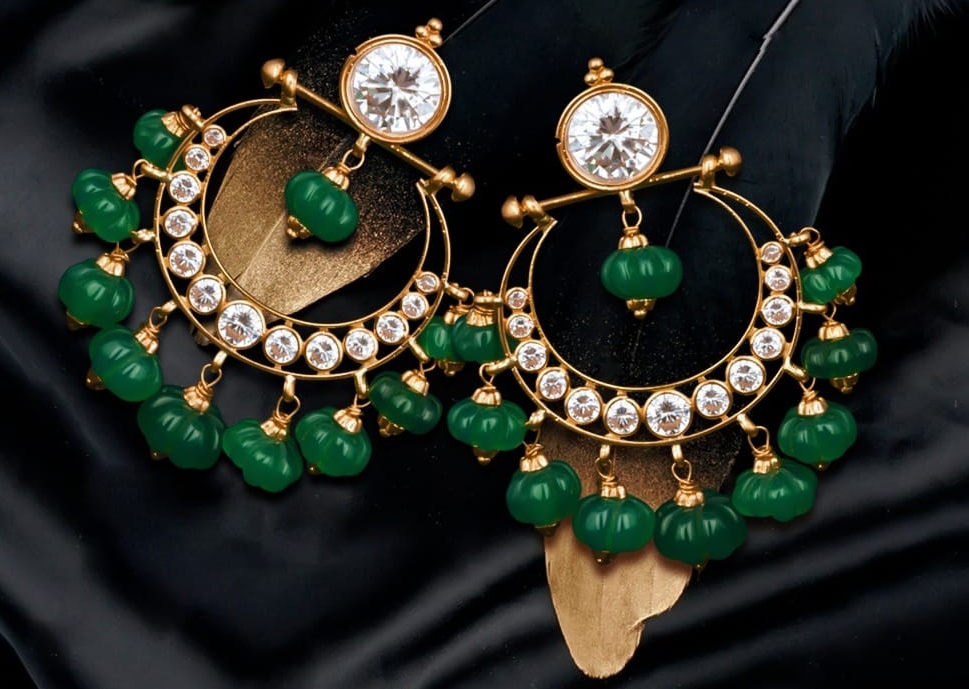 In the grand design genre of Chandbali, come these exquisite earrings that accentuate the more traditional style of dressing. The combination of green and 22k gold, exude warmth and gorgeousness .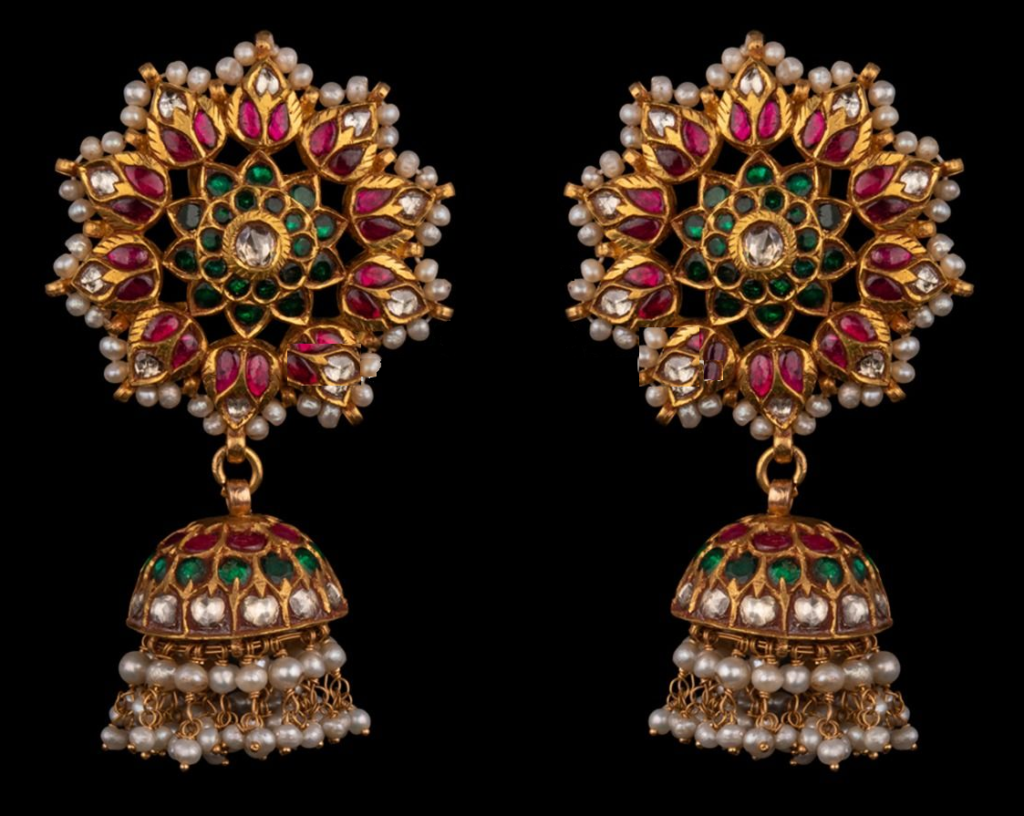 Drenched in gold and colored stones, these glamorous pair of hangings radiate your grace and unmatched beauty. This breathtaking earrings augments your looks and adds on ethnicity.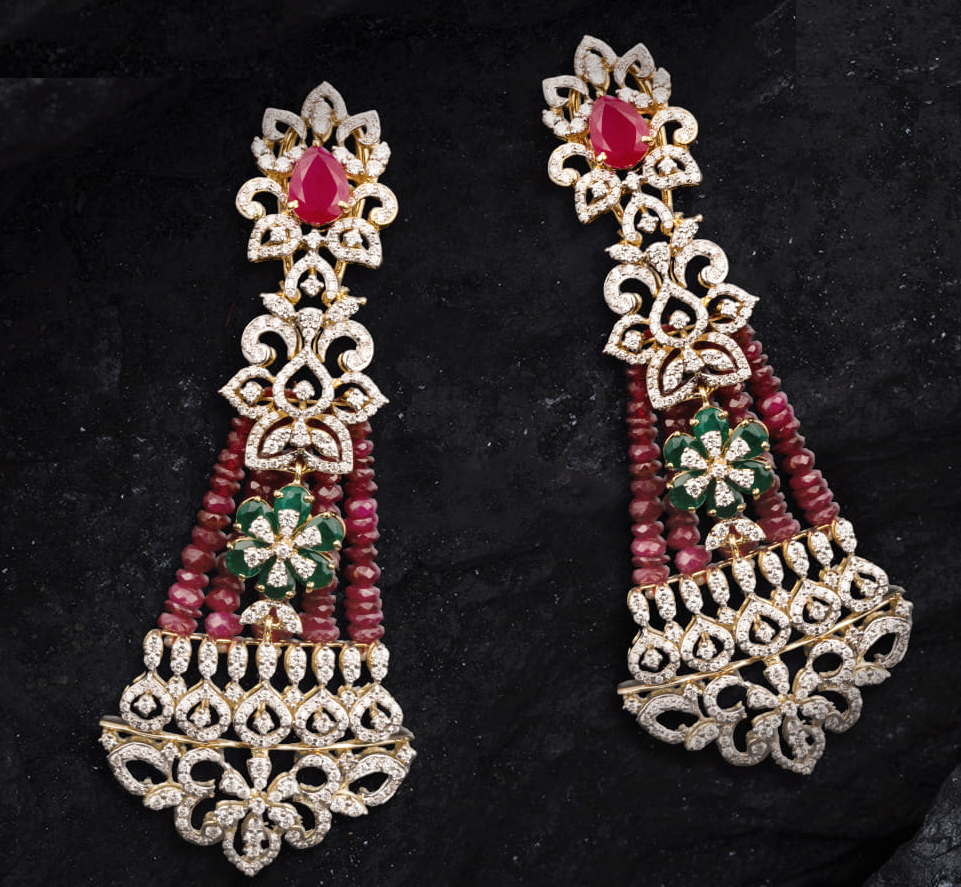 These intricately designed diamond hangings with ruby beads in 18k gold is ravishing. Embellished with diamond rounds, ruby emerald beads and coloured stones, this jewel is a true joy.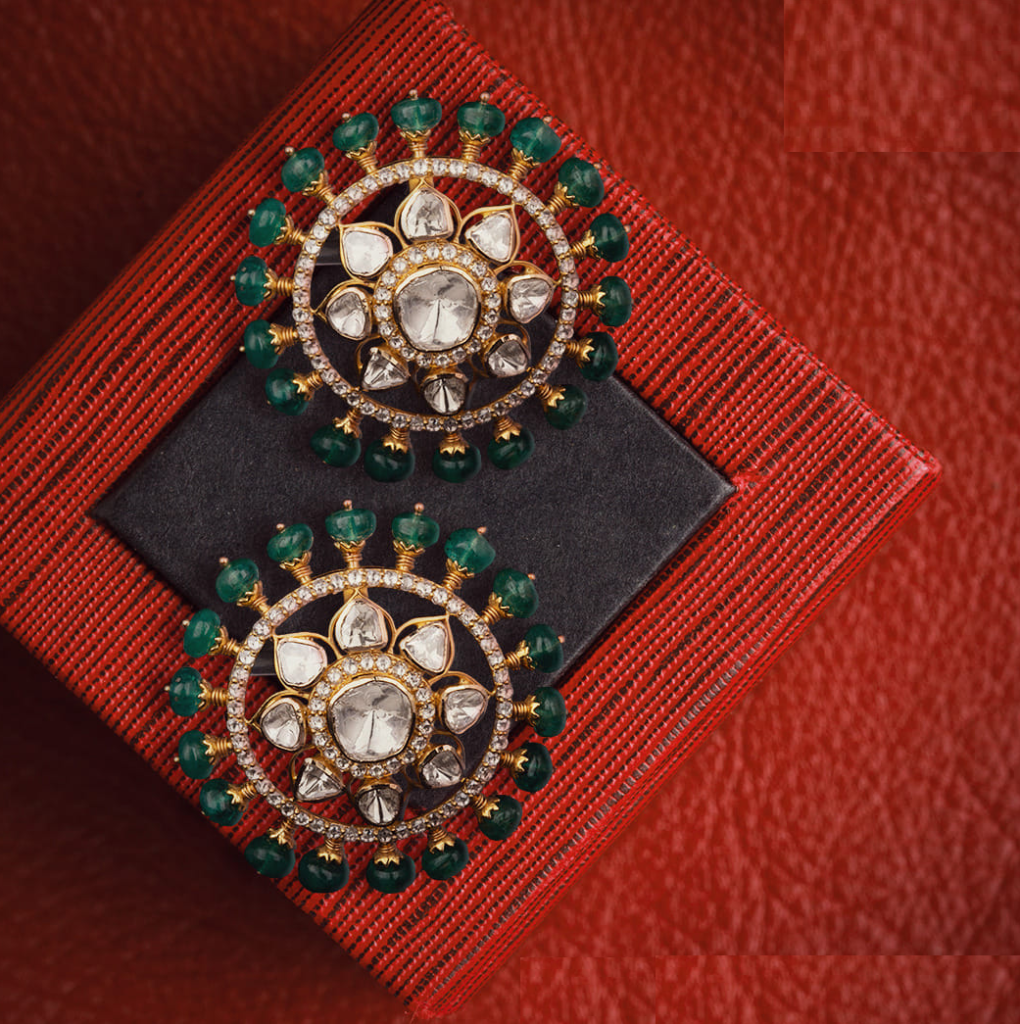 When royalty makes an appearance, the lustre of the uncut polki diamonds on these 18k earrings is stunning. Adding to the allure, are emeralds that gracefully enhance their elegance.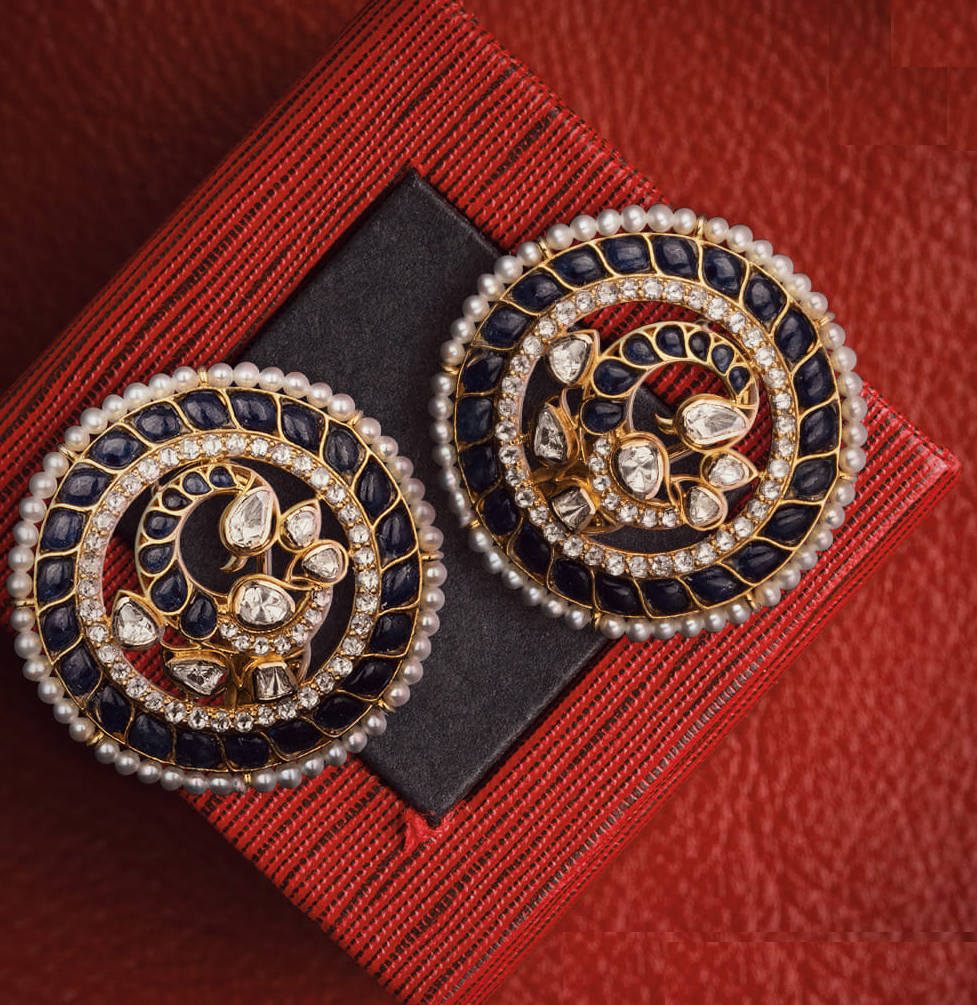 It's what happens when grace and elegance meet up with Blue Sapphire polkis. Embellishing the Blue Sapphire polkis, are diamond rosecuts and flat polkis, in exquisitely designed settings.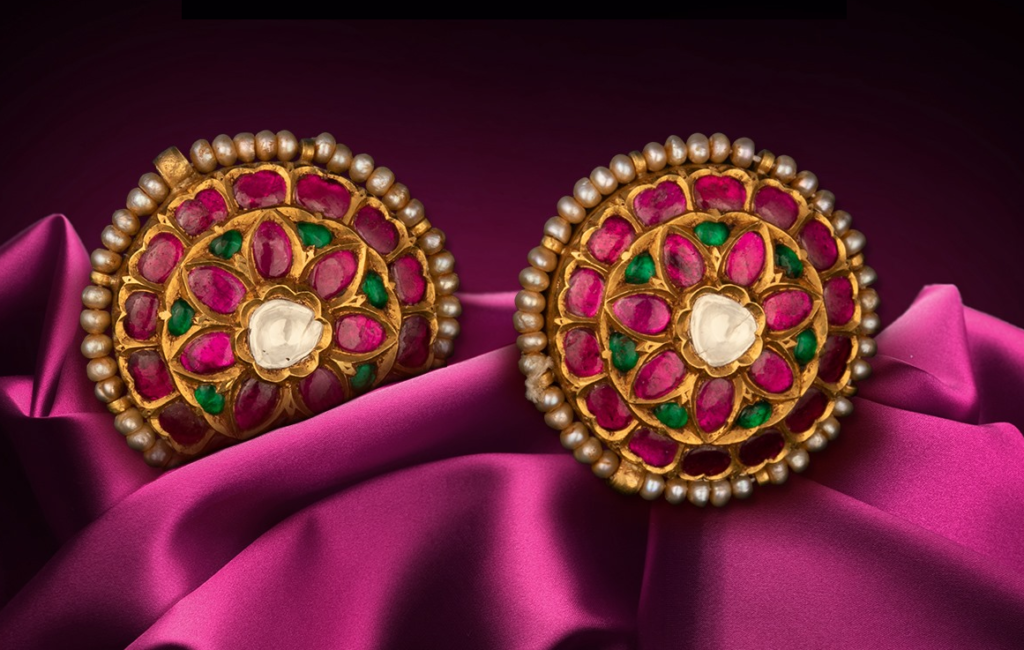 Bedeck your ears with these Polki Grand Studs in 22k gold. Elegantly adorned with rubies, emeralds, flat polki diamonds, pearls and Kundan, these earrings are fascinating.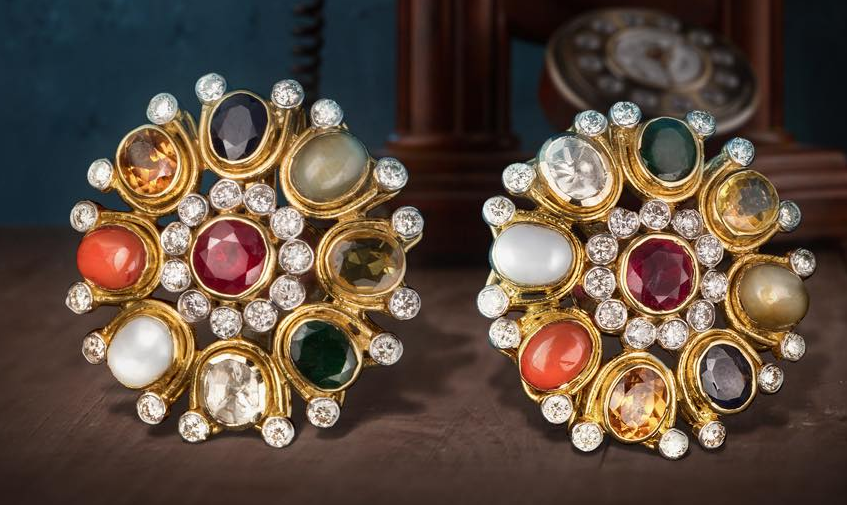 Get immersed with the beautiful colors. These Navarthan earrings dazzle the day and sparkle the night, lending a distinctive touch to your ensemble.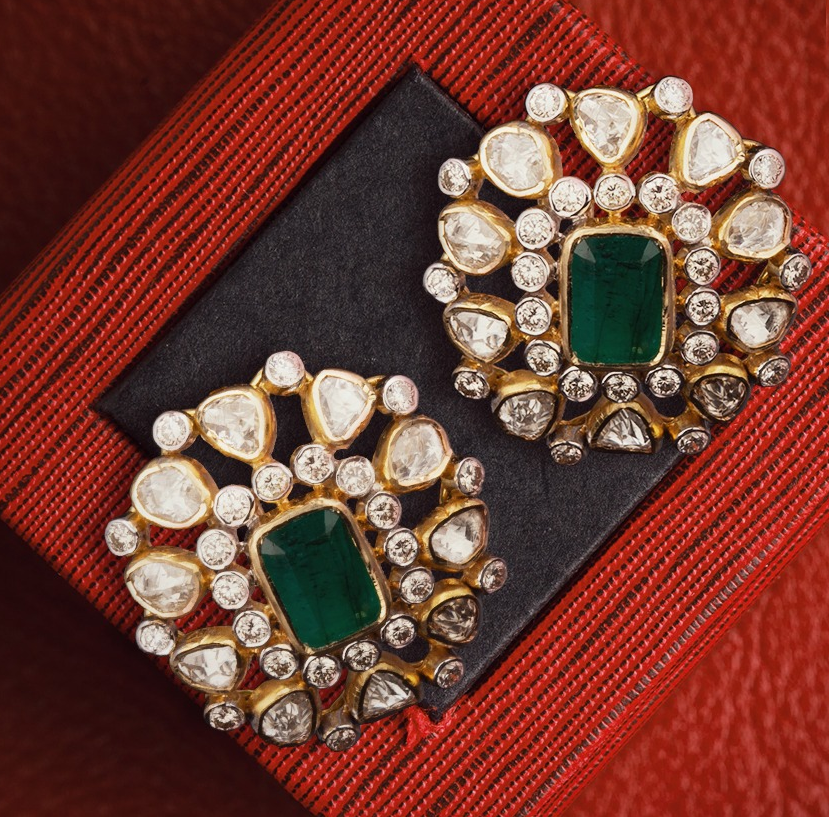 Diamond Shimmering Studs in 18k gold, to take your mind off things. The uncut emerald at the center brings out the royal lineage in these earrings. The diamond rounds and flat polki diamonds add to the luster of these elegant pieces.
Delightful Necklaces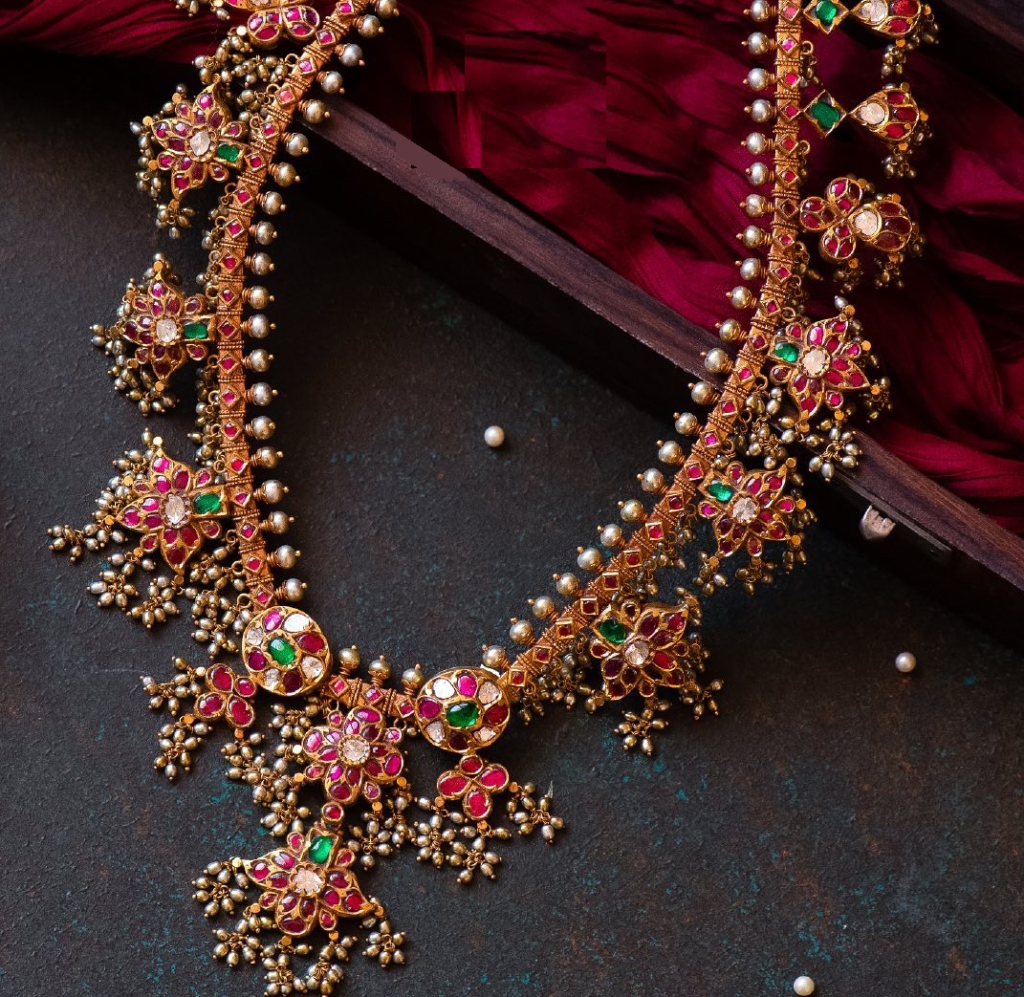 This long guttapusalu necklace encrusted with colorful gemstones looks amazing. The unique design of the ornament is sure to grab all attention.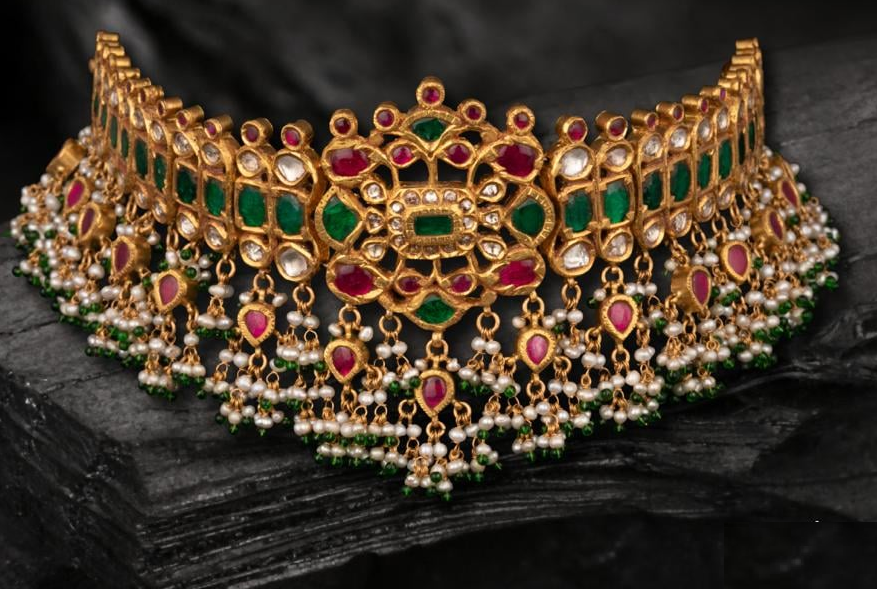 This flamboyant choker necklace studded with colorful gemstones is drop dead gorgeous. Cute little hanging pearls is adding grandeur to this lovely jewel.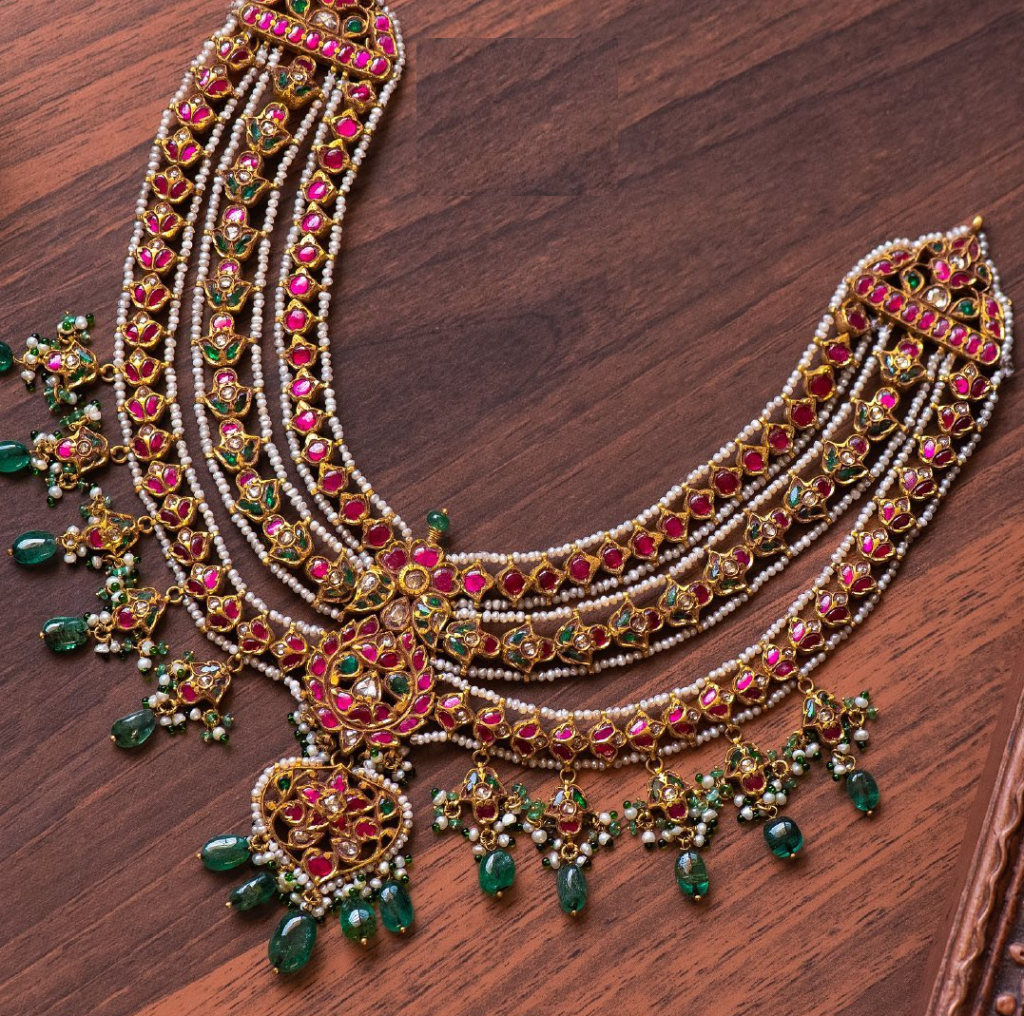 Exquisite multi layered Kundan Neckpiece bejewelled with Rubies, Emerald, Polki and Pearls that is so appealing.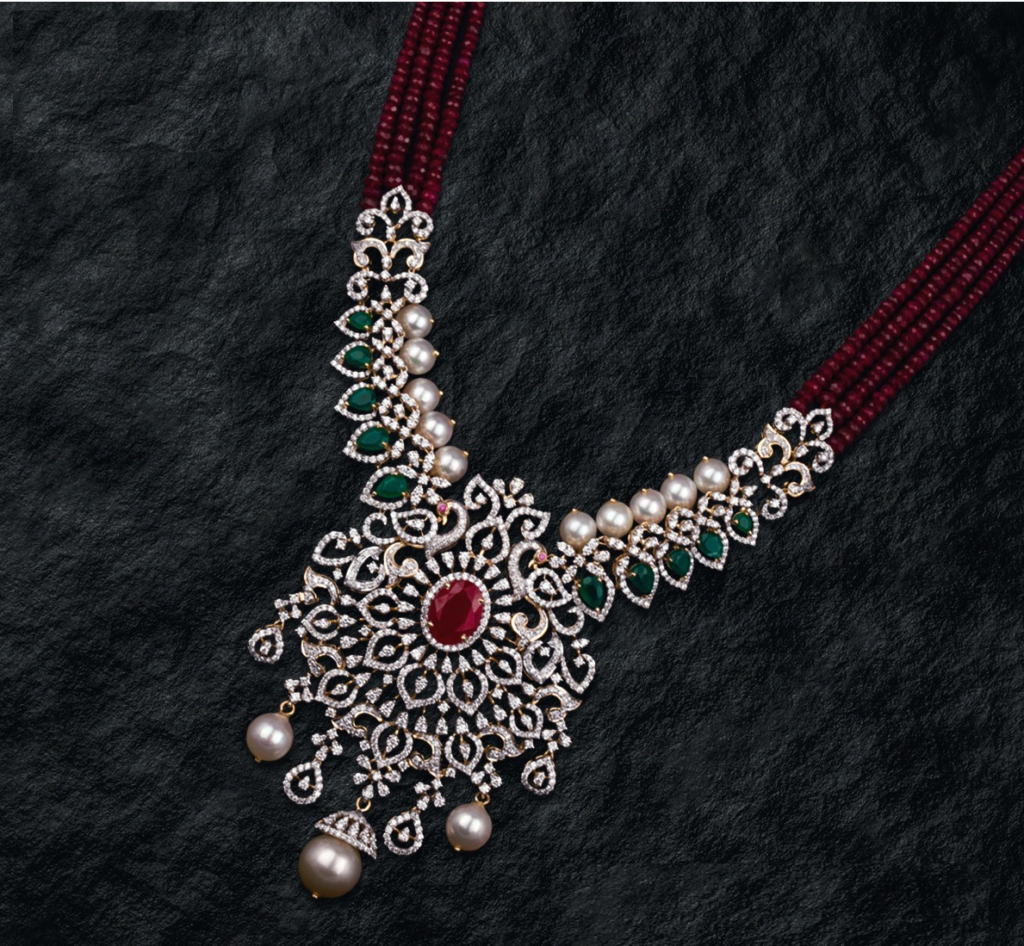 Beaded jewelry has been around from sometime, this one paired with splendid diamond pendant adorned with south sea pearls looks so regal.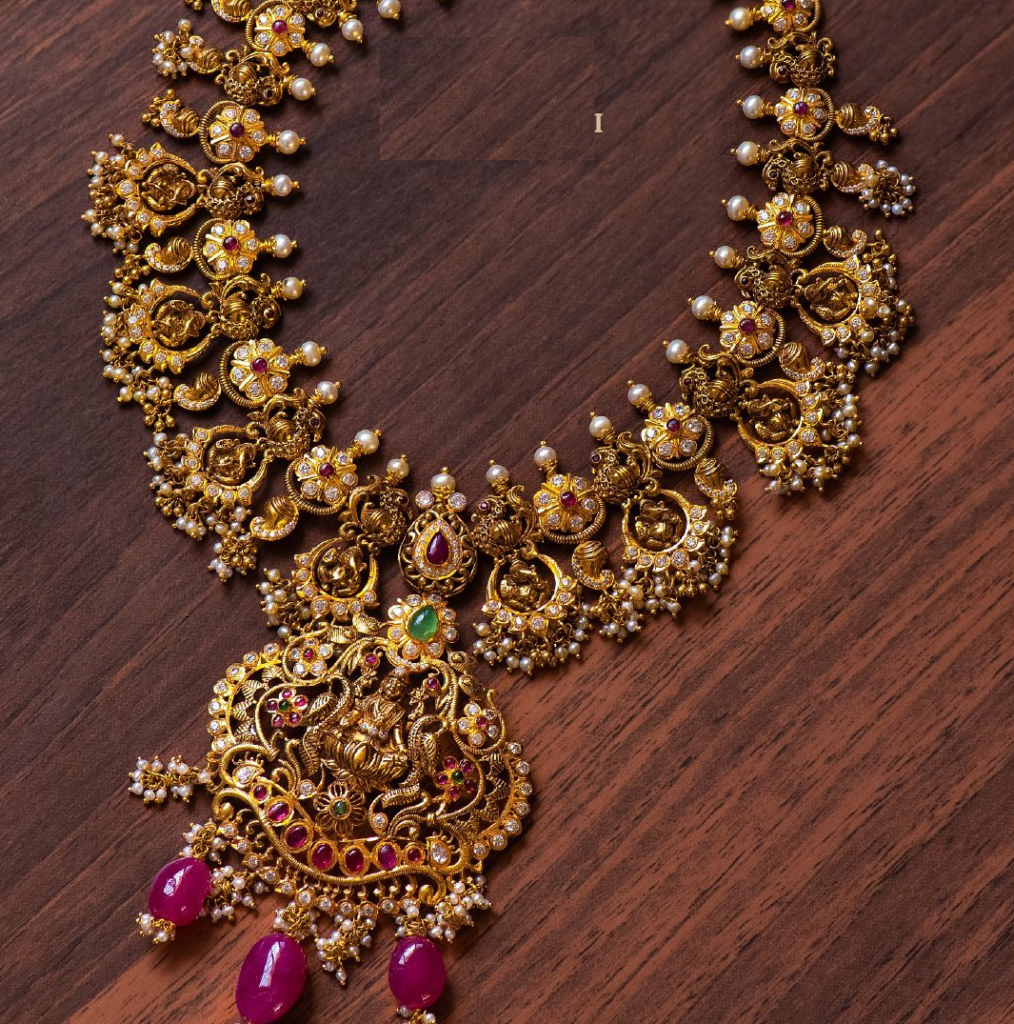 Antique guttapusalu necklace with intricate designs comprising peacocks, florets, chandbali danglers and mango motifs is so enthralling. Colossal Lakshmi pendant augments further magnificence of the ornament.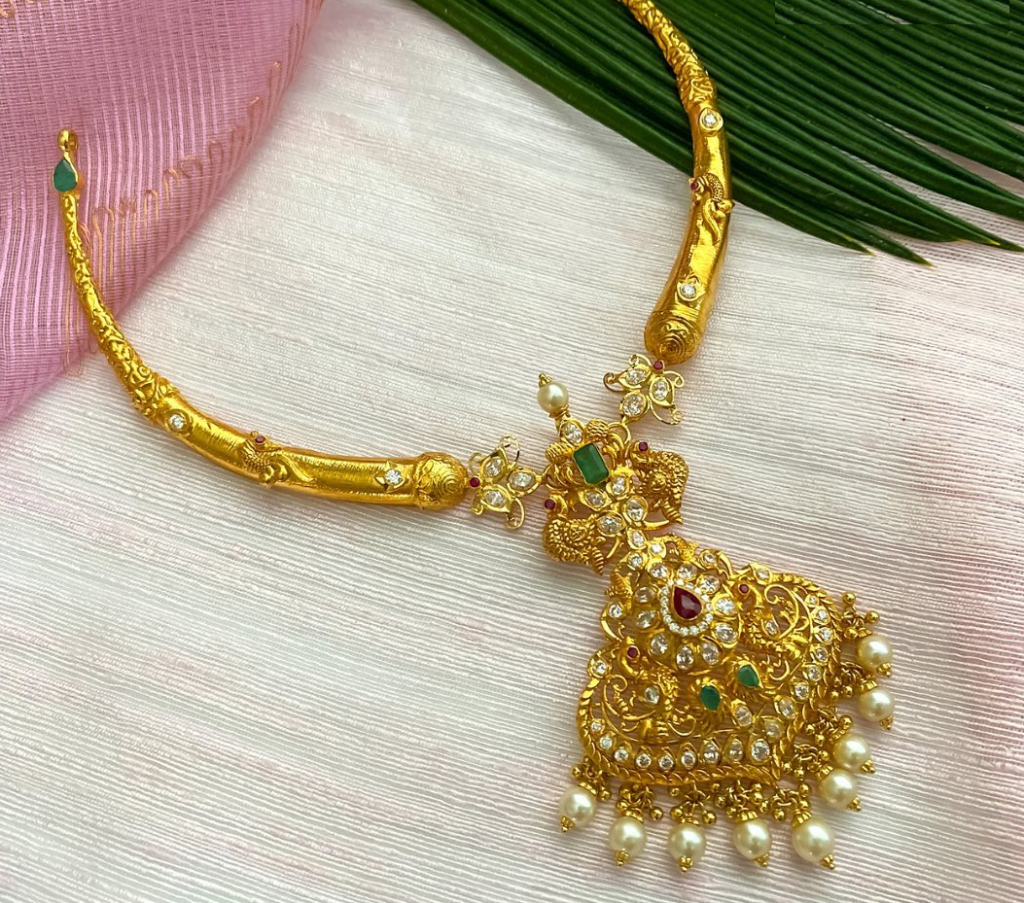 Kaante gold necklace with an antique pendant is all you need for a modest ethnic look. Pair this up with a lovely saree and flaunt your good looks.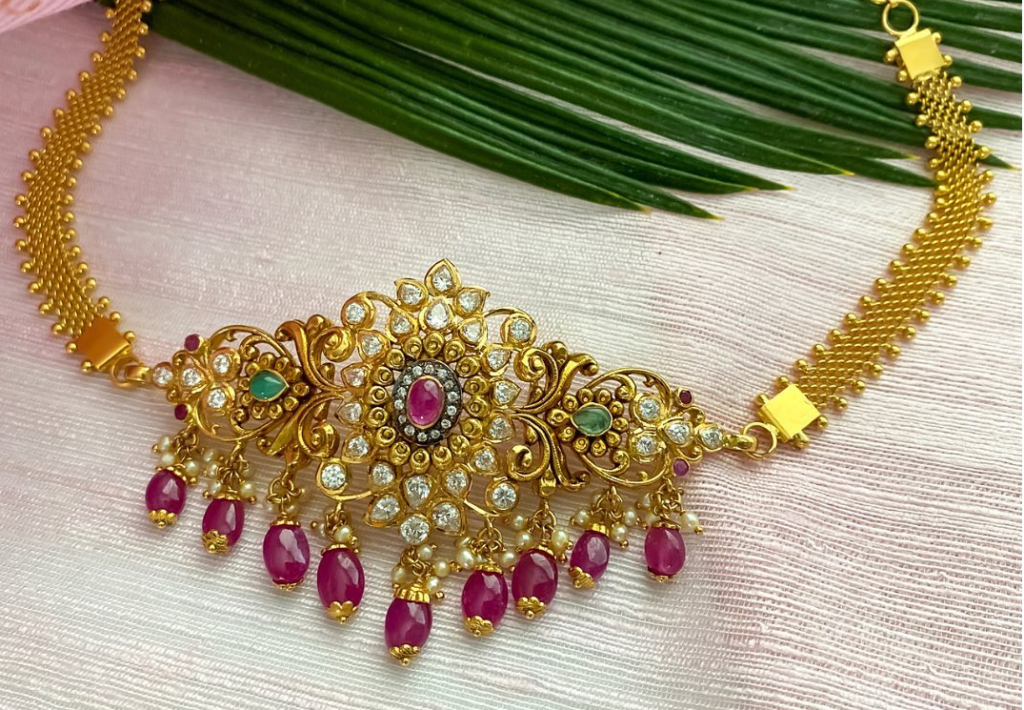 This multi purpose jewel can be adorned as bajuband as well as a necklace. Teeny and delicate ornament, perfect for minimalist jewel lovers.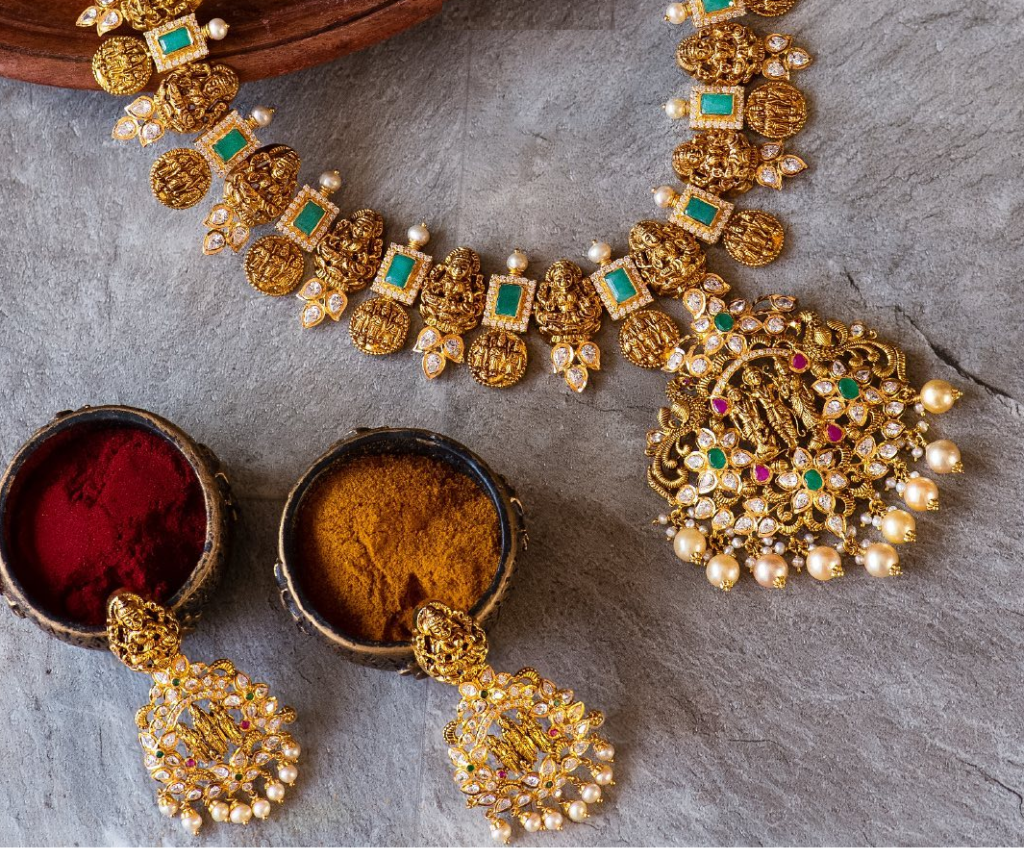 This Lakshmi motif antique necklace set with rectangular cut emeralds is resplendent. The center pendant with hanging south sea pearls is so pleasing!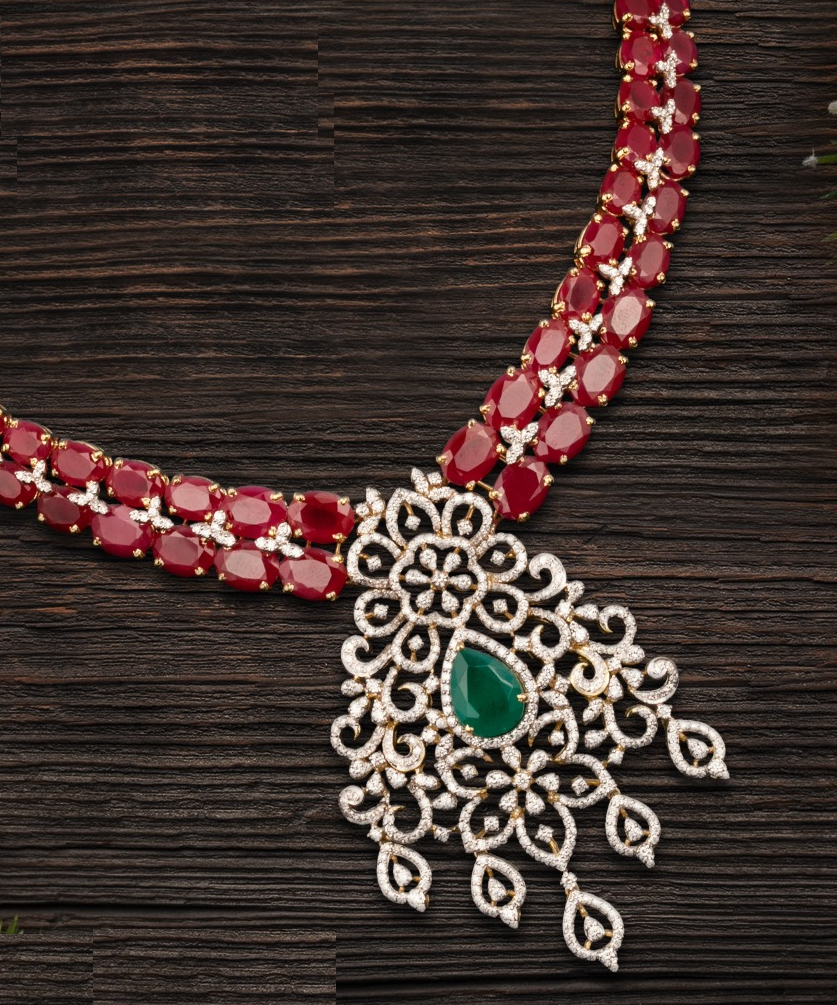 The combination of ruby necklace with diamond pendant and emerald of exquisite beauty is a joy to behold and possess.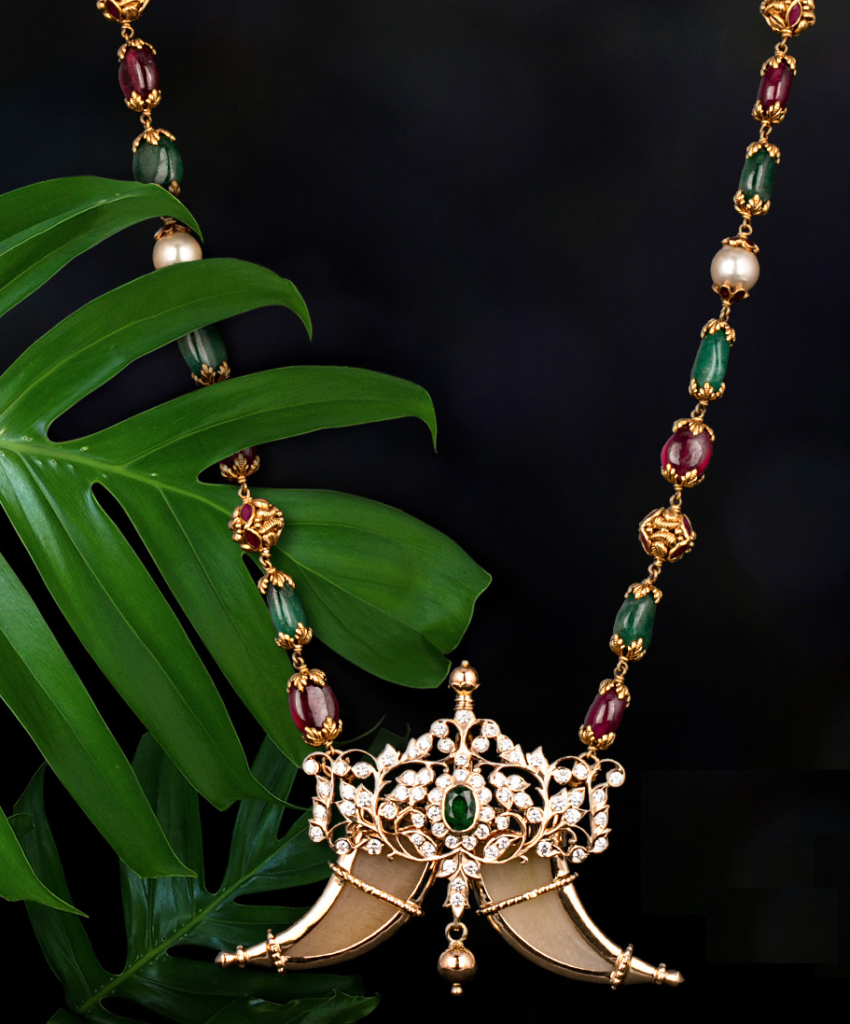 Tigernail pendants have been a blend of tradition and style. The pendant is beautifully hung to colorful beaded neck chain that adds to the opulence.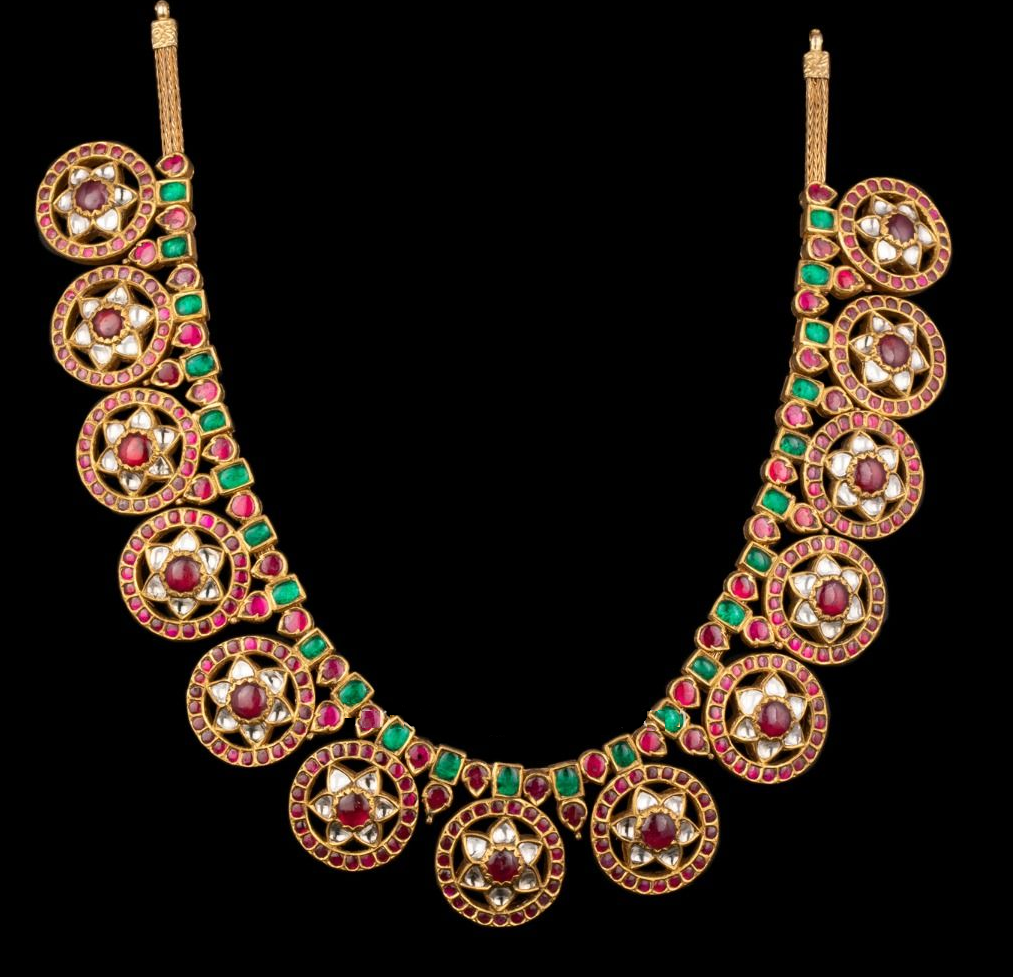 This gold necklace brings together flat bottu designs, rounds and tanzanite. Yet another piece of beauty extraordinaire.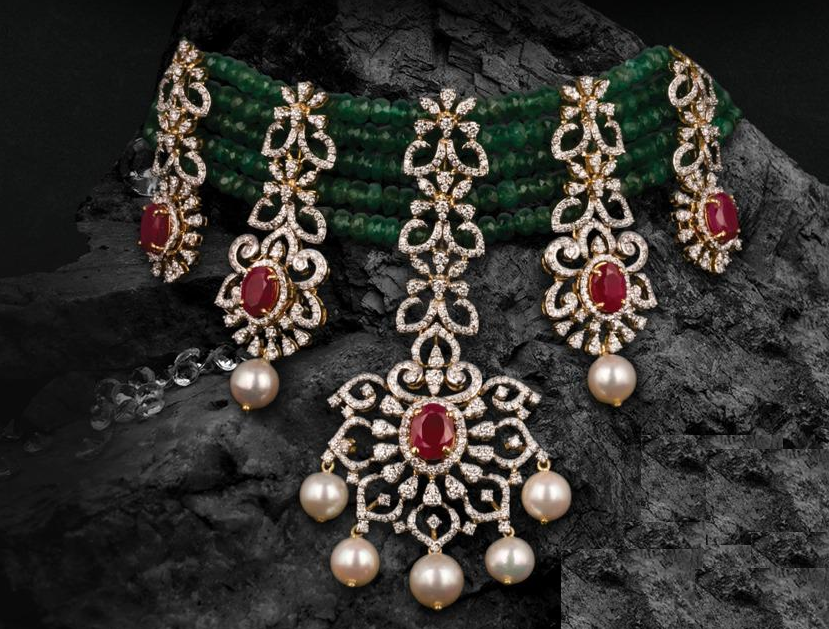 Created to adorn the inner diva in you, this necklace is beautifully crafted in gold, embellished with diamond danglers and coloured beads.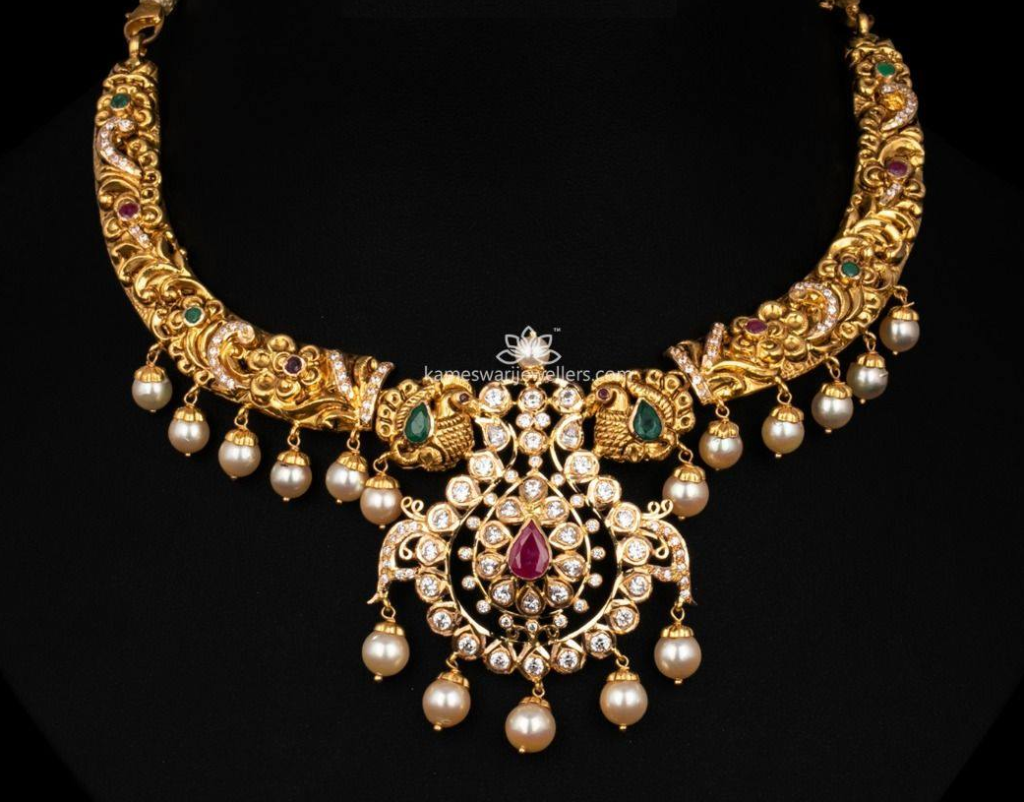 The brilliance of fine craftmanship highlights the one that adorns your neck. Not to mention the elaborate and eye-catching pendant set in 22k gold, bedecked with stones and south sea pearls is ravishing.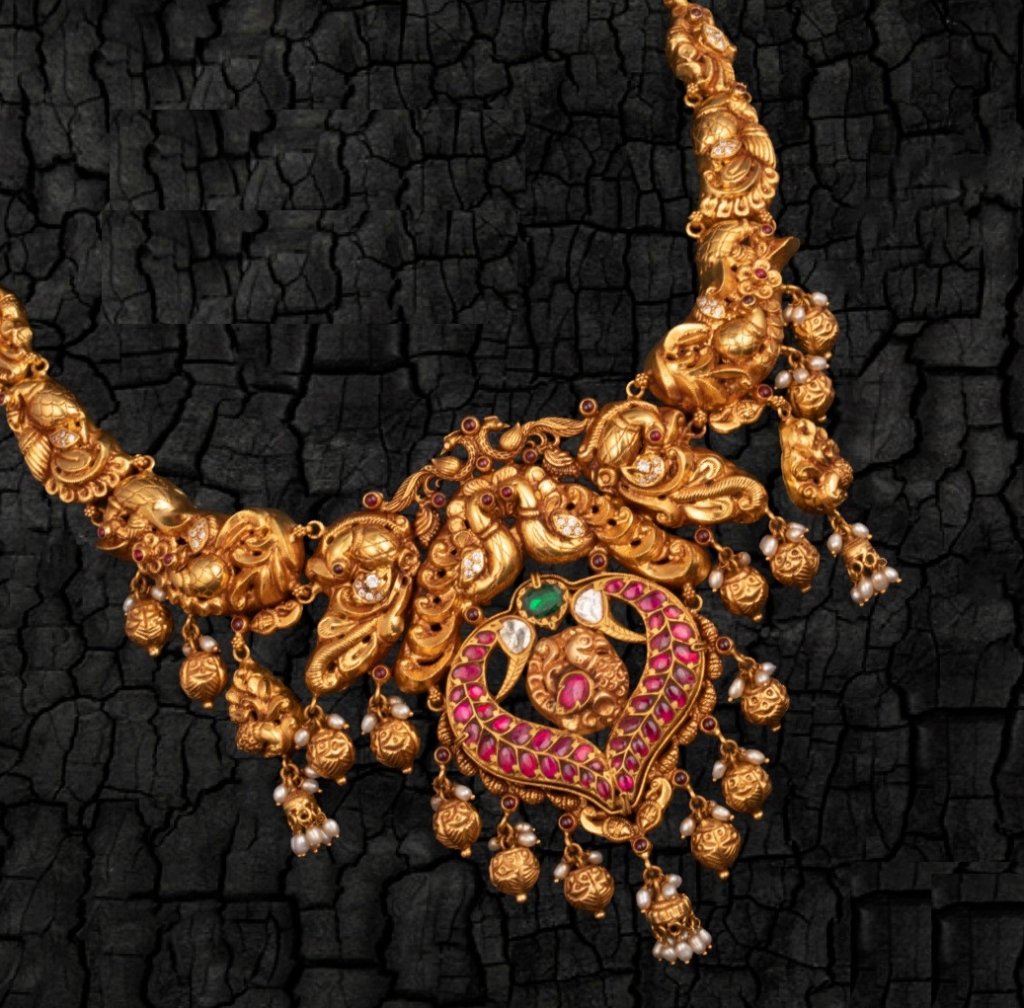 En-robe yourself in royalty with this carefully crafted antique nakshi necklace. Designed with precision and carved with intricate designs out of gold, this masterpiece is sublime.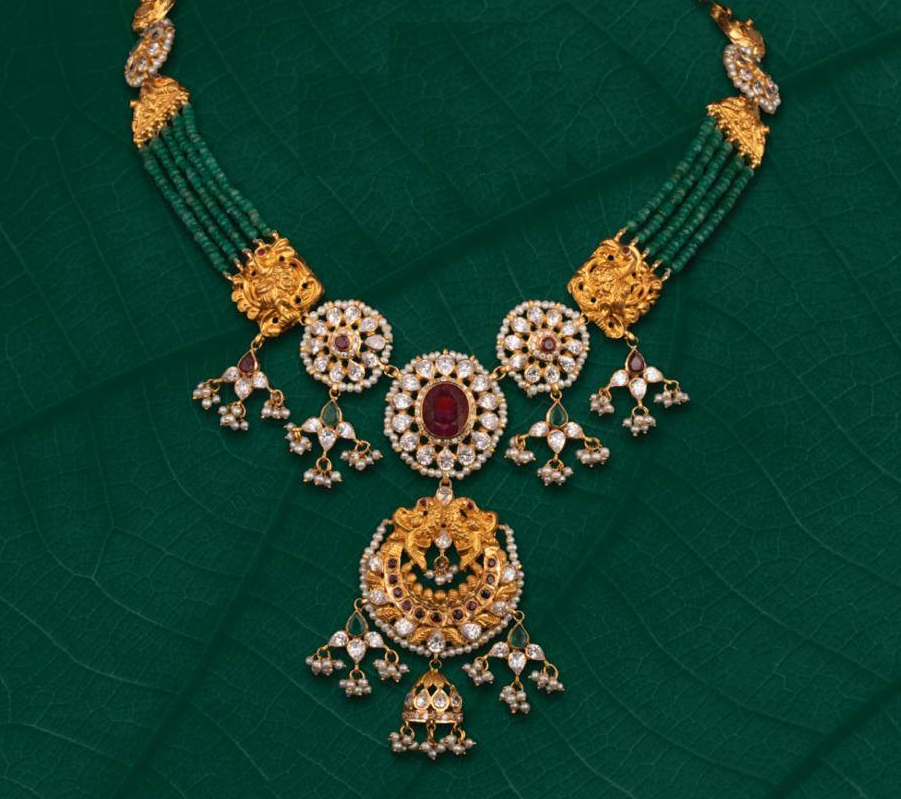 In the skilled hands of a master craftsman, the aura of emeralds surrender to the charms of rubies, cz stones and pearls.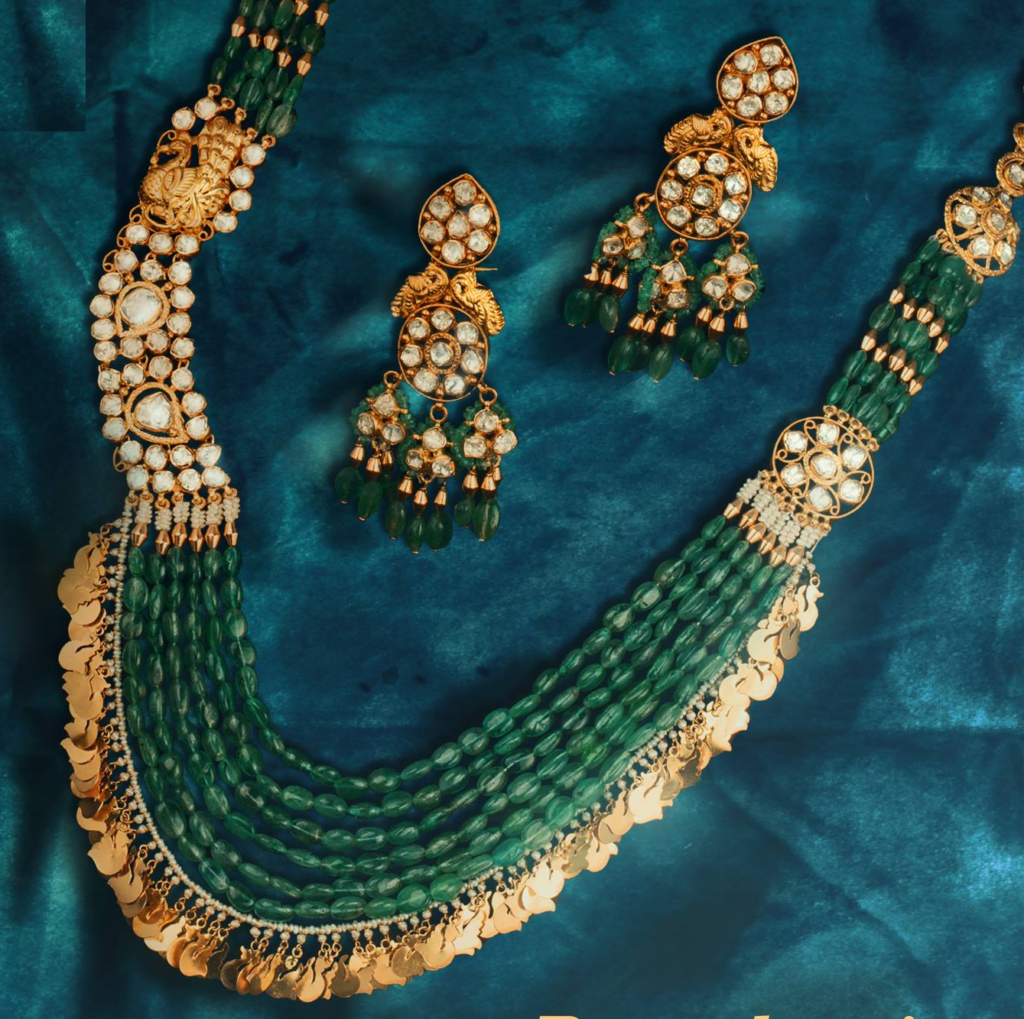 Authenticity is your trait. Adorn this stunning beaded necklace embellished with emerald and moissanite stones and stand out.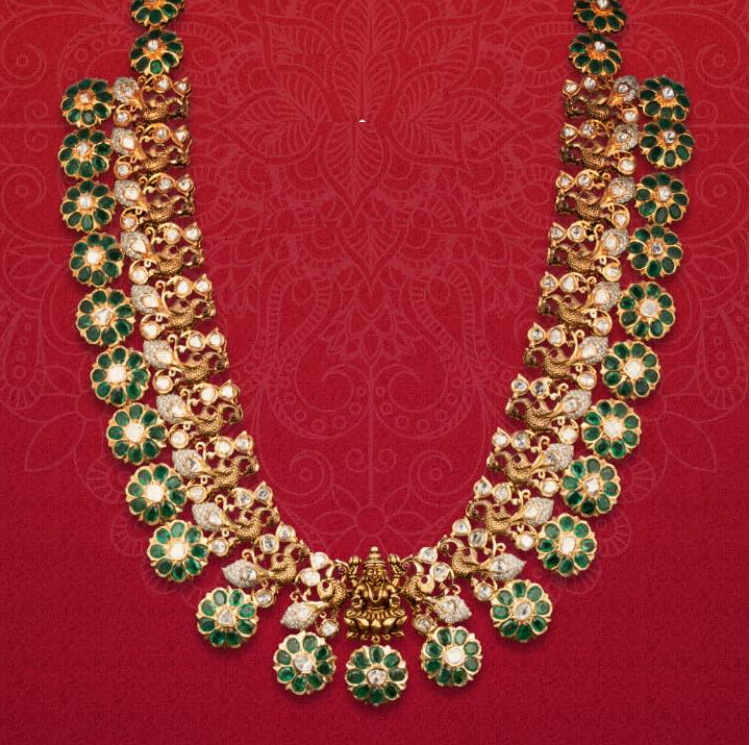 Queens, princesses and fashion divas will be drawn to this ensemble of florets that is beautifully crafted with colored stones. This traditional Polki Bottumala With Emeralds take you after a Rani haar.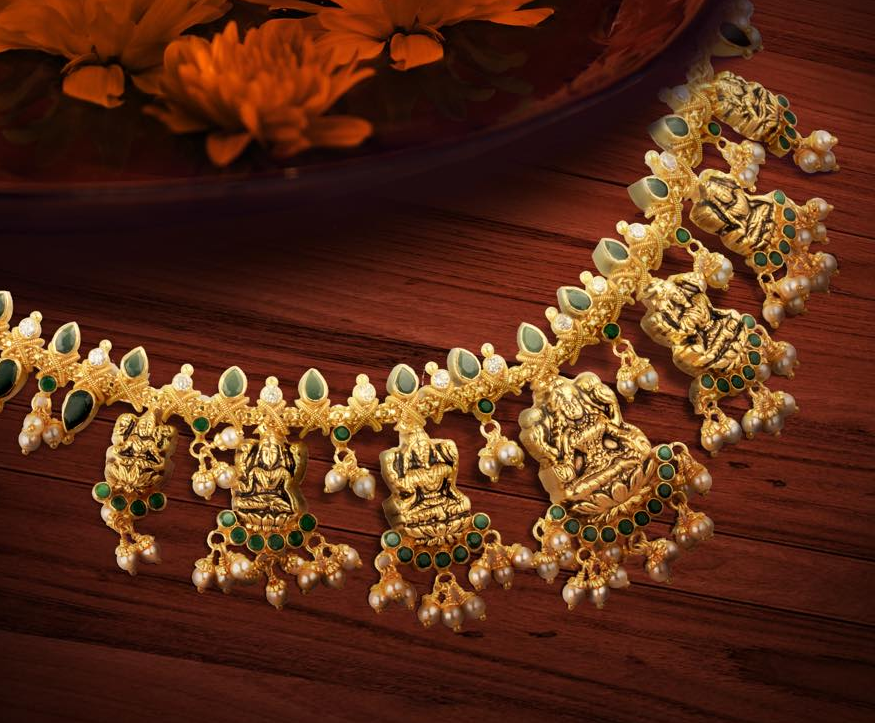 From the depths of the earth, this Lakshmi necklace with coloured stones is a tribute to the ageless era of our ancient heritage.
Desiring Bangles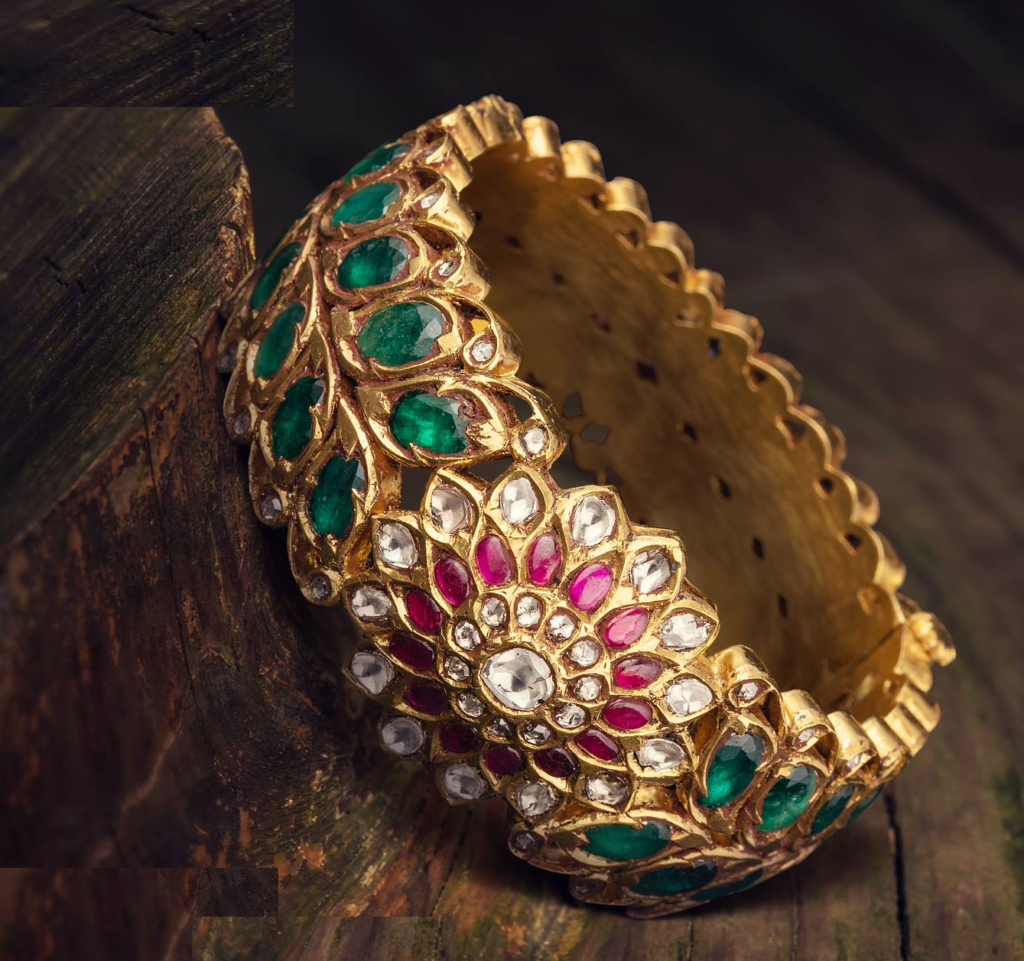 The epitome of craftsmanship rendered in 22k gold, bedecked with rubies, emeralds and white stones. As your presence pervades the ambience, the secret admiration and appreciation it engenders, will follow you long thereafter.
Heritage holds a special place in our hearts and souls. Treasure some heritage with this pachi embellished bangles that is an enduring glory.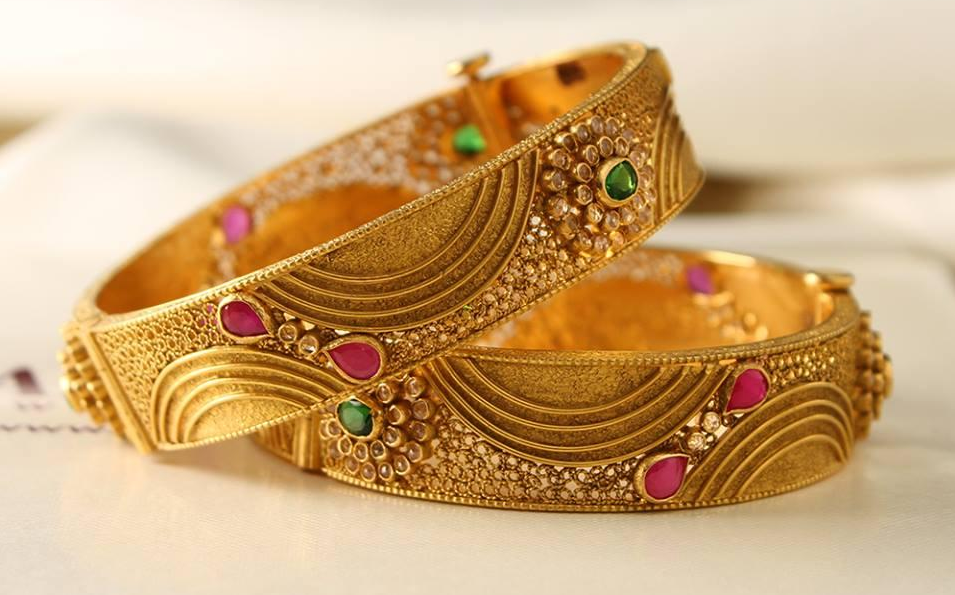 Inspired by the glorious traditions of the past, these 22k gold bangles bring back the elegance of a bygone era, with a contemporary flair.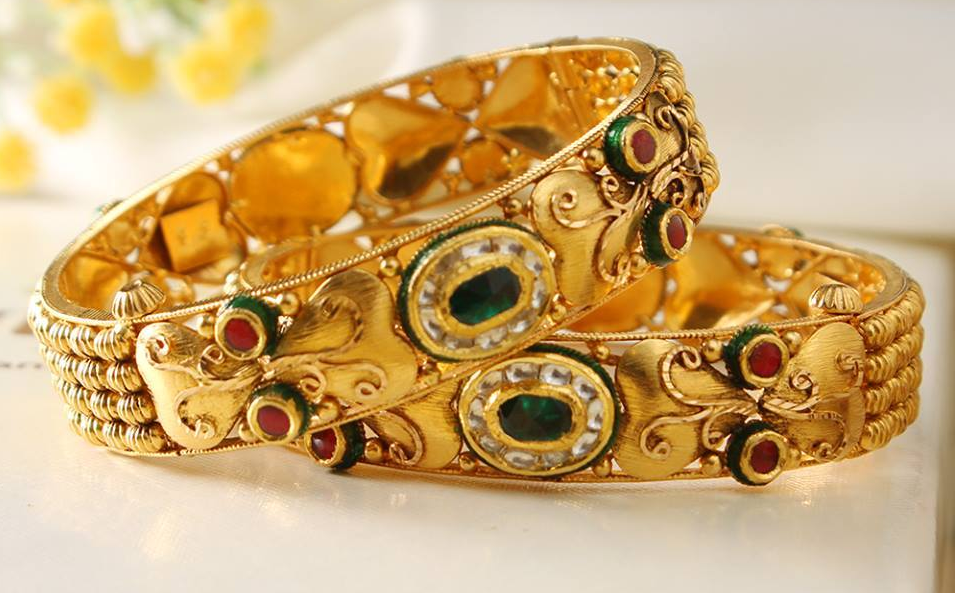 Special moments deserve special jewellery. This heritage fusion bangles with meenakari work will definitely add charm to such moments.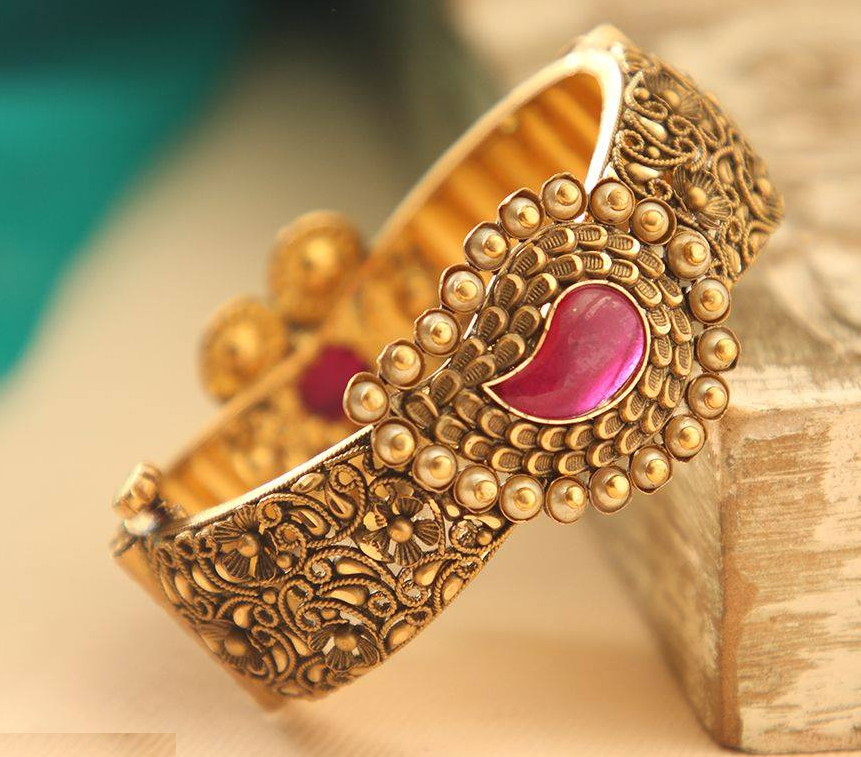 Raise a hand to elegant and good taste. Adorn your wrists with the ancient bangle heritage, combination of modern gold carvings with traditional pat and feel good.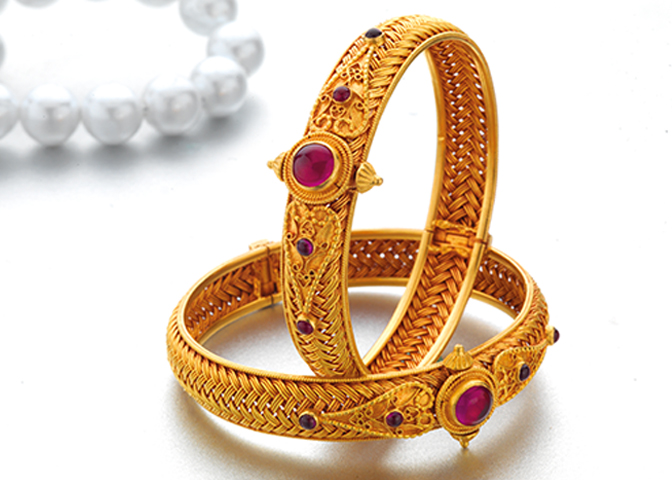 Traditional jewelry styles and patterns never fade from the fashion. This pair of bangles with bright ruby is stunning.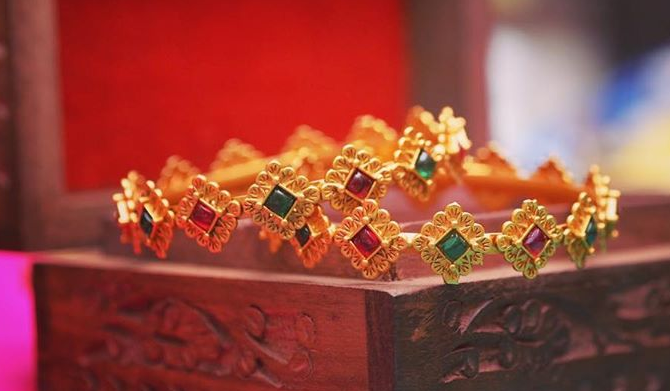 The sheer magnificence of the bangle lies in the style it adds to any attire . This pair of bangles is simple yet offshoots elegance.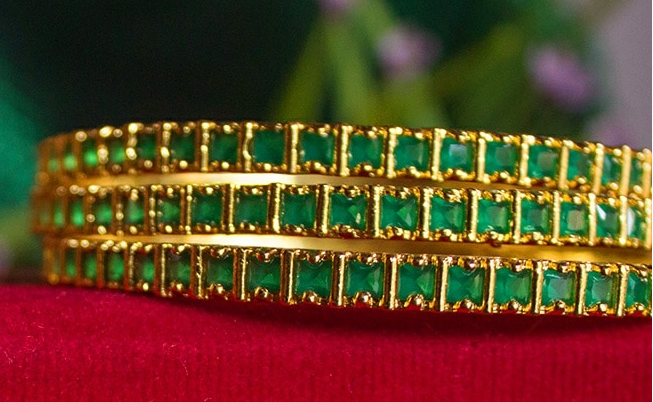 A standout amongst the most widely demanded bangles incorporate the stone bangles. This set of bangles in emeralds is a timeless ornament.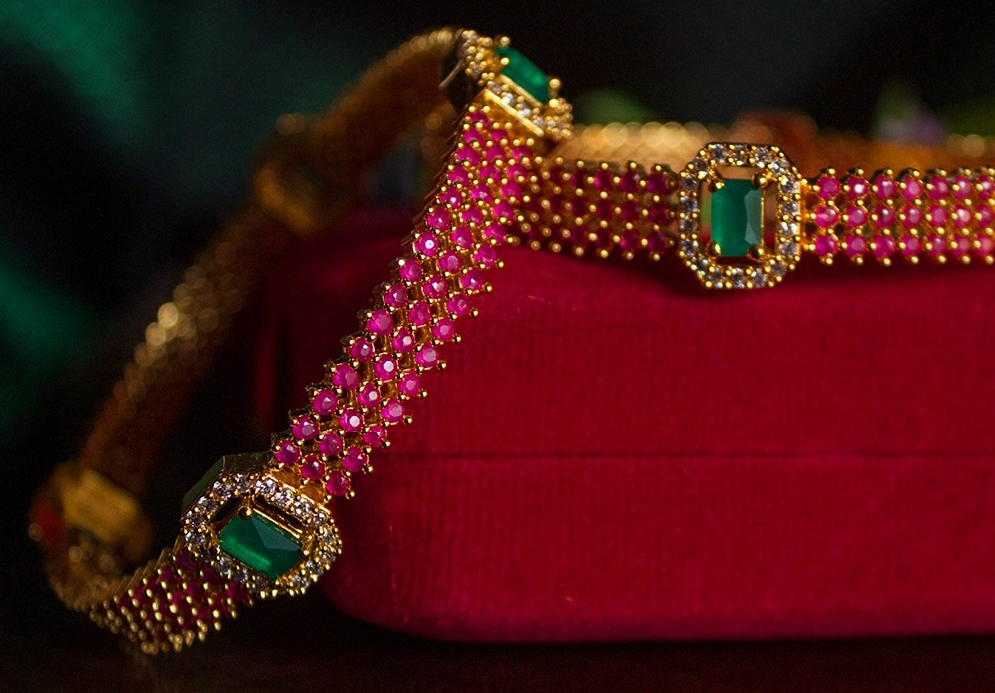 Stay a class apart with this cut-to-perfection triple line, closed pair of bangles. This distinct design combines royal design heritage, with a modern sense of regalia, to distinguish your unique lineage.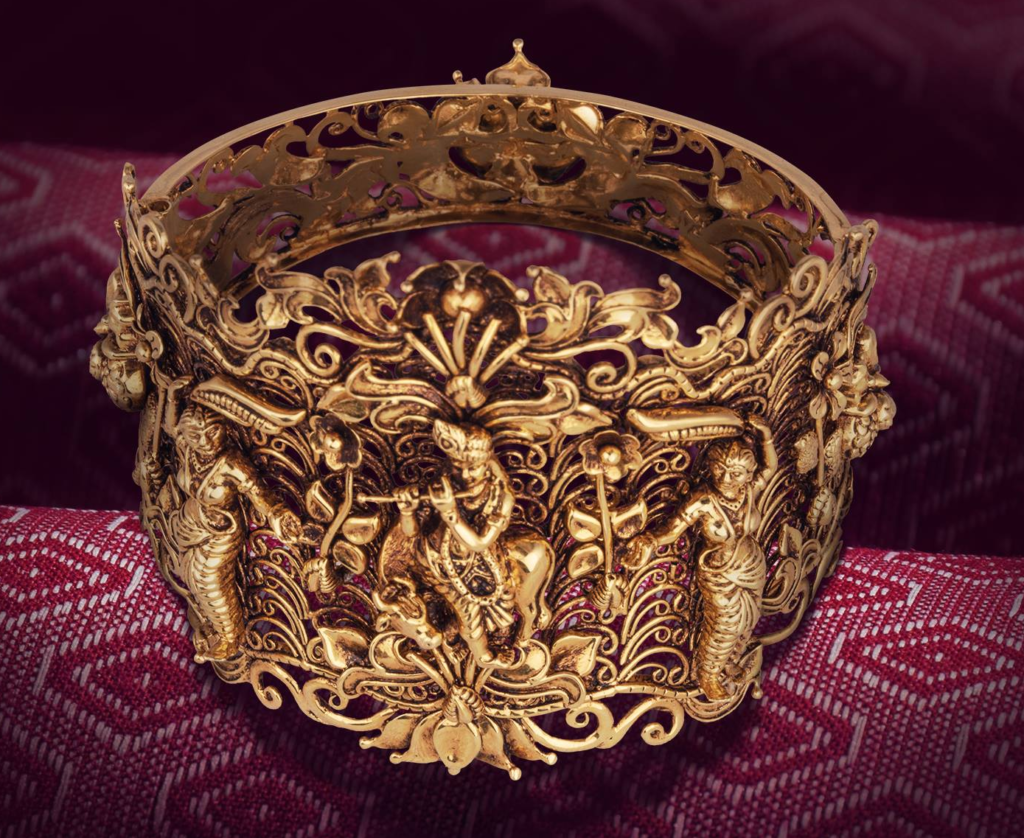 Beauty, brilliance and confidence go hand in hand. Flaunt your radiance with antique styled kada with fine carvings.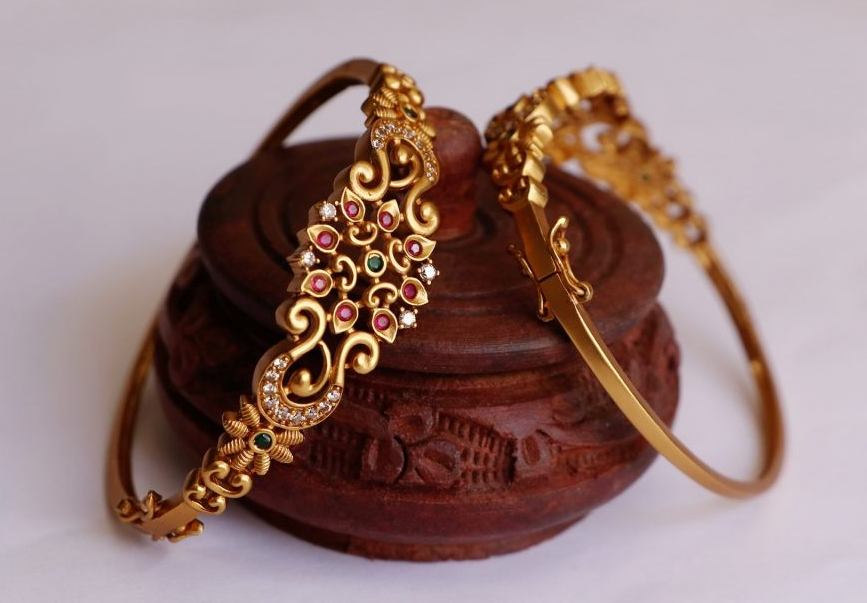 Style that compliments your personality. Brilliant design and colorful stones like ruby, emerald, and kundan make this chic bangles truly astonishing!
As your spirits are uplifted by a mere glimpse at this exquisite expression of the jeweller's art, may your fortunes soar and the festival bring you and your family an abundance of joy, prosperity and happiness throughout. Happy Diwali!