Chandbali Earrings are prevalent traditional earrings of India. These earrings are trending now and cherished by many ladies. Firstly, many like them since they are versatile which goes well on ethnic as well as western outfits. You can wear them for some occasion as well in routine. Secondly, these are available in variety of designs and make that looks great with varied sizes as well.
Now, you might be interested to know how this chandbali designs evolved. You might be wondering what exactly is a "ChandBali Earring"?
Well, in simple words, "Chandbali is kind of earring that has shape of two crescent moons set within each other, studded with colorful stones and gold designs within geometric outlines."
Origin of Chandbali Earrings
Chandbali Earrings were instigated during the Mughal or Nizam era in Hyderabad. Mughals brought a lot of Islamic influence, and the moon, in its crescent shape, is considered very auspicious in Islam. And then, it was perhaps the cultural intermingling among ruling dynasties across India that made the half-moon shapes popular in the jewellery traditions. That's why Hyderabad is known as the region of origination of "Chandbali Earrings". Further Hyderabadi Chandbali earrings have a special uniqueness and design which makes them royal and outstanding!
Hyderabadi Chandbali Earrings
Hyderabad is the birth place of Chandbali Earrings. The attractive factor of Hyderabadi chandbali is that, they consist of finest quality pearls (studded or hanging). Pearls were brought to India by Mughals in abundance and these were used extensively in this design. The ethnic and royal touch is the main theme of Hyderabadi chandbalis.
Chandbali designs
There are several designs available when you want to buy a Chandbali earrings. These designs are: hoop, peacock, petal, leaf, dangle, spiked, filigree, drop, stud, jhumar, multi-layered and many more. Jhumar, stud and multi-layered chandbalis are running quite popular these days and many bollywood divas are embellishing them with ethnic or indo-western outfits.
Popular Designs and styles of Chandbali Earrings
1. Chandbali with Jhumka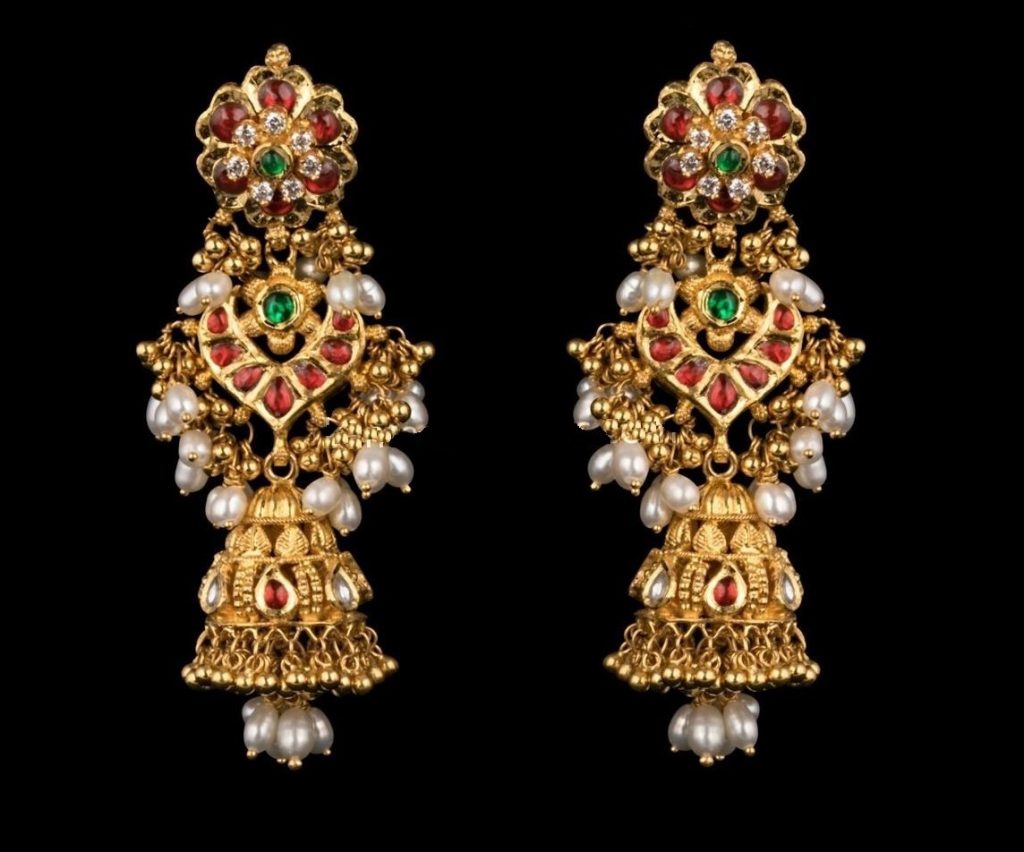 Many people are aware of this style but didn't know it's exact name. It is a simple chandbali with an extension (jhumka) at the bottom. You can find this "Jhumka-chandbali" in silver, gold and diamond too. It gives two-in-one look i.e. of little cute jhumka and a traditional chandbali. You can rock Jhumka-chandbali with an anarkali or Patiala suit.
2. Antique Chandbali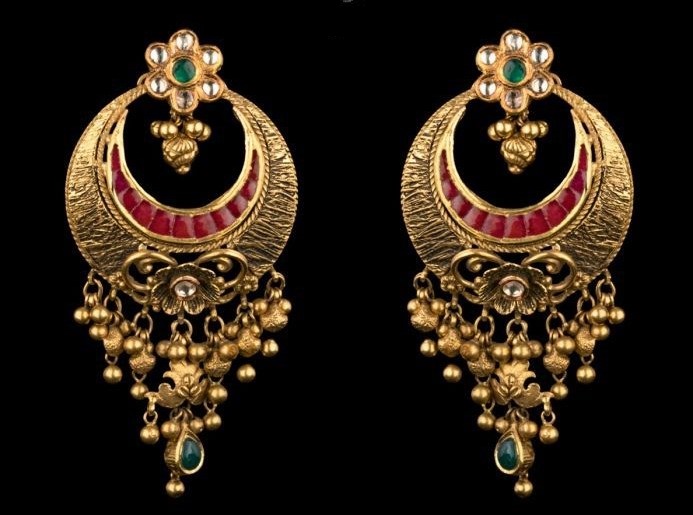 Antique and Temple jewellery designs are loved by Indians in all kinds of jewelry. And Chandbali earrings is no exception! Wide range of gorgeous designs are available in chandbali designs and are very attractive. Infact, these days this is a popular bridal choice. These earrings look great when matched with antique design necklaces and haaras
3. Uncut Chandbali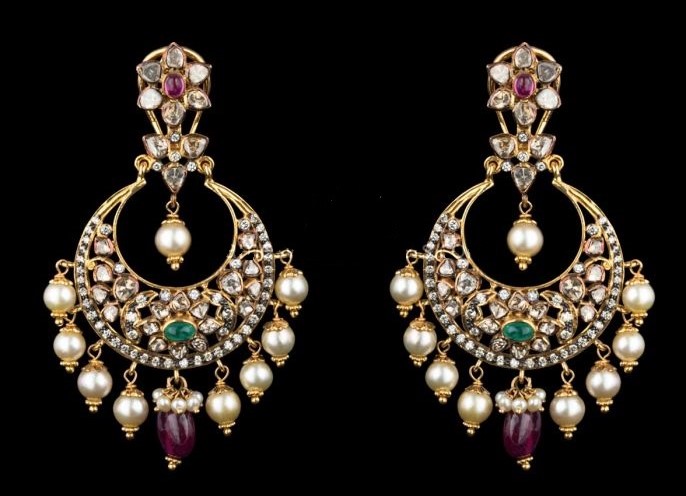 This type of Chandbali is very popular and in demand. Here, the word 'uncut' refers to 'unpolished or unshaped' diamonds. These diamonds are not polished or trimmed but are irregular and kind of 'raw'. Thus, their value and demand is indeed high. These look very stylish and fashionable when adorned in chandbali design earrings
Types of Chandbalis based on Size
The chandbalis can be classified according to their size and length.
• Long Chandbalis– These type of chandbalis are long and can be heavy as well. These ones hang long from the earlobes and are suitable for occasional wear.
• Small Chandbalis– These chandbalis look really cute as they are small in length and are quite light weight. These can be worn in routine. You can team up these small chandbalis with jeans as well!
• Oversized Chandbalis– Oversized means larger than the actual/regular/standard size of an object. So, the oversized chandbalis are long in length, very broad and can be of various shapes. Normally these are of round or oval shape. You can flaunt your oversized chandbalis at some important family function or yourself as bride!