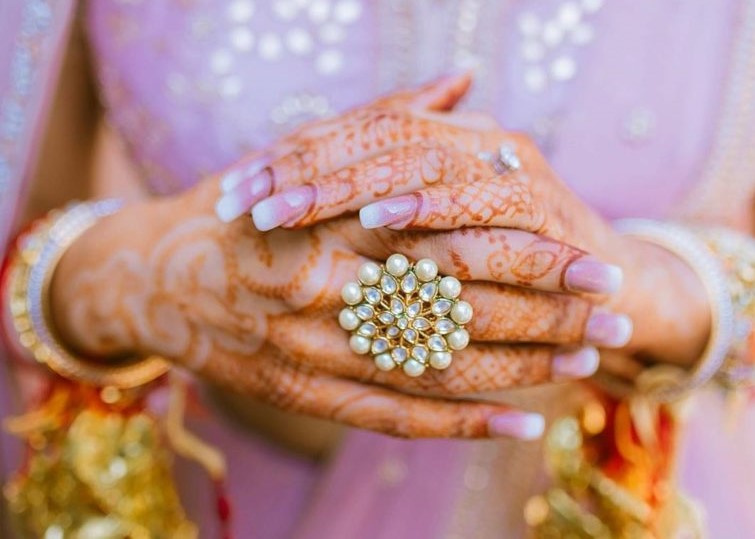 For their artistic craft and paramour charm, cocktail rings are an accessory that appeals to the hearts and fancies of every women. While some of them would be rooting for the classic huge stone rings, others would be hearting over a rather contemporary design. Cocktail rings are just what you need to add a tad of dazzle to your look. These beautiful cocktail rings are a statement for sure!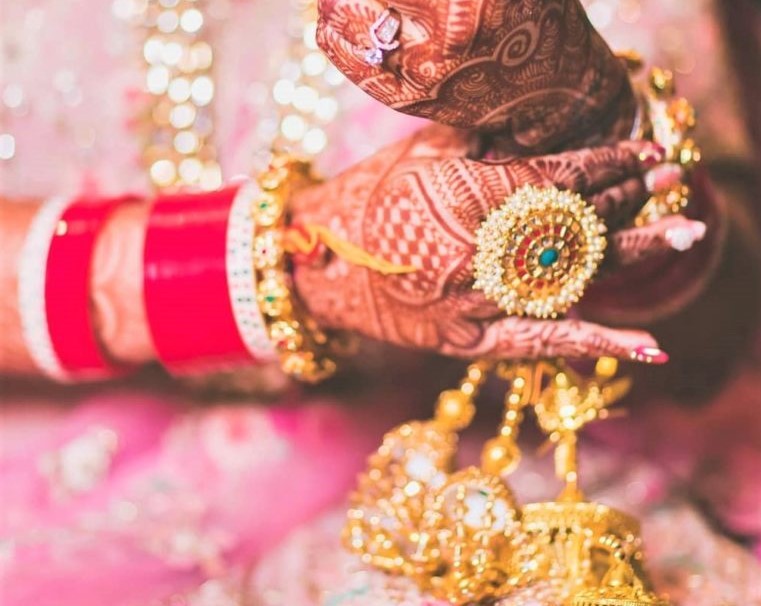 And as a bride, you pay attention to each and every aspect of your look. So why not adore your hands with cocktail rings and make them look stunning? We're sure you know that a statement ring can transform your entire look in seconds, and these cocktail rings are just the perfect ones to amp your looks.
Here we go with glamorous cocktail ring designs for the gorgeous you!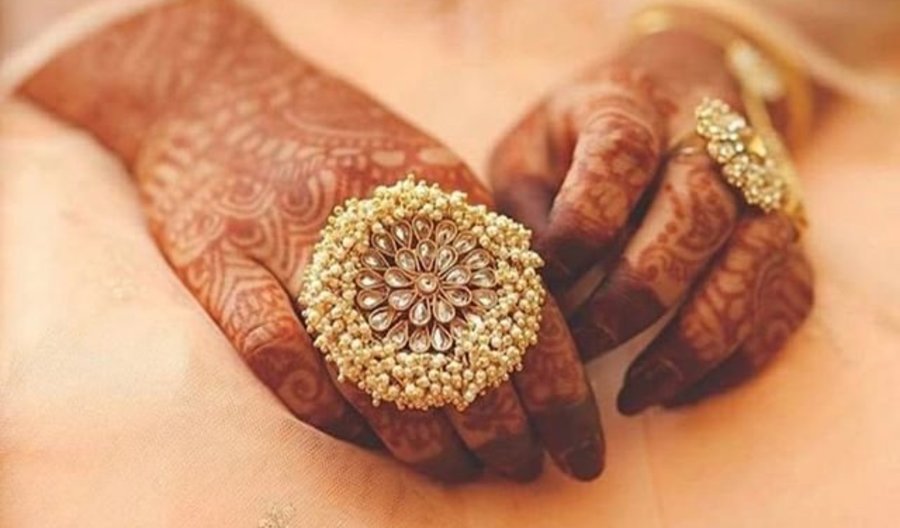 Kundan and Polki cocktail rings look gorgeous on your finger, and have been trending since ages. These gorgeous statment rings make your hands look all pretty and an apt choice for brides.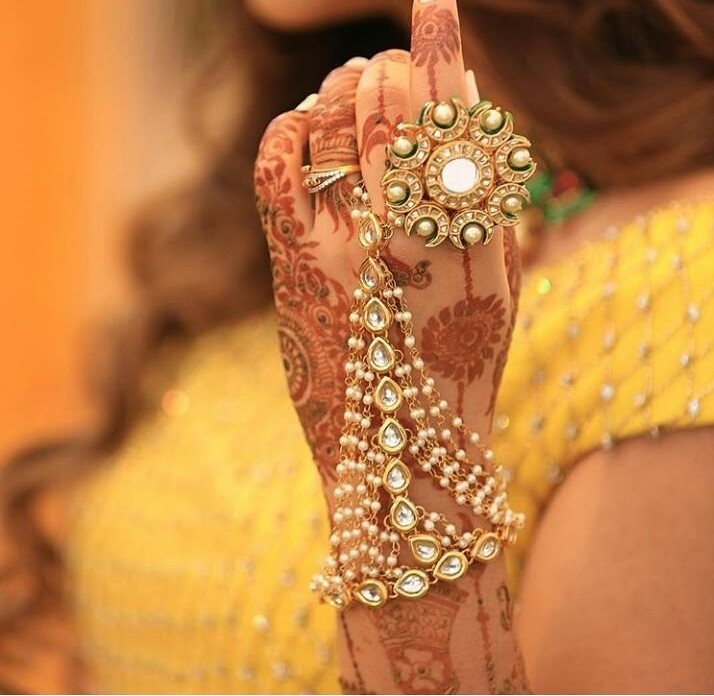 This gorgeous crescent-shaped ring with an explosion of pearls is sure to add the needed depth to dazzle your hands. This all-pearl ring is sure to add a dainty effect and will steal the show effortlessly.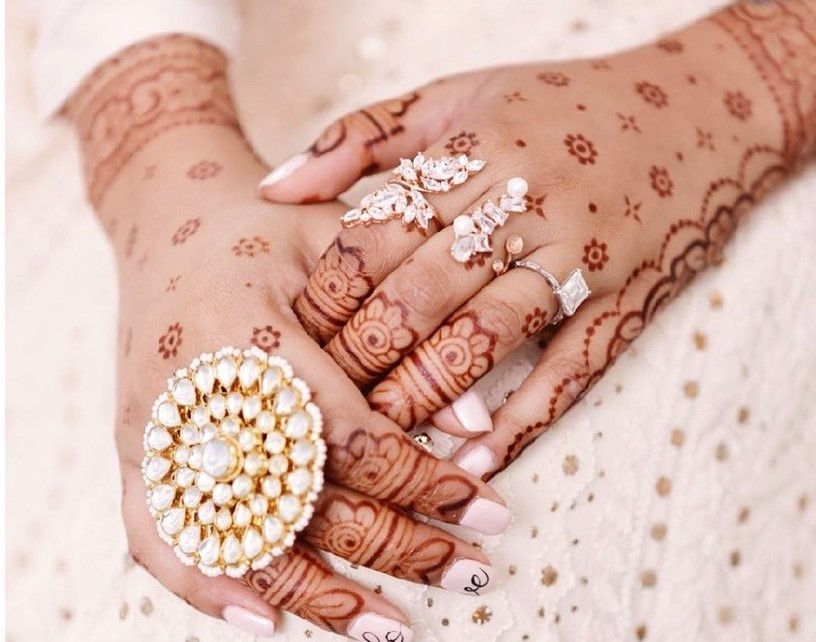 Get this beautifully crafted Kundan gold ring to add a regal aura to your wedding look. This will be a great choice on your pastel attire that look perfect-put-together at the same time.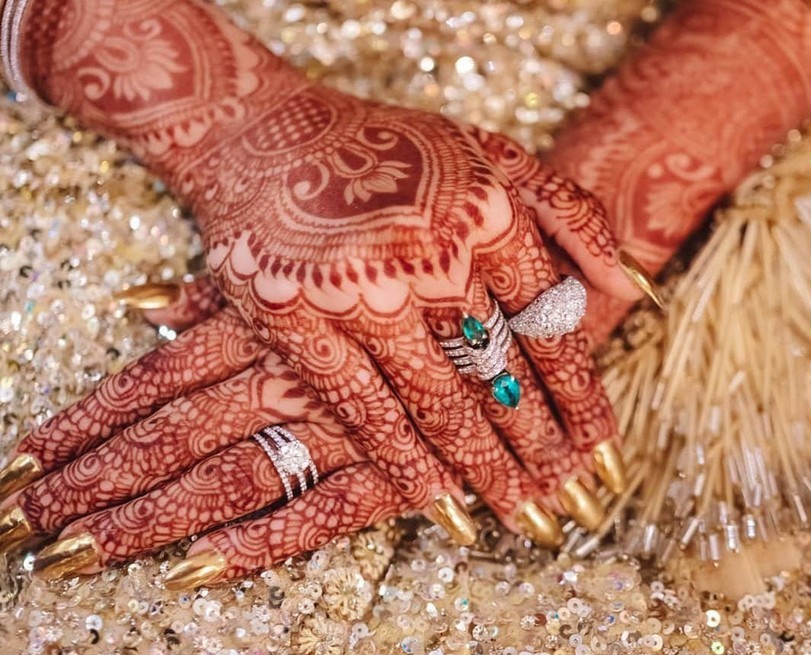 As rightly said diamonds are a girls best friend, and there is no doubt about that! Diamonds can never go wrong especially when its in a ring. Cocktail rings with diamonds just rock, and when combined with bright emeralds, they look stunning.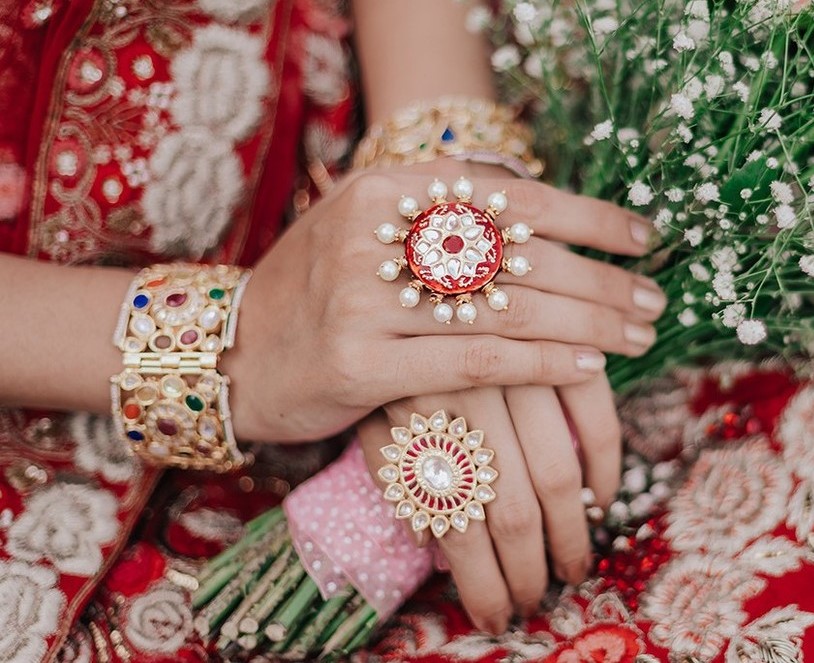 This meenakari ring wonder will have you obsessed with its vintage-inspired design. Cocktail ring designs like these, featuring glorious pearls surrounding a fantastic enameled center, looks great on red lehenga.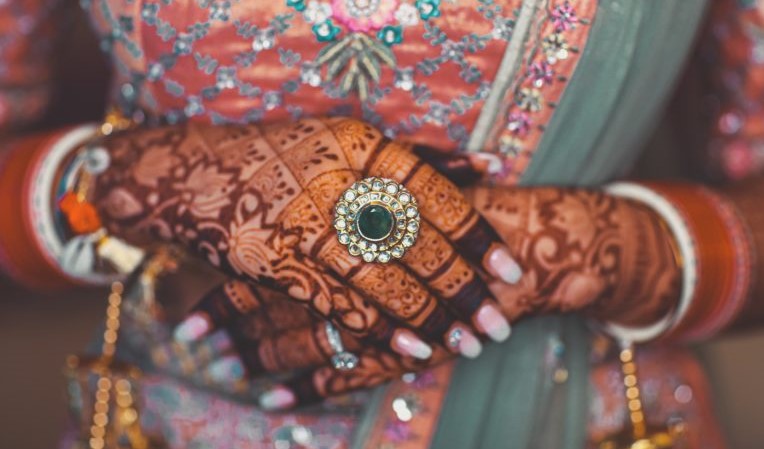 Here is a dazzling emerald studded ring for you to pick for the ultimate bridal glam. The deep green colour of an emerald looks breathtaking .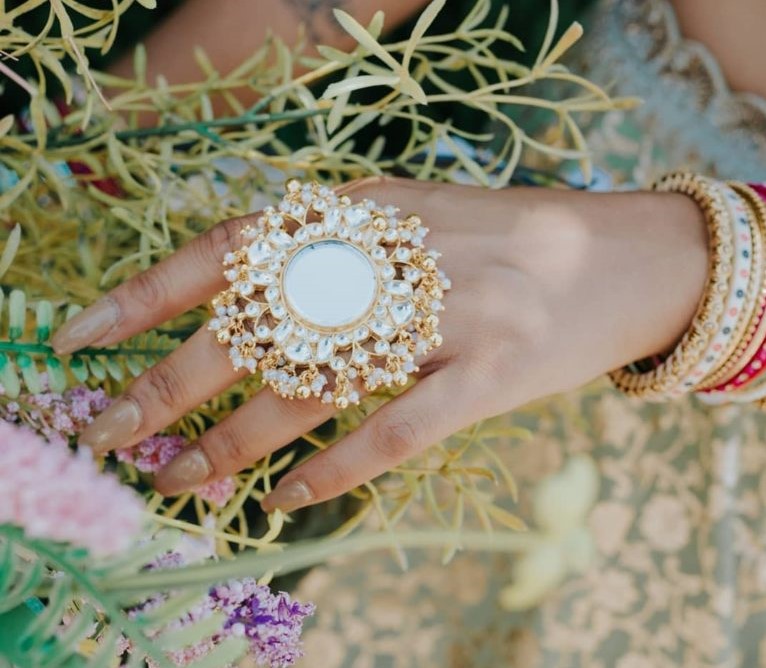 Make this charming ring yours right away to add the perfect dose of glam to your hands. The stunning ring with a huge mirror in the centre surrounded by pearl fringes gives it the right amount of bling.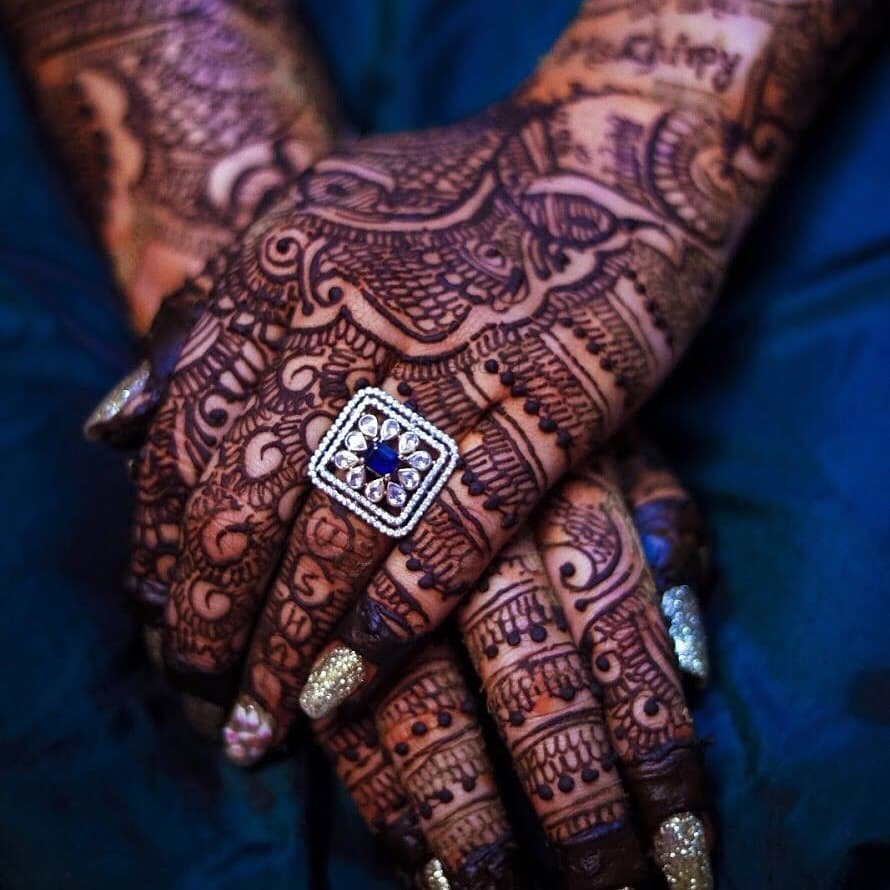 Gorgeous sapphire cocktail rings with lovely pattern that are perfect for any bridal outfits. Be it blue or green, or any different colour, you can wear everything with these rings.
Colors will always uplift your mood and make you look cheerful. And these vibrant enameled gorgeous rings are the perfect ones on happy occasions!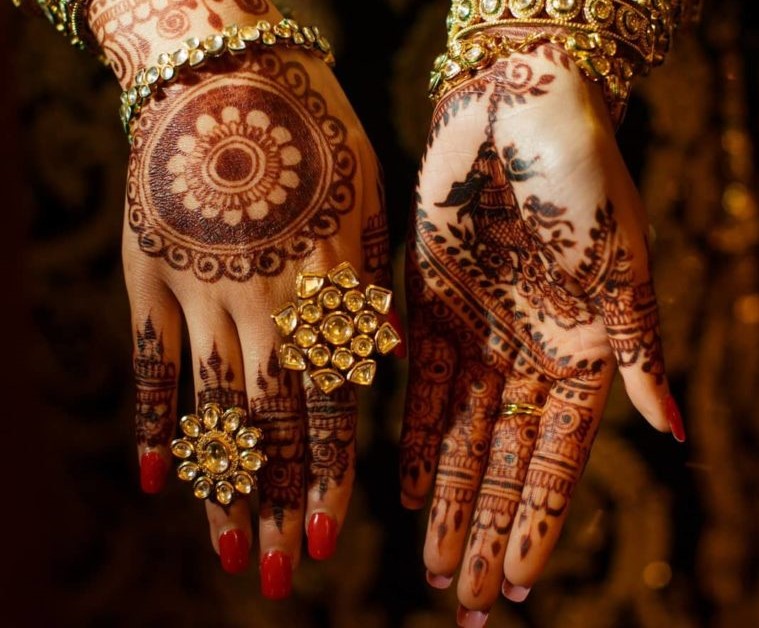 Two floral rings with polkis matched at different heights is unique in its style. This duo is surely going to make a statement, nobody can stop gazing at this creative beauties.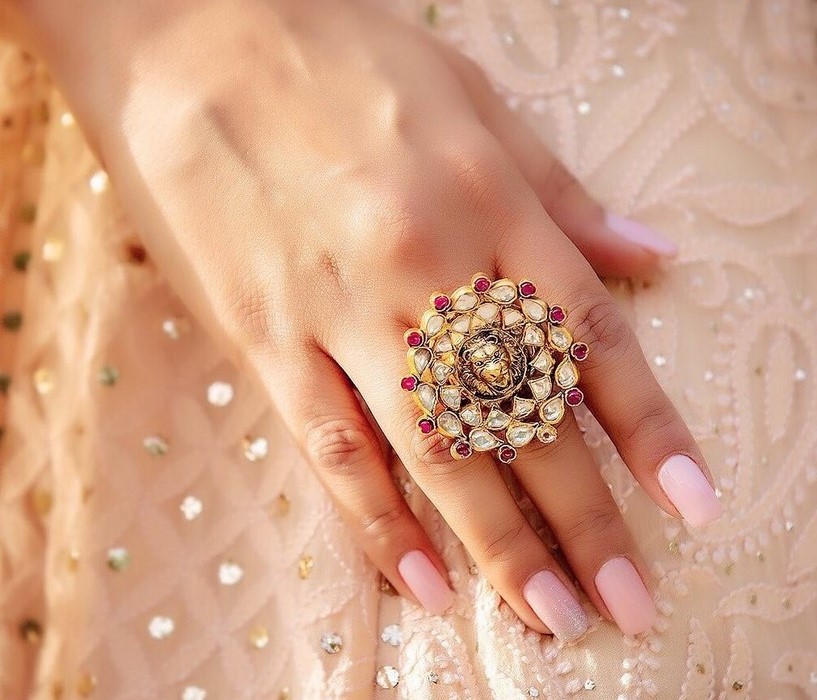 A cocktail ring like this one is sure to bring out the bling-factor and make it go soaring off the charts. If you fancy elaborated and unique accessories, then this ring will be the perfect one for you.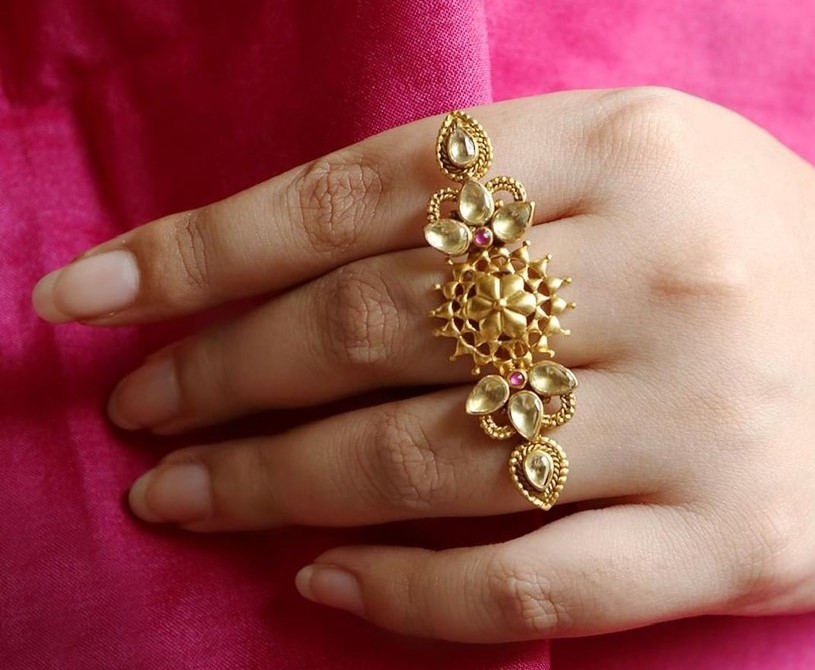 The fabulous tribal ring design would make an impressive fashion statement and would be a killer addition to take your look to the next level. This elaborated ring is sure to give you the best of both worlds–traditional & modern.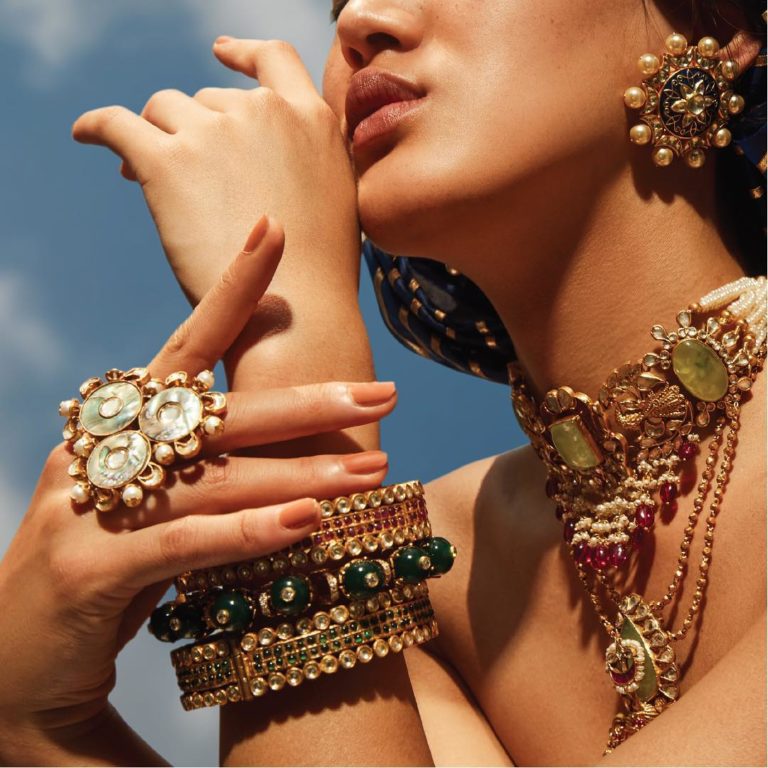 This is one of our stylish designs from the entire cocktail rings collections. This design is super unique yet so edgy! Encrusted with three circular artifacts, this ring is ought to match every attire.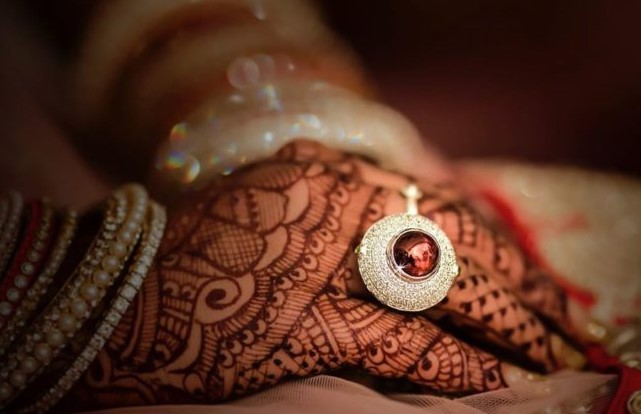 Slay your bridal look with such lovely and eye-catching cocktail ring designs. Bright deep red stone surrounded with sparkling diamonds is sure to grab everyone's notice.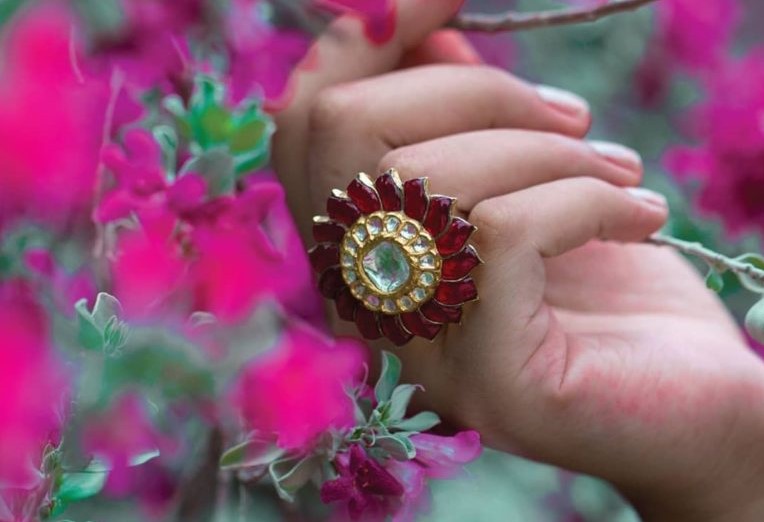 Floral patterns are evergreen, they never go out of style and you can pair them up with almost any outfit at any given occasion, while adding a bit of elegance to your look. This deep red cocktail ring is astonishing.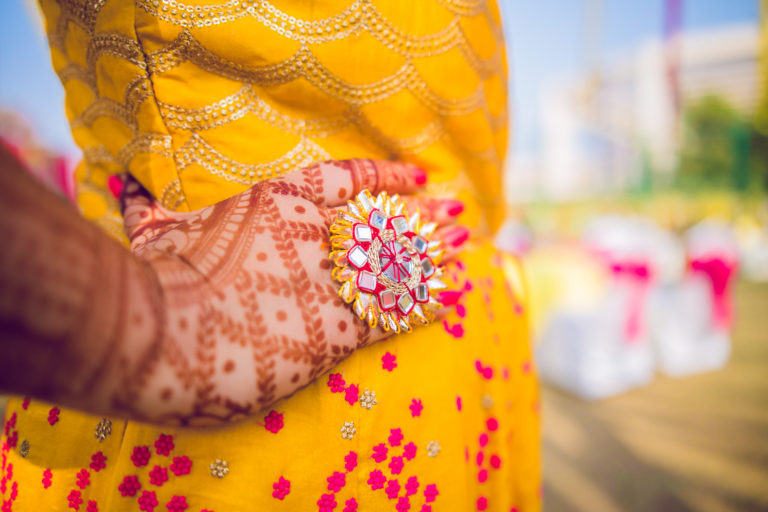 This one is the crowning one for your mehendi or haldi ceremony. Charm of colors and new-age designs are the ones which is much need for today's brides.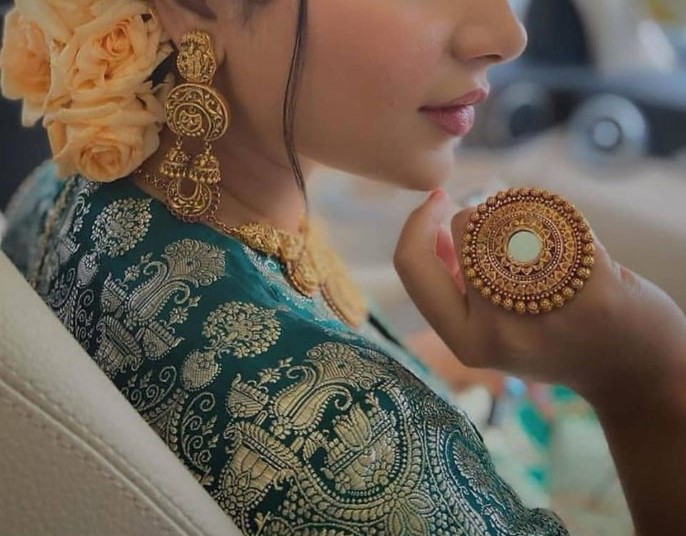 If you like a traditional cocktail ring, this one is for you. Lovely circular cocktail ring with a traditional mirror om a saree would definitely take your looks a notch higher.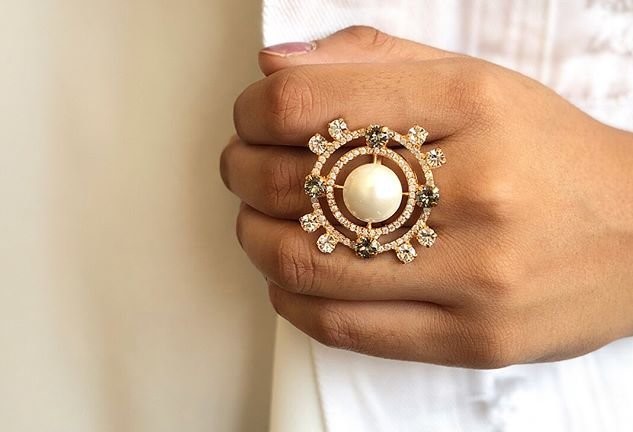 This ring with a huge pearl featured in the middle and embedded with beautiful gemstones will give a beautiful and lively touch to your look. The ring is sure to suit slender fingers and give more structure and definition to your pretty hands.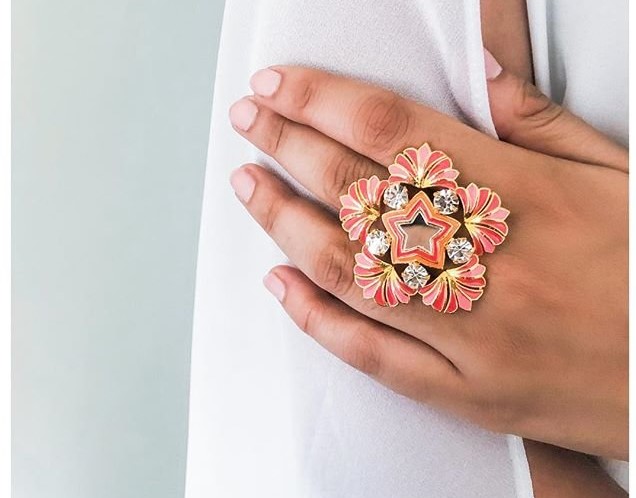 This chic design meenakari cocktail ring has delighted us so much. The delicate color and artsy design on western attire will surely offbeat in fashion.