Navratna Necklace comprises of colorful gemstones, their vibrant and cheerful color is something that catches everybody's attention. These jewels are nowadays embellished on both traditional and western attire. When adorned on western outfit this surely makes a fashion statement.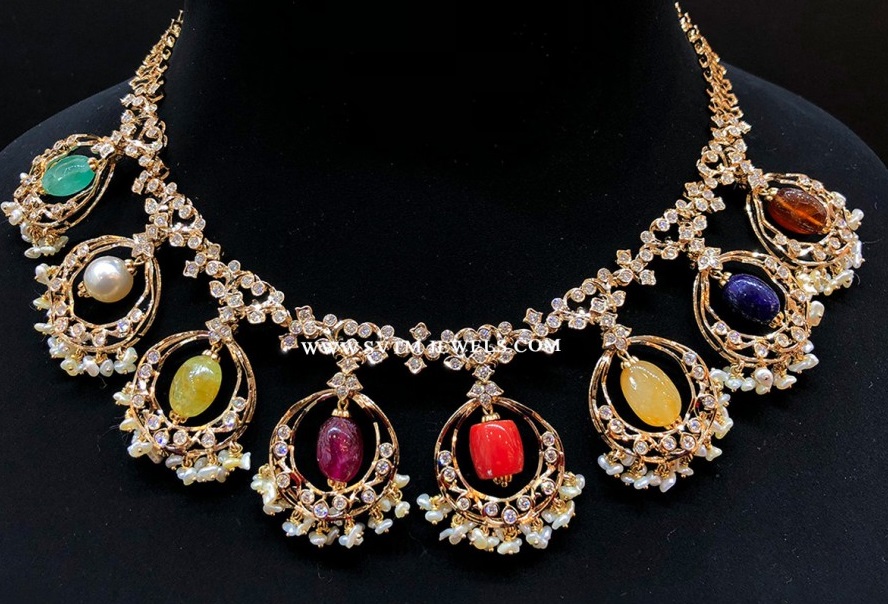 History
Indian Jewelry with Navratnas has a very curious history from ancient India. It's believed that the Hindu universe involves seven planets and two "nodes". Together these are loosely referred to as nine planets. Each of the nine planets has corresponding celestial Gods, also known as the navagraha. The nine celestial Gods in turn are associated with nine gemstones, known as the navaratna.
Jewellery created in this style has important cultural significance in across many southern, and south-eastern Asian cultures as a symbol of wealth, status, and also as having other talismanic benefits to health and wellbeing. The setting of the stones is believed to hold mystical powers, tied to astrology, mythology and intrinsically linked to the Indian religions of Hinduism, Jainism and Buddhism. The nine gemstones known as navaratna includes gemstones – diamonds, pearls, ruby, sapphire, emerald, topaz, cat's eye, coral and hyacinth or zircon. The word "ratna" refers to a precious stone.
Trending now..
These days colorful necklace is available in many stylish designs and has captivated many fashionistas. Though these jewel may not comprise all of the nine gemstones, their appearance in total give a Navrathan flash! Some traditional designs look great on ethnic attires, but there are few modish designs available which you can try on modern attires . And surely that would make you look remarkable! Whatever is the style, we found these look sensational on soft hued outfits.
Look whom we spotted with lovely Navrathan necklace that gladdened us. Its Pooja Hegde and Samantha Akkineni, popular Telugu actors! They looked stunningly gorgeous with the flamboyant neck piece which looked perfect on pastel apparels.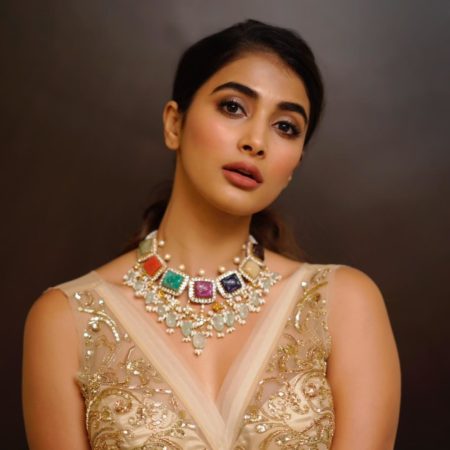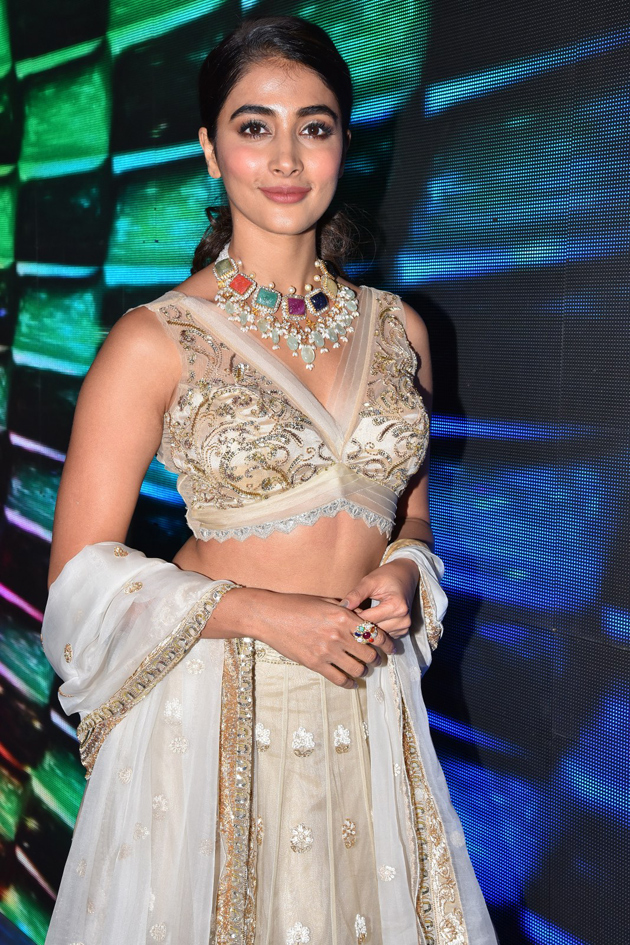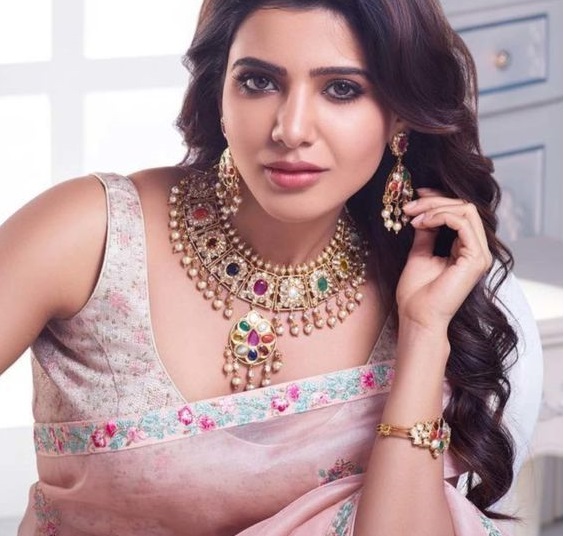 Here we spotted few others who waved around their vibrant necklace on a pastel saree. Isn't this looking so cordial!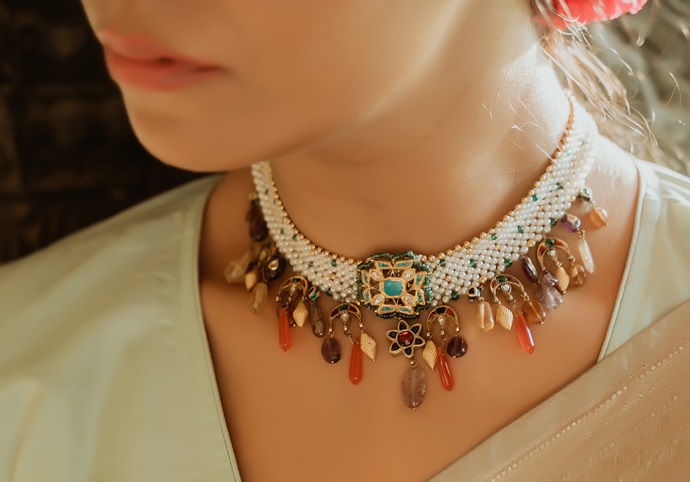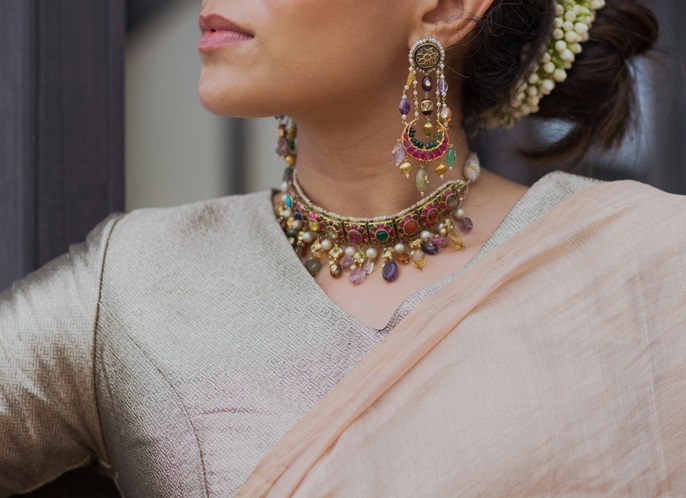 Am sure you have completely adored the jewels so far and want to have a glance at more designs. Don't you?
Here we go with the compiled list of nine latest Navaratna or colorful gemstone necklace designs. Take in the sights these striking jewels and save your favorite!
1. Fabulous floral pattern Navratna necklace from Amarsons Jewelry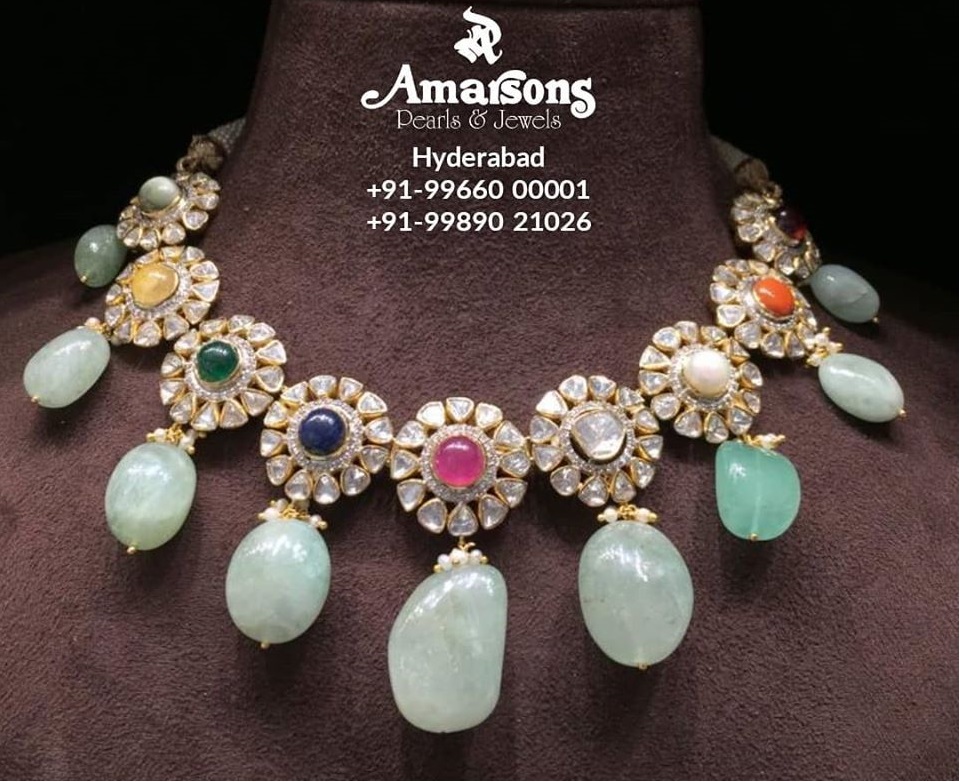 2. Stylish Polki design Navrathan Necklace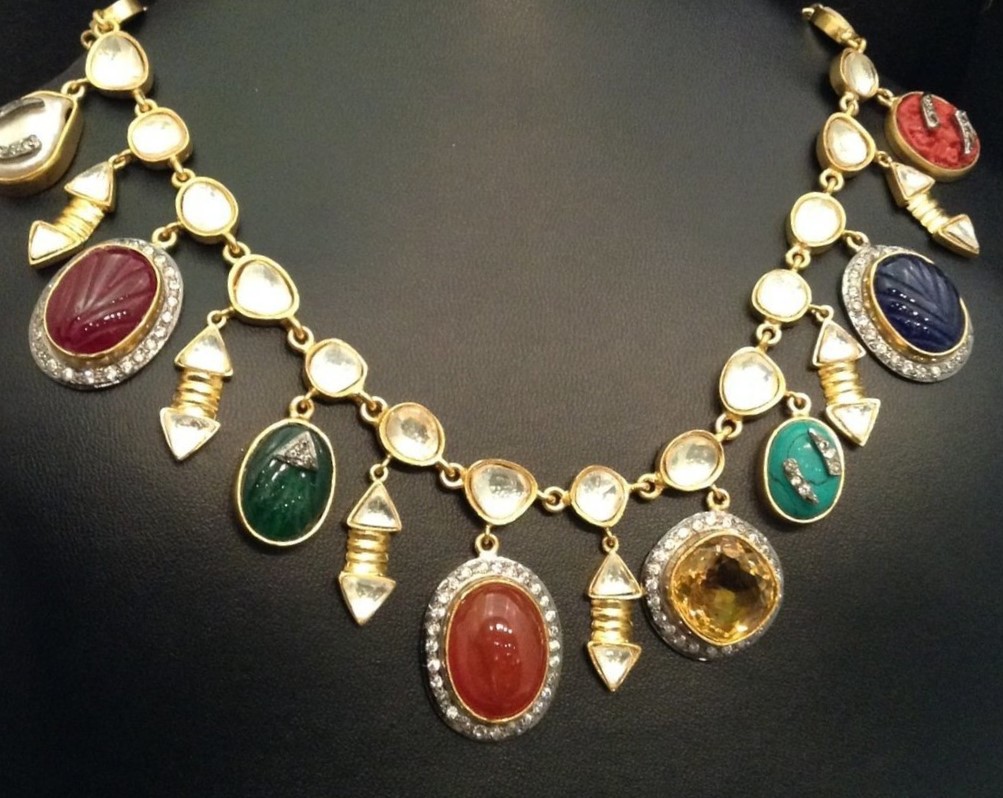 3. Adorable Navratna necklace with south sea pearls from Kameswari Jewellers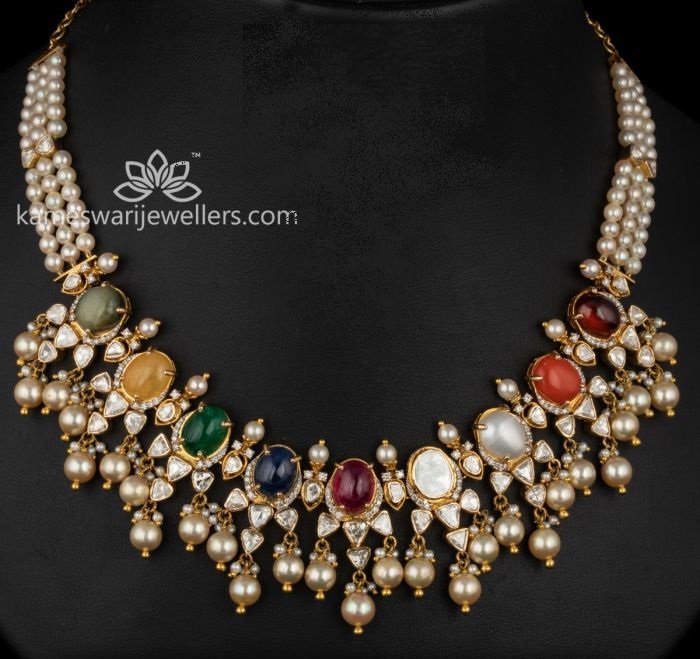 4. Astonishing two layered floral polki pattern Navrathan necklace
5. Appealing gutapusalu style Navratna necklace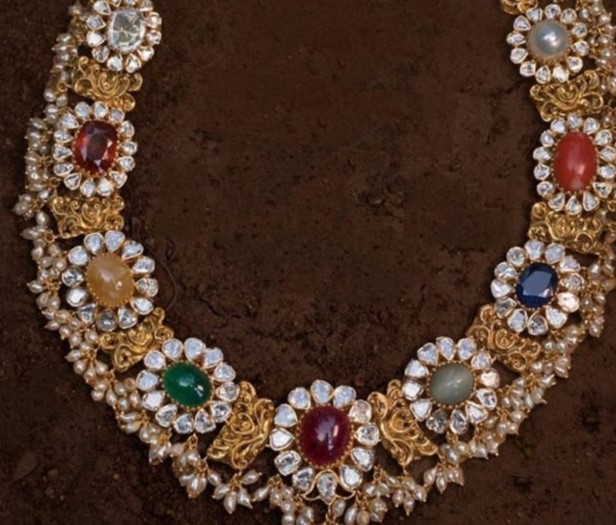 6. Pretty necklace in mango motif with a attractive Navratna pendant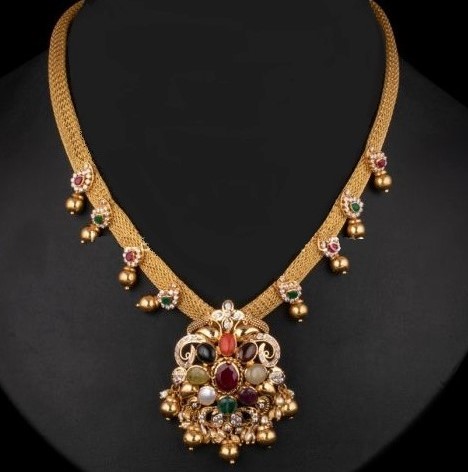 7. Adorable chain with colorful gemstones and a lovely pendant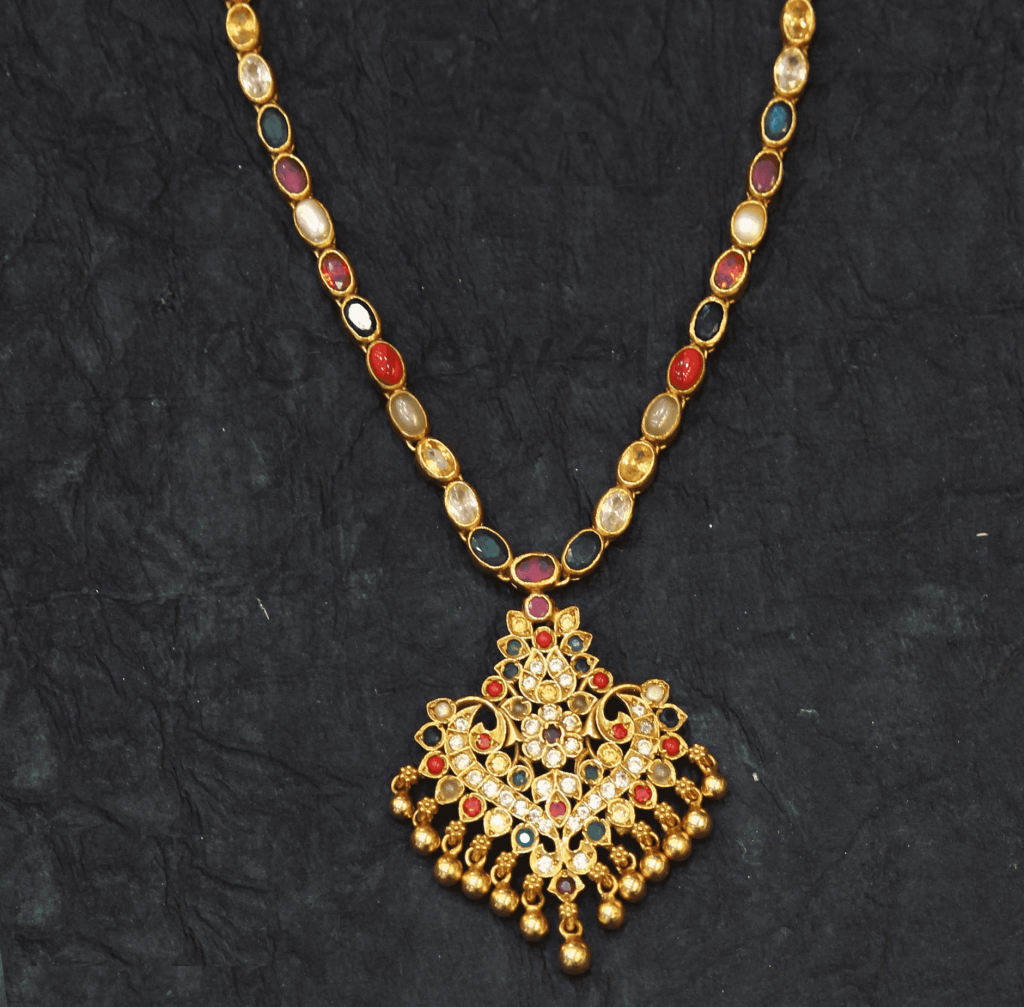 8. Exotic navratna necklace with dropping pear shaped purple beads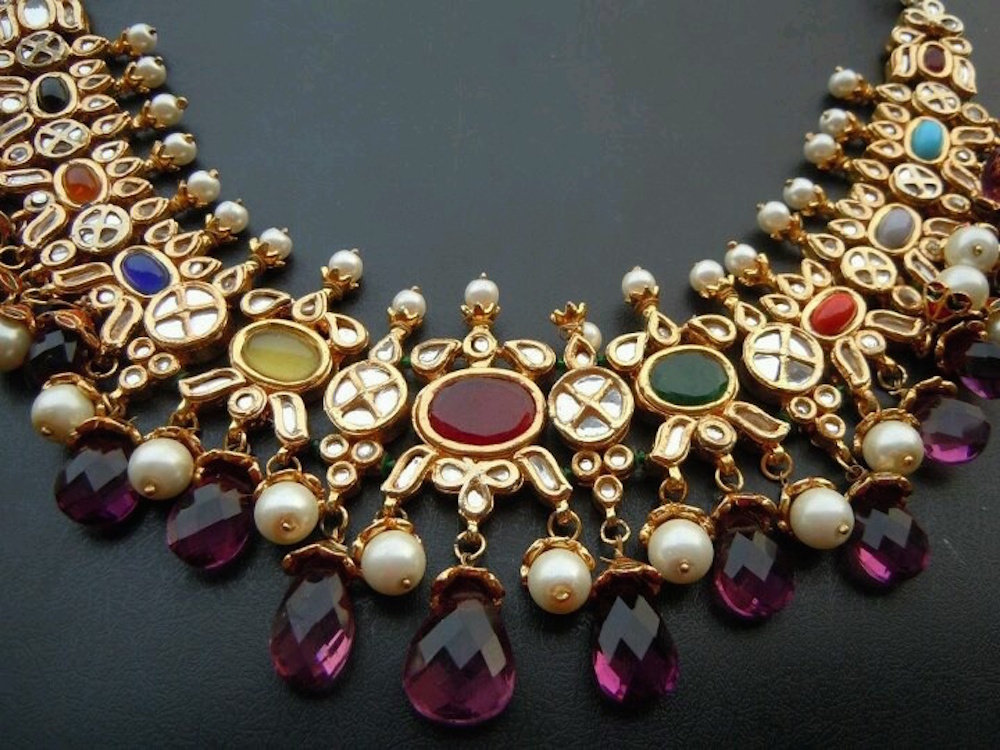 9. Charming navratna choker with a beautiful drops from Mangatrai Jewellers