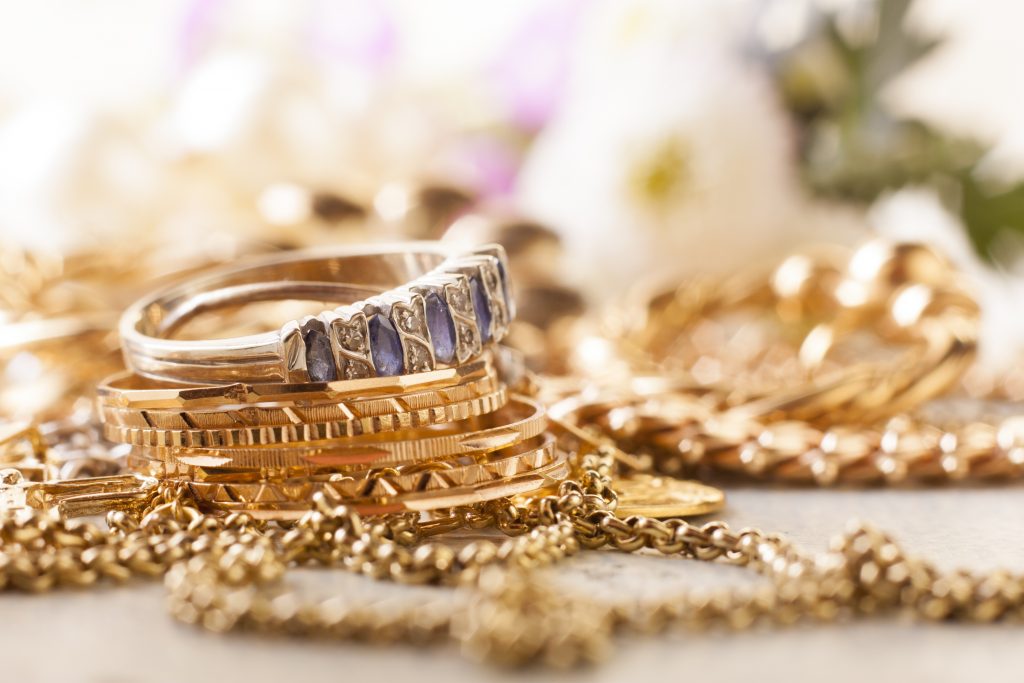 Gold plated jewelry is a great alternate to gold jewelry. Its so much true that all cannot afford gold necklace or gold bangles or gold earrings that is contemporary. With so many pretty designs and styles coming every season, you have desires to own them and flaunt your style. But , practically changing or replacing your gold jewelry so often may not be possible. But no worries! Gold plated jewelry helps you fulfill your dreams.
Gold plated jewelry is basically coating a thin film of gold on any metal. 1gram gold or fashion jewelry are gold plated jewelry. Basically copper is used in making these jewelry and later given a gold polish. Better ones are available in silver that are coated in gold. These are a great fill-in for gold jewelry. They look almost the same and you get all the styles and designs in this category.
Now that we know this is a gold coated jewel but not real gold, you cannot handle them the way you handle god jewelry. Gold is robust, never tarnish, and can be easily cleaned and it never loses its shine. These properties make them suitable anytime anywhere and expensive too! But gold plated jewels lose luster, tarnish with time and lose its shine over a long period of time. Hence it requires that you take care of your gold plated jewelry so that you can degrade the process and enjoy adoring them for long.
Tips to Extend Life of your Gold Plated Jewelry
As it is said, jewelry is the last thing to be put and first thing to be removed – this has to be followed strictly. Do not wear your jewelry and later put perfume or any other sprays. The chemicals in the sprays may tarnish your jewel. After you are done with all sprays, you should wear gold plated jewelry.
Even with make up, after you apply cream or lotion allow it to dry. Then wear your necklaces , bangles and other ornaments.
Do not expose your jewelry to too much heat or moisture. Refrain from wearing gold plated jewelry while bathing, swimming, washing hands, cleaning utensils etc.
Wear gold plated jewelry when needed and can be removed and kept aside when not required. Hang your necklaces when not in use so that you can avoid tangling and later blemishes. You can keep then aside when you go to bed as well. This can avoid friction and scratches that can possibly happen.
Sweat can also tarnish your gold jewelry. So after use you must clean your jewelry and keep them safely. For the same reason, you can avoid wearing them before exercise, you can keep them aside before going to gym.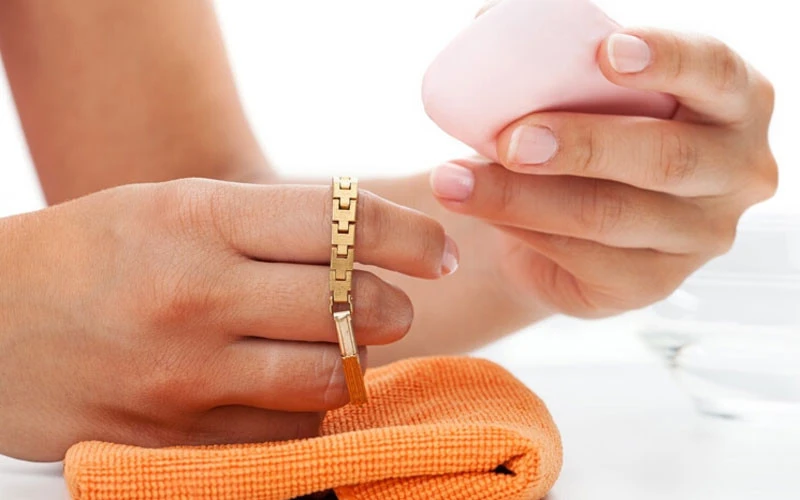 Tips to Clean Gold Plated Jewellery
Gold plated jewelry should be cleaned gently. You should not wipe it or rub harshly, this may tarnish the jewel and also the coating will go off. See the below methods , you can choose any of them to clean your jewelry.
Use cotton balls to clean the dirt and dust.
Use soft microfiber or jeweler's cloth to clean the jewelry.
Use warm soapy water to clean your jewel. Place them in this only for few mins till the dirt is removed. Then rinse with plain water and clean with neat soft dry cloth.
If you like to use a toothpaste, use a mild one which does not have to much whitening agents. Then with soft bristles brush, gently clean the jewels.
Use a soft cloth that is damped with soap water. Clean your jewel. Again moisten with plain water and clean. Once done, dry it using a neat dry soft cloth.
Put professional jewelers cleaning liquid in lukewarm water. Place your jewel for few mins, remove and clean it with dry soft cloth.
Thus, by following the above guidelines you can take care of your gold plated jewelry so that the jewelry looks new for a long time. After every use, you have to clean them and store individually. With this, the shine lasts for long. Its just that you have to handle them gently and with care, so that it always glitters like gold, just as lovable and precious as your gold ornaments!