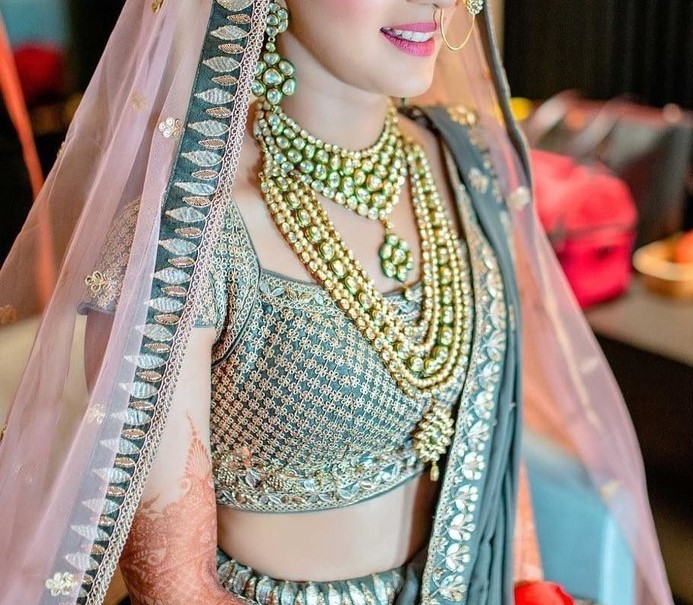 Typical definition for Rani Haar statuses that a long chain that is quite heavy is called a Rani Haar. However, over the years, the traditional long necklace has had a few changes in the design, with some of them being not that heavy and some of them being truly heavy because of the use of multiple stones. Such Rani Haar neckpieces were traditionally worn by princesses of the different kingdoms in India. Now the designs have gone some refinements and back in fashion.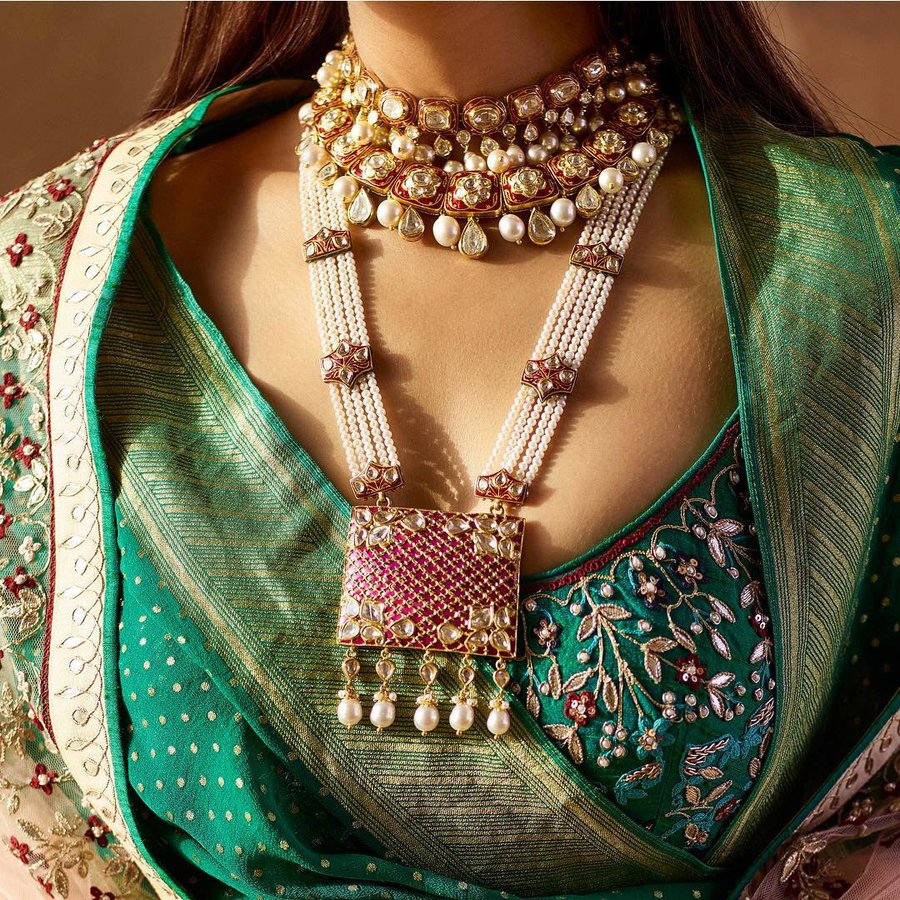 Since a Rani Haar is a long neckpiece, the best way to pair it is with a Choker necklace. This combination is the most preferred combination of all time. When it comes to picking bridal outfits to wear, you need to consider the Rani Haar designs as well. You can go for an all heavy look by wearing a heavy bridal outfit along with the heavy necklaces that come with huge stones or go with heavy jewellery and a subtle bridal outfit.
Recently, we've come across many brides who chose to wear statement rani haars .Gazing at the brides who dauntingly took on such a fashion choice, we have compiled these lovely Rani Haar designs. So ladies, scroll down and get ready to save some of your favourite pieces of rani haars with, some with huge pendants that are unique and timeless!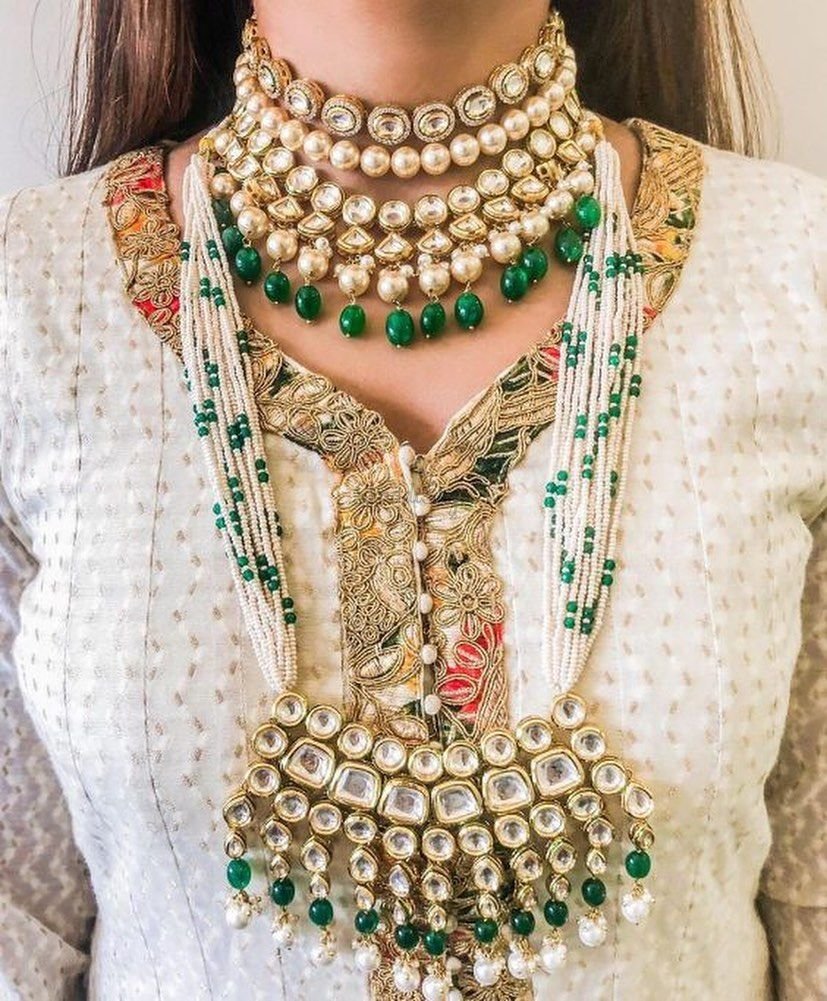 What makes this design so great is how it matches with the choker necklace and looks like a complete set. The right use of stones on the green base makes it look incredibly great.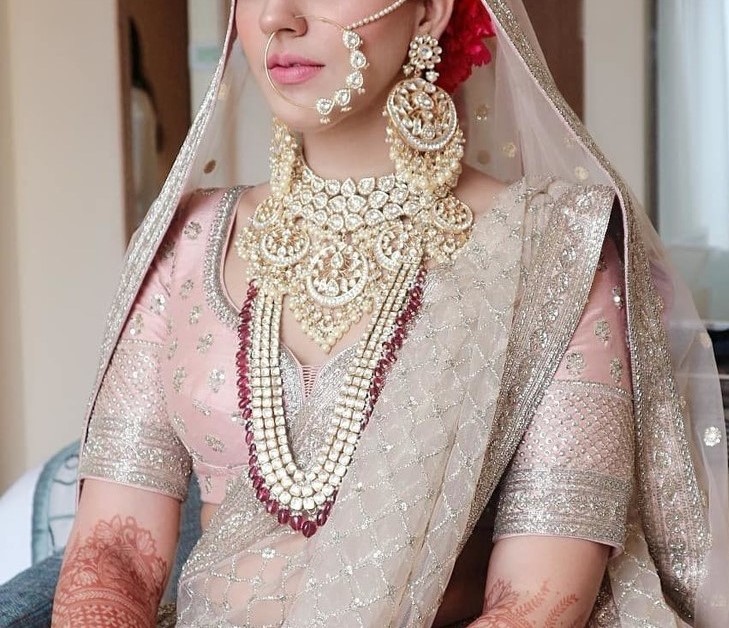 This is one of the most gorgeous Rani Haar designs in the list because of the way it uses the white unpolished stones with red stones at the lower layer. The continuous multiple layers of stones increases in size with each layer.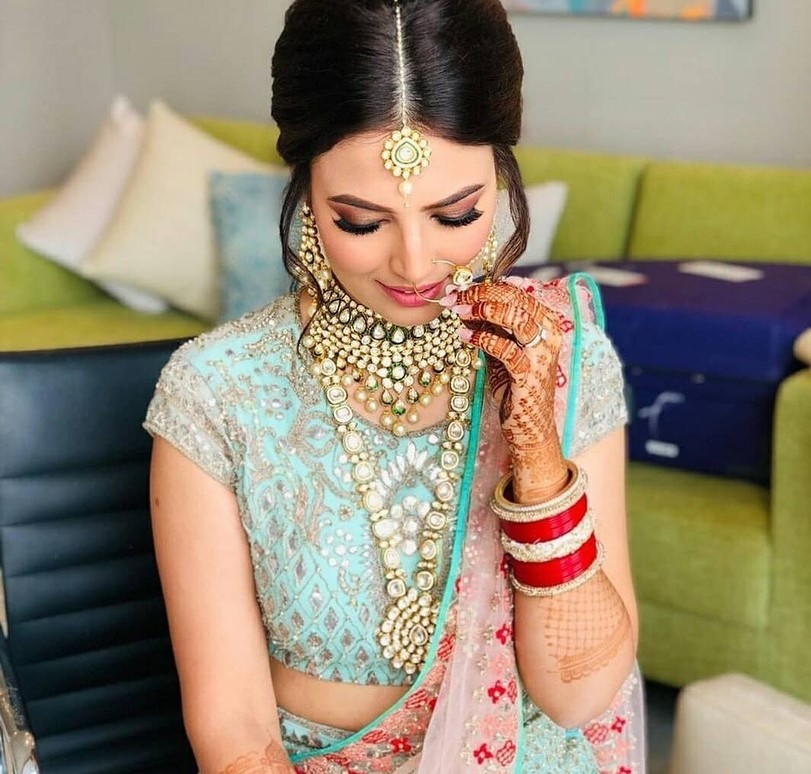 A simple layer of chain with Kundan stones gives you enough elegance to look your best at a wedding. The beauty of Kundan stones is that it matches all light coloured attires, allowing you to wear it with a variety of outfits.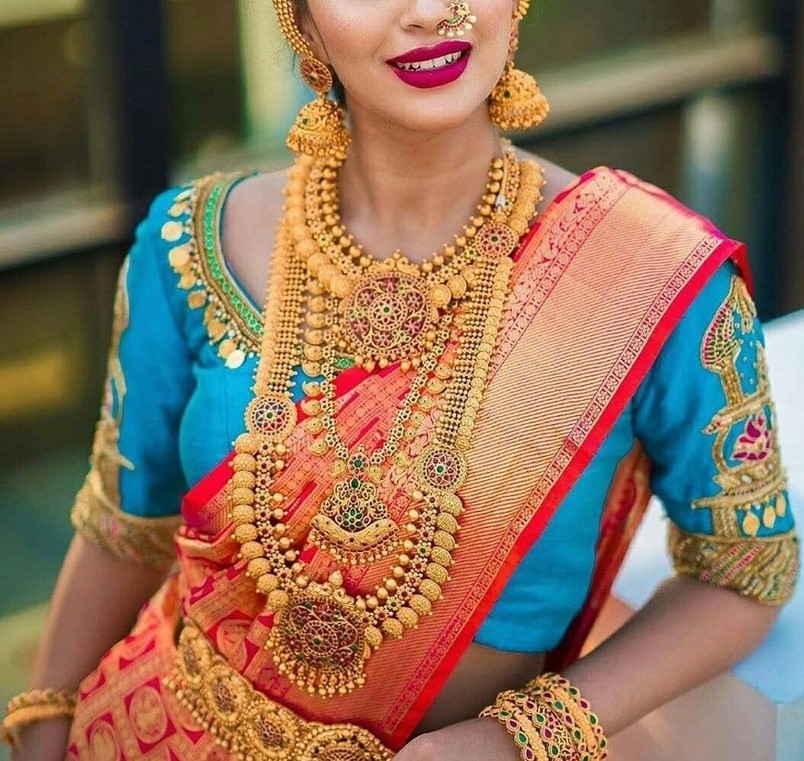 South Indian bride wearing traditional Temple Jewellery set that is a satisfactory choice for you to go for if you are someone who wants to embrace your traditional side and cover yourself in bling.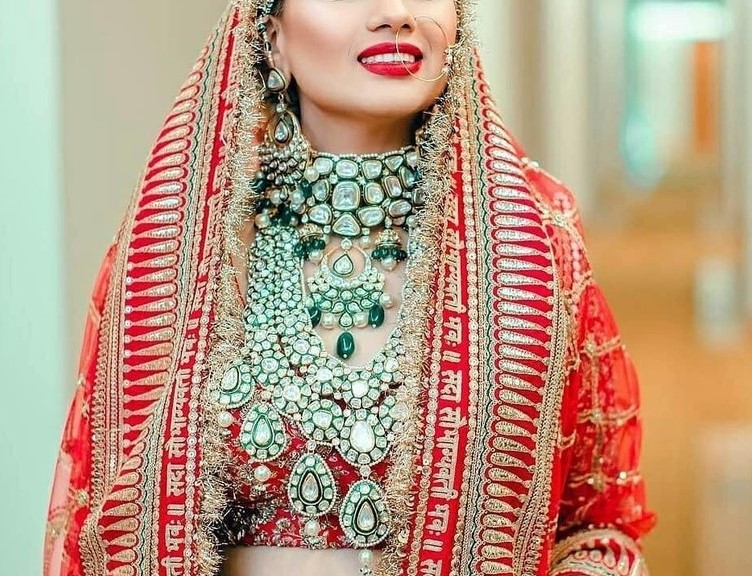 If you want a heavy bridal jewellery set, then this is one of the best Rani Haardesigns that you can think of. The huge pendants on the multiple layer finish with Kundan stones on it makes it an incredibly heavy jewellery piece.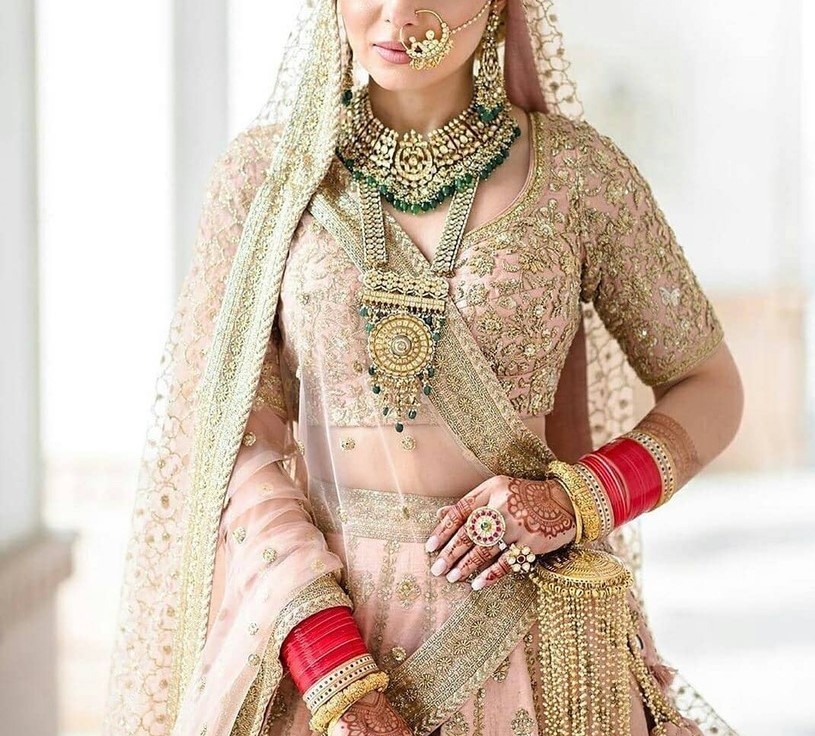 A long necklace with a huge pendant is one way to make sure that you have one of the best Rani Haar designs in the market. The chain of the design has a line with a huge pendant at the bottom. The use of green stones along with the gold makes the set so beautiful that you can wear it with almost any bridal outfit.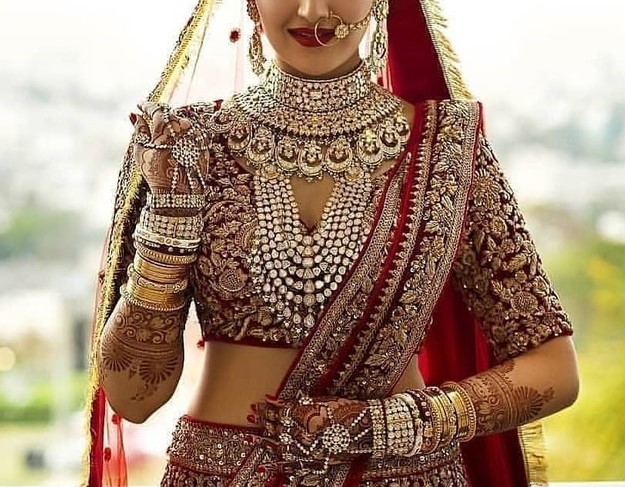 If you want an elegant princess look, then wearing a heavy Rani Haar is the easiest way. Heavy embroidery blouse and hefty jewelry gives an elegant aesthetic regal look.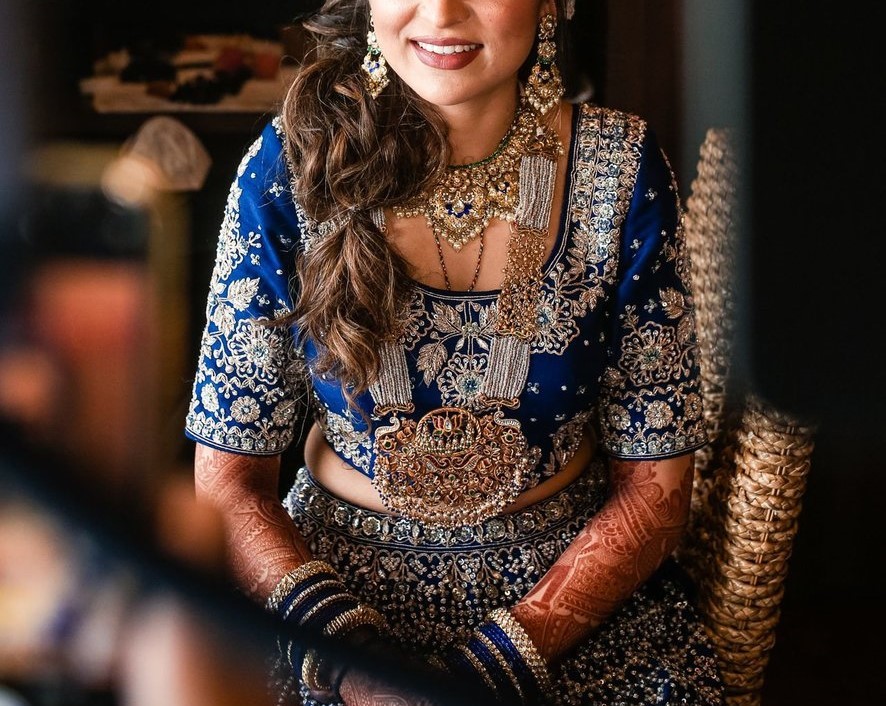 This bride's ensemble is nothing short of gorgeous. And the choice of jewels is even more breathtaking. Lovely choker with a magnificent pearl rani haar with a splendid pendant is remarkable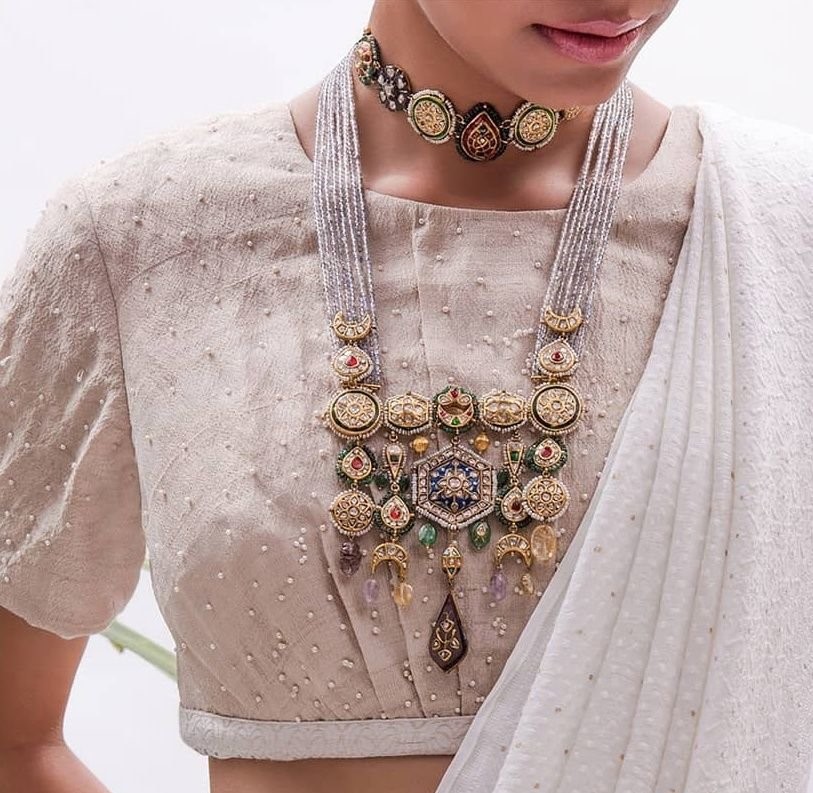 Off-beat and stunning, add this to your bridal trousseau to make a style statement! Brides who like minimalist jewelry and yet catch everyone's attention, this modish piece is surely a sensation!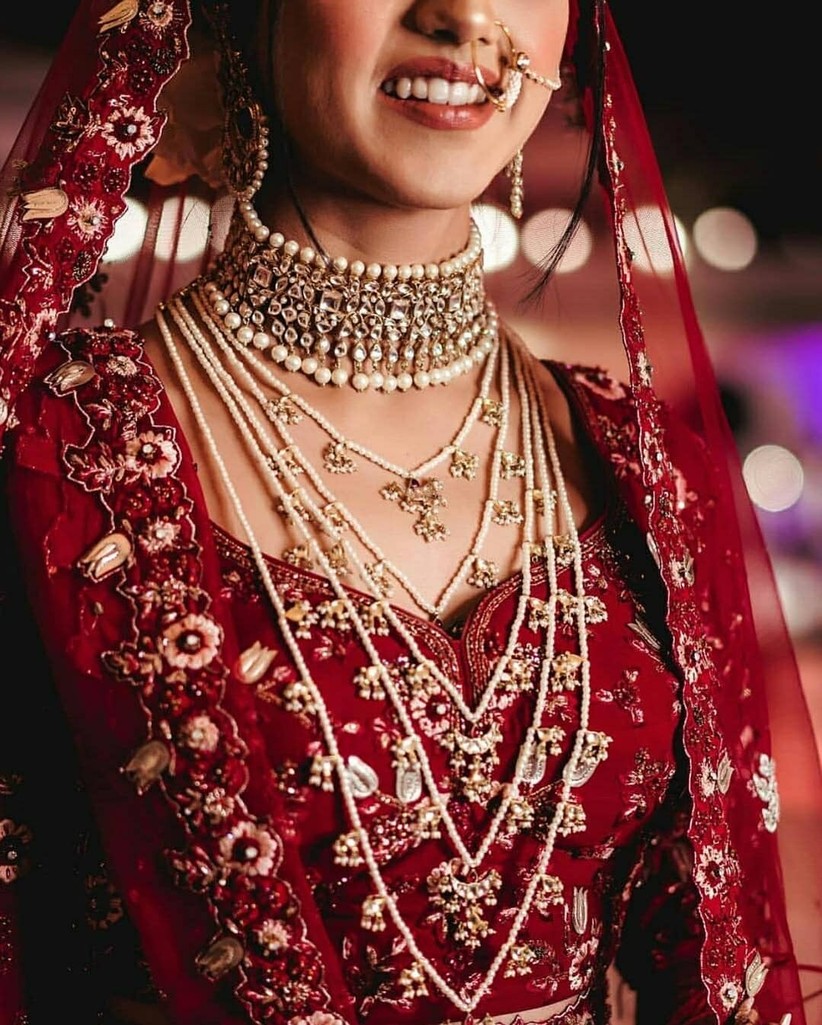 This Raani Haar with heavy use of pearls in the form of Panchlada haar is a fine design inspired by our rich heritage. You can never be mistaken when 'Ladas' are chosen on your big day!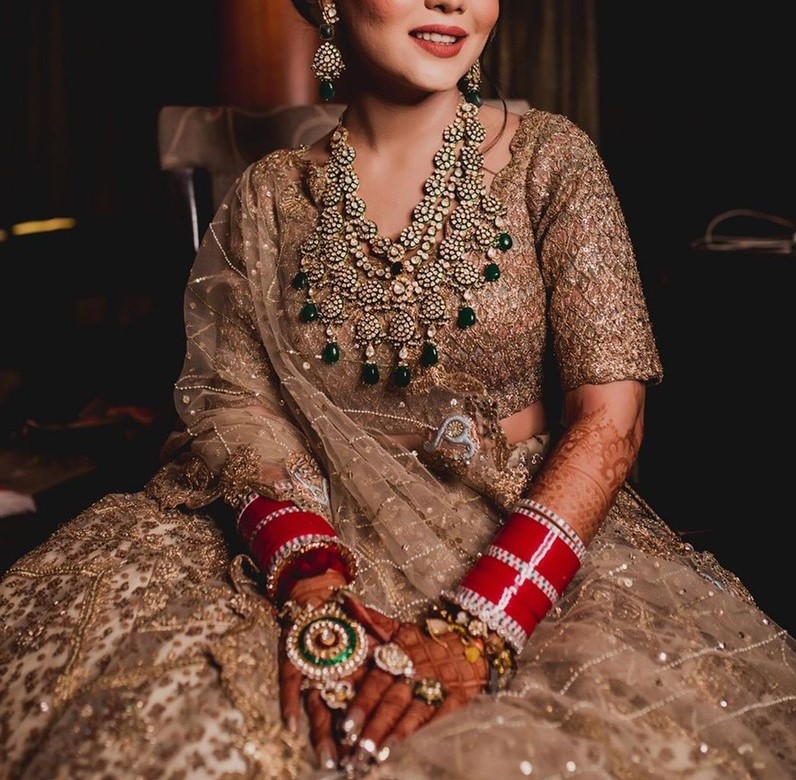 This fine piece which is made even more beautiful with the splash of polki and emerald elements that come with it. If you want to go for some grand jewellery that covers all of your neck jewelry, this is the one!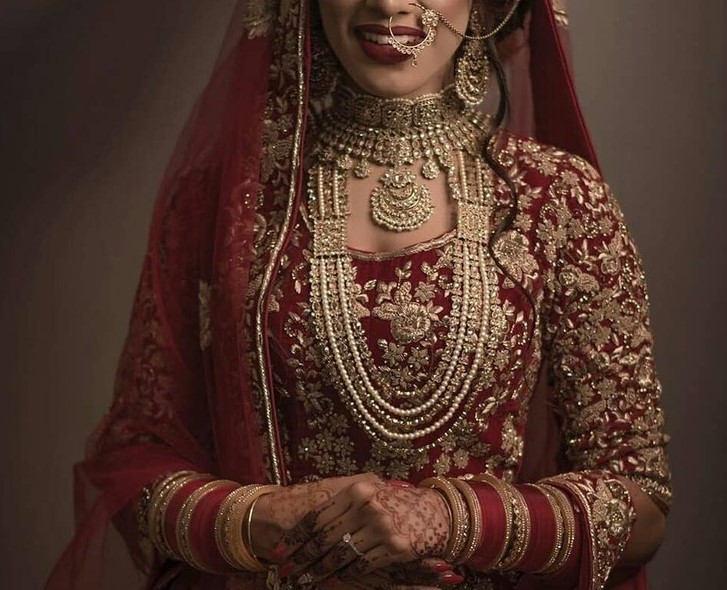 We have this intricate gold Haar studded with pearls and kundans and makes for a fine piece for a bride who likes to keep things elegant and pretty.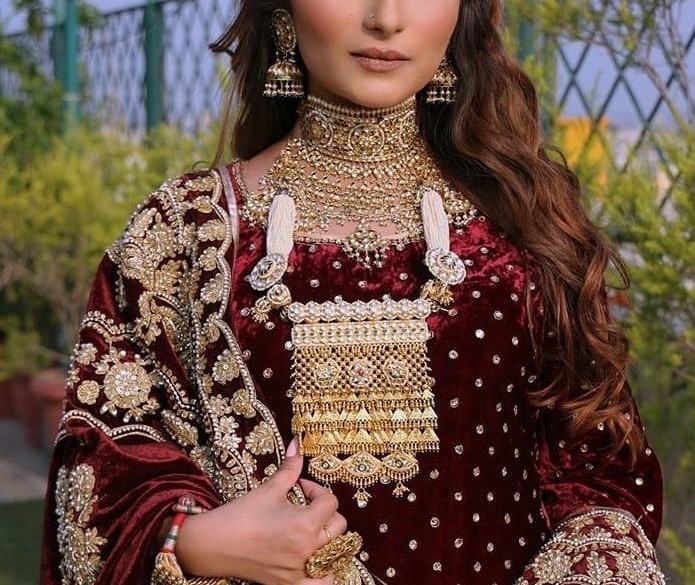 This gorgeous gold Rani Haar design that you can wear on your D-day and slay with the sheer opulence. Also, the classic combination of pearls and giant pendant is something you cannot go wrong with on weddings.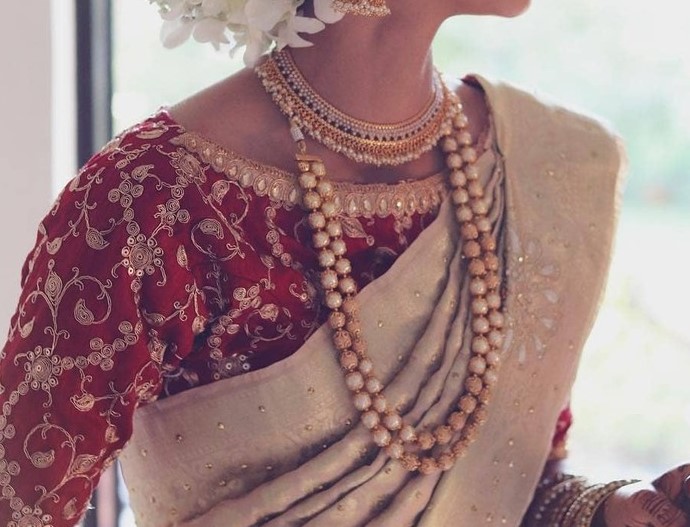 This simple yet imposing Rani Haar with round beads and an element of pearls giving a fine contrast to this Haar. You can go for such a design if you don't want something too flashy but still making a fine fashion statement.