Adding an antique bangle to your wrist automatically heightens the drama of any outfit, as that signature clink of metal can attest. And the best part? You'll be able to enjoy your new piece each time you glance down at your wrist or wave to a friend. An armful of antique bangles makes every gesture grand.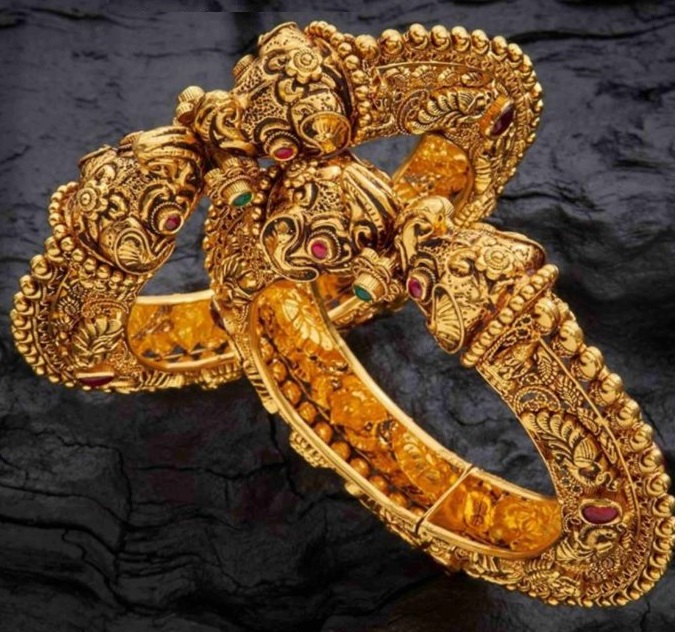 Demand for antique bangles is on the rise among new generation world because of their time-worn looks, state- of- the- art craftsmanship, high-quality gems, as well as their one of a kind rusty look. Older people of the previous generation prefer antique bangles for they are so divine while youngsters are after antique bangles for they are trendy now. Antique Bangles enhance the grace, elegance, beauty of the wearer.
Antique bangles generally refer to ornaments of ancient designs. If we talk about the antique designs then temple jewellery certainly tops the list. Temple bangle designs having figures of goddess Lakshmi or lord Rama or Ganesha or sculptures of temples. The beauty of the gold bangles are enhanced even further when they are decorated with beautiful colored stones or semiprecious stones. Of all the colored stones, what entices and stands out is the Kemp stones in antique jewellery. Kemp stones usually denote red color stones, they could be green as well and they look remarkable with dull and antique gold color.
Kemp Stones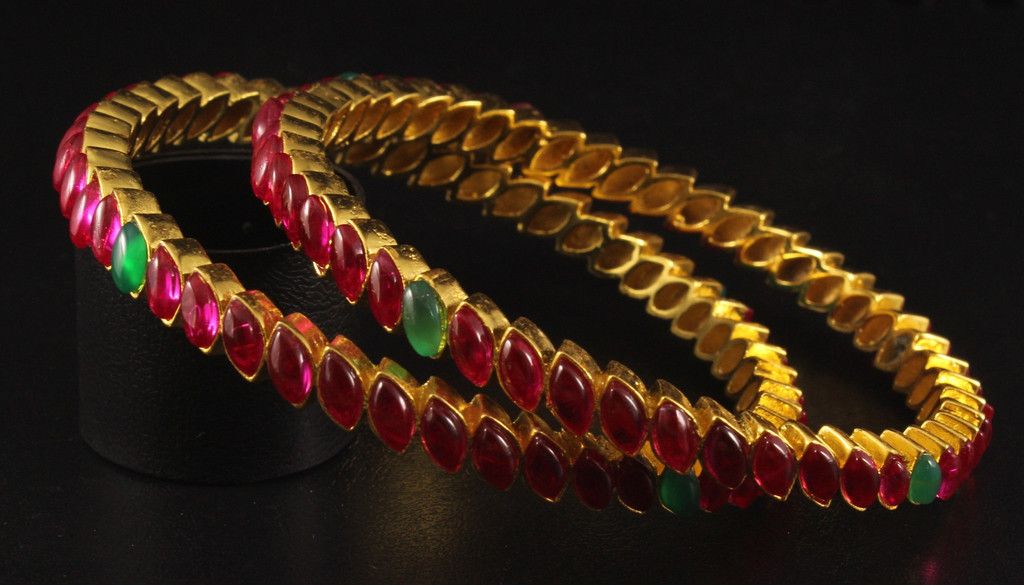 These were originally made from glass using natural colors. This is done by heating, mixing, kneading, and hammer pounding the purified lac and stone colours till dough like mass are formed. Then the mass is heated and applied to reverse side of the glass. To protect the shine, a strip of gold foil is applied to the back. Kemp stone is like ruby but a little less valuable. It is smooth and very attractive.
Hierloom Jewelry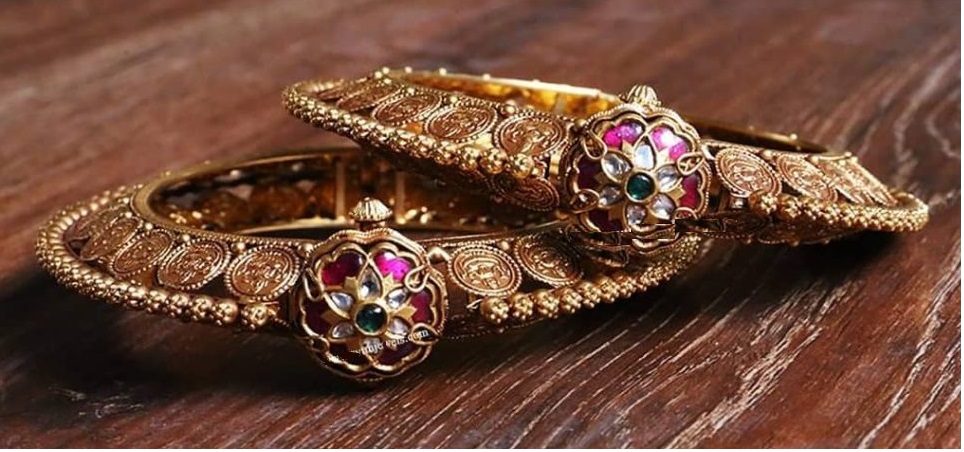 Bangles are auspicious jewellery in Indian culture. In several families; there's a practice of handing over the bangle of her mother-in-law to the better half because it is believed to bring happiness and prosperity within the home. Well-designed Antique bangles never goes out of fashion; with the gorgeous Kemp stones in regal red lend the jewel an unmatched opulence. These bangles are timeless piece and a perfect heirloom jewel!
Keep watching these gorgeous antique bangles with Kemp stones and relish these charming jewels.