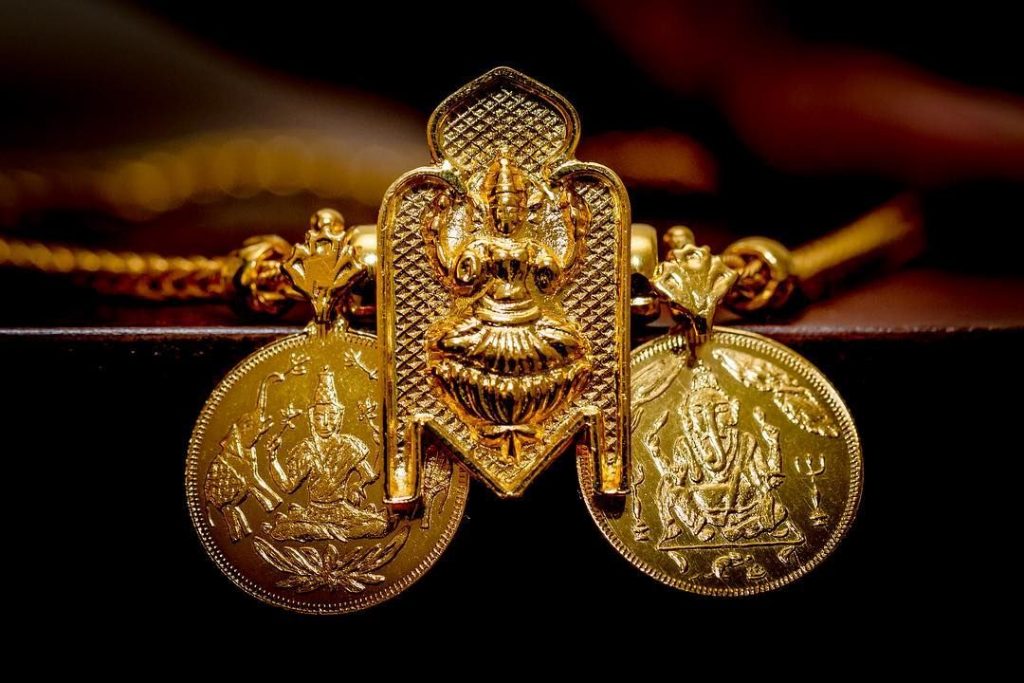 In Tamilnadu, we see a lot of varities when it comes to Thaali. But the irony is, the Thaali is supposed to be concealed and worn in such a way that it is not visible to others. Each Thaali design is different and each of them represents different things. For example, the Shivalinga embossed on gold Thaali symbolises fertility, the Tulsi embossed signifies purity and so on.
In Tamilnadu, on the wedding day usually sacred yellow thread is tied with three knots to the bride. The husband makes three knots each knot representing unity between husband and wife, commitment to both the families, and finally commitment from the boy for girl's well-being and prosperity at her new home. Sometimes third knot is made by boy's sister that signifies bondage between two families. This sacred yellow thread tied during the ceremony is later replaced with gold chain or mangalsutra chain (nallapusalu) for more sturdiness to handle the daily use.
Tamilnadu's diverse Thirumangalyam is a treat for jewellery enthusiasts and if you like to know more about them, below we show some of them.
Meenakshi Sundareshwar Thaali – Lord Sundareshwara & Goddess Meenakshi
Tulsi Sun Moon Thaali – Tulsi plant with Sun & Moon
Bottu Thaali
Shivlinga Thaali – Worshippers of Lord Shiva
Thenkalai Naman Symbol Thaali – Worshippers of Lord Vishnu
Vadukalai Naman Thaali with Conch & Chakra – Worshippers of Lord Vishnu with Sudarshan Chakra (famously called Shanku Chakra Naman or Sangu Chakra Naman)
Annamlakshmi Thaali
With the changing social norm, these days young girls prefer stylish Mangalsutra. Here we list both traditional and modish Nallapusalu designs. Pin up your favorite one.