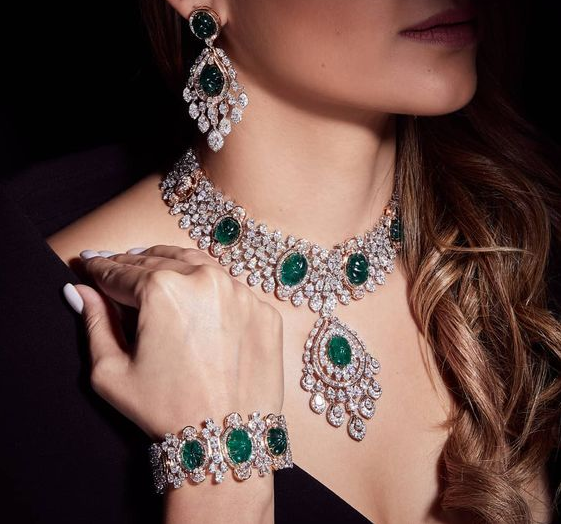 Victorian Jewelry style is constantly perceived and is an everlasting jewelry style. Essentially, Victorian Jewellery is the jewelry style of Victorian era that remains prominent for its design and composition. The jewellery designs throughout the Victorian era was distinct, diverse and innovative with nature inspired motifs using precious metals and gemstones. This era also marked modernization of jewlery practices that involved machinery in making jewlery, which helped to produce more intricate designs. In entirety, Victorian jewelry style marks grandeur, status and royalty!
Some info about Victorian Jewelry
Victorian jewellery is divided into three distinct periods – Romantic, Grand and Aesthetic period.
Jewlery styles in the Romatic period included natural world inspired motifs such as serpents and lotus flowers, snakes, serpents, trees and birds. Widely used material during this period were gold, seed pearls, ivory, tortoiseshell, coral, onyx, agate, diamonds, amber, amethyst, emerald and quartz. In the Grand period, the themes included insects such as flies, butterflies, dragonflies and beetles. Gold was used to create a 'soft' look, the jewels were embellished with colorless stones, silver, jet, ivory and pearls. In the Aesthetic period the return of the romantic style such as soft and natural colors, butterflies and roses were observed. Gemstones widely used included amethysts, emeralds and opals.
The most charming aspect of Victorian jewelry is the deep symbolism and sentimentality rendered in its designs – Horseshoe for good fortune and success, buttercup (flower) for happiness, and swallow (bird) for eternal love, Ruby for passion, amethyst for devotion, and seed pearls for purity, humility, and harmony. Victorian Jewelry is more symbolic than just pretty, beauty appreciated in the little details!
Extremely beautiful, with whiffs of romance, these elegant, sophisticated, and versatile pieces are sure to complement both the traditional and contemporary parts of your wardrobe. Inspired by Victorian jewelry style, Find these abiding Indian Jewelry pieces that is just mesmerizing!