Emeralds are treasured by all for its profound beauty. When these are embedded in bangles, the ornament stands out on its own. Emerald goes well with many other gemstones where ruby and diamonds blend the best. Check few antique and trendy emerald bangles which you would love to add to your collection.
Startling bangles embedded with bright marquise cut emeralds and sparkling diamonds. These are beautifully connected with curvy gold twists that looks fashionable. These bangles are light in weight yet gives you a rich look.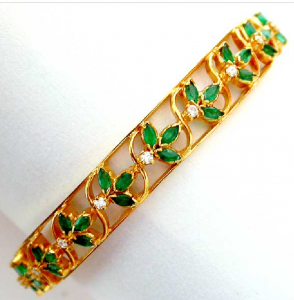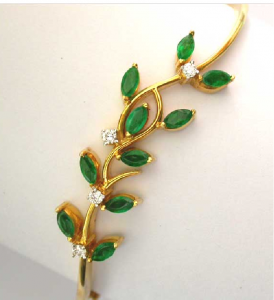 Eye-catching emerald bangles made with gold and studded with excellent quality natural emeralds in floral pattern, these bangles are courteously handcrafted and finely finished.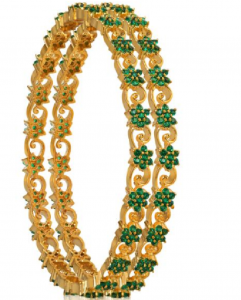 Antique gold bangles embedded with emeralds and rubies , heavy weight rich looking bangles suitable for Indian weddings. These can be matched with other antique jewels which gives royal look!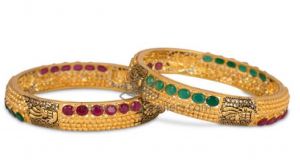 These gold bangle are classic example of ethnic charm and beauty. The bangle features many intricate design and is studded with fiery rubies, elegant emeralds and brilliant diamonds.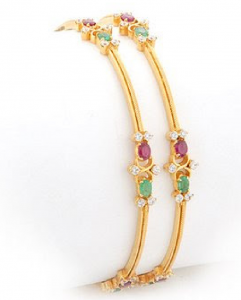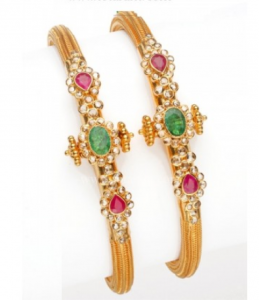 Ethnic styled bangles made of rubies and emeralds. Broad bangles which gives grand look and is good choice for a south Indian bride.

Striking pair of designer bangles, covered with bright pink leaf-shaped ruby gemstones, round green emeralds and sparkling cubic zirconia diamonds, handcrafted in 22 karat gold. These lavish Indian design bangles locked with a floral screw hinge closure for a comfort fit on the wrist.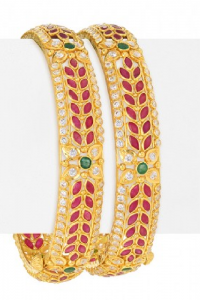 Single lined emerald bangles which can be mixed with other gold bangles or white stoned bangles.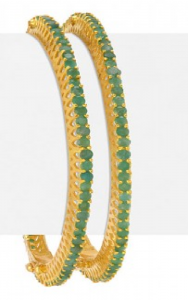 Easy to wear, striking ornaments that gives you a lavish look. Traditional bangles modified to suite modern needs, these pair of bangles will make you feel superior.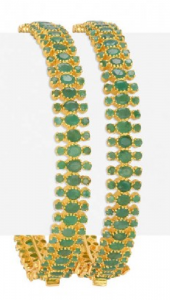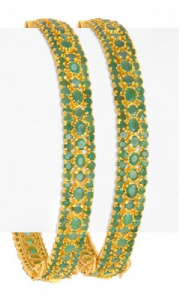 Floral pattern emerald bangle beautifully made, stylish and goes well with ethnic outfits.