Long Haaras are mostly preferred for Indian Weddings. Nowadays bride match a choker necklace with long Haaras for their weddings. This gives an exquisite look to the Bridal Jewelry. If you are looking for majestic gold haaras or just here to browse for latest jewelry trend in necklaces, then check these magnificent long gold necklaces.
1. Multi Stranded Lovely Pearl Haar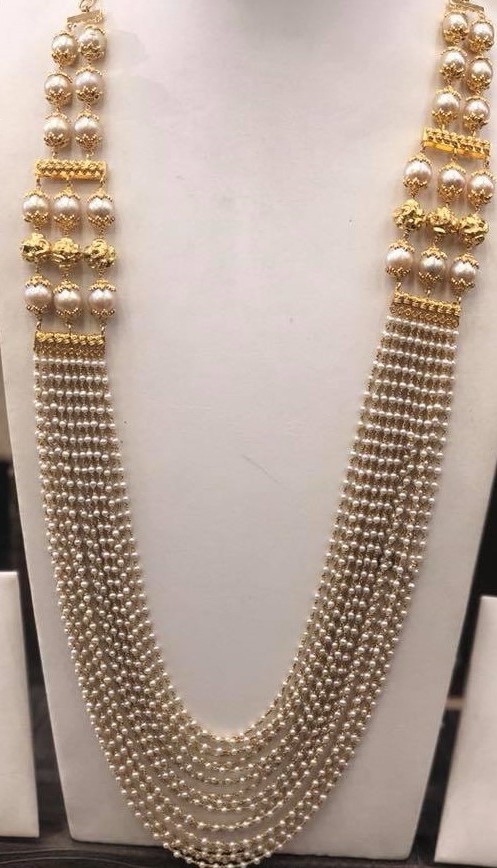 Long haara with multiple strands of pearls. This is attached with bigger pearls and Nakshi balls. This Pearl haar is a lovely ornament for the Pearl lovers! This indeed looks magnificent
2. Marvelous Chandbali florets haar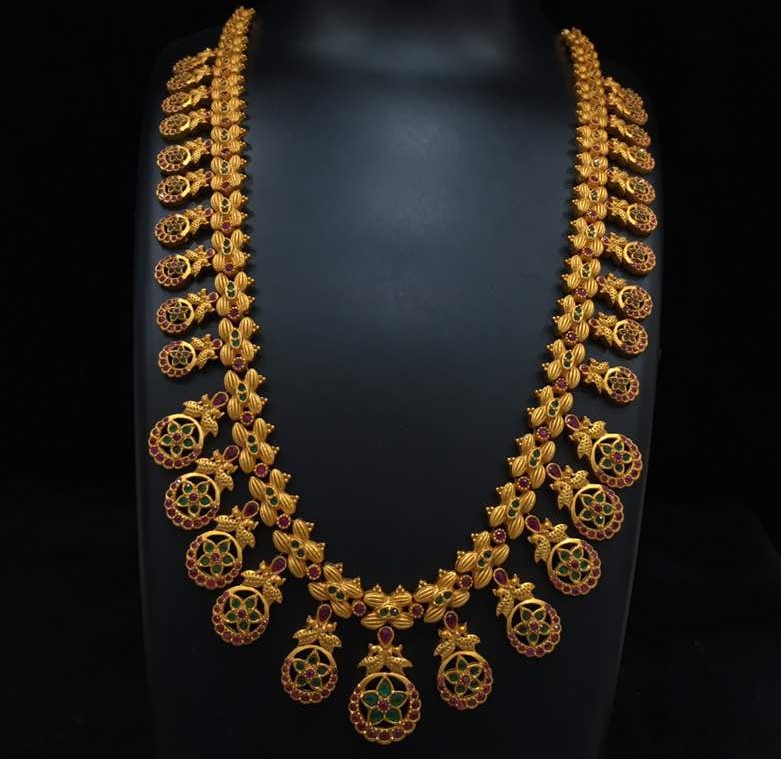 This splendid haar is made with beautiful florets placed inside chandbali styled circular patterns. This is studded with emeralds and rubies which gives an authentic look! Pair this necklace with a ruby choker necklace and you can stand out!
3. Two lined long Haar with exquisite Pendant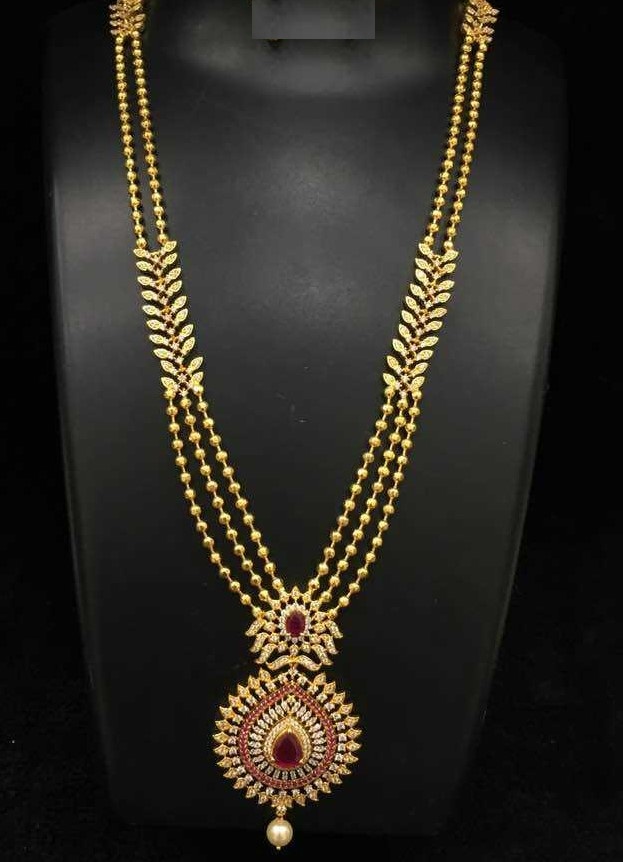 This necklace has a very proficient look. Two lined golden beads is connected with lovely designed leaf patterns. This is further extended to 3 line golden beads connected to a radiant pendant. This pendant made of rubies and white stones is stunning.
4. Traditional Floral design Haar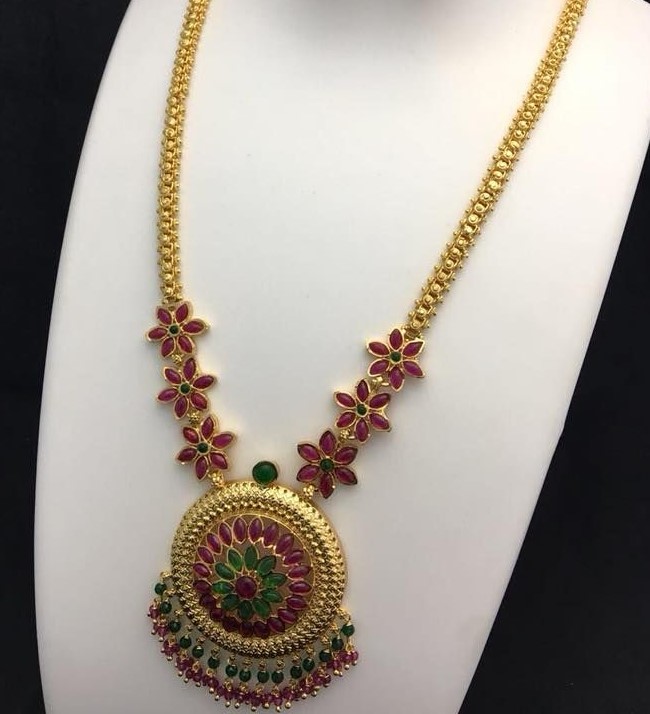 Traditional yet trendy necklace – This alluring necklace made of pretty ruby florets connected to chain on side and circular pendant on the other side. This big pendant with well formed flower with rubies, emeralds, dangling beads looks charming!
5. Mango design multi layered beaded necklace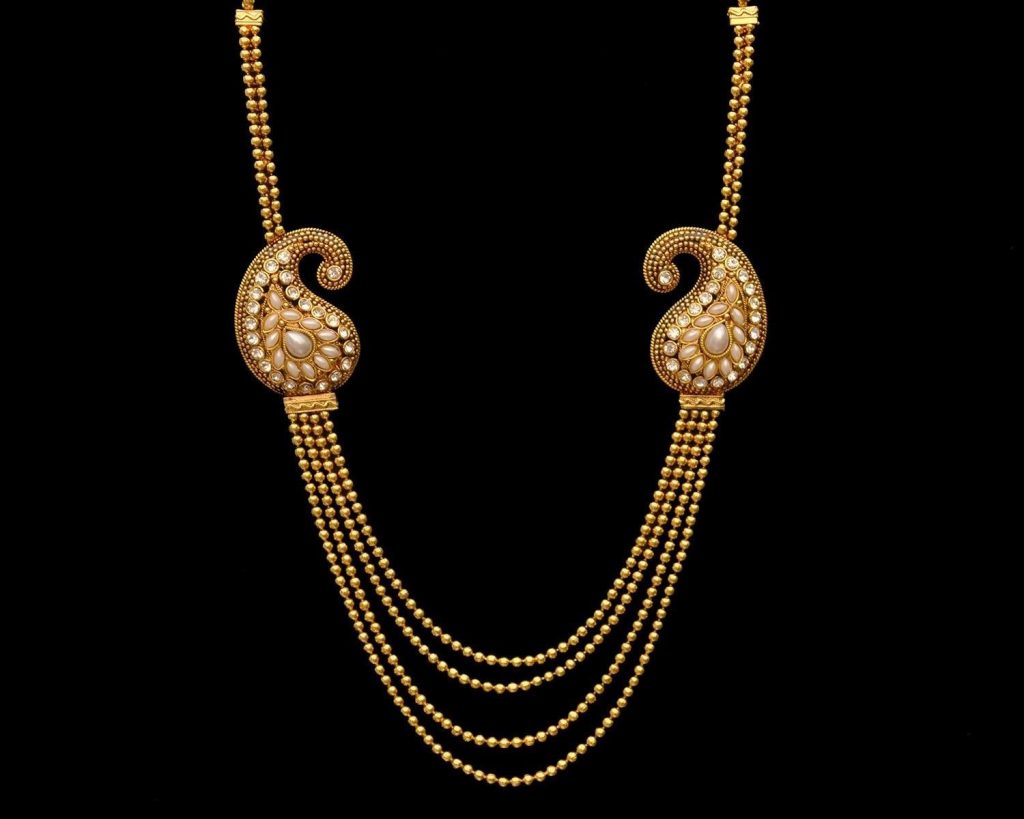 This necklace with multiple lines of golden beads connected to mango shaped pendants makes the ornament very stylish. Further, these pendants are beautifully speckled with pearls and kundan that adds to its elegance.
6. Multiple stranded gold beaded haar with square pendants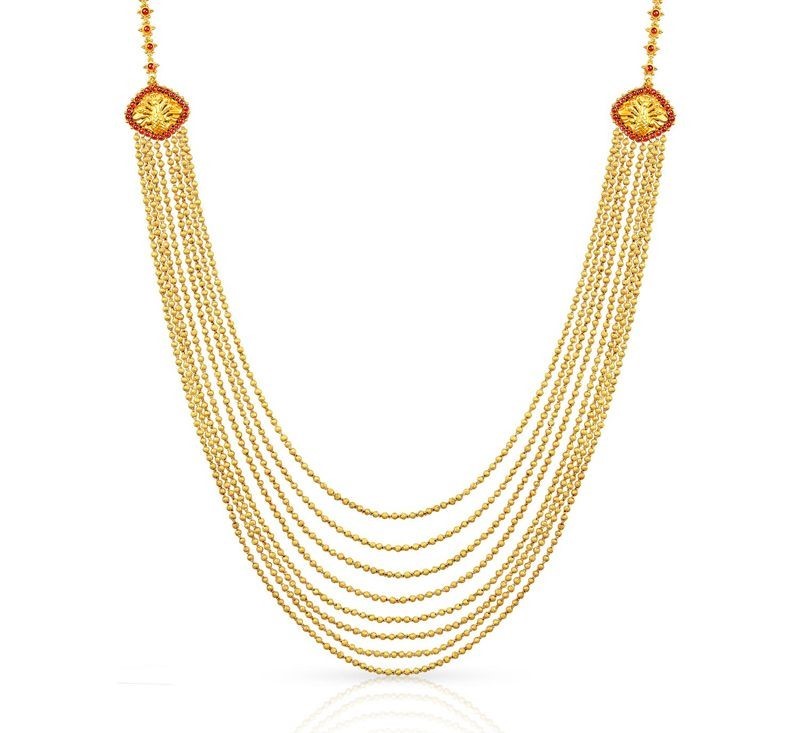 Yet another stylish multi stranded gold haar made with small beads. This is joined to square shaped pendant made with small rubies and small florets with rubies that looks very cute.
7. Maalige/Jasmine Gold Haar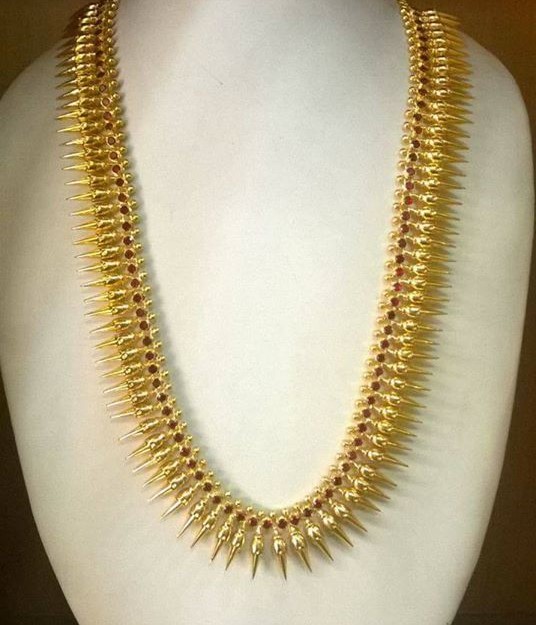 As the same suggests, since this resembles a jasmine flower its called as jasmine/mallige (jasmine in Kannada) haar. This is a popular jewel in coastal areas like Mangalore and Kerala. This haar is many bride's choice and looks tremendous!
8. Mango design Haar with Radha Krishna pendant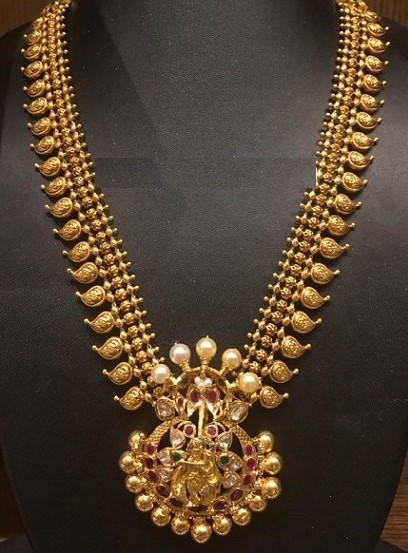 This antique necklace with Mango paatern and Radha Krishna pendant looks overwhelming. This antique necklace is unique in its design and looks very grand and divine.
9. Antique long necklace with Lakshmi pendant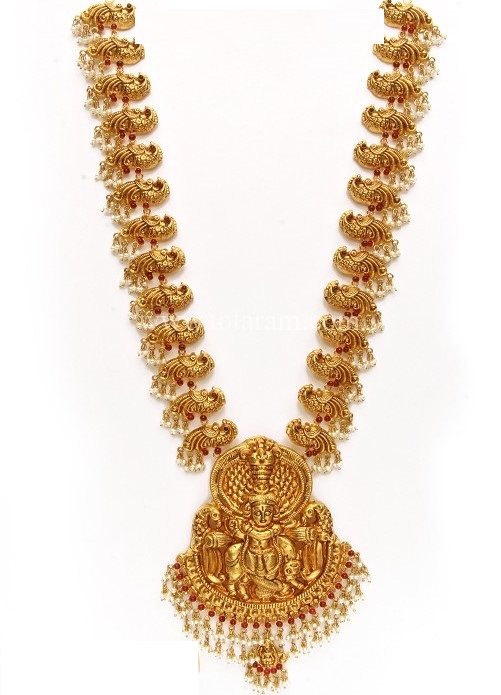 This exclusive antique necklace is a master piece! The chain contains series of peacocks which is so skillfully carved and joined as a chain. This chain has goddess Lakshmi pendant with dangling red beads and pearls.
10. Grand Symmetric Pearl Haar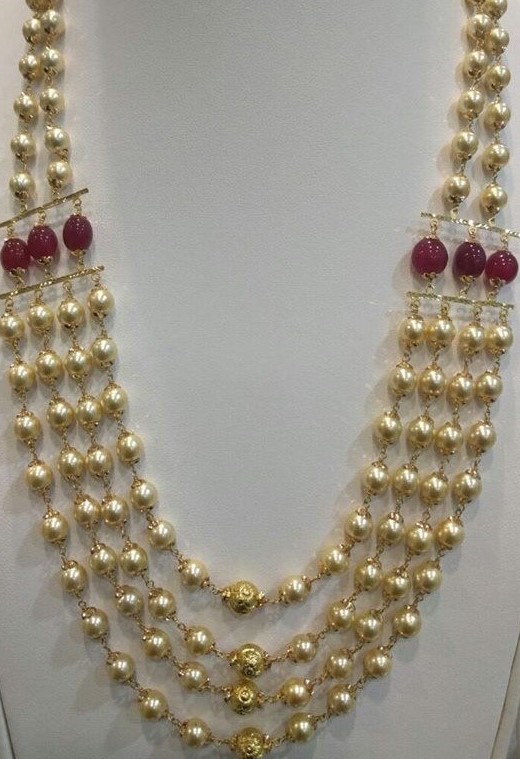 This four lined necklace with big pearls is well formed and connected to ruby beads. At the centre is designer gold balls which accentuate the pearl chain. Furthe upwards, this is reduced to two lines of pearls which gives a seamless symmetry!
11. Bright pink stylish long necklace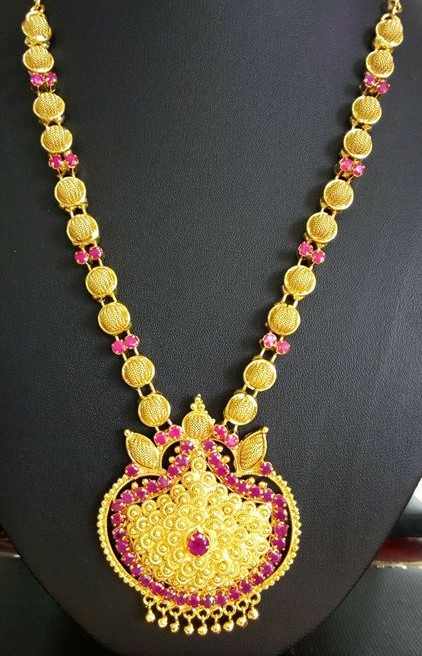 This stylish long haar with flat beads and bright pink stones looks incredible. Unique in its style, this stands out because of its exclusive design and colored stones.
12. Antique Floral Long Necklace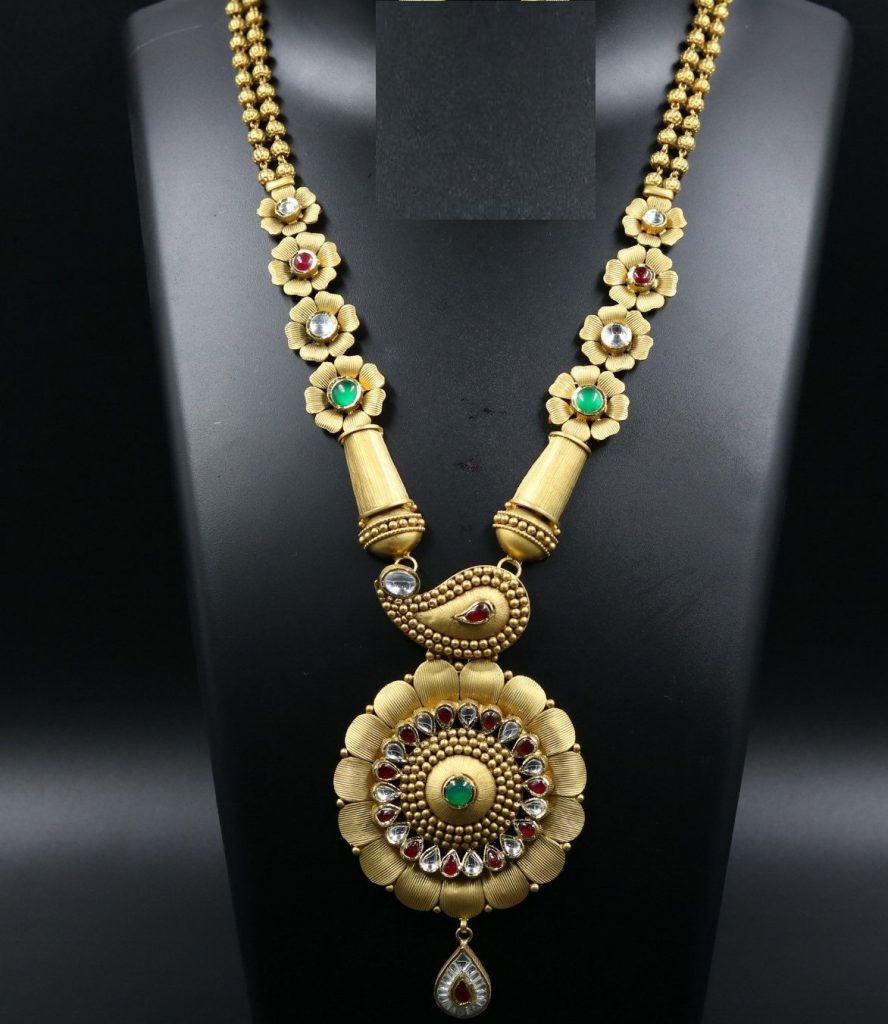 This exceptional haara with lovely colorful florets is ravishing. This is given a antique finish and the neck-piece looks very appealing. The big floral pendant studded with rubies and kundan looks spectacular. This is connected to mango shaped pendant which is very unique design.
13. Sparkling Diamond Haara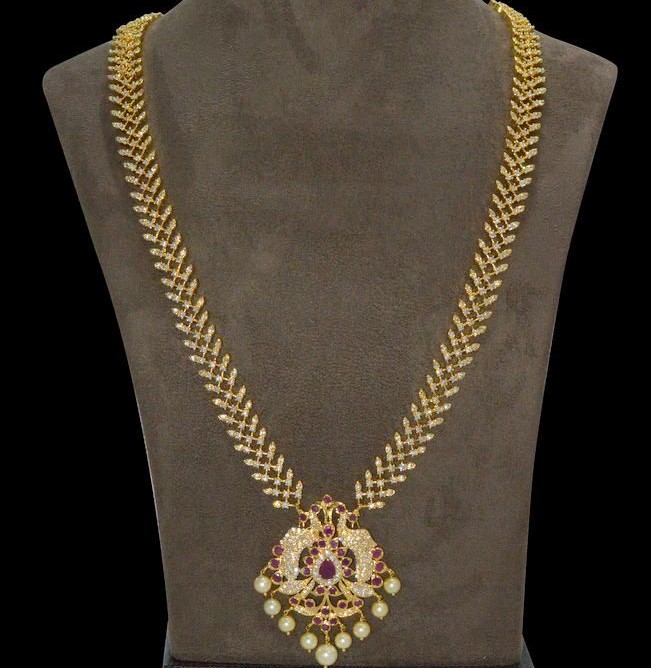 Dazzling long diamond necklace with beautifully cut diamonds is a eye candy. No wonder, this majestic necklace gives you a regal feeling. This has a pleasing pendant with two peacocks which is studded with rubies and dangling pearls.
14. Designer gold balls Long Necklace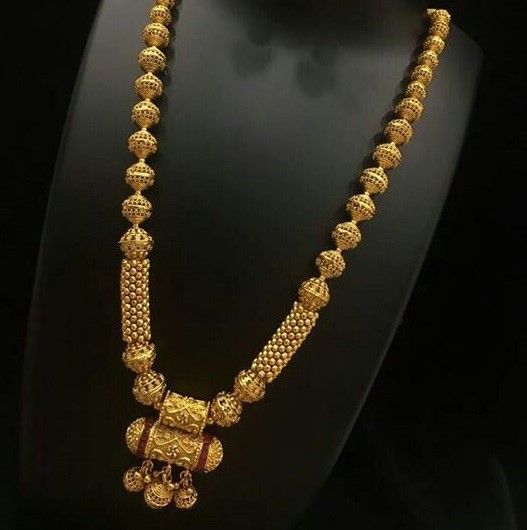 Alluring designer necklace made of solid designer golden balls. Tushi styled gold piece with the golden balls looks sublime. Cylindrical pendant for this necklace makes this piece look excellent!
15. Long Kaasu Maala with bright Rubies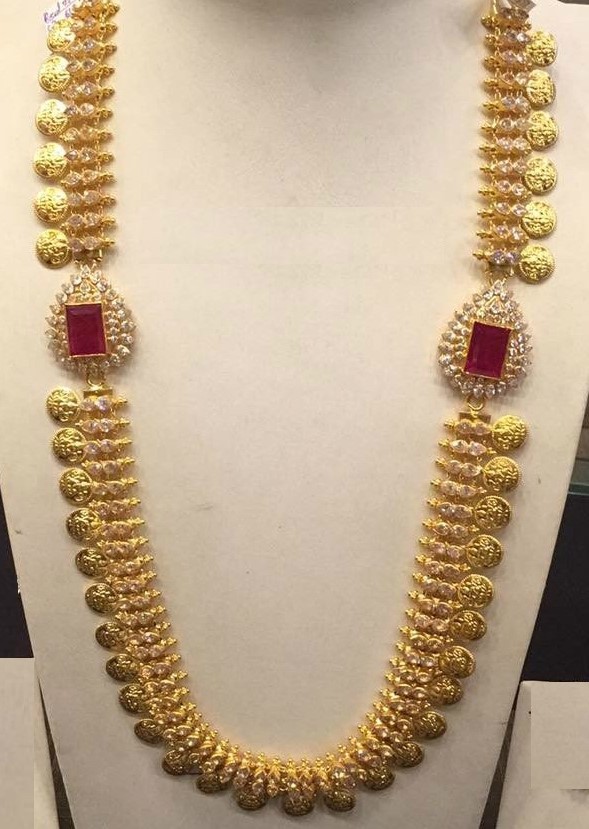 This traditional Kaasu Mala is made more grand with two bright ruby pendants in the middle. The coins has goddess Lakshmi imprints. This is joined to white stones which gives a grand look. Further, ruby pendants studded with white stones make the haara look more admirable.