Floating pearl necklaces are also known as illusion necklaces since they are attached to extremely thin strings that are hardly visible on neck, hence giving an illusion that the pearls are actually floating on the neckline and not attached to anything.
Pearl necklaces have been worn as a symbol of power since centuries. Not only women, even men like Maharajas used to wear long pearl necklaces. Over the time, pearl necklaces have undergone many changes and available in many designs based on the sizes. Traditional pearl necklaces never go out of trend and still looks the best on traditional wear. Floating pearl necklaces looks best on western wear, if made out of strings. Floating pearl necklaces made of gold can be worn on traditional outfit as well.
Check out floating pearl necklace designs here: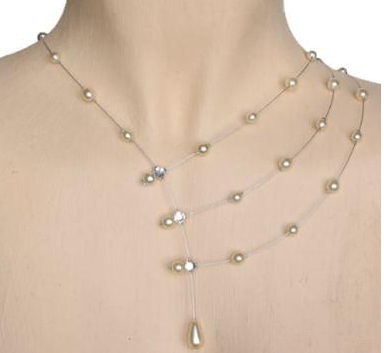 Types Of Pearls
While there are many varieties of pearls, the most common ones are the freshwater and saltwater pearls. Let us know a little more about them.
Freshwater Pearls
These are the most common type of pearls which are grown in mollusks as opposed to other pearls which are grown in oysters. They are irregular in shape since they lack bead nuclei. They are most often used in Hyderabadi jewellery and are affordable compared to salt water pearls. They are more durable as well.
Salt Water Pearls
They are rare compared to freshwater and are expensive. Since saltwater pearls have a much larger nucleus, they are also much rounder than their freshwater counter pearls. The popularity of saltwater pearls can be attributed to their historical significance, hence most of the celebrities and queens adorn the salt water pearls.