Choker necklace is an exclusive piece of ornament that has expanded attention in recent times. A choker necklace can be considered as statement jewellery since it adds an amazing addition to your get up. Typically, substantial chokers are bridal choice because of its grandeur. Further splash of colors with gemstones makes this jewelry glorious.
There are a variety of women's choker necklaces with imposing styles. Black choker necklace is the most common colour of this necklace and is very fashionable these days. Other designs include antique chokers, Filigree chokers, Chokers studded with gemstones, beaded chokers and many more.
We have handpicked a collection of latest choker necklace designs here. Check them out!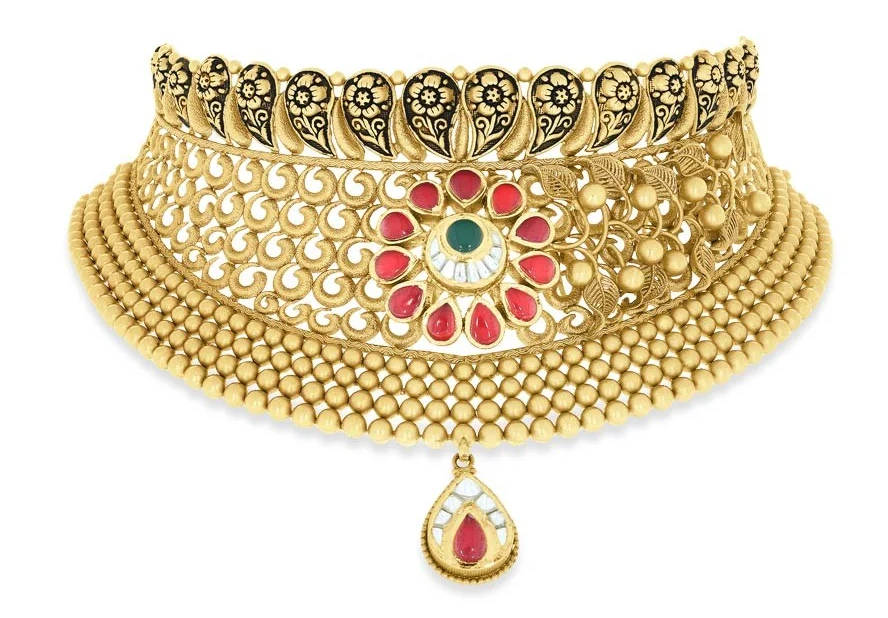 With unique patterns and elaborate designs, this elegant gold necklace is a great addition to your traditional attire. The grand looking flower with beautiful gemstones are sure to keep you in the spotlight.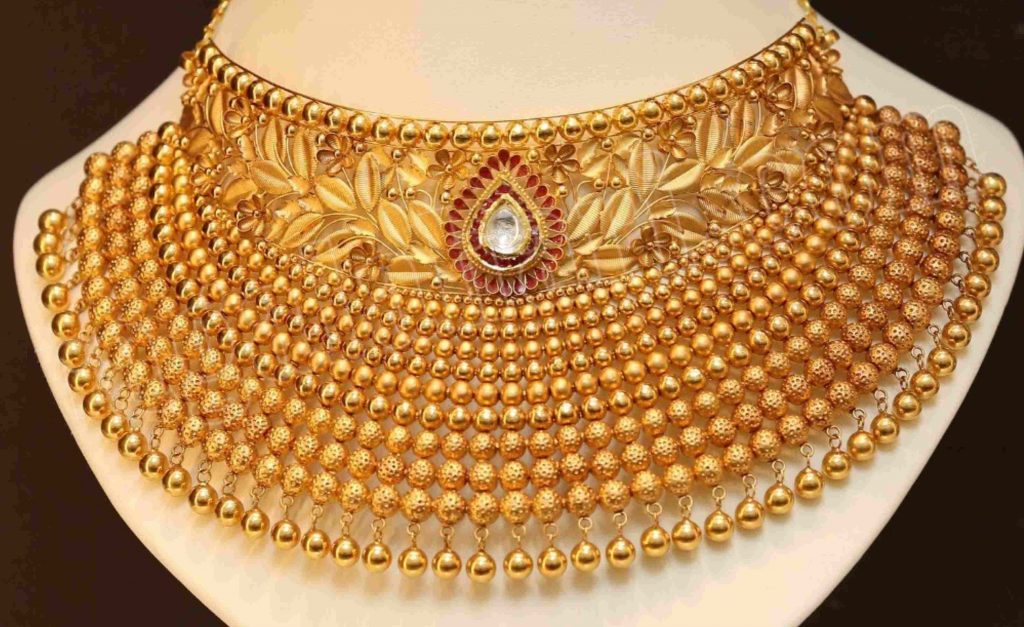 This gold choker necklace from Wedding collection is as unique and stunning as it can get! Wear this gold choker necklace on your special day to exude royal charm and poise!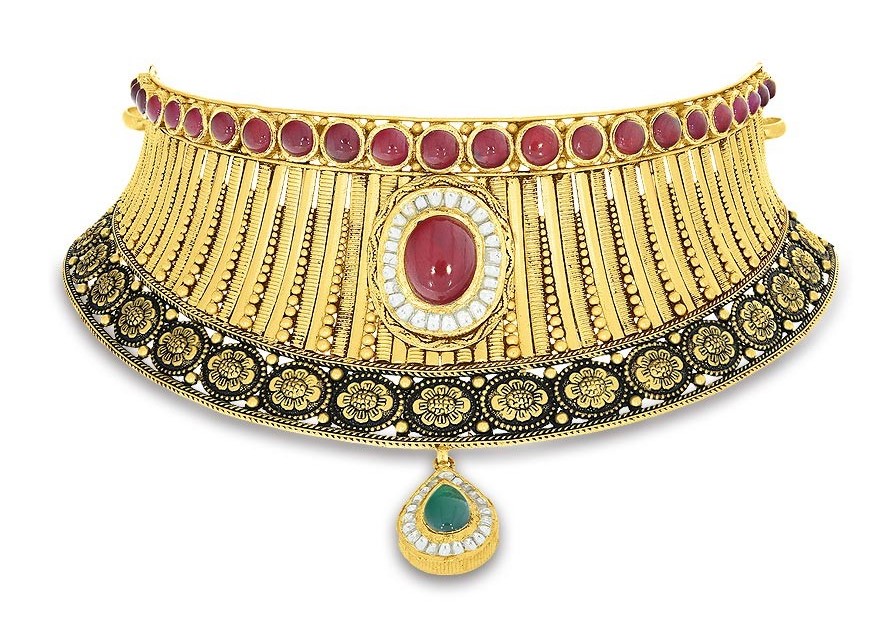 An array of aesthetically-placed red gemstones add regal charm to this exquisite gold choker necklace. Wear this elaborate necklace with a designer lehenga or saree and make some heads turn in admiration!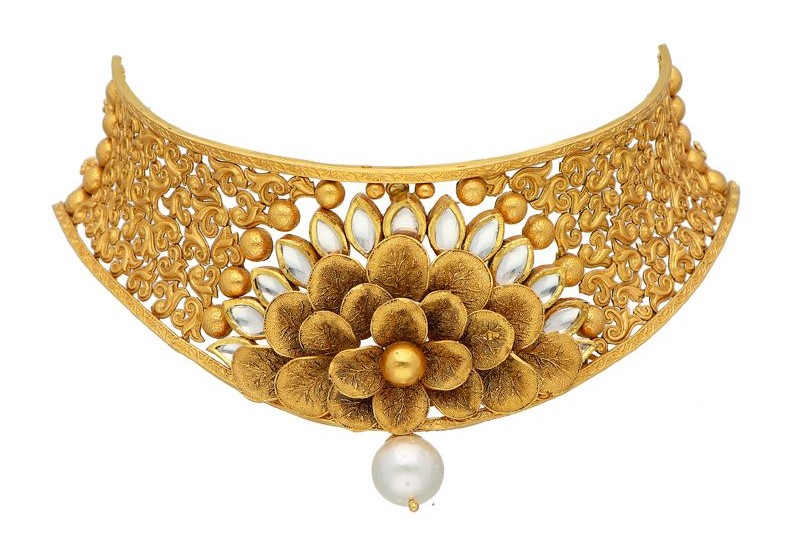 Mesmerise your onlookers when you wear this stunning gold necklace. The beautiful floral design lined with kundans make the perfect combination! Parade your style with this unique necklace.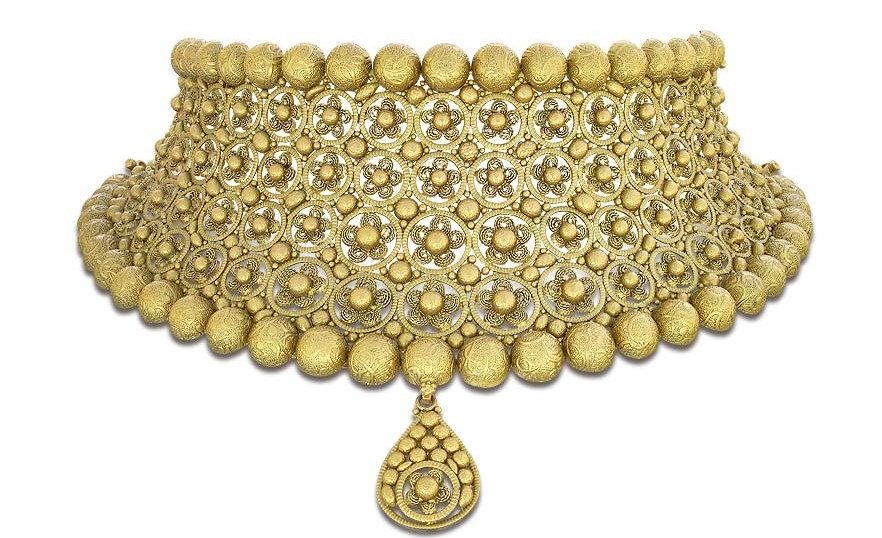 Walk like a queen wearing this necklace that exudes royal charm. Best suited for wedding and grand events, the intricate design of this yellow gold necklace will make you look stunningly gorgeous!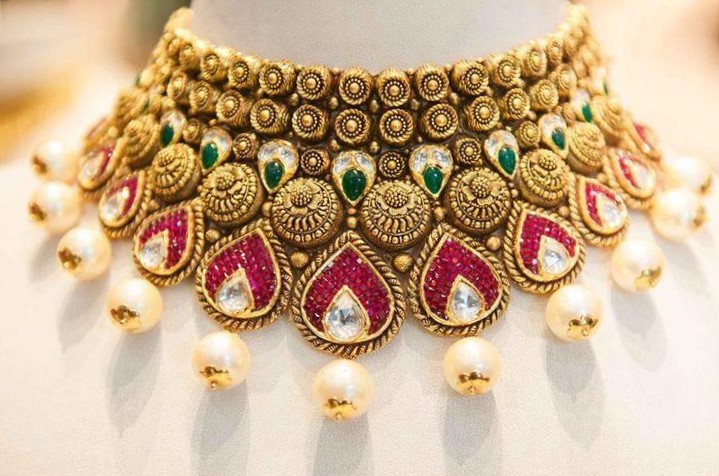 You are sure to fall in love with this strikingly beautiful gold necklace with multi hued gemstones and kundans. The amazing creativity of the necklace is sure to make you head over heels.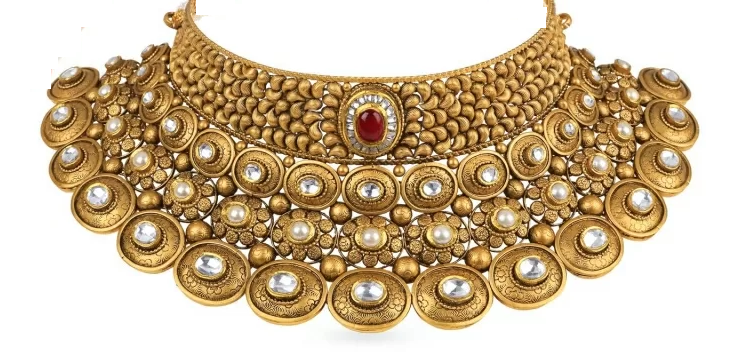 This magnificent choker-necklace in fine yellow-gold and coin design adds royal charm to the wearer. An ideal wedding accessory, this necklace will make you look like a princess in every true sense!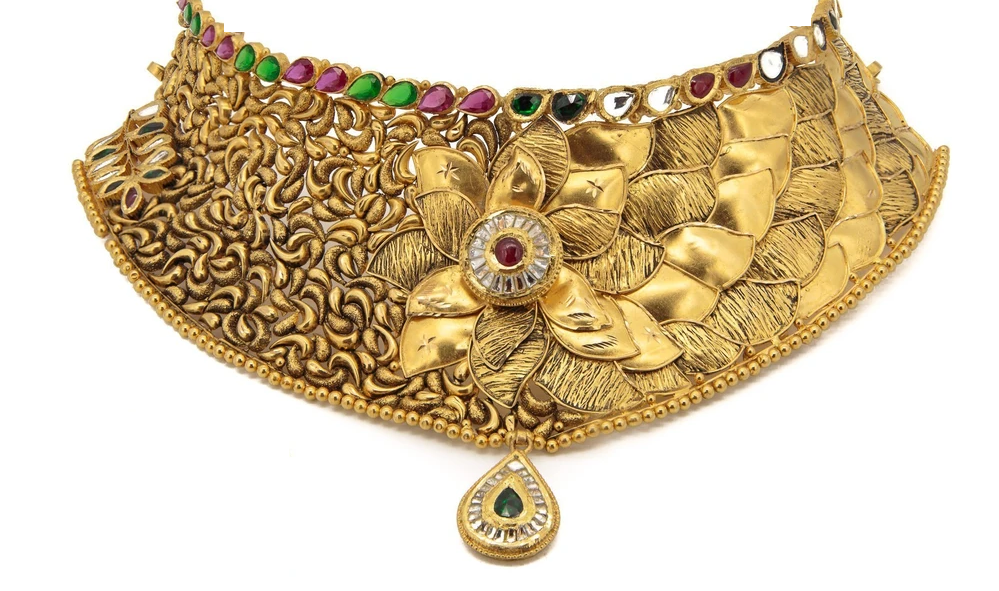 The nature-inspired motifs and different coloured gemstones lend a regal appeal to this yellow gold choker necklace. Wear this this choker necklace to add more punk to your traditional attire!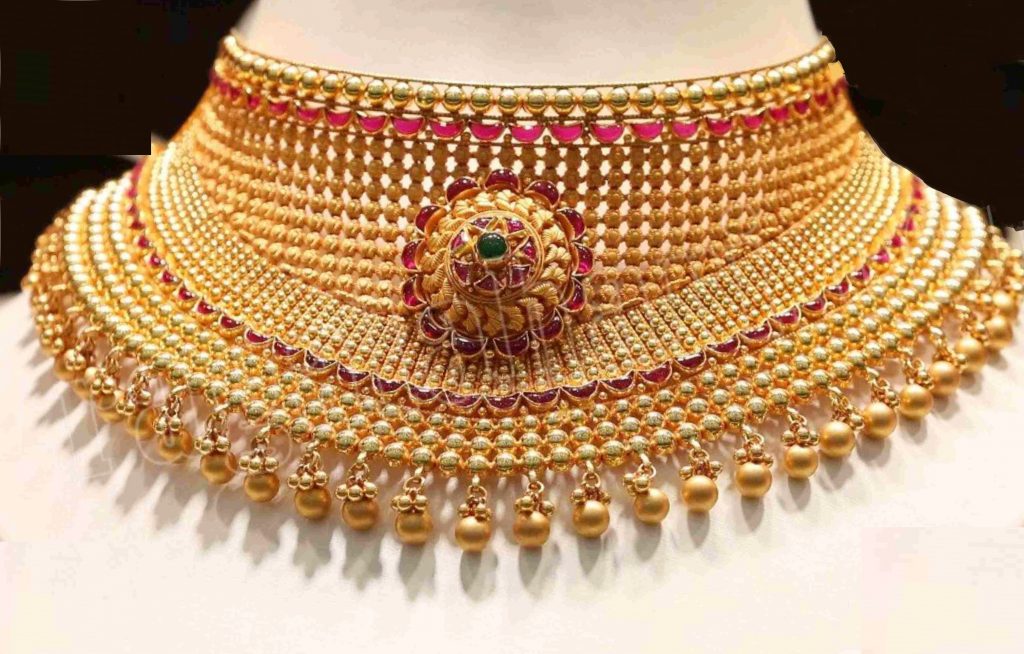 Enhance the ambience around you with a touch of class and royalty. With intricate and fabulous designs and a mix of vibrant gemstones, nothing would go wrong on your special day.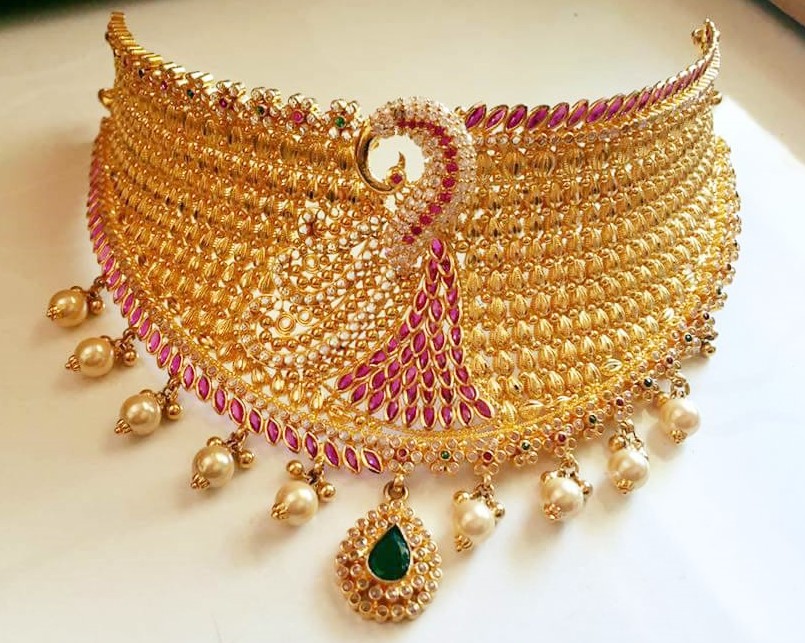 Shine and dazzle as you wear this intricately designed yellow gold choker. The beautiful mix of traditional design and peacock in gemstone will flatter anyone this wedding season!
This fine crafted interlaced choker necklace with Lakshmi pendants is a classy design. No wonder people cannot stop gaping at this divine neck piece
You will fall in love with this beautiful choker necklace! This intricately patterned necklace will work its charm like a dream when you team it up with any traditional Indian ensemble!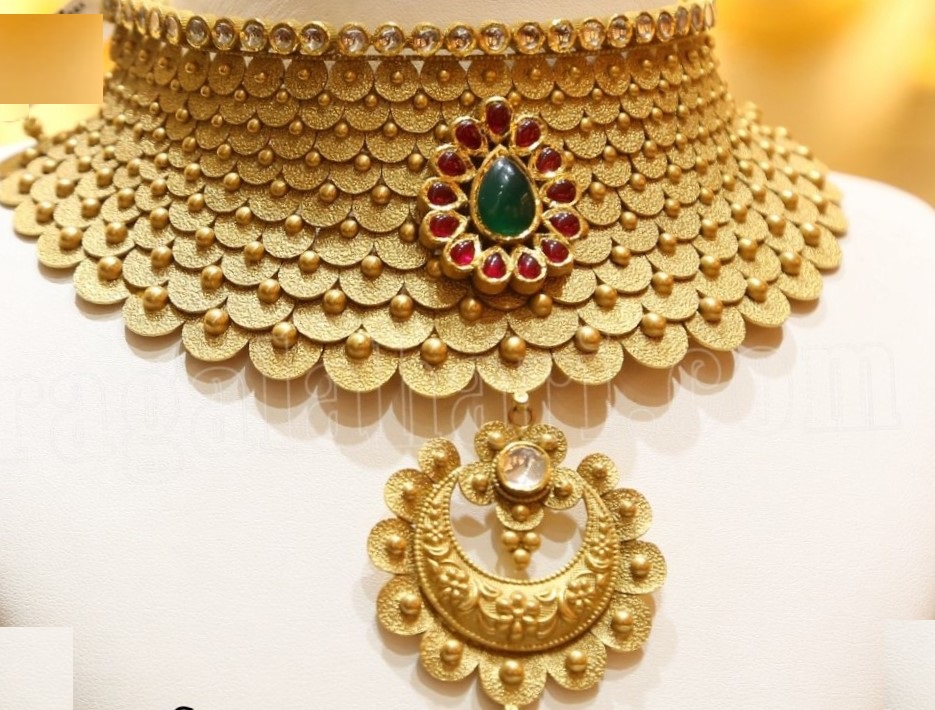 Be ready to grab a lot of compliments when you make a sensational appearance adorning this classic Gold necklace! You would look amazing with this majestic neck piece with a chandbali pendant.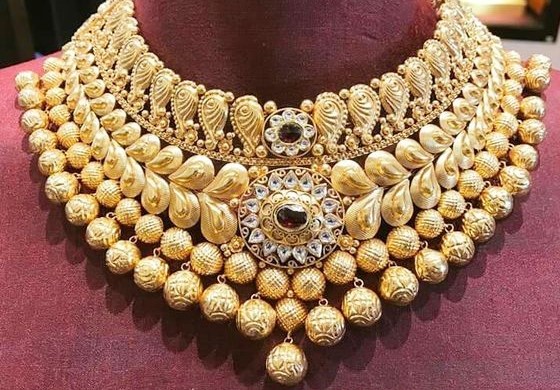 A mix of royalty and grace, this necklace adds to the classiness of your outfit on your special day. The exquisite pattern with golden beads is a mix of modern and ethnic designs.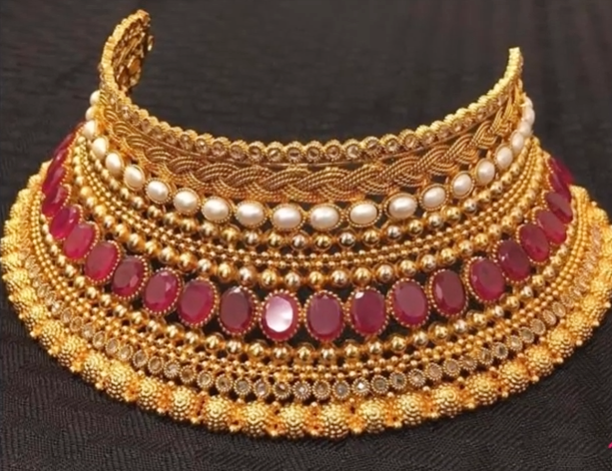 Feel sheer regal charm as you wear this elaborately styled gold choker necklace. The red gemstones and dainty details will create a grand wedding and regal look for the wearer.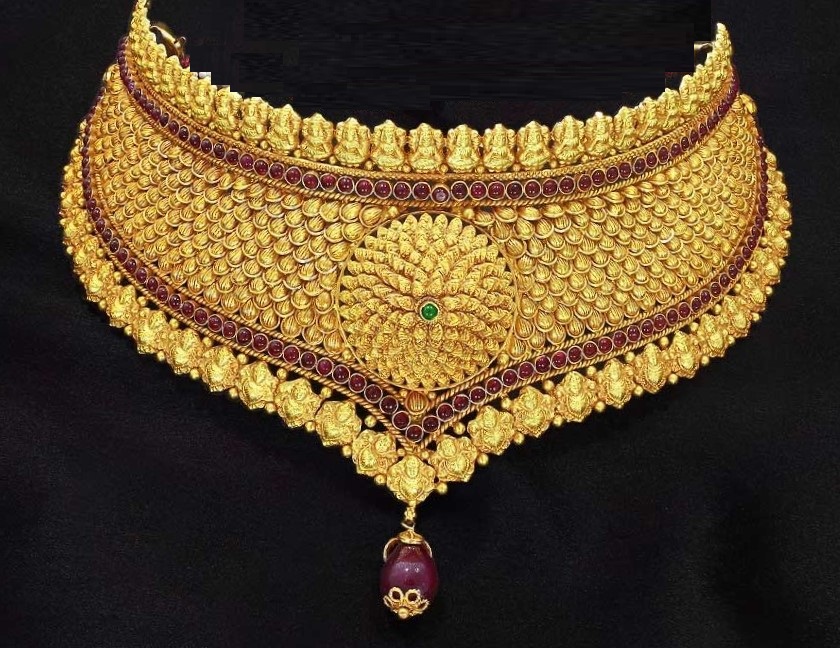 Be the head-turner and showstopper in your upcoming ocassion when you adorn this floral design necklace. Simply stunning is the craftsmanship with unique traditional designs!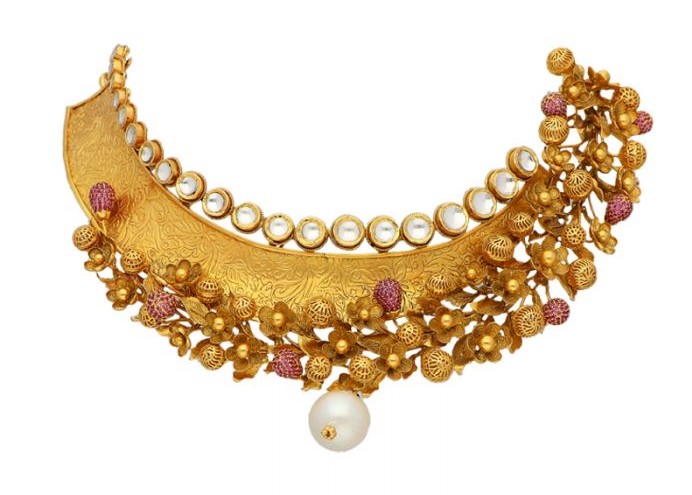 This jewel detailing in a classic floral pattern adds more mystical appeal to this gold choker necklace. This contemporary styled necklace can be worn with Indian as well as western attires!