Gold jewellery in different colors.
Gold jewelry is not pure gold. It is an alloy; a mixture of metals. Gold jewelry can be alloyed with silver, copper, zinc, palladium, and nickel to create different gold colors. The most common gold colors are: yellow, white, rose, and green.
Yellow gold is made by mixing pure gold with silver, copper, and zinc. It is the purest color, the most hypo-allergenic, and requires the least maintenance of all the gold colors.

White gold is made of gold and platinum (or palladium). White gold can also be made of gold, palladium, nickel and zinc. White gold is more durable and scratch-resistant than yellow gold. It is also more affordable than both yellow gold and platinum.

Rose gold (or pink gold)  is alloyed with gold, copper, and silver. Rose gold is more affordable than the other gold colors because it uses the inexpensive copper for its rose color. Due to its copper content, rose gold is more durable than yellow or white gold.

Green gold (or Electrum) is mixed with gold, silver, and sometimes copper. Silver is what gives the gold alloy the green nuance. This is very rare compared to other colors.Gol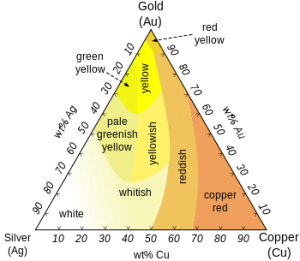 So which type of gold is the most popular? Yellow gold used to be the most favored choice, but when the gold price became more expensive, people turned to white gold instead. White gold has therefore been the more popular choice for the last 20-30 years, especially in engagement and wedding rings.
Read our article on : About gold & its purity to know about Caratage/Karat(K)
Caratage

(K)

Gold(Au)
Silver (Ag)
 Copper (Cu)
Zinc (Zn)
Palladium (Pd)
Yellow Gold
9k
37.5%
42.50%
20%
Yellow Gold
10k
41.70%
52%
6.30%
Yellow Gold
14k
58.30%
30%
11.70%
Yellow Gold
18k
75%
15%
10%
Yellow Gold
22k
91.70%
5%
2%
1.30%
White Gold
9k
37.5%
62.5%
White Gold
10k
41.7%
47.4%
0.9%
10%
White Gold
14k
58.30%
32.20%
9.50%
White Gold
18k
75%
25% (or Pt)
White Gold
22k
N/A
N/A
N/A
N/A
N/A
Rose Gold
9k
37.5%
20%
42.5%
Rose Gold
10k
41.70%
20%
38.3%
Rose Gold
14k
58.30%
9.2%
32.5%
Rose Gold
18k
75%
9.2%
22.2%
Rose Gold
22k
91.7%
8.40%