The splendor and majestic aura of a haram cannot be described in words. This is kind of quintessential piece of jewellery in the sub-continent, especially in South India. No wedding could be complete without a beautiful long Haaram. It adorns the neck resplendently that anything else fades in comparison. No wonder that there are so many attractive and unique variations to this exquisite piece of jewellery.
You will invariably find the gold haaras not just in traditional styles but also in the latest designs. Also, you get these jewels in various sizes, lengths and make. Invariably these look magnificent on ethnic get up.
Haram styles
The Lakshmi Haram
Lakshmi harams are those ornaments that has goddess Lakshmi in the necklace mainly as pendants, sometimes woven in the chain. These are mainly part of antique temple jewelry. These are very significant additions to weddings and other auspicious occasions.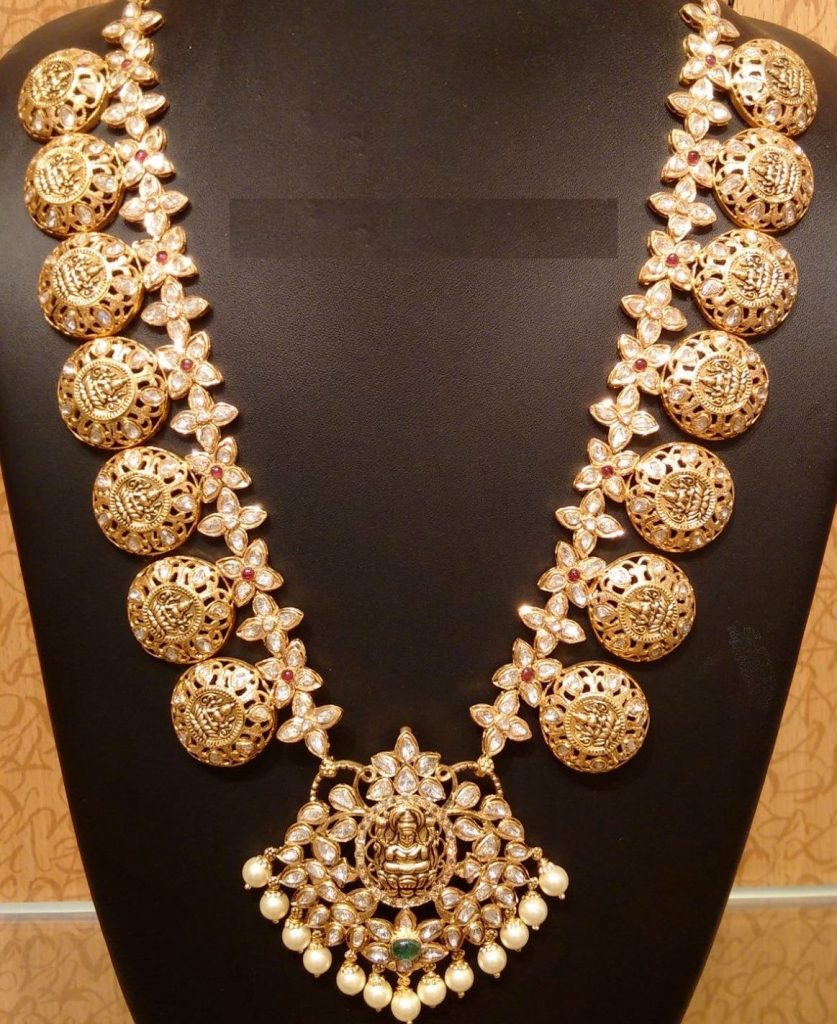 Glorious Peacock Design
The peacock design is a sought-after pattern because nothing speaks beauty like the eloquent peacock does, with its striking colours and grand plumage. The peacock is not only part of the pendant in some cases but also adorns the length of the necklace.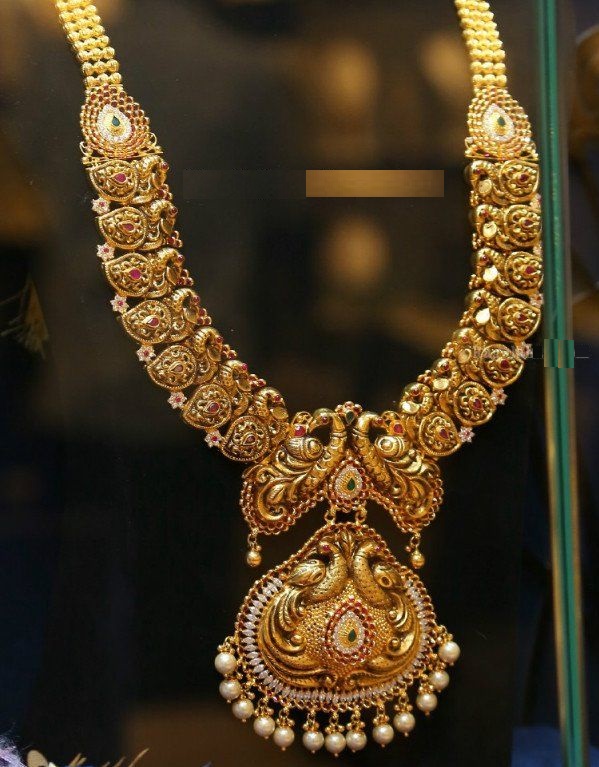 Kasuluperu – The Reign of Coins
These latest Kasu haram designs have coins embossed with an image that is strung together and joined to a pendant. The most auspicious embossing on a coin is Lakshmi, the Goddess of Wealth and Prosperity. There might be few other carvings like other Goddess, queens, elephants etc.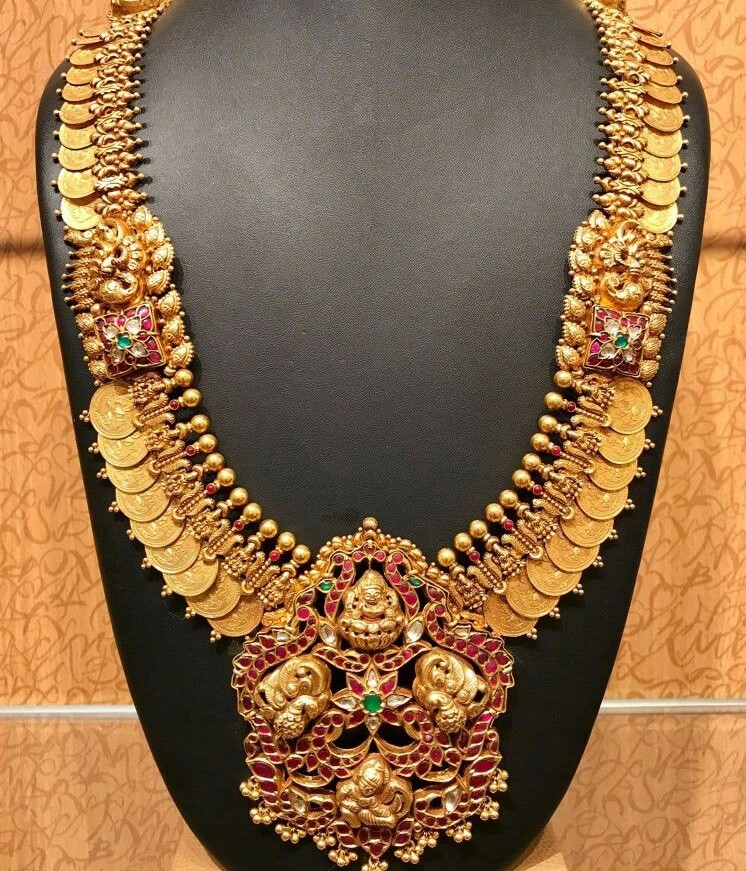 Guttapusalu Design
The Gutta Pusalu is a classic necklace design in South India , and is a piece of heritage jewellery . Pusalu means "beads" and gutta means "a shoal of small fish". The necklace is named so because it is fringed with bunches of small pearls resembling "a shoal of small fish" (gutta). These necklace look royal because of danging bunch of pearls and beads.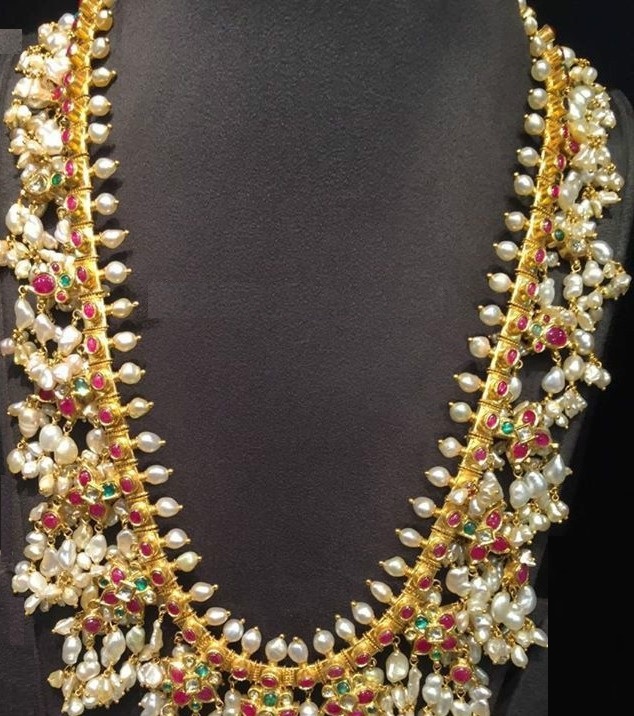 Elegant Mango Design
There is nothing that matches the comfort of seeing jewellery with the most cherished Mango design. Everything from our grand sarees to our daily wear earrings, bangles, and gold bracelet designs has that characteristic mango pattern. It could be combined with rubies, emeralds, or corals or it could be pure gold, but the mango design gives us the deep, familiar comfort anytime.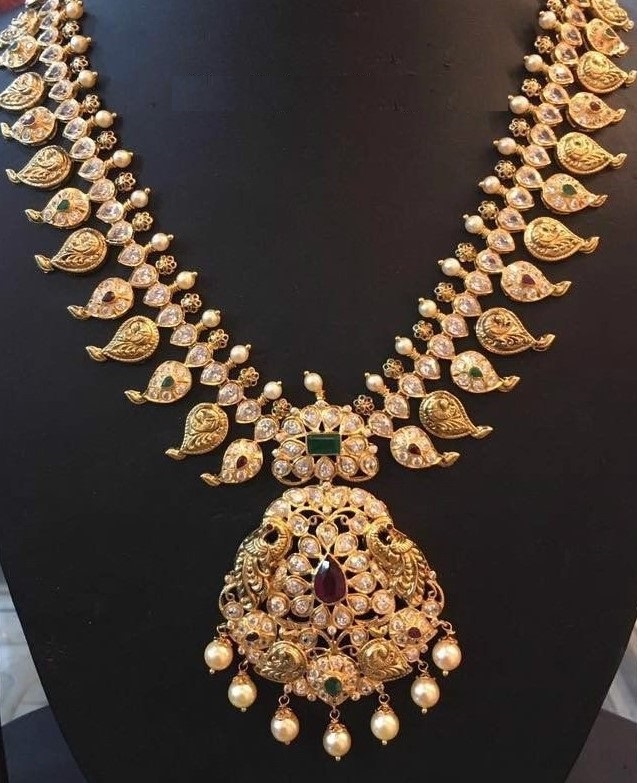 Gundla Maala Haaras
Gundla Maala Haaras are beaded necklace. This is a beloved jewelry of many ladies. Since these beads are hollow, you get variety of designs in less weight and they look grand. Multi layered necklace became fashionable with the emerging gundla maala style. Layered necklace in different lengths look classy and majestic.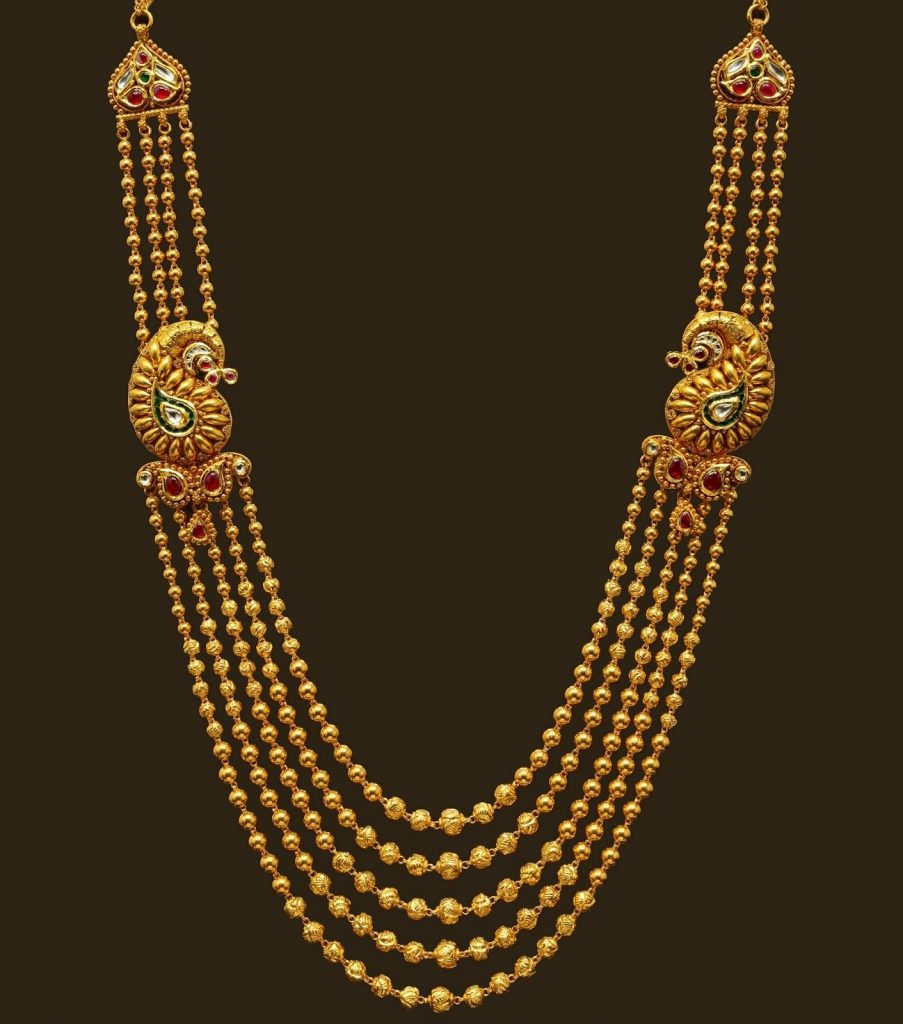 Ram Parivar- Design Drawn from Centuries of Devotion
If you like jewellery designs that draw inspiration from Indian epics, then there is nothing like paying obeisance to the Gods of Treta Yuga by adorning yourself with the 22 carats Heirloom Ram Parivar Haram, which is every bit beautiful as it is exclusive.