Crystals are semi precious stones that are believed to have natural healing power that helps to protect, cleanse and remove negative energy. With its growing popularity, these natural healing bracelets are providing alternate solution for keeping one's mind and body relaxed along with yoga, meditation and other relaxing techniques.
While there are hundreds of crystals that are available, we list you the most popular natural healing crystals that are prominently used.
Top 20 Natural Crystals for Bracelet
Sl no.
Crystal name
Crystal color
Crystal healing property
Image
1
Amethyst
Purple & violet tone quartz crystal
Helps in healing mind, soul and body
Helps in critical thinking and problem solving

2
Rose quartz
Pink
Helps in relationship maintenance
Helps in emotional healing
3
Citrine Bracelet
Yellow/Light orange tone clear quartz crystal
Helps in overall happiness, physical well being and building positive energy
4
Black tourmaline
Black(can also be very dark blue, green or brown)
Helps in increasing feeling of security and balancing the mind
5
Jade
Green
Helps in harmony, fertility and skeletal healing
6
Jasper
Brown color with dark spots
Helps in better healing by soothing the mind and increasing stability
7
Tiger Eye
Yellow/ brown with stripes and shine
Helps in overall protection of mind & body by reducing stress
8
7 Chakras crystal chips
Multicolor
Helps in better harmony in life by balancing the 7 chakra points or energy points in the human body
9
Auralite 23
(rare form of Amethyst)
Purple or violet tone
Helps in healing whole body due to its 23 elements
10
Apatite
Shades of blue, green, turquoise, yellow & gold
Helps in healing heart
Helps in psychological balance
11
Kunzite
Light pink
Helps in clearing aura & emotional healing
12
Aquamarine
Light blue
Helps in stress relief
13
Lapis Lazuli
Blue
Helps in self awareness and building better immunity
14
Moonstone
Pearl or milky white
Helps digestive system & overall healing
15
Aventurine
Mint green
Helps in balancing blood pressure & lowering cholesterol
16
Flourite
Colors varying from violet and blue to yellow and green
Helps in boosting self confidence & building better respiratory system
17
Amazonite
Shades of blue & green (with white & yellow hues)
Helps in calming the brain & nervous system
18
Angelite
Glacier or lilac blue

Helps improve spiritual awareness

19
Agate
Shades of brown & white with stripes
Helps in better concentration & security
20
Rutilated Red Copper Quartz
Red copper tone with needle like inclusions of rutile inside
Helps in bringing positive energy & overall well being
Natural Healing Crystal Bracelets
More Crystal Bracelet Images here: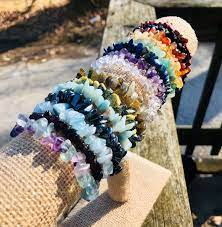 Celebrities who swear by Crystal Bracelets for Good Luck!