Bharatanatyam, a pre-eminent Indian classical dance form presumably the oldest classical dance heritage of India, is regarded as mother of many other Indian classical dance forms. Conventionally a solo dance performed only by women, it initiated in the Hindu temples of Tamil Nadu and eventually flourished in South India.
The style of dressing of a Bharatanatyam dancer is more or less similar to that of a Tamil Hindu bride. She wears a gorgeous tailor-made sari that consists of a cloth specially stitched in pleats that falls in the front from the waist .The sari is well complimented with traditional jewellery that include the ones that adorn her head known as nethi chutti, nose known as mukkutti and bullak, ear known as jimikkis and mattals , neck where short neckpiece is known as attikai and long chain known as malai, waist known as ottiyanam and feet known as Salangai.
Kemp temple jewellery, made of red and green stones is the most common jewellery used in Bharatanatyam, followed by pearl jewellery and antique gold temple jewellery.
Bharatanatyam jewellery in detail :
Head jewellery or the nethi chutti : This headpiece also known as maang tikka in north india, is worn along with 2 brooches on either sides of the hair partition which represent the sun and moon in this classical dance form.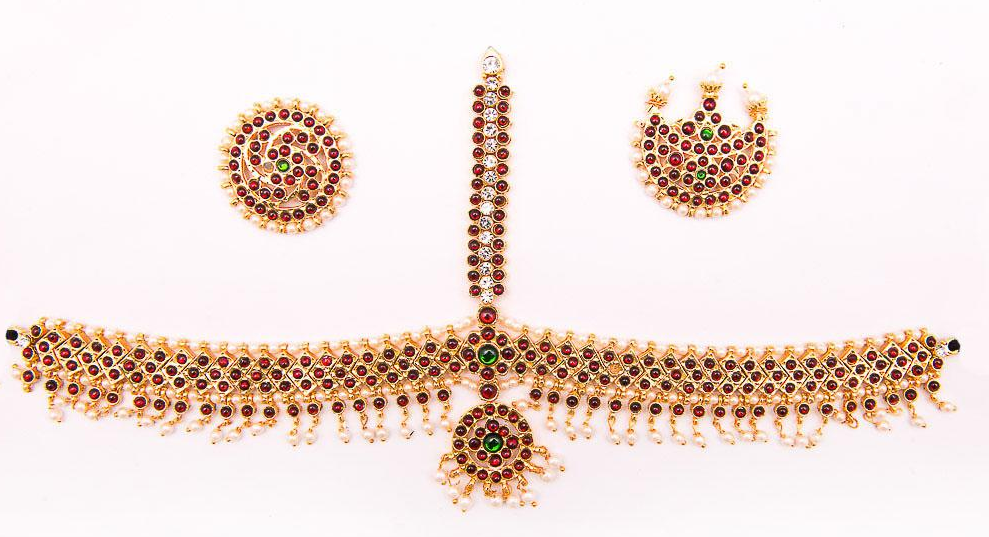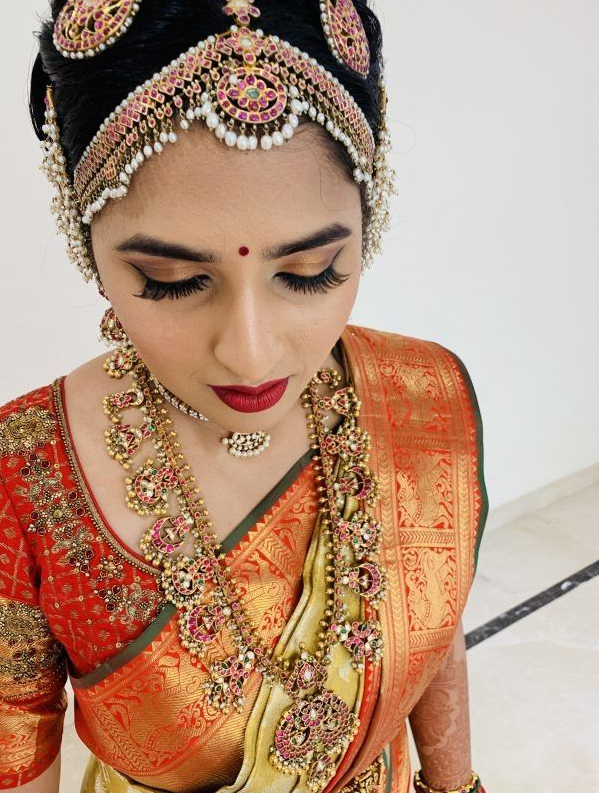 2. Nose jewellery : To add grace, Bharatanatyam dancer adorns this piece of jewellery in her nose usually known as mukkutti and bullak.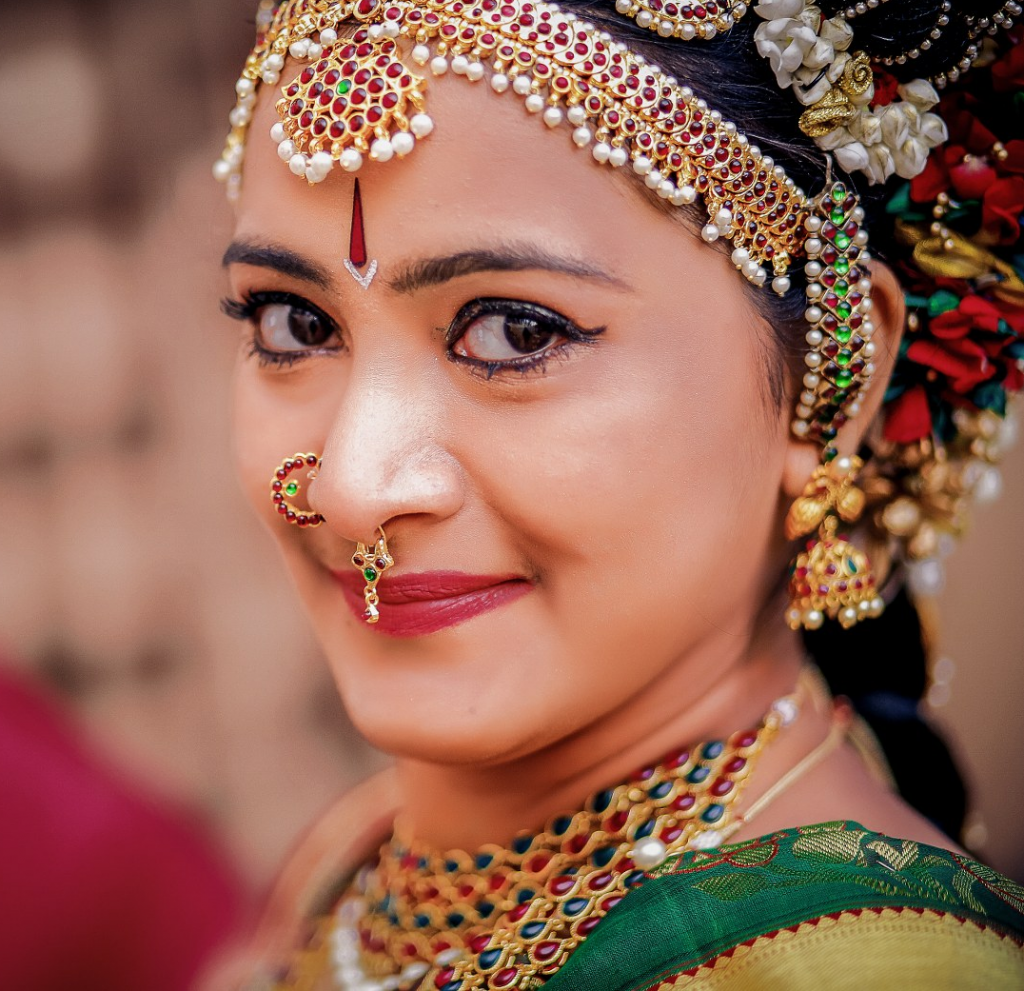 3. Ear Jewellery: Beautiful Jimmikis (Jhumkas) and little chains known as Mattals (ear chains) are attached to these earrings to add a heavier look on the dancer. These Mattals can be easily pinned in the hair.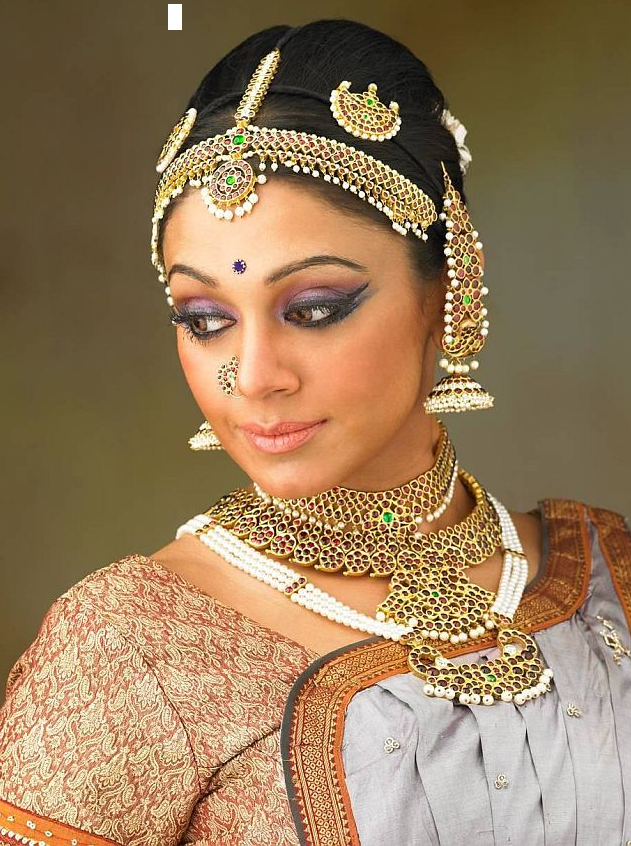 4. Attractive neckpieces: Neckpieces can vary as per the choice of dancers. But usually a short neckpiece along with a longer one will be worn. While the shorter one is known as attikai, the longer one will be termed as malai. Here again kemp temple jewellery will be the first choice followed by pearl or gold jewellery.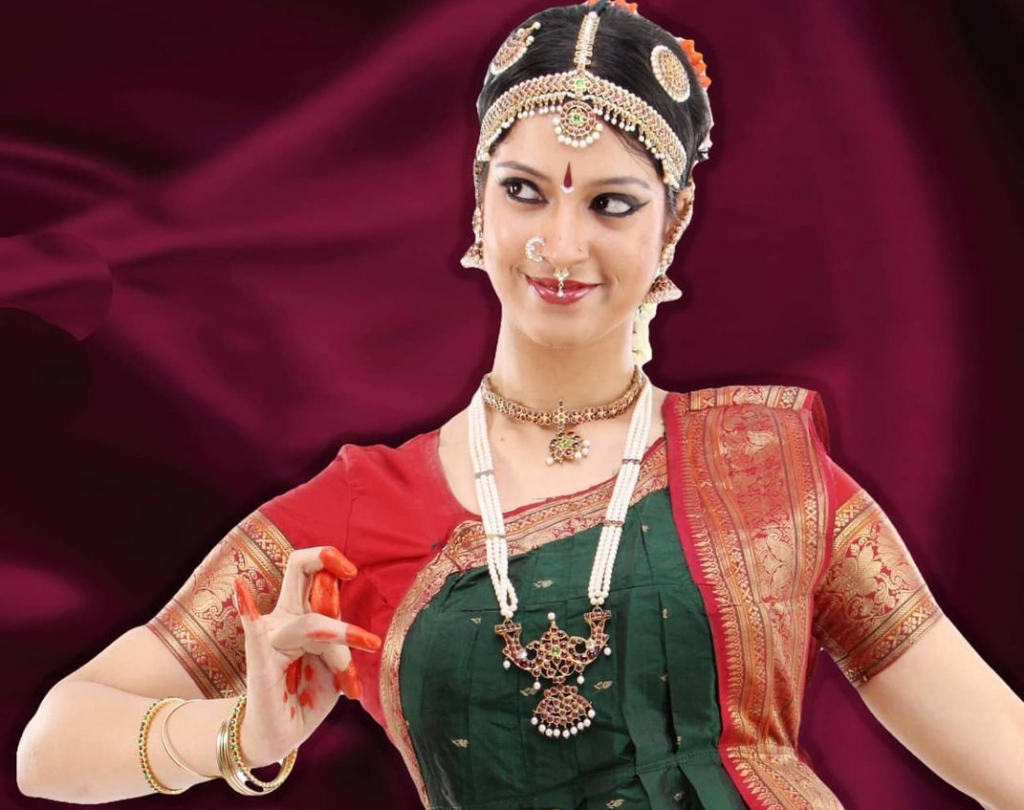 5. Arms, wrist and waist: Bharatnatyam performers wear armlet and bangles as per their role and choice. They also adorn waist belt known as Ottiyanam.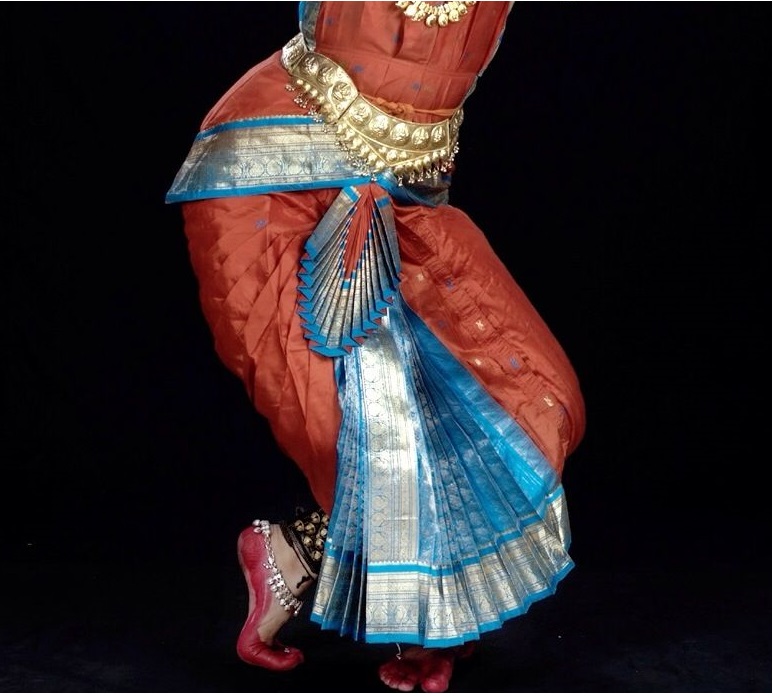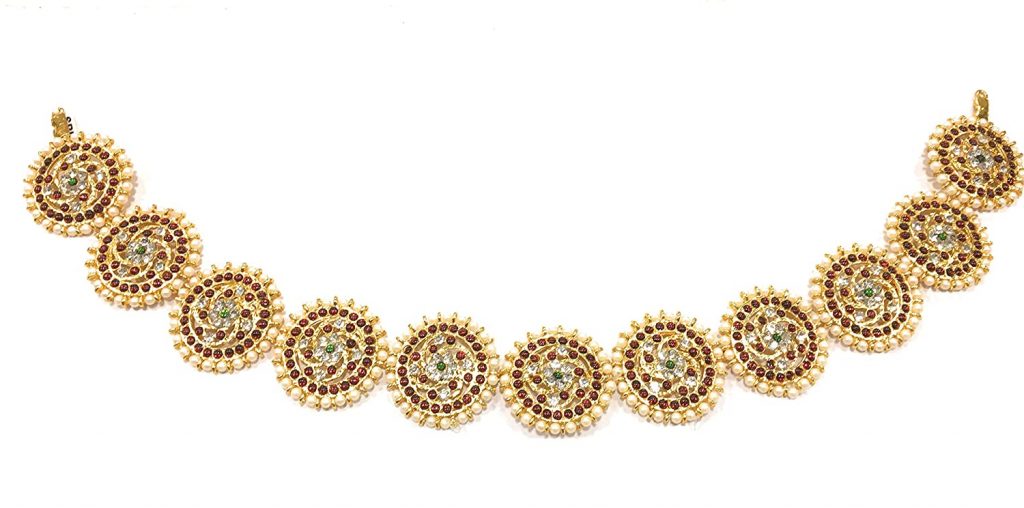 6. Feet: Ghungroo also known as Salangai holds a vital and important place in Indian Classical Dance and it is the primary instrument and ornament that a dancer must wear before practicing or performing. It emphasizes and intensifies the rhythmic percussion that is produced by the Ghungroo while attempting and performing any footwork or dance. They are made of small metal bells, mostly of brass, strung together to form a musical anklet.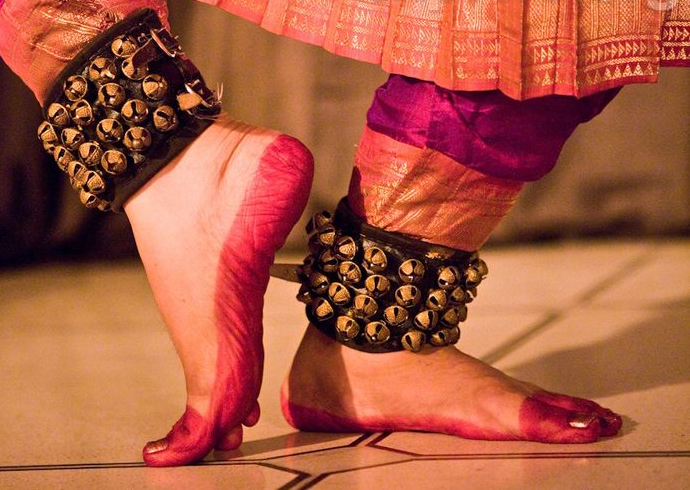 You can buy bharatanatyam jewellery set (kemp Jewellery) here.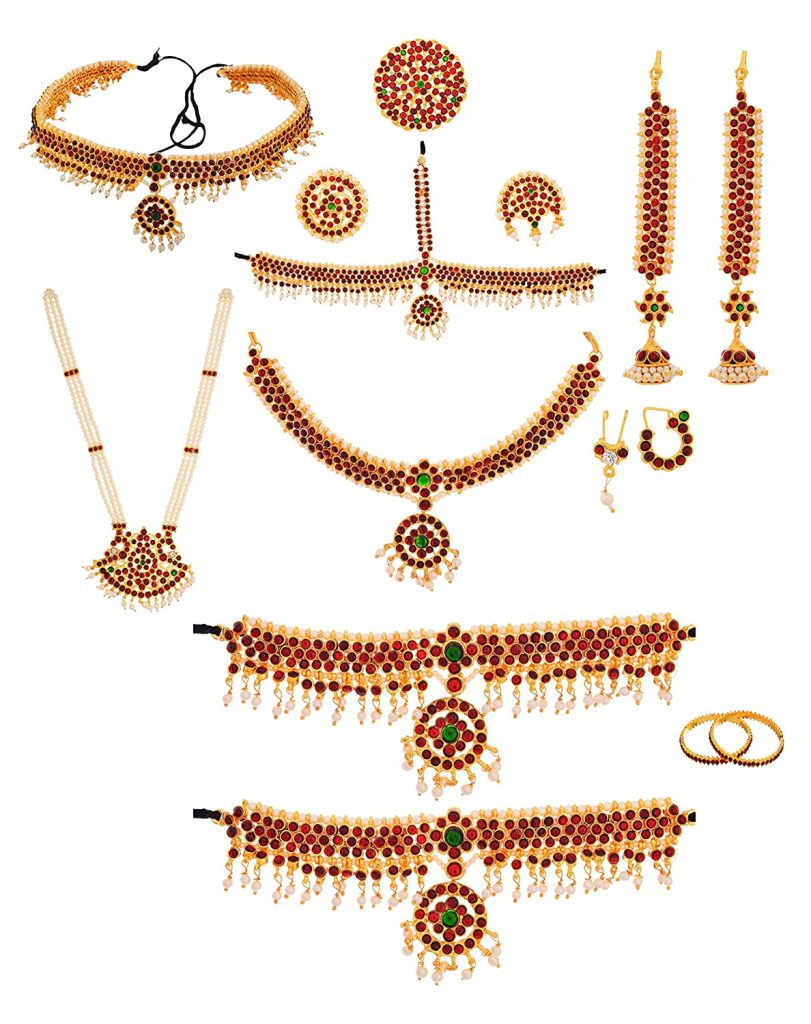 You can also buy the ornament head set, ottiyanam (kemp belt), nose pin, neck jewellery and ghungaroo separately.