While India's love for gold is no secret, the people of Kerala seem to have an unparalleled affinity for the precious metal. When it comes to jewellery, nothing beats the gold ornaments that adorn a Keralite bride. The average weight of the gold jewellery worn by an upper middle class Keralite bride is 320 grams, making Kerala's bride India's true golden girl! Typically, brides wear gold necklaces of varying lengths and styles, giving a layered look. The emphasis on wearing more gold lies in the belief that it reflects the financial status of the bride's family.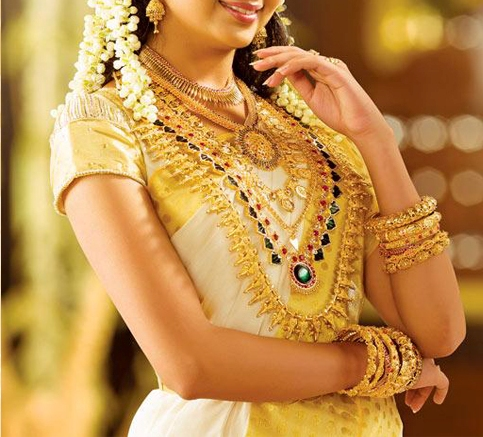 A traditional Kerala Wedding might look elegantly simple but the Kerala Wedding jewellery sets worn by the bride outshine all other elements. The different layers of gold Kerala bridal necklaces that extend to cover her bosom make her look like a divine goddess.
Here, you can see the bride beautifully dolled up in traditional kerala saree known as Kasavu saree along with traditional Kerala Jewelry. Apart from gold jhumkas and traditional bangles, she adorns the Mullamottu Mala, Pathaka, Lakshmi Kasu Mala, Palakka Mala and long Mullamottu Mala, which usually forms the last layer amongst the necklaces.
Here's a list of jewellery that a Kerala bride adorns during her wedding :
The Netti Chutti– Popularly known as Maang Tikka in North India, this piece of jewellery is worn on the forehead
Pathaka -This stunning necklace is usually one of the first pieces of wedding jewellery that the Kerala bride dons!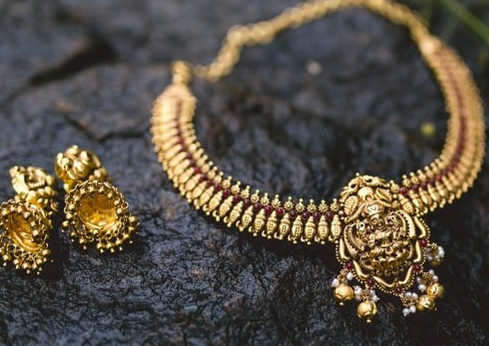 The Mullamottu Mala / Pichimottu Mala – This jewellery consists of repeated motifs of an elongated or rounded jasmine bud to form a beautiful necklace.
The Lakshmi Kasu Mala– As the name suggests, the necklace is formed by gold coins which has goddess lakshmi engraved on it.
The Manga Mala– This jewellery is composed of mango shaped motifs.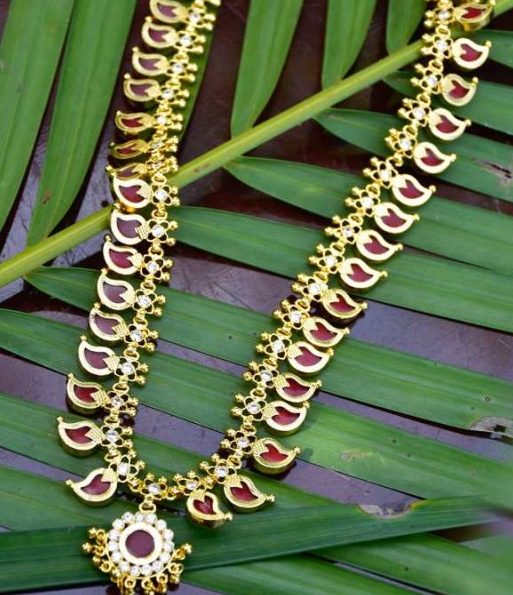 The Palakka Mala -This popular piece of jewellery is made of leaf shaped motifs to form a necklace and is traditionally made of gold and blend of emerald and rubies.
The Poothali Mala – Poothali or Flower Necklace is a traditional ornament worn by the brides of the State of Kerala in India, during marriage occasions.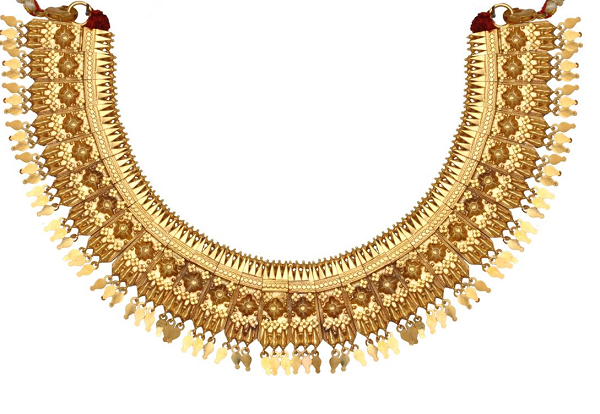 The Nagapada Thali – Nagapada Thali Necklace is one amongst the oldest Kerala jewellery designs and resembles the hood of a snake which is why it is called Nagapada Thali.
Elakkathali – It is a heavy choker necklace made of pure gold plates that are weaved together which forms a thick chain giving a stunning art work.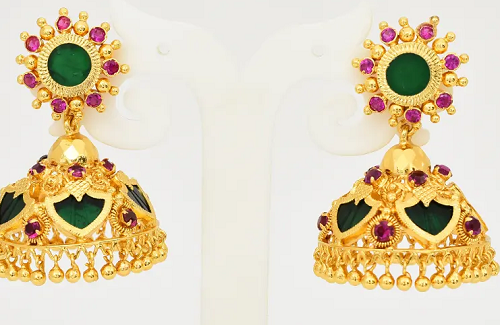 Bajubandh– also known as Armlet( Ananta, Angada), it is a type of bracelet worn on the upper part of the arm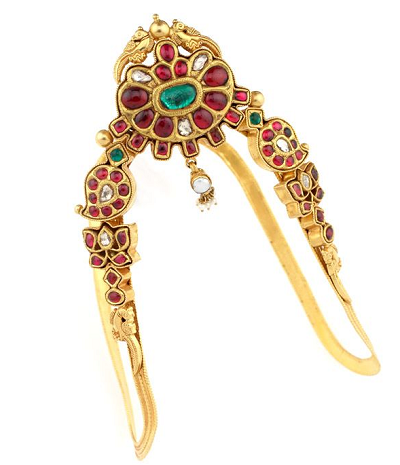 Mookuthi – The nose pin that the bride adorns.
Thadavala And Ottavala– Kerala brides are often adorned from wrist to elbow with countless bracelets of varying designs and materials. The thick kada bangles are called 'thadavala', and the thin ones are called 'Ottavala'.
Apart from the above jewellery, other traditional jewellery like Avil Mala, thalikoottam and other latest gold necklace jewelry are also adorned by the bride during her wedding.
Below are few Golden Kerala brides !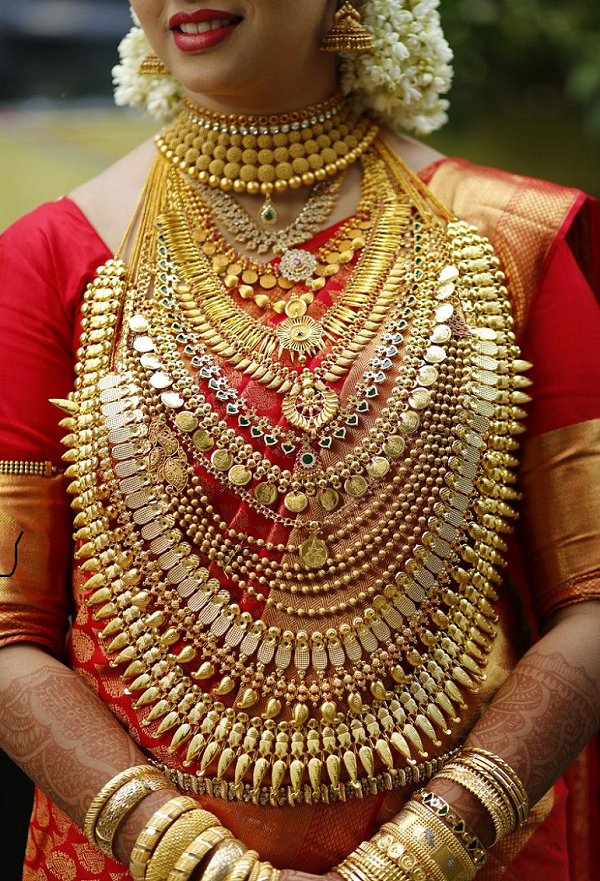 This Kerala bride is all gold with heavy gold jhumkas. The necklace layers has latest gold choker necklace, short diamond choker necklace, short lakshmi kasu mala, Mullamottu Mala, Manga Mala, palakka Mala, Long lakshmi kasu hara, gundla mala, longer Mango Mala and Mullamottu Mala. She also wears a waist belt and lot of gold bangles which includes Thadavala And Ottavala, palakka bangles, kasu bangles and more.
The beautiful actress wears diamond choker , mullamottu mala, nagapadad thali, Manga Mala, Palakka Mala and big temple jewellery along with palakka bangles and more..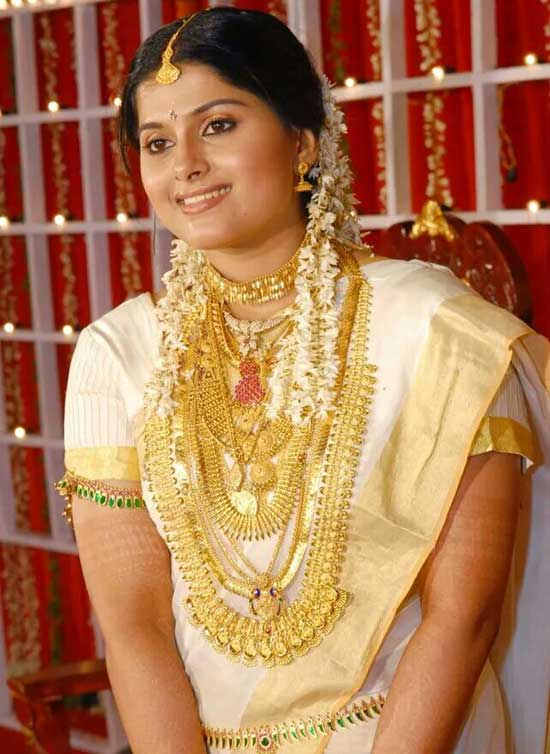 This bride adorns the traditional elakkathali as the first piece of neck jewellery folowed by other necklaces. She even adorns a unique bajuband made of traditional kerala nagapada thali format. The waist belt also resembles the traditional claw shaped motifs made of emerald.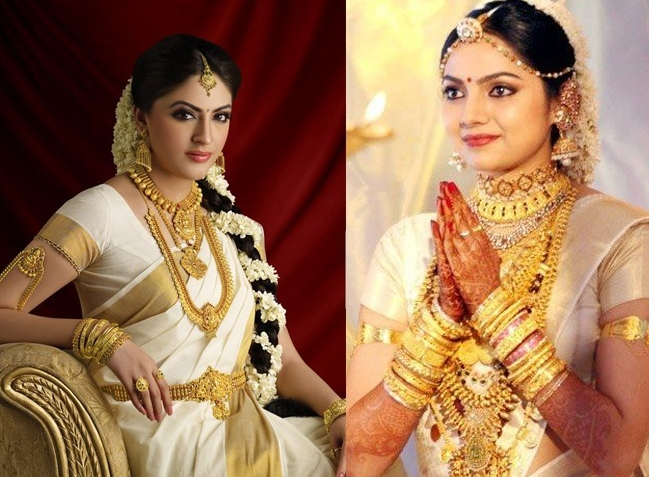 Check out Mangalsutra designs of Keralites: