Nowadays, many ladies are showing inclination towards traditional jewelry. Temple jewelry and Antique jewelry has been a constant in every South Indian bride's trousseau. Traditional jewelry like Kasu Mala and Mango Mala has made an incredible come back and is here to stay. There is one another gorgeous traditional ornament and is capturing the attention of fashionistas – The Bottu Mala Necklace!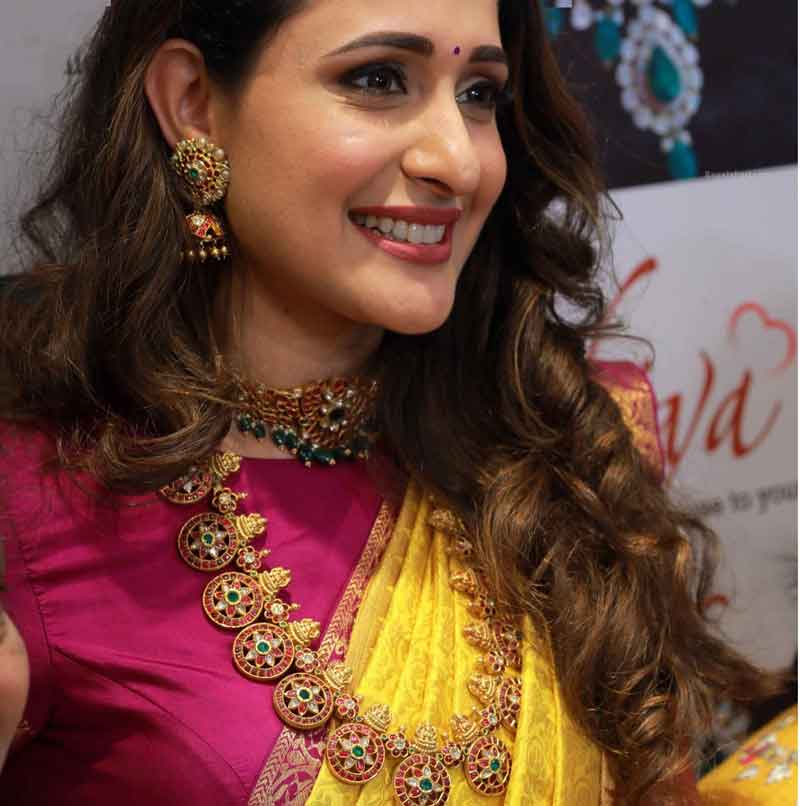 All about Bottu Mala Necklace
Bottu Mala Necklace looks similar to Kasu Mala necklace. The difference is, in Bottu Mala necklace, medallion shaped ornaments are strung together where as in Kasumala, coins are assembled together. The size of each medallion used in Bottu Mala is slightly bigger than size of the coins. Also , the medallions are loosely strung whereas in Kasumala, the coins overlap on each other. The medallions are usually carved with Lakshmi motif or encrusted with preicious stones like diamonds, rubies and emeralds. Previously , Bottu Mala used to be a long haara with medallions, however latest Bottu Malas comes in various lengths and are enriched with dangling radiant pendants.
Bottu Mala necklace looks lavish on a gorgeous silk saree, no doubt South Indian ladies are owning up on this new trend. Bottu Mala necklace is a lovely statement piece that will help the wearer make a lasting impression.
To get you started with Bottu Mala revelations, we have collated latest and trendy Bottu Mala necklace designs. Here you go-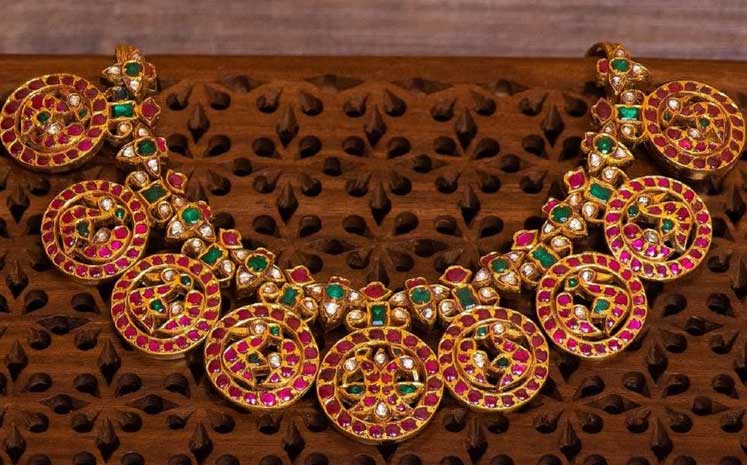 This Bottu Mala necklace made in 22k gold , bejewelled in precious emerald, diamonds and rubies is appealing. Wear this on a silk saree that takes your ethnic look a notch higher.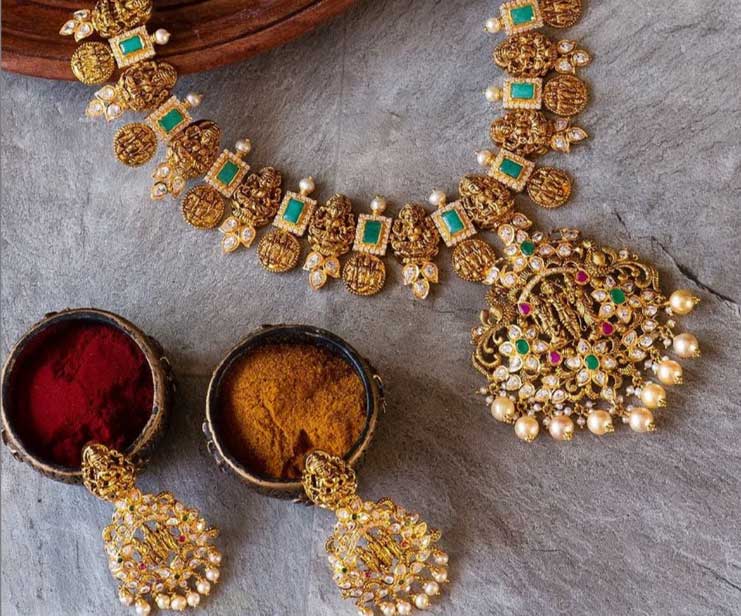 Bottu Mala necklace in 22k gold with square cut emeralds and Lakshmi motif is enchanting. Radiant pendant with vibrant gemstones and dangling south sea pearls adds grandeur.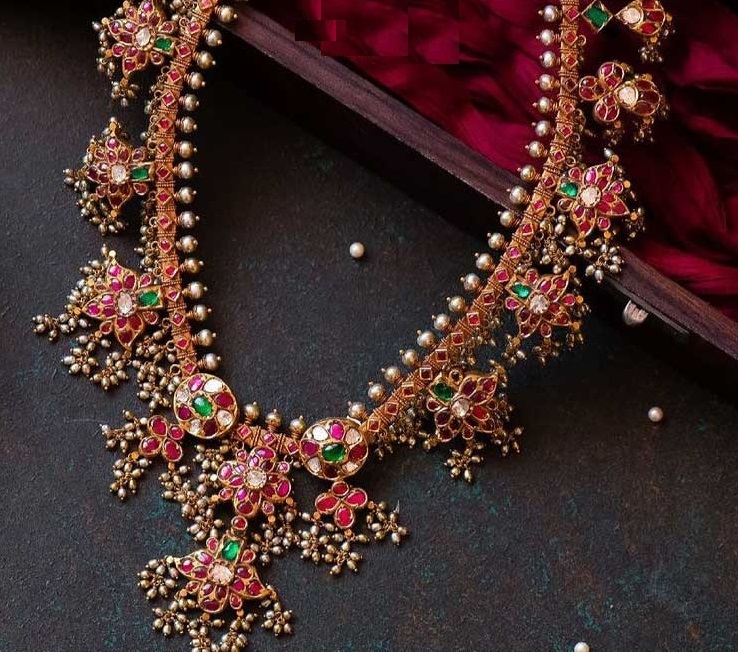 Marvelous Bottu Mala necklace in Guttapusalu style! Bejewelled with ruby, emeralds, polki and pearls, this Bottu Mala necklace is sure to stay in hearts.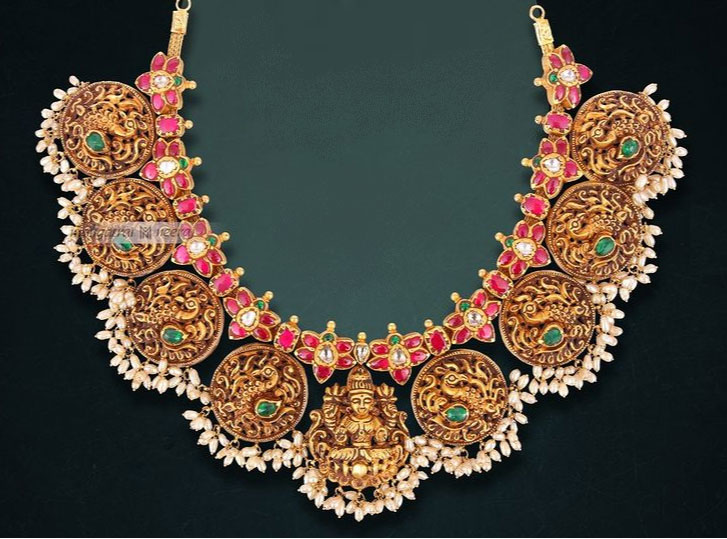 Go Spell bound at this magnicient short Bottu Mala necklace in the nakshi design. Studded with ruby and emerald stones, dropped down in polkis and pearls, this necklace is sure to turn heads around at the next occassion.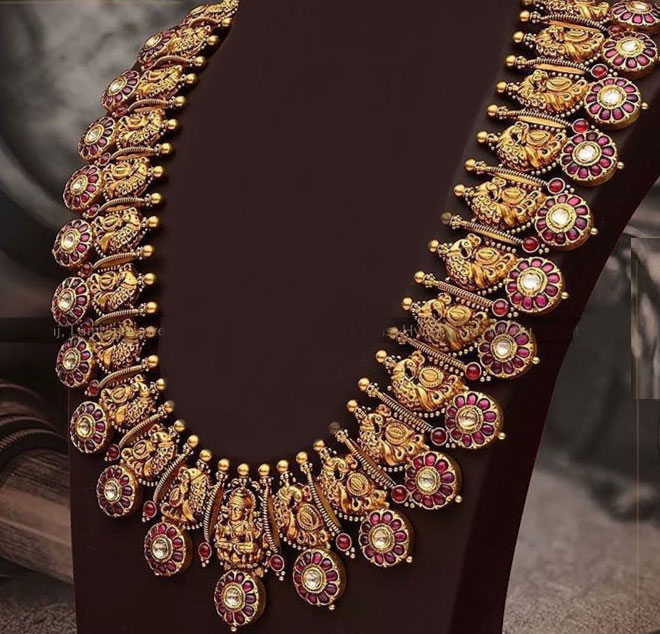 Redefining the essence of magnificence, this majestic Bottumala portrays a deep sense of grandiosity. Made with Polkis and Ruby stones in peacock design, it embodies the true cultural heritage of India.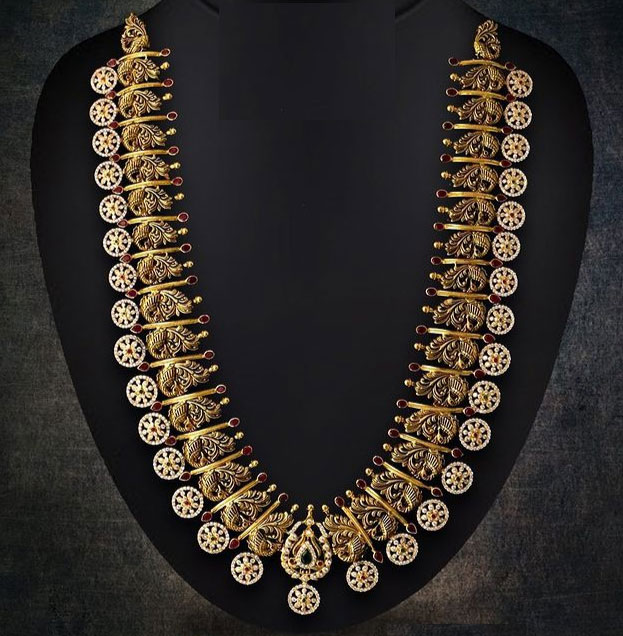 Trend the tradition with this beautifully crafted long haaram. A grand Bottumala Long Haaram with Ruby and diamonds is a trend setter. Wear it up with a traditional Pattu Saree for the royal look!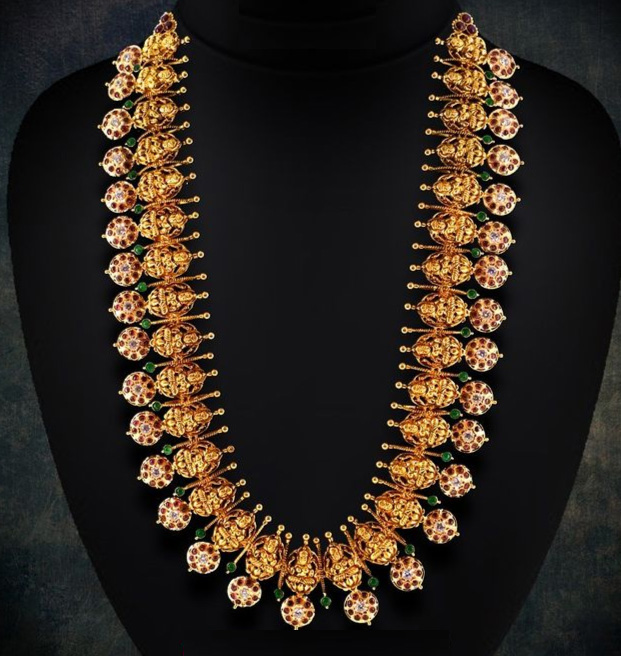 A Traditional authentic Lakshmi Haram that enhances your spirit of festivities and celebration. Witness ethnicity and grandeur with this appealing long Bottu Mala encrusted with rubies, emeralds and diamonds.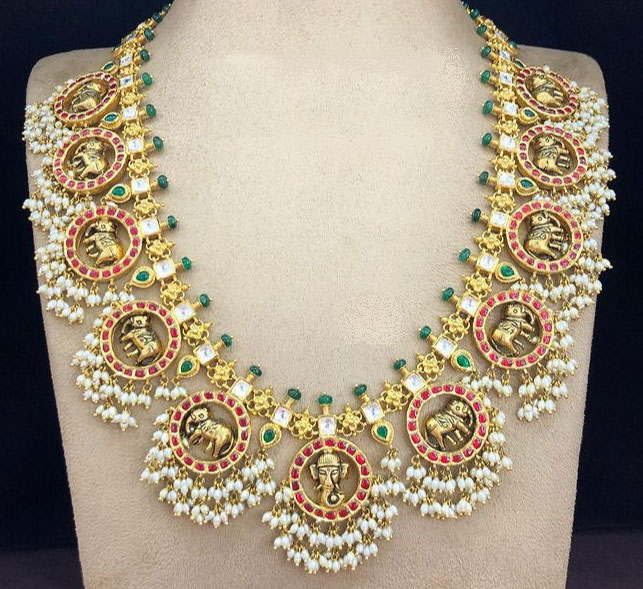 Gorgeous Nakash Kundan Bottumala with deep and fine carvings of Ganesha and elephant. Encrusted with vibrant gemstones and suspended with shoal of pearls, this unexampled Bottumala necklace is a stunner.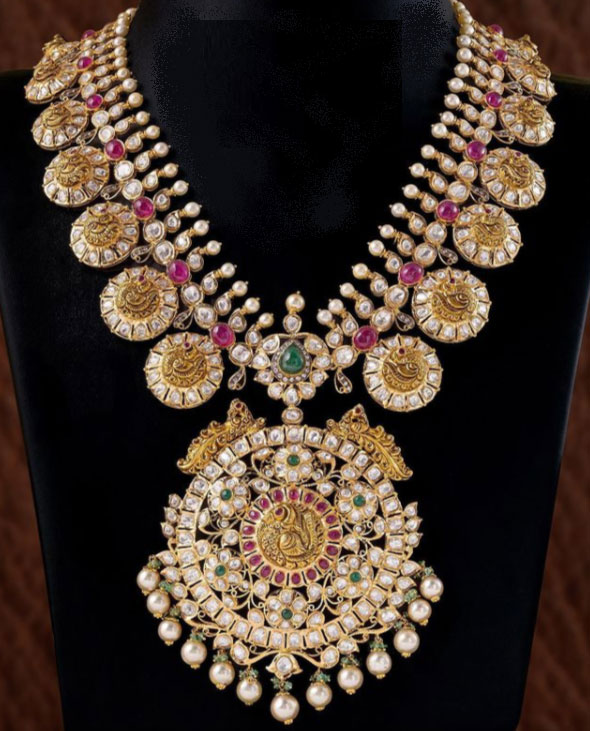 Exquisite designer Bottu Mala necklace in polki and cherished gemstones. This amazing peacock and Bottumala concept design, adorned with beautiful round locket is ravishing.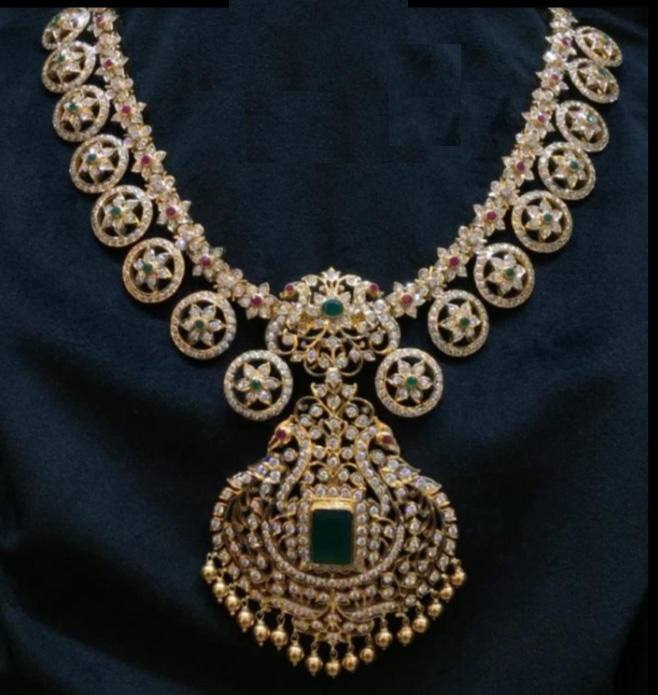 Pleasing 18k gold closed setting diamond Bottu haram with peacock pendant studded with diamonds, rubies and emeralds. One of the kind, the entire look depicts majesty and imparts queenly vibes.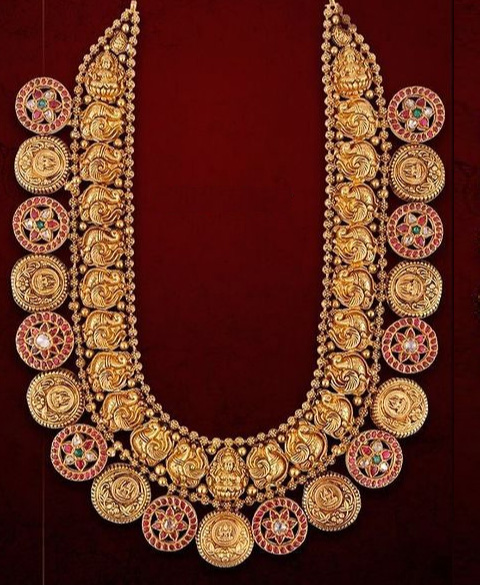 Tradition Bottu Mala necklace in Kundan Nakshi work, the ethnic piece is made with peacock designed rings paralled with Goddess Lakshmi medallions. The gemstone circles crafted with ruby, emeralds, uncut diamonds alternatives gives the ornament an ardent yet traditional gaze.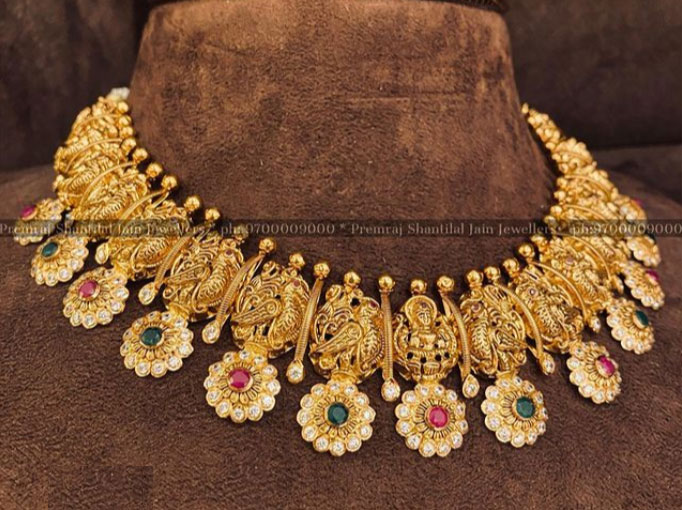 Richness doubling up with each gemstone, have a look at this exotic short bottu mala necklace. Synced in 22K gold and vibrant gemstones, this is a memorable choice for all the celebrations.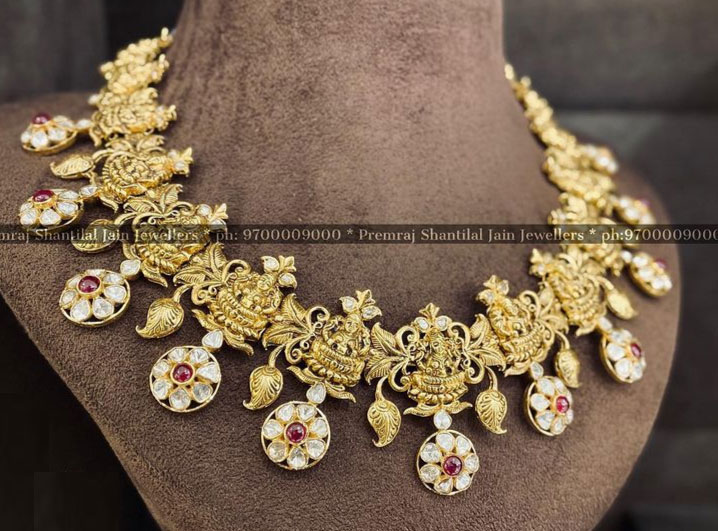 Delicately crafted short Bottu Mala necklace , fashioned with uncut diamonds and semi precious red stones. The suspended mango leaves in between Lakshmi motifs surpass your thoughts. A perfect choice for any occasion!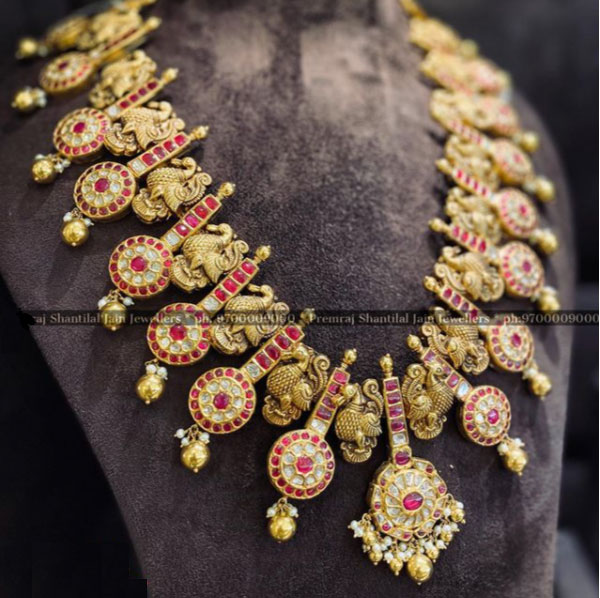 Look out for this unique Polki bottumala necklace that is ablaze with beauty and elegance. Encrusted with uncut diamonds and rubies, this bottumala is surely a precious pick!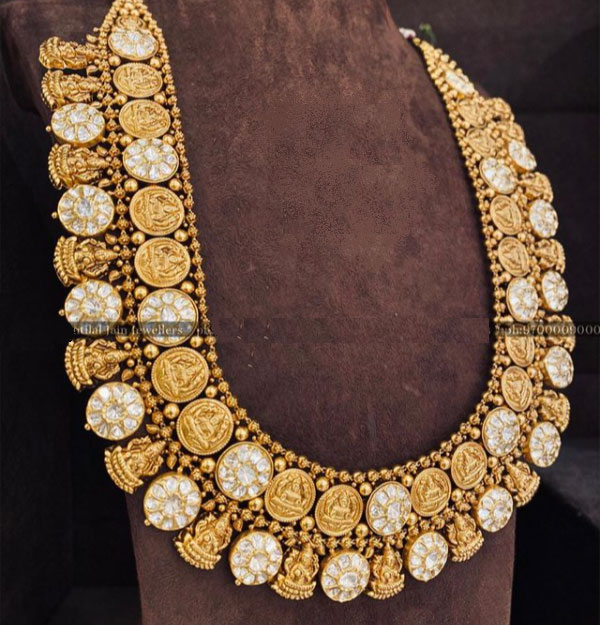 The Layered Bottu Mala woven together with Lakshmi motifs and artistically crafted polki diamonds medallion is an out preference jewelry. .This necklace adds unmatched splendor to your ethnic outfit.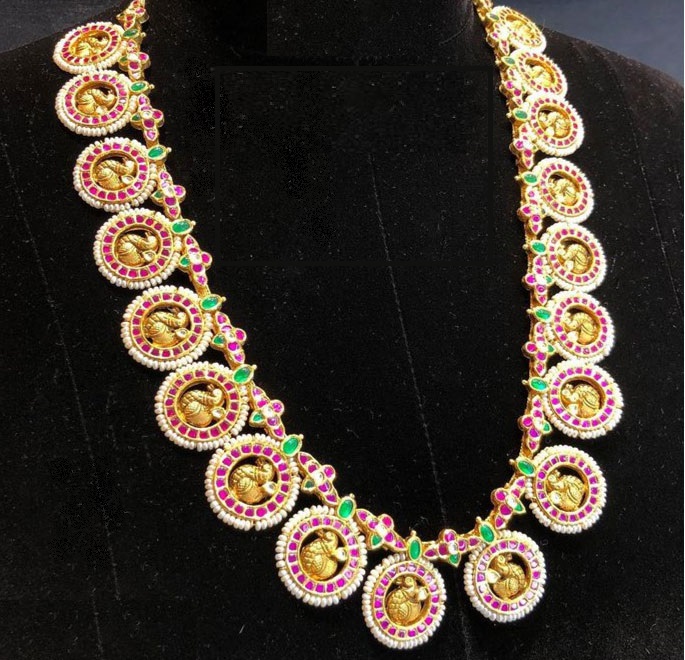 Like a twinkle in the shimmering sky, witness the radiance of flamboyant gemstones beautifully studded in this Bottu Mala gold necklace. Crafted by the finest artisans with utmost care and perfection, this one is depicts exclusivity.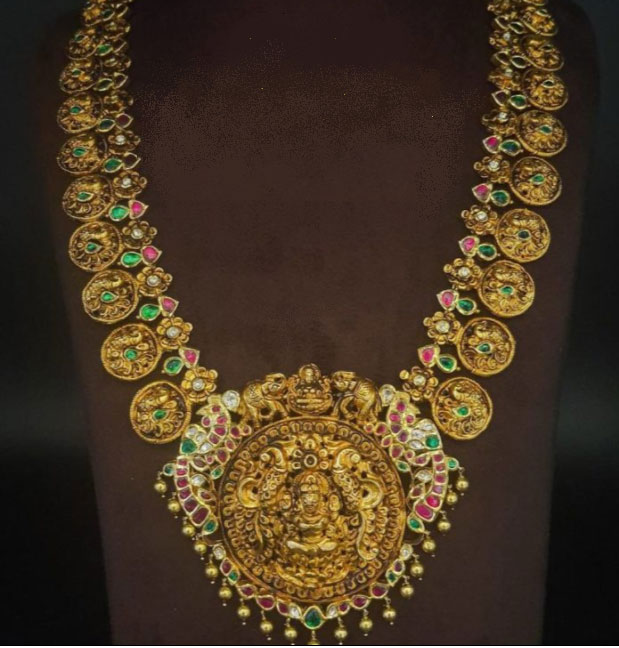 Alluring 22k gold antique nakshi Bottu haram studded with rubies, emeralds and uncut diamonds. Colossal pendant with Lakshmi motif and deep carvings makes the neck piece an eye catching jewel.
Brides have never failed to inspire us with Bottu Mala Necklaces, have a glimpse!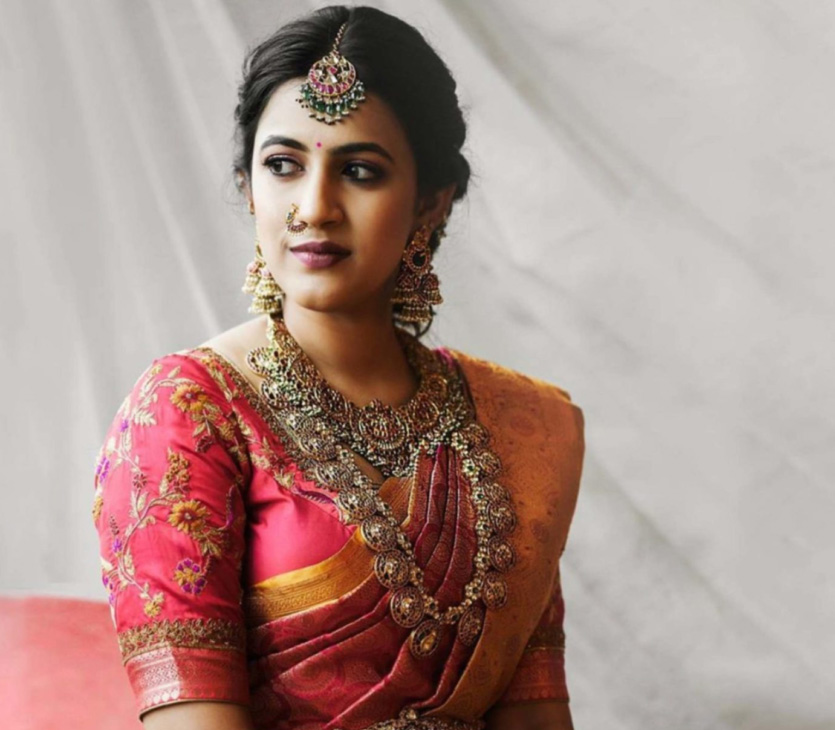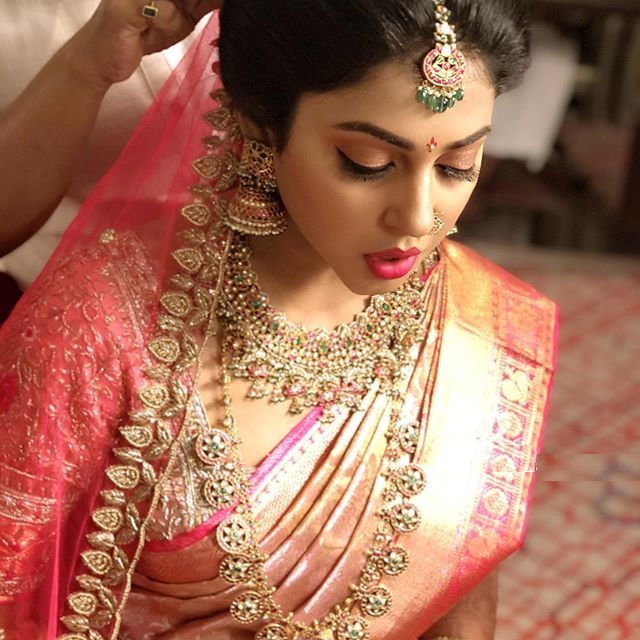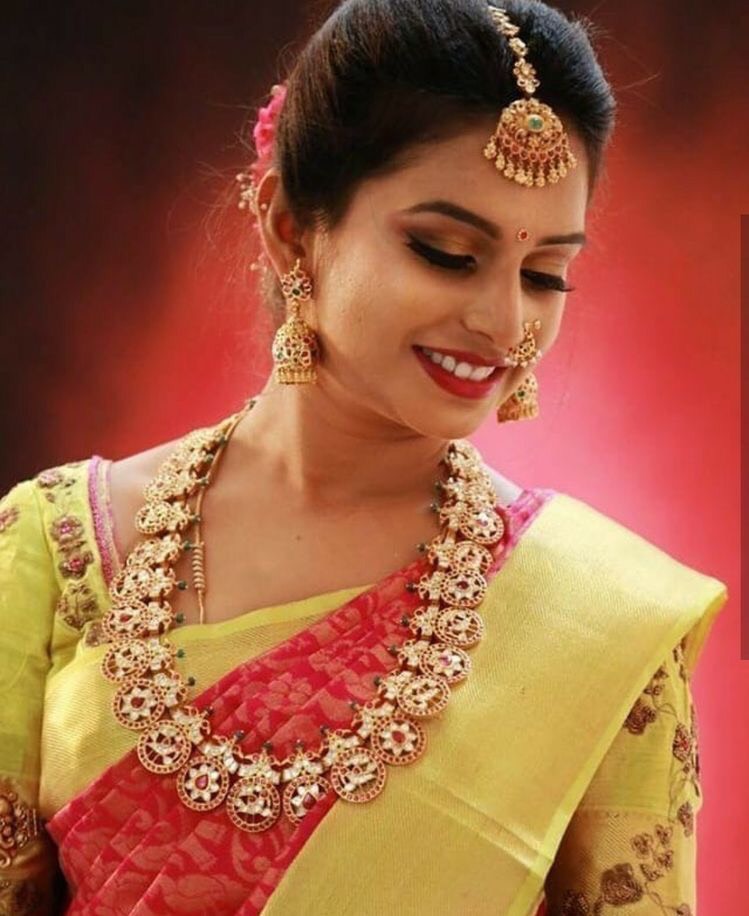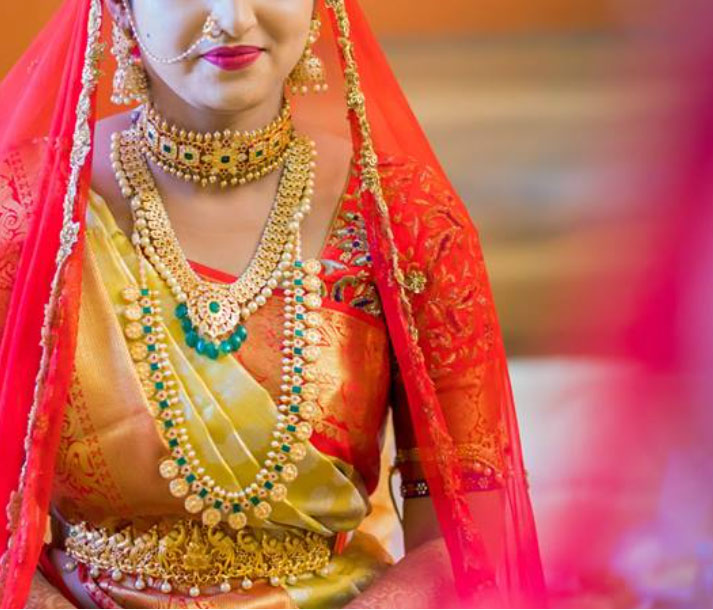 Traditional and Trending, Elaborate and Delicate, Gold and Colored Stones, hope these Bottu Mala necklace designs have delighted you!
You may also like to read : Stylish Kasulaperu Coin Necklace Designs