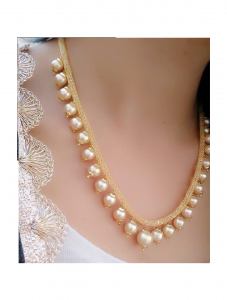 Pearls are one of the most attractive gemstone found in nature. Pearls have been an object of fascination from centuries and is one of the most beautiful creation. Pearl necklaces are the most attractive jewellery that every woman wants to have in her wardrobe.
Not only pearl necklace is a classic piece of jewelry, but also extremely versatile. From office wear to special occasions, pearl necklace can be worn on any outfit without seeming out of place. Here are few elegant pearl necklace designs for all kind of occasions – casual wear, party wear, wedding and festivals.
We have composed wide variety of trendy pearl necklace designs with different styles. Simple pearl necklace, multi lines pearl necklace, light weight pearl necklace, traditional pearl necklace with temple jewelry pendant, modish pearl necklace and many more. Check out!