Jewelry trends is changing very fast, the latest jewelry attraction is the jewelry made with threads and gold motifs. This is an elegant south Indian jewelry style that makes a statement in traditional surrounds. Most popular among this is the black dori necklace decorated with kasu motifs, light weight pendants, gold relics studded with gemstones.
Thread jewelry is trending among the clients for their light-weightiness. Rope or dori is nothing but a neat bunch of threads. The Rope jewelry is not new to us, but it gained much popularity these days. Dori necklaces are available in so many vibrant doris/ threads. You can make dori color which fits your dress and chose the designs. This design works well as this necklace looks stylish , and with the soaring gold price, helps your pocket!
Find different styled dori necklaces here
KasuMala Necklace in Black Dori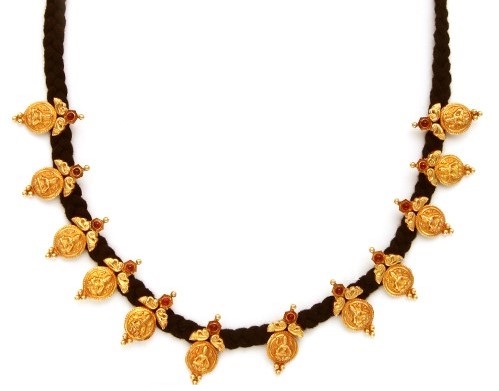 Simple Dori Necklace with Lakshmi gold coins that is woven in Black thread. Rubies studded in the gold coin makes the necklace look pretty
Lakshmi Pendant Dori Necklace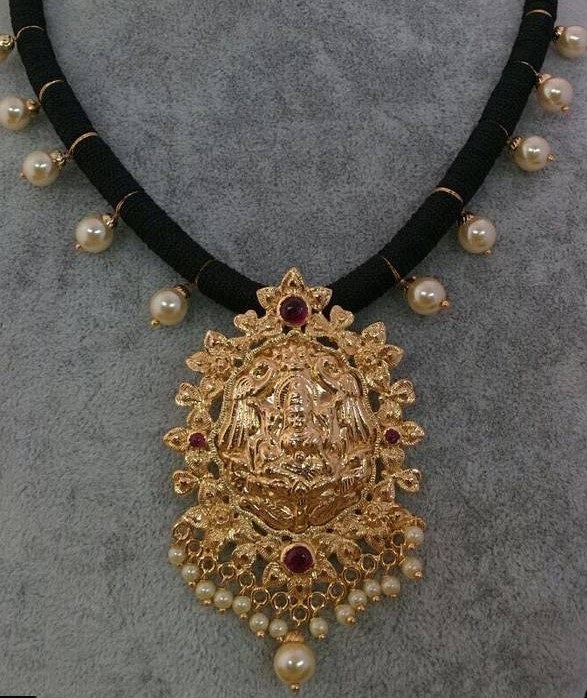 The Black Dori is woven so that it has formed a thick Rope kind. This is adorned with a beautiful and gracious Lakshmi Pendant. Further, the south sea pearls attached to the dori makes the neckace look majestic. Wear this on a beautiful saree and flaunt your style!
Floral Pattern Dori Necklace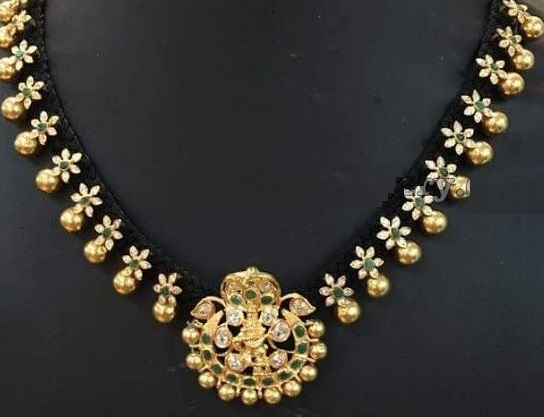 Beautiful five petal florets studded in white stones and centered with emerald is a beauty. This is attached to golden balls which makes it look more pretty. This is nicely woven in black thread and has a beautiful big pendant studded with emeralds again
Coin and Mango design Dori Necklace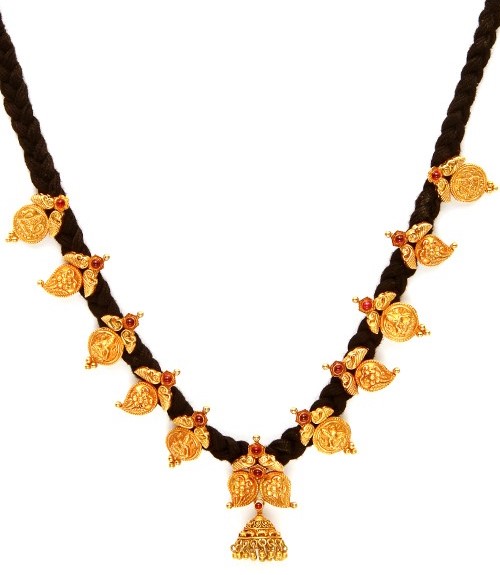 Most popular pattern in Dori Necklace is black thread woven with coin motifs. In this design, alternating Lakshmi gold coin and Mango pattern is combined. Further this is finished with a Jhumka styled pendant which adds to elegance.
Puligoru Necklace Design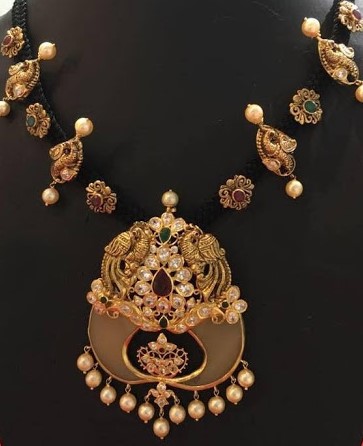 22 carat gold vintage necklace features the best of puligoru chain designs. South sea pearls adorned with tiger nail pendant makes an awesome combination with black threaded chain with gold small lockets in the middle.
Dori Necklace with Chandbali pendant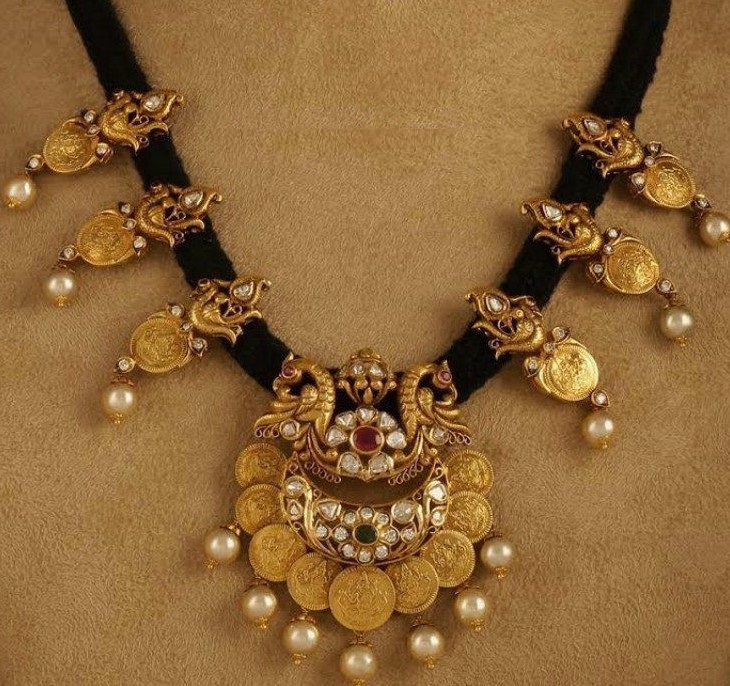 Lovely Dori Necklace with Chandbali pendant which is surrounded with gold coins which gives a unique pattern. Further the peacock styled gold designs embracing gold coin along with south sea pearls makes this a master piece!
Dori Necklace with Traditional pendant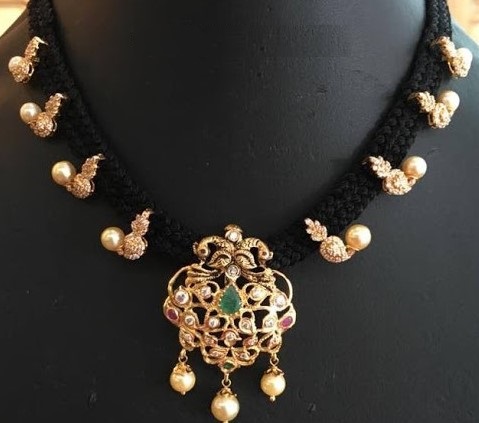 Three lines of black thread is woven together to give a wide rope appearance. This is adorned with beautiful mango pendants with dangling pearls. The traditional pendant at the center gives a delightful look.
Black Thread Kundan Bottu Mala photo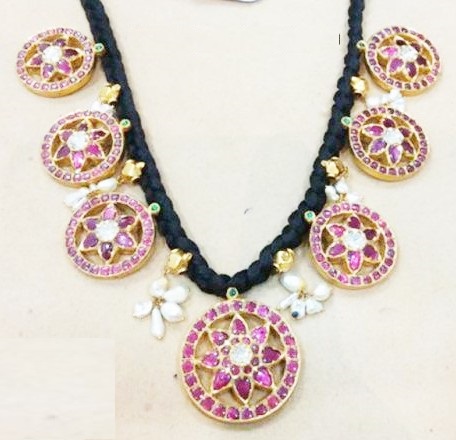 Lovely Bottu Mala which is made with Kundan woven in black thread is a unique pattern. This being a traditional south Indian jewelry looks great on ethnic wear.
Simple Kasu Mala with Pearls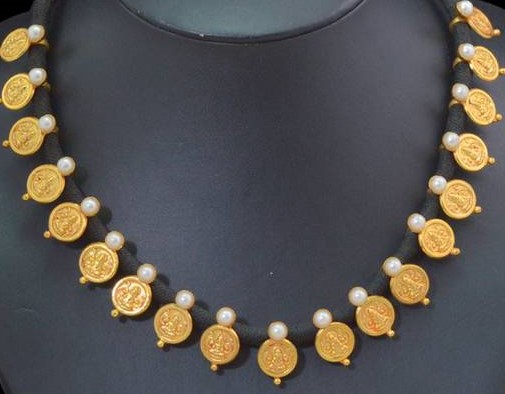 The black thread is woven to a thick rope. This is adorned with gold coins attached to pearls. This is closely woven and goes well on salwars also. Simple yet elegant!
Gaji pati Necklace in Black Dori
Gaji pati is the most famous and the oldest design in the tradtional design section. Made up of specially hand craved spot mani pieces and woven in blac threads, this gadi thushi looks gorgeous. This gaji pati was the first gaji patti design in its section in gold gadi thushi.
Nakshi style Dori Necklace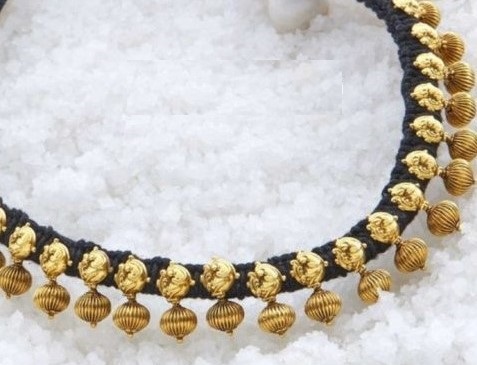 Antique nakshi style motif with light weight designed beads is woven in thick black thread. the jewelry in antique finish looks classy.
Gaji pati Necklace in Red Dori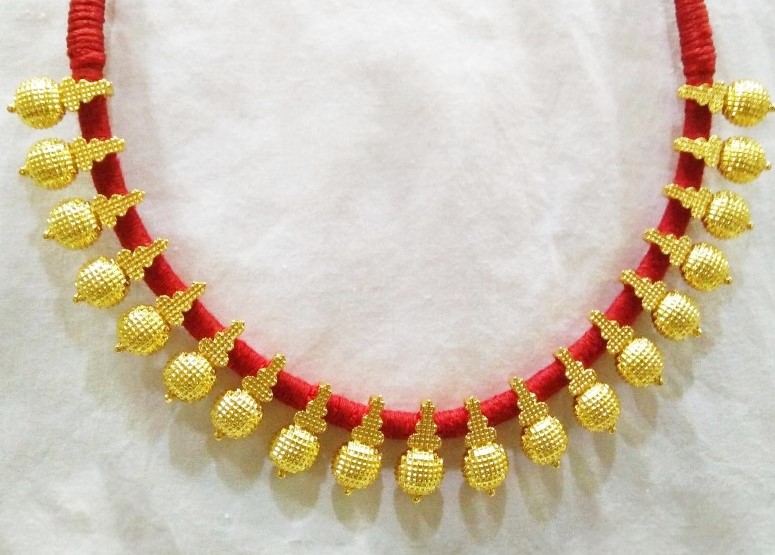 This Gaji patti( As know in gold) is a gadi thushi made of pieces of spot mani design woven in red thread. Gaji patti is also known as the oldest gadi thushi.