The term Mangalasutra literally means a scared thread which is tied around the bride's neck during wedding. This sacred thread was beleived to protect the woman from evil's eyes along with health benefits. Depending on religional and religional variations, Mangalsutras also vary. There are Mangalsutras which are just made of simple yellow thread with turmeric tied to it and there are Mangalsutras made of gold, silver, diamonds and even beads or some symbolic representations as well.
Mangalsutra in Gold
Mangalsutras made of gold are more common since they are more durable and less susceptible to snap. Mangalsutras are ussually made of 22k gold and black beads with pendants that have significance of that particular religion and caste. Some people wear stylish pendants as well with Mangalsutra chain.
Check out our latest Mangalsutra designs in gold below:
Mangalsutra In Silver
Mangalsutras made of silver are more economical compared to gold and also has health benefits to the wearer. Silver is believed to calm the mind and keep stress away thus helping in overall mental positivity.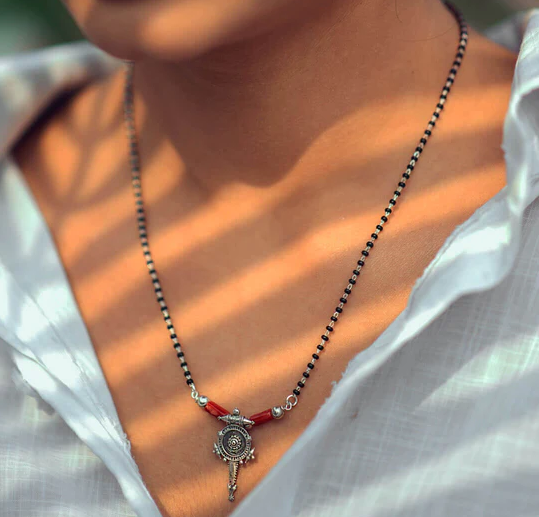 Buy Silver Mangalsutra Here: