Two weeks back , Nikhil Kumarswamy , son of former Chief Minister of Karnataka H D Kumarswamy got married to Revathi, niece of former Karnataka Housing minister M Krishnappa. The wedding made into headlines for wrong reasons, where the family presided the marriage ceremony breaking social norms of lock-down and social distancing amidst COVID breakdown.
Earlier we had shared wedding pictures of the beautiful couple , where we could not get detailed picture of the extravagant jewelry that Revathi and Nikhil adorned on their big Day. Now we roll out close-at-hand view of couple's photographs, where we get an elaborated sight of their get up, as the make up artist share these lovely pictures.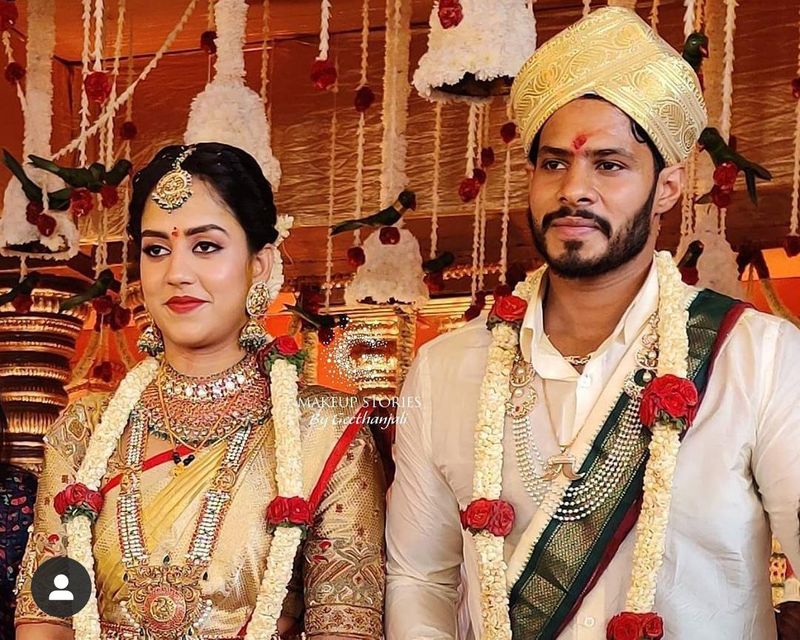 Revathi embellished a sensational ruby-emerald choker which were remarkable. She paired this with a magnificient diamond Rani haar that looked undoubtedly gorgeous! Further, over-sized close setting diamond jhumkas and orbicular Maang Tikka contemplated the bride so well. And the groom smacked with a layered neck piece that grandstanded his stature. In addition to this, the mighty tiger claw pendant he displayed is definitely an awe-inspiring accent for young boys!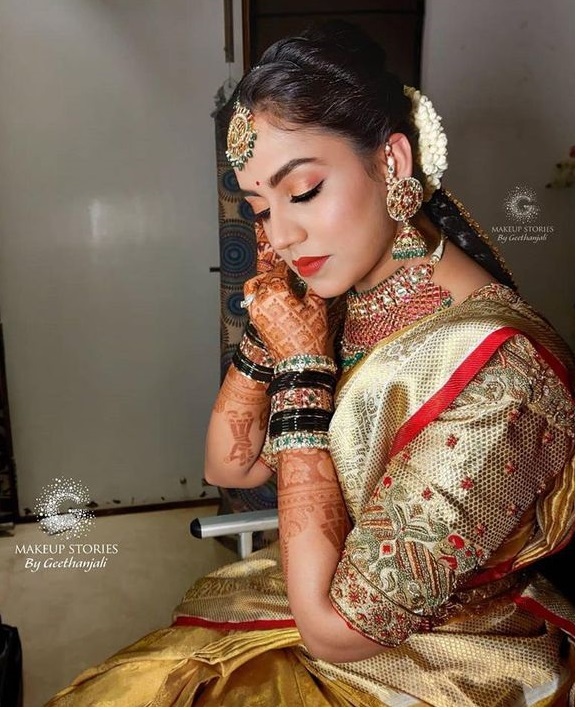 Here we get a glimpse of Revathi's hand jewelry where she pairs traditional glass bangles with stunning diamond bangles. She stacks beautiful emerald-diamond bangles in the side, then the green glass bangles centered with a broad ruby studded diamond bangle.
Bangles are not just an ornament, but a symbol of being a woman blessed with a full and happy family. When an Indian woman gets married, it is the bangles that first adorn her. It marks her transition from a naive girl to a responsible woman. Besides, it is a custom to wear glass bangles for wedding. It is believed that glass bangles make lots of sound signifying happiness.
Pre Wedding Ceremony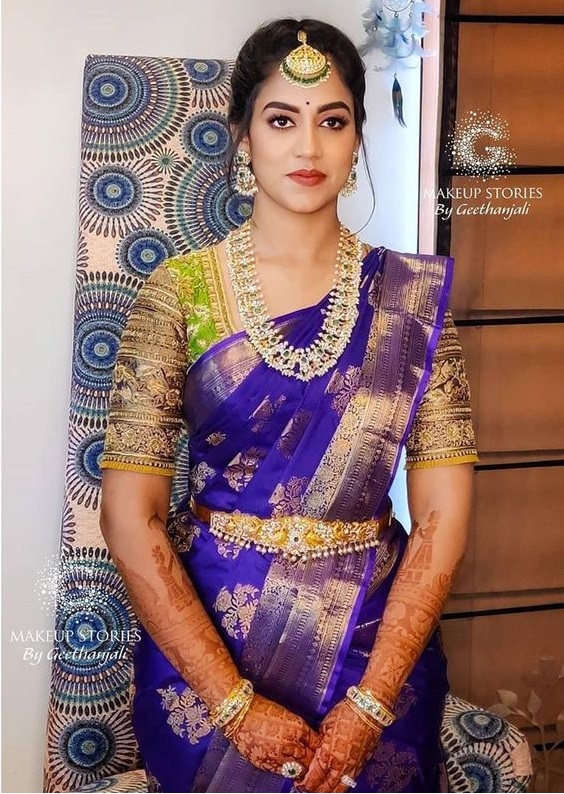 Revathi dazzled in a blue-green attire with Guttapusalu jewelry during her pre-wedding ceremony. The Guttapusalu necklace and earrings with emeralds looked spectacular. The broad Vaddanam with hanging pearls accentuated the bridal leer. Have a glimpse at her hand jewelry – she kept simple yet sparkled with pair of diamond bangles, pair of finger rings one being a big cocktail diamond ring.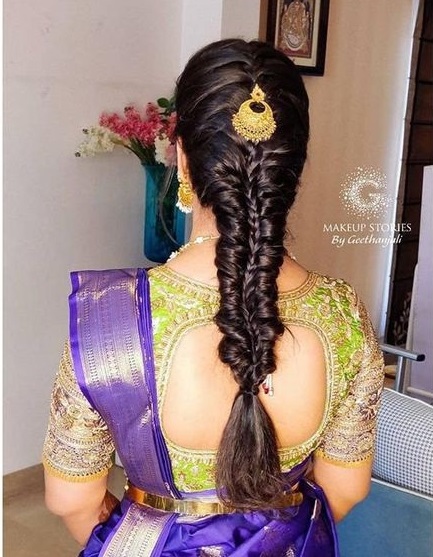 And we loved the bride's hairdo, didn't you? The stylish hairstyle with a minimal gold chandbali pendant is just pleasing!
Am sure you are enthralled by the couple's get up. If you have an occasion coming up, you could get inspired by these style and spread the trend!