Gold Necklaces are one of the most delightful pieces of jewellery to any women. It has its own charisma and light of elegance. The yellow color associated with it reflects majesty and elegance of purity hidden in it. Gold jewellery is a must for every societal occasion, be it a get-together, a festival or a marriage. This is the most versatile jewellery as the same can be used for various dressing styles. You can match them up with traditional wear or western wear depending on the style.
Here are few latest trendy gold necklace designs that give you a classy touch. Check out!
Pastel Jewellery
Choker Necklaces
Antique Temple Jewellery
Traditional Jewellery
Latest Gold Necklace Designs With Weight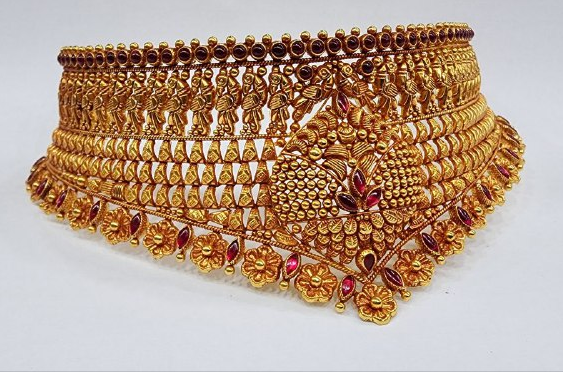 Latest Necklace Designs That Never Go Out Of Trend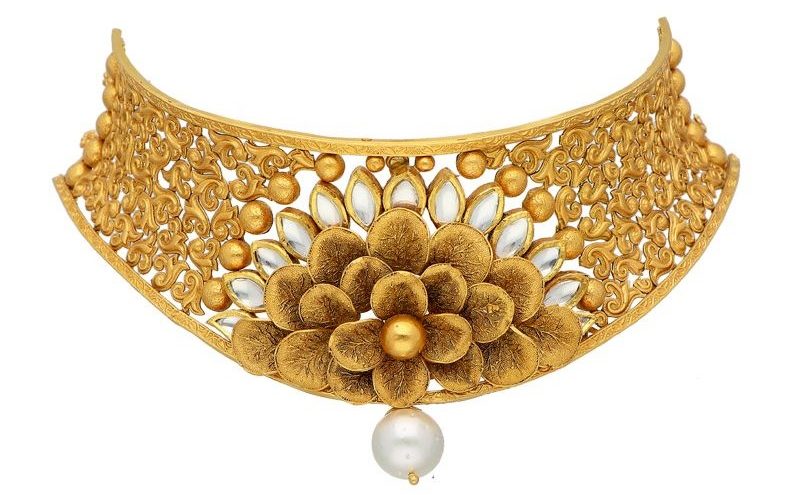 A distinctive statement of versatile, modern jewellery in floral design with antique finish . Fine craftsmanship and intricate carvings of this jewel is depicted by the timeless elegant choker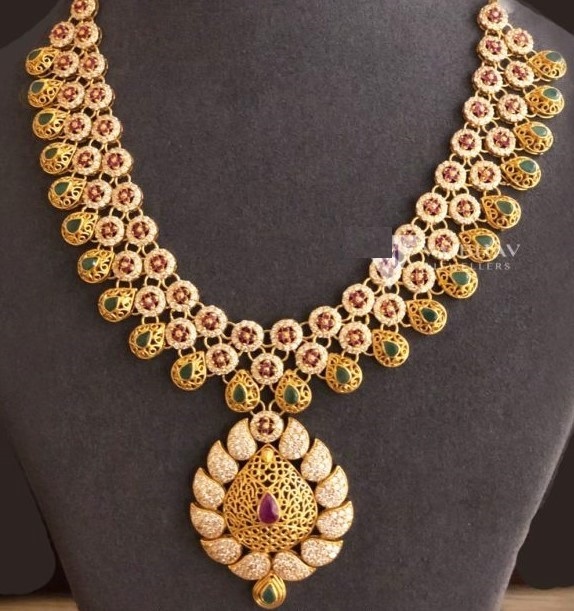 Mark your special moments with the enchanting long hara. This necklace exudes style and sophistication with a classy and ethnic touch. Pear shaped artifacts and magnificent pendant adds to the elegance.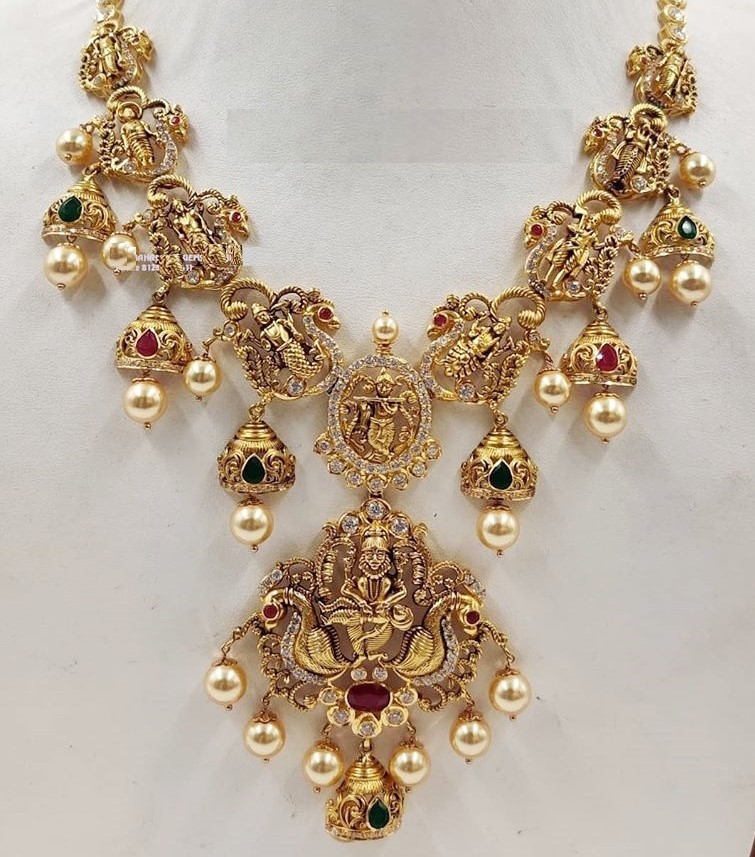 This temple jewel in nakshi style features unique, traditional pieces which offer an artistic lens through which we can experience our country's heritage. The God consorts' motif stands out making the necklace a unique piece of craftsmanship.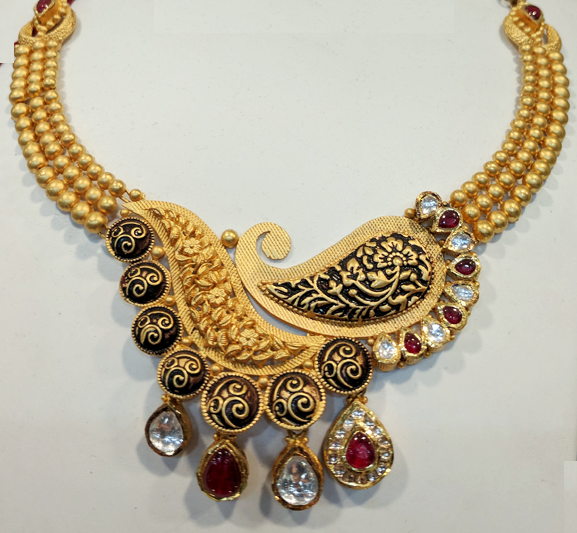 Captivating and carefully crafted, channel the fierce queen within you when you wear the beautiful necklace. The unique mango and circular motifs in black gold makes this a unique piece. Combined with pear shaped ruby and white stone dangles is eye candy!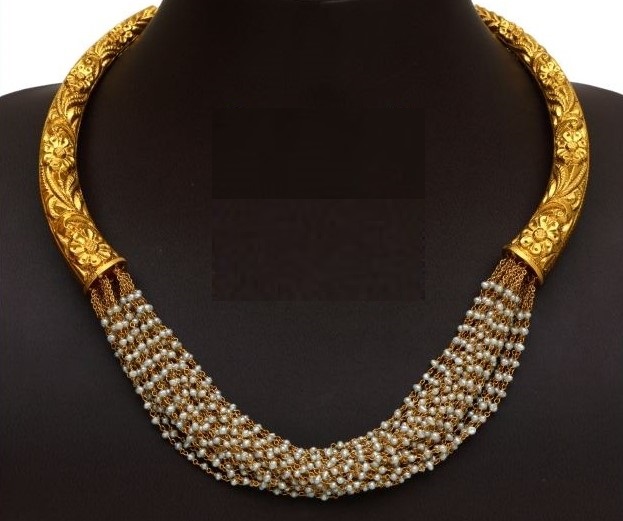 This chic yet classy signature choker necklace is a magnificent statement piece. We adore this latest traditional kante necklace design for its exclusivity. Multiple small pearl chains in bunch radiates its majesty.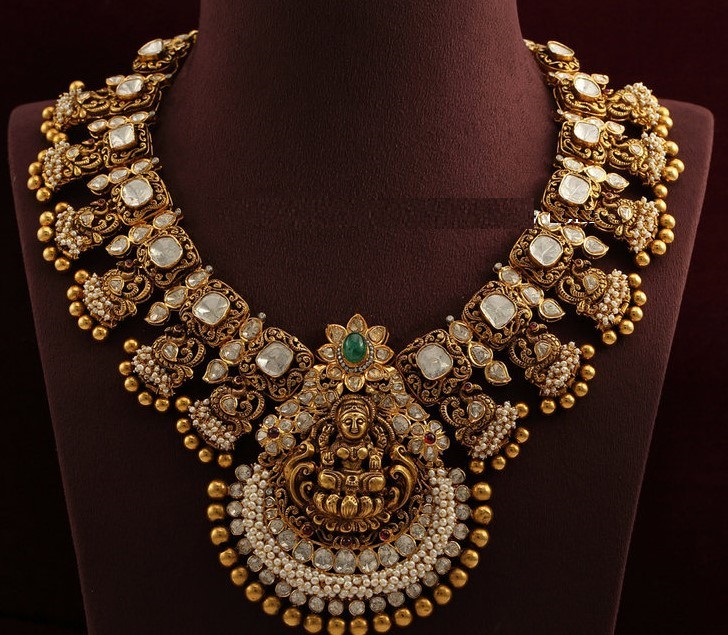 This designer neck piece with uncut diamonds has a sole way of infusing elegance and glamour. The stunning piece feels like a reverence to history of India with beautiful motifs of Lakshmi and peacocks.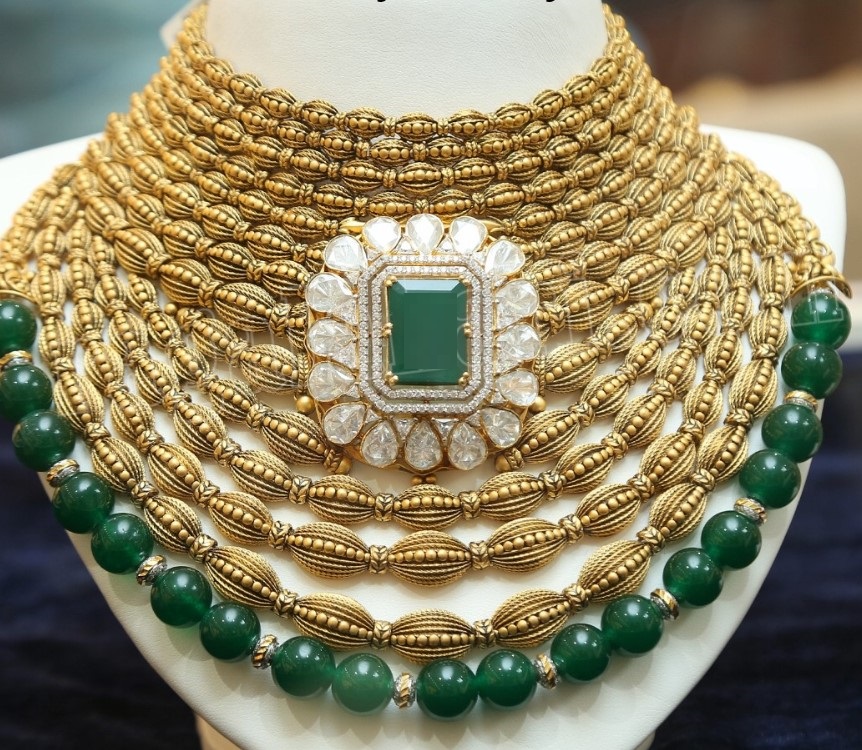 Bedeck yourself with one of the most unique and thought-provoking designs, elevating every piece you adorn with his beautiful gold choker. Hefty choker with antique touch and precious gemstones is splendid.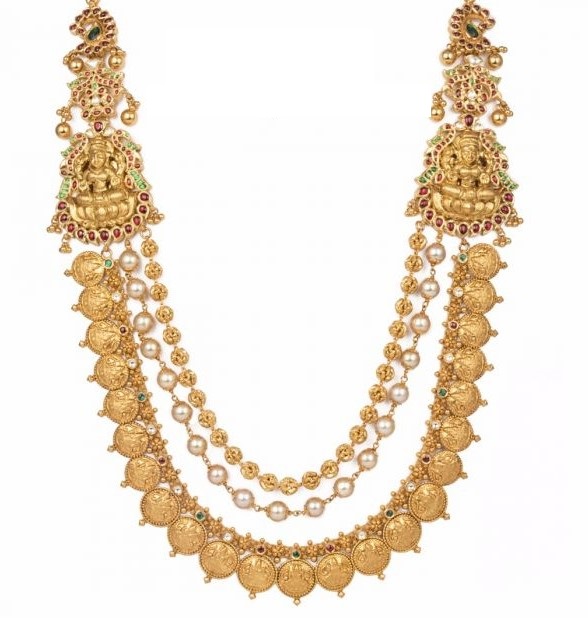 This gorgeous Kasu Mala necklace with the motifs of Lakshmi celebrates the artistry of traditional miniature designs. This stylish neck piece with multilayer chains – nakshi balls chain, pearl chain, coins chain is a unique design and makes it as statement piece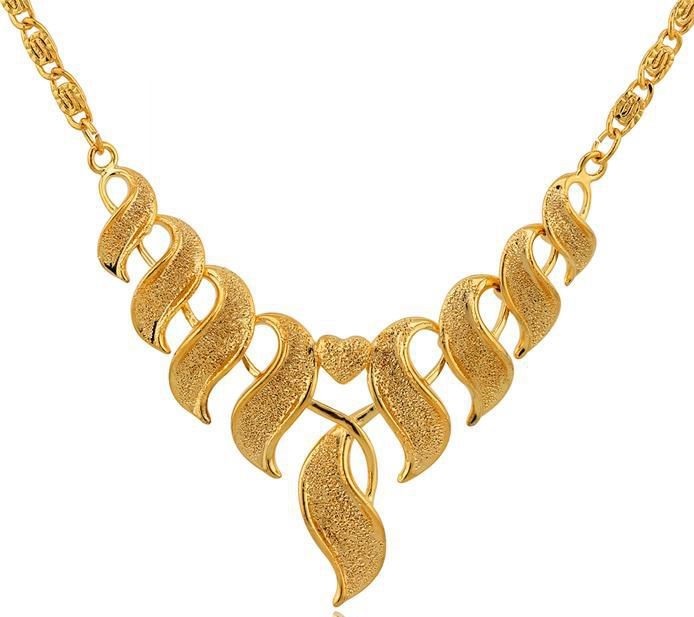 Channel your inner style and sparkle by wearing this unique piece of jewellery that is unparalleled and unique as you! This fashionable necklace in matt gold finish with a little cute heart design is ravishing.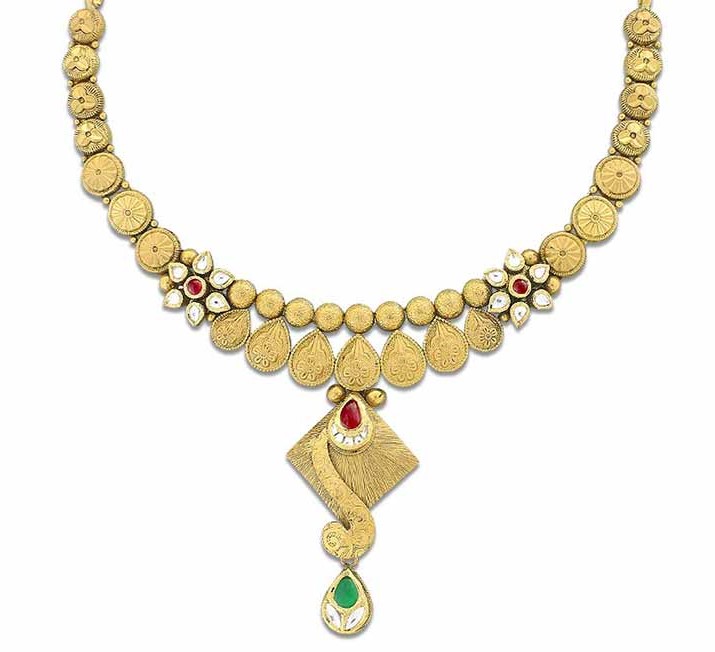 The legacy of India has always served as the backdrop for such designs, taking inspiration from antique jewelry. This necklace with fashionable design and antique touch cascading down your neck is enticing.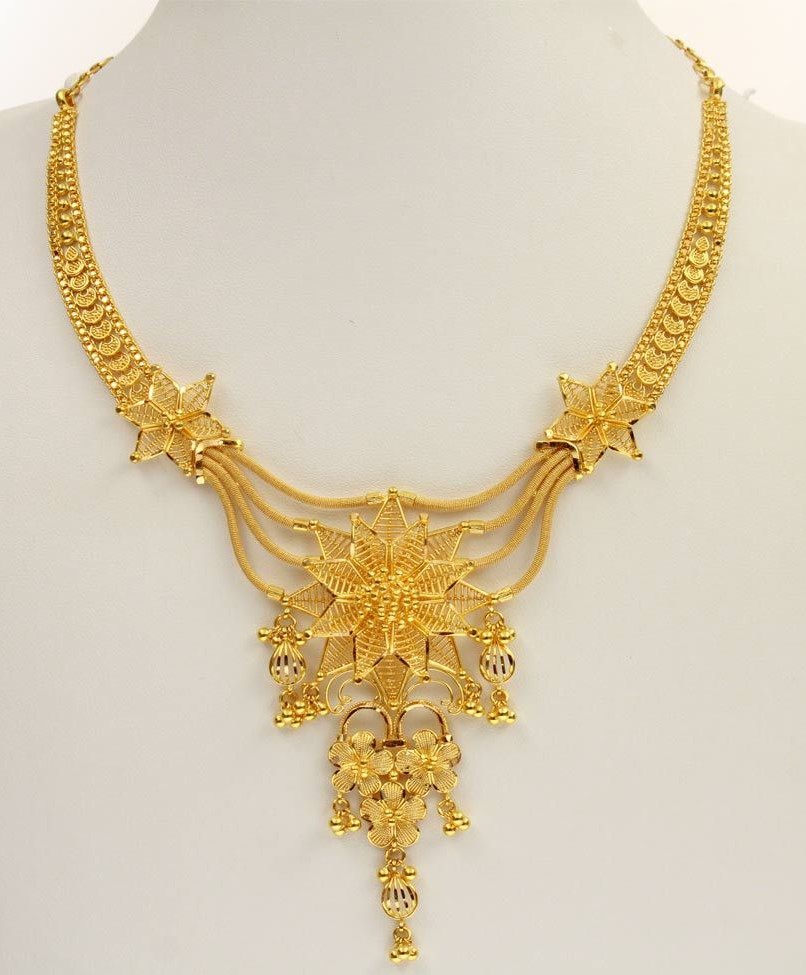 Filigree necklace have been very popular and trendy these days. This unique floral pattern filigree necklace in complete gold is fascinating.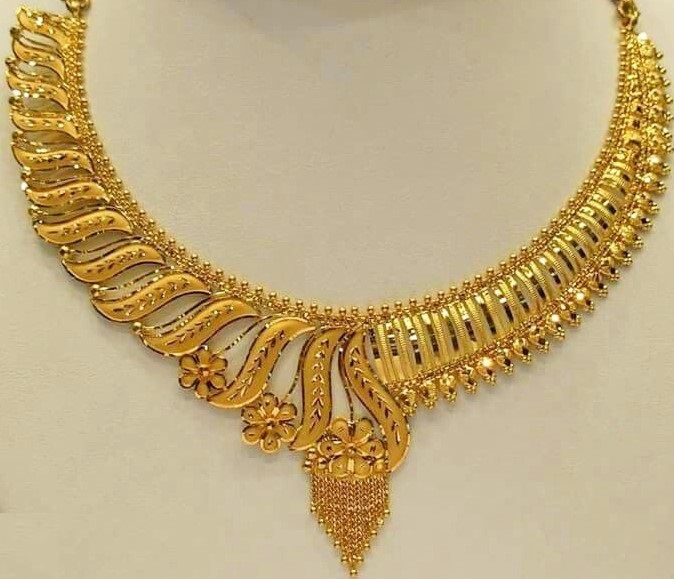 Twofold design short necklace having different design on either side is adorable. This traditional yet trendy necklace looks gorgeous when worn on a traditional outfit!