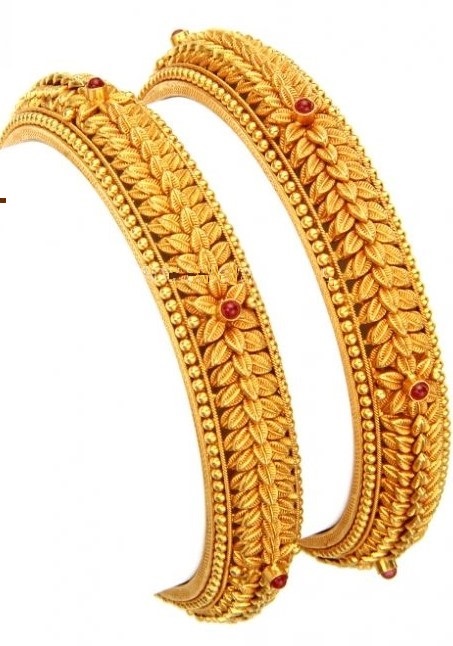 Bangles find their significance from as early as 2600 B.C. from the dwellings of Mohenjo-Daro. Since then bangles have transformed into several patterns, metals, styles, and designs. The changes apart, bangles always stood the test of time and have become a everyday adornment for women globally.
Some call them Churi, some call them Kangan, some call them Kada and down south they call them "Gajulu"- Diverse names yet one beautiful adornment. Some wear bangles for religious significance and few others wear for the sheer elegance and beauty it gets to our arms.
Check out the latest bangle designs that we have congregated here for your ideas: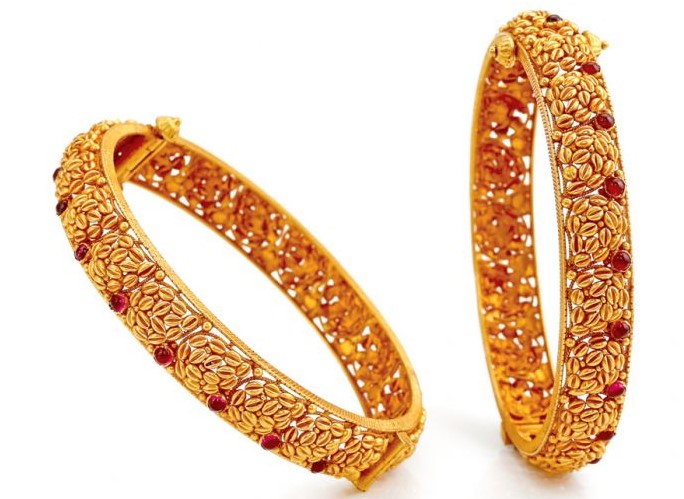 This pair of Clustered Wheat Grain Gold Bangles is ravishing. The shape of wheat grain is so finely carved. Further, bright red rubies is adding gleam to this jewel. Aren't you in love with these bangles?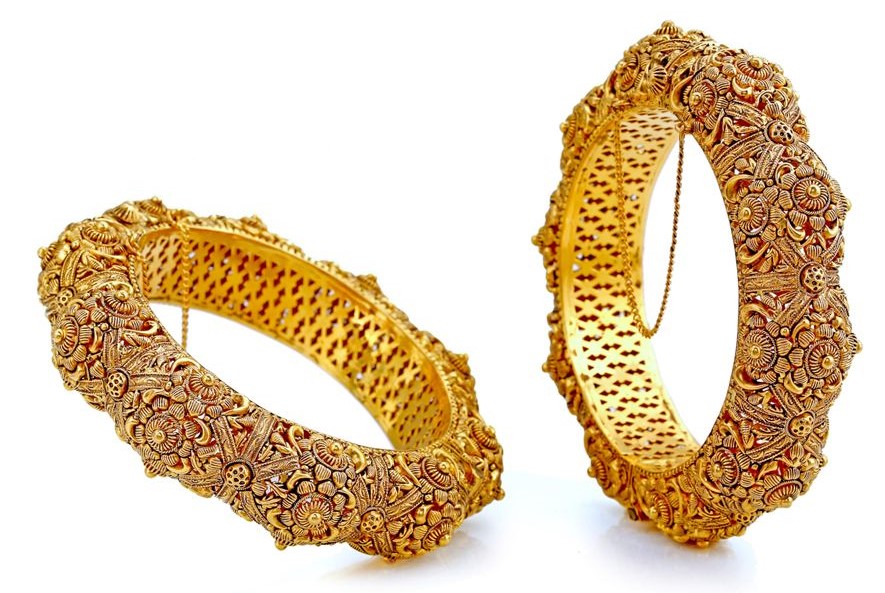 Wow! How majestic, isn't it? If you like to own a royal jewel that might never go out of style, then this pair of bangles would definitely make to the top of your shortlisted designs. These broad bangles with intrinsic floral design is truly a masterpiece.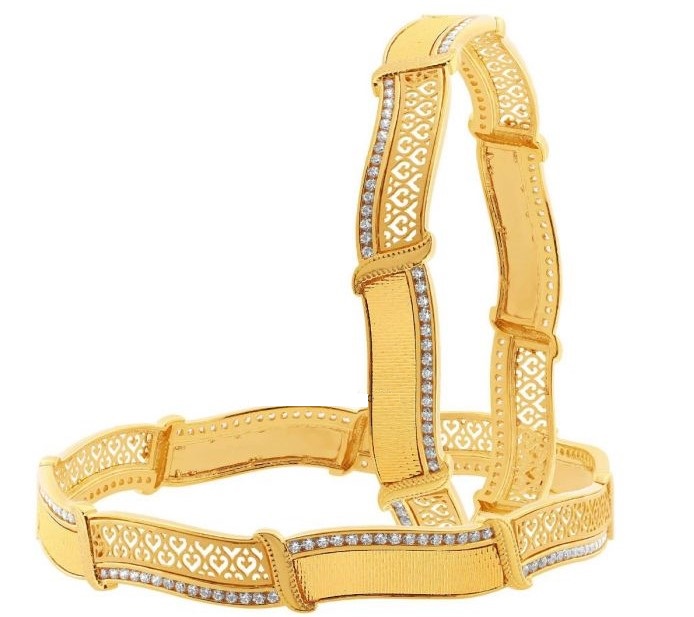 Gone are those days when bangles were a substitute of circular shape. Nowadays many women like different shaped bangles and this is one of the kind. This lovely pair of bangles with fine carvings and diamonds is fascinating.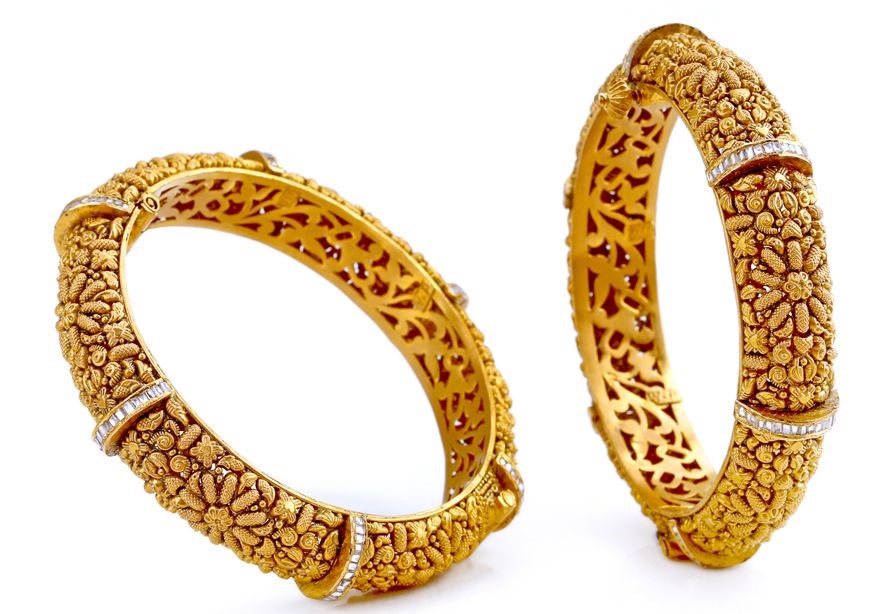 These bangles with elaborated design in antique finish is captivating. Every detail of the design is so well engraved! Rows of diamonds placed in equi-distant further adds enchanting look to the bangles.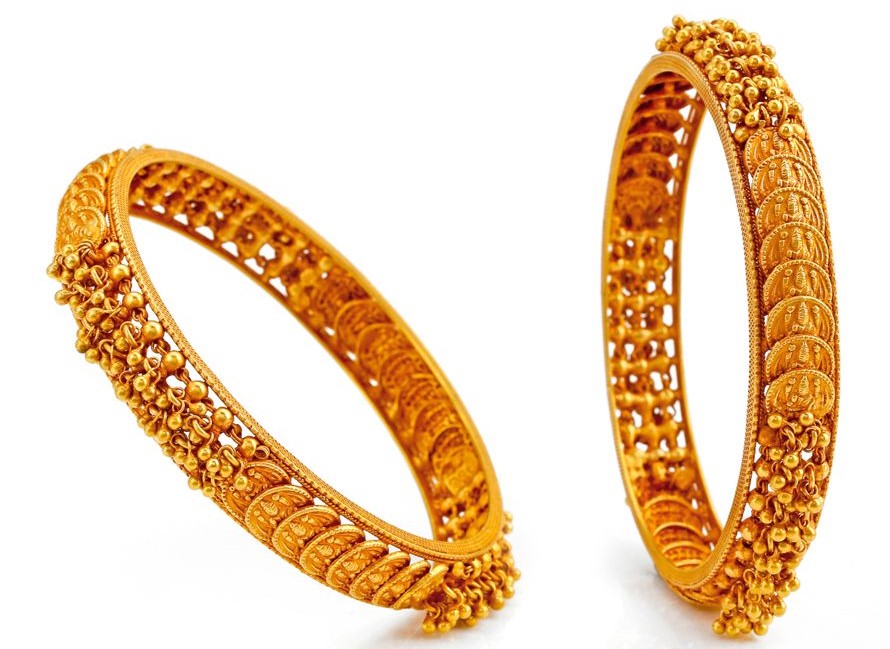 Coin designs are traditional designs and are bountifully used in Indian jewels. Even today this is a beloved design for Indian women especially the South Indians. Now, these designs have reformed to be availed in more stylish patterns. We appreciate this mesmerizing design with gold coins and ghungroos. Don't you?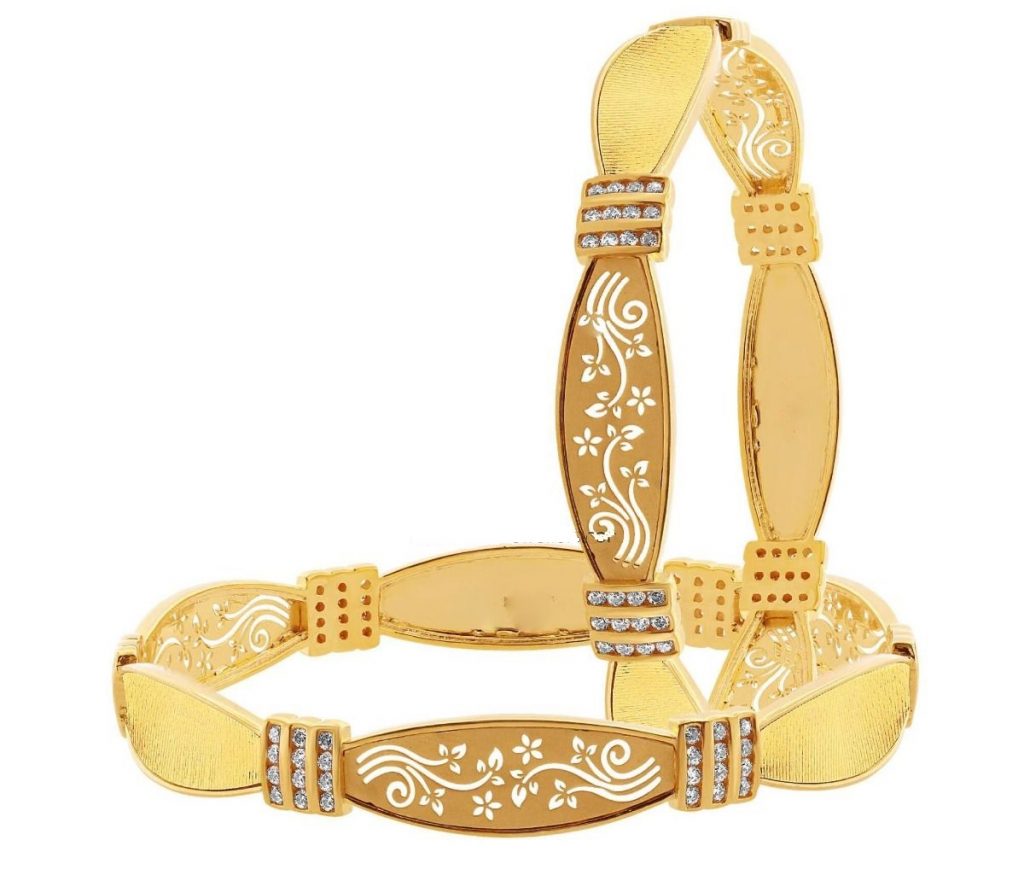 This pair of glamorous gold bangles with artistic carvings is worth all the praise. Further, the two tone gold color adds glamour to the beautiful bangles. And we cannot disregard the rows of white stone that is enhancing the charm of this pretty jewel.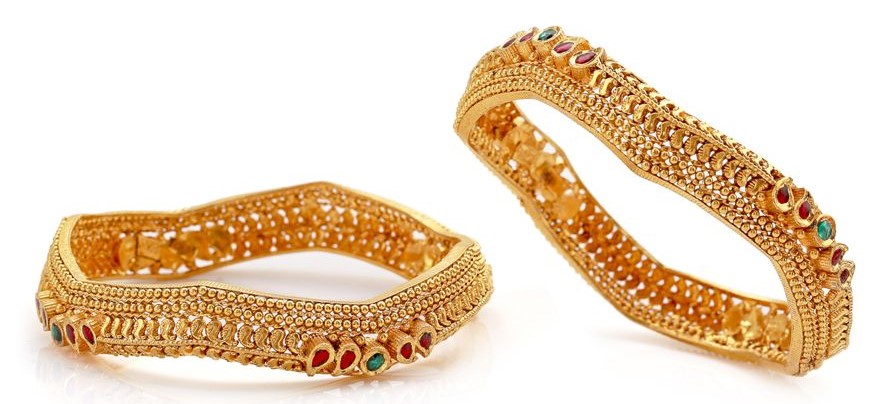 This stylish bangles in star like shape is unique in its pattern. This bangle is nicely filled with golden balls and mango artifacts. Further glam is added by the lovely pear shaped rubies centered by green emeralds. Many women cant stop staring at this one, don't you think so?

Fiigree bangles are as luring as ever. These pair of modish bangles with stunning rubies is a designer piece. Three rows of circular pattern forms a mesh pattern giving tantalizing looks to this lovely ornaments.

Isn't this one a chic design? This dual tone bangle with geometric circular carvings is resplendent. This one i a versatile bangle that looks stylish on a traditional outfit and stunning on a western attire as well.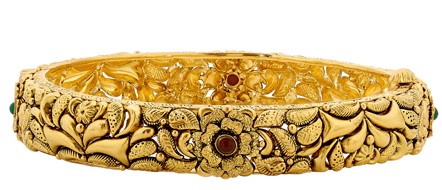 A stunning, antique-finished bangle with excellent craftsmanship. The highlights of this piece is the floral pattern with a bright ruby. Furthermore, this ornament is assented by the skilled leaf carvings surrounding the floret.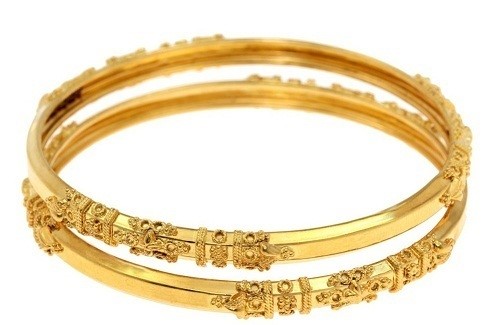 Traditional, yet trendy, bangles in 22k yellow gold, featuring beautiful modish gold designs on it. You can wear these stylish bangles even for a casual occasion.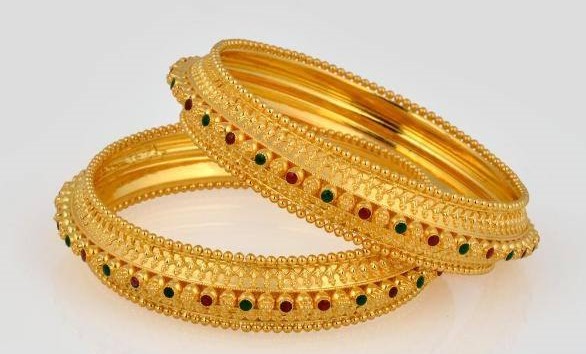 This pair of broad bangles look regal, classy, sophisticated. Also, this could be a bridal choice and gives an iconic princess-warrior look . Doesn't this set a statement?