Jewelry are decorative items that are used to adorn body. Jewelry is most commonly worn by women, there are very few jewelry choices for men as well. The most common jewelry that are worn on regular basis are earrings, rings, necklaces and anklets. Further there are special bridal jewelry pieces like maang tikkas, Sheeshpatti, hair jewellery, ear chains, armlet or vanki, waist belt or vaddanams, kalires, toe rings and Mangalsutras that are worn only for the occasion. While these jewelry pieces are quiet known by now, there are few more bridal jewelry pieces that are not so common in India yet. These jewelry pieces are most common in Western countries than India, since they suit best on western gown than traditional India saree, which is the most common choice in Indian weddings.
Shoulder chain necklace, is one such unique bridal jewelry piece that is most common in Western countries. There are back jewelry as well similar to shoulder chain necklace.
What is Shoulder Jewellery?
Shoulder Jewellery, as the name says is a jewellery that adorns the shoulder of a woman. This jewelry can be like a choker that is worn like a necklace and then extends down and falls on the shoulder and even the upper arms. They look like a huge neckpiece and requires no further jewelery for adornment, hence a very good choice for a bride.
Shoulder jewellery is also known as cape jewellery since they look like a cape shrug. Deepika Padukone adorned this beautiful cape jewellery at the recent Cannes Film Festival 2023. Deepika worn a huge cape jewellery made of variable sized pearls and made heads turn at the prestigious red carpet event.
Shoulder Necklace Designs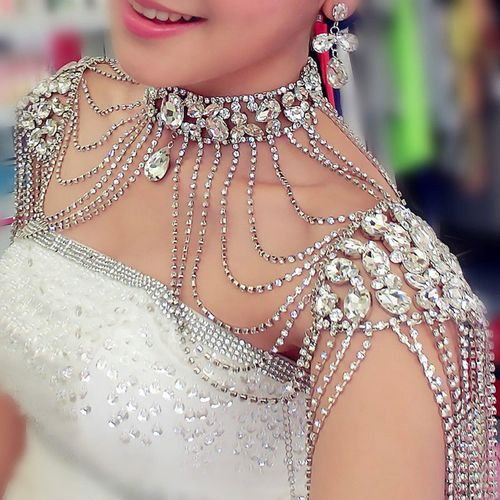 You may buy similar jewellery here