Sirsi, a taluk of Uttara Kannada district is famous for Marikamba temple which attracts many tourists from all over the state. The goddess is a fierce form of Goddess Durga having multiple arms(eight arms) carrying sword and other weapons that signifies the destruction of the evil . Then there is the famous "Sirsi Marikamba Jatre" which is the most popular and largest fare of Uttara Karnataka. The fare is conducted every alternate year and lasts for more than a week starting from the chariot pulling to dismantling of the idol of Goddess, and then bringing back the Goddess to temple on the day of Ugadi after a few days of exile.
Marikamba Devi adorns lot of jewellery during this jatre and otherwise also and we bring you a sneak peek of the jewellery of the Goddess.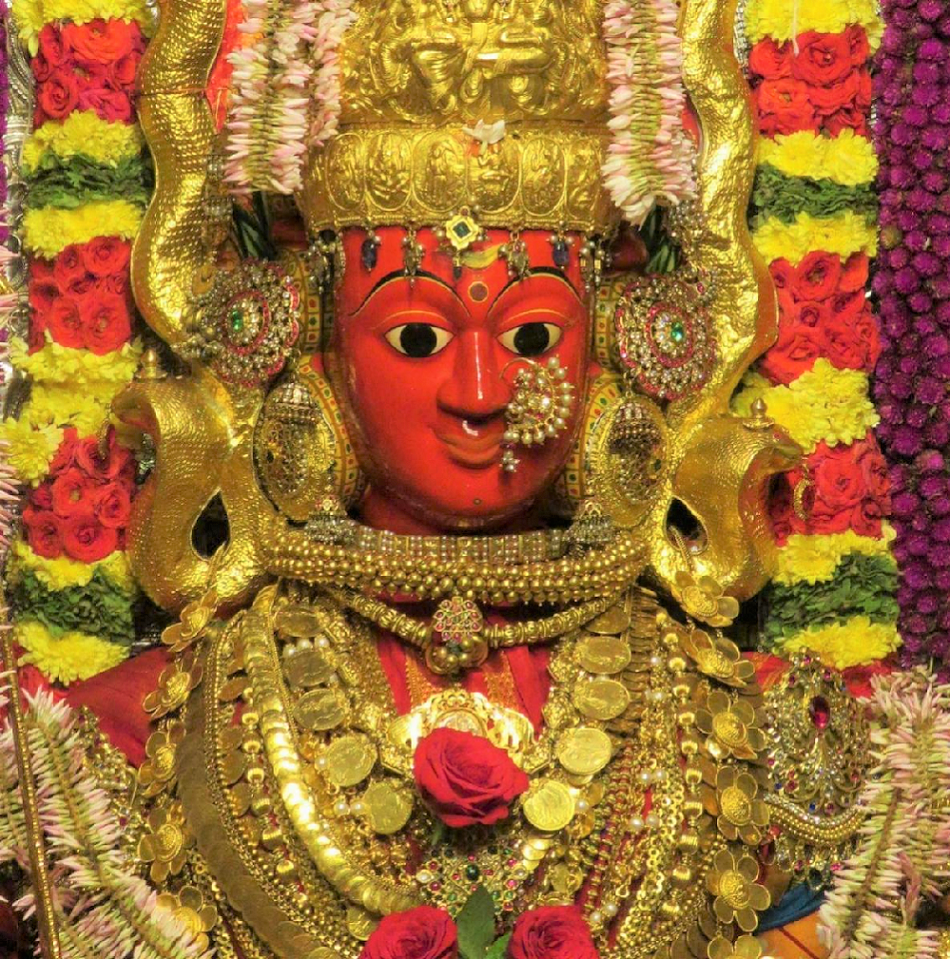 The red faced Goddess is seen in lot of gold jewellery. There is the prominent nose pin of the Goddess which is studded with stones and pearls. The gold necklaces adorned by the Goddess can be seen in various layers. The necklace layer starts with pearl studded gold choker necklace inspired by Kerala Poothali Mala, followed by huge size Maharashtrian Thushi necklace, hollow necklace, Kolhapuri Lakshmi putali haar, Kemp Jewellery, gold beads temple jewellery, pearl necklace, red and green pearl necklace, long Kasu Mala and long floral necklace.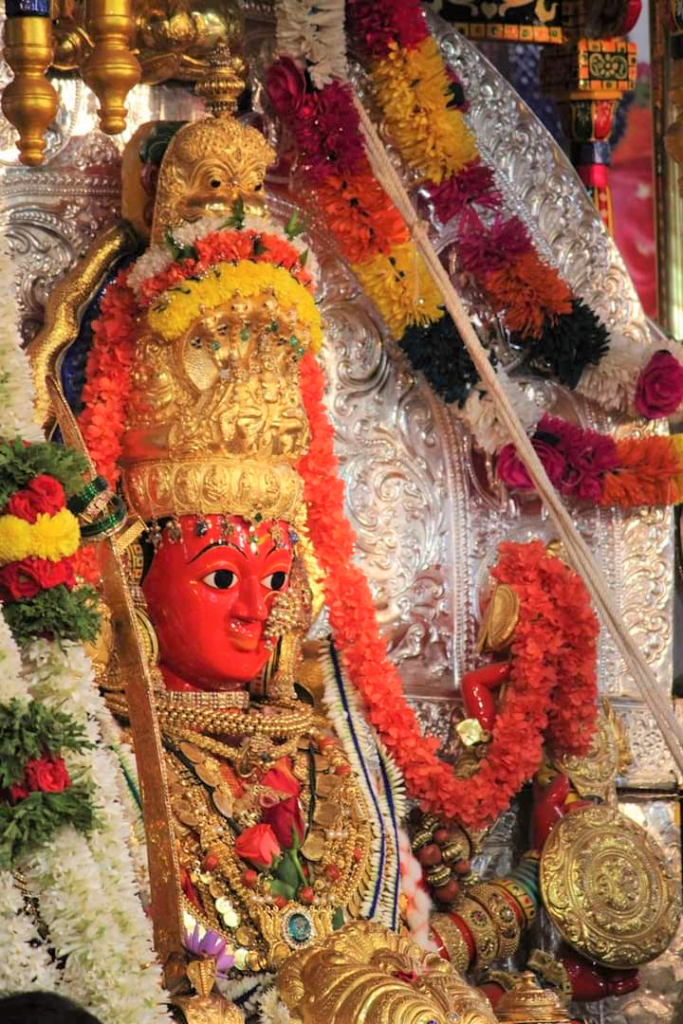 The big green emerald stone pendant surrounded by white stones is a hot favourite and most common jewellery in Sirsi. Most of the women have this jewellery in their collection. The most famous Mangalorean coral beads necklace can also be seen in the image above. The Goddess can also be seen carrying the custom sword in one of her arms.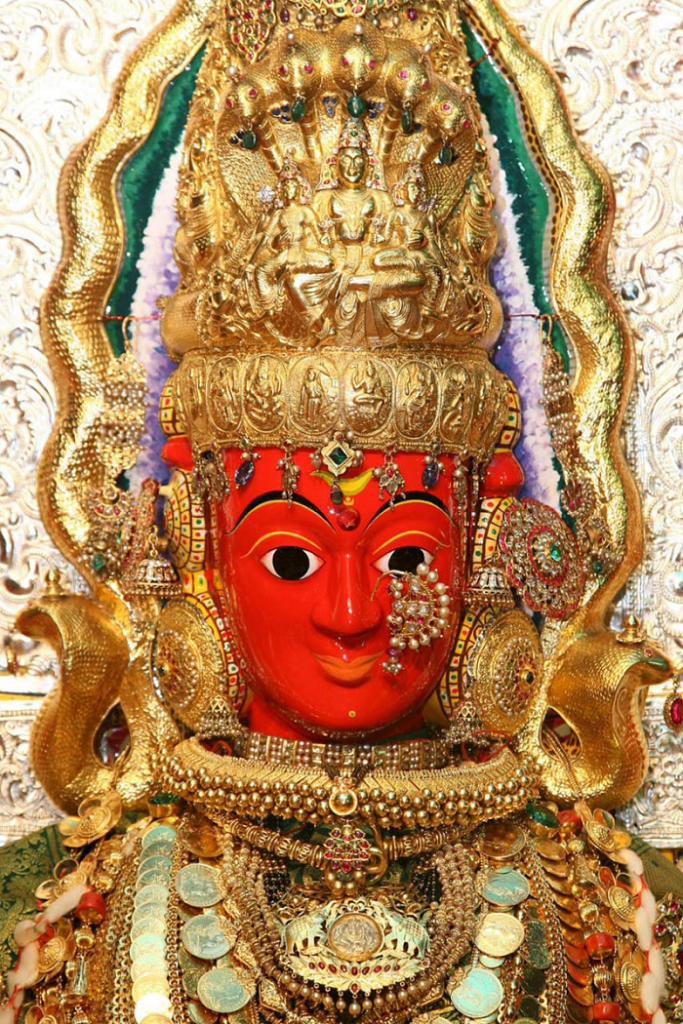 The Goddess' Mnagalsutra and Gaja Lakshmi pendant is clearly visible in the above image.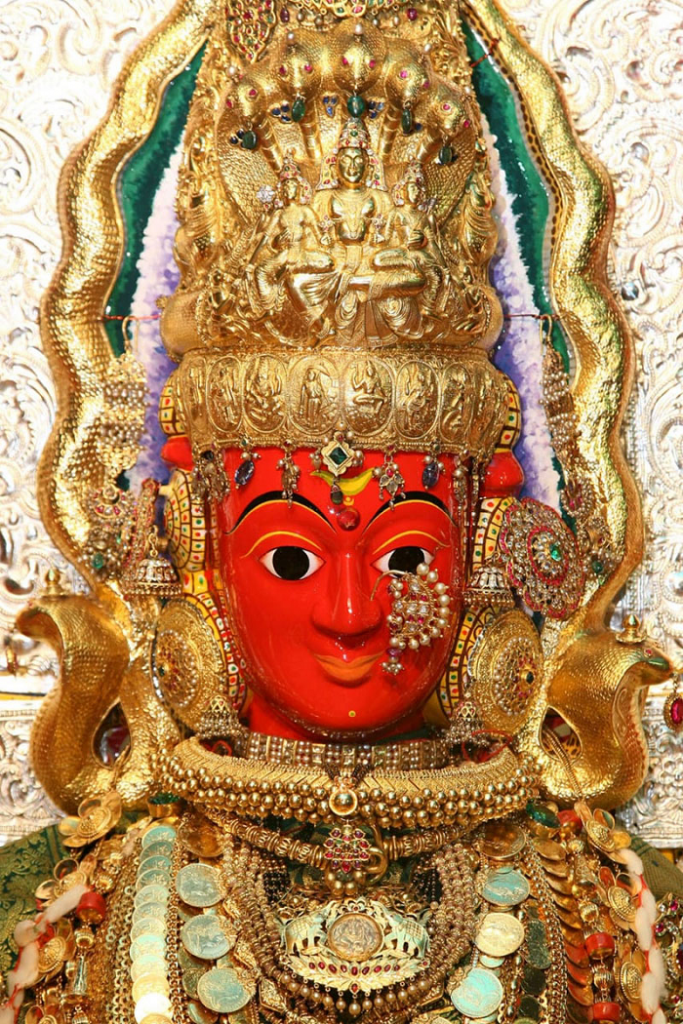 Lastly, the Karna Pathakam which is made of Kemp stones and used for Hindu God statues can be seen. The highlighted jewelries are quite prominent while there can be few more hidden behind or between the layers.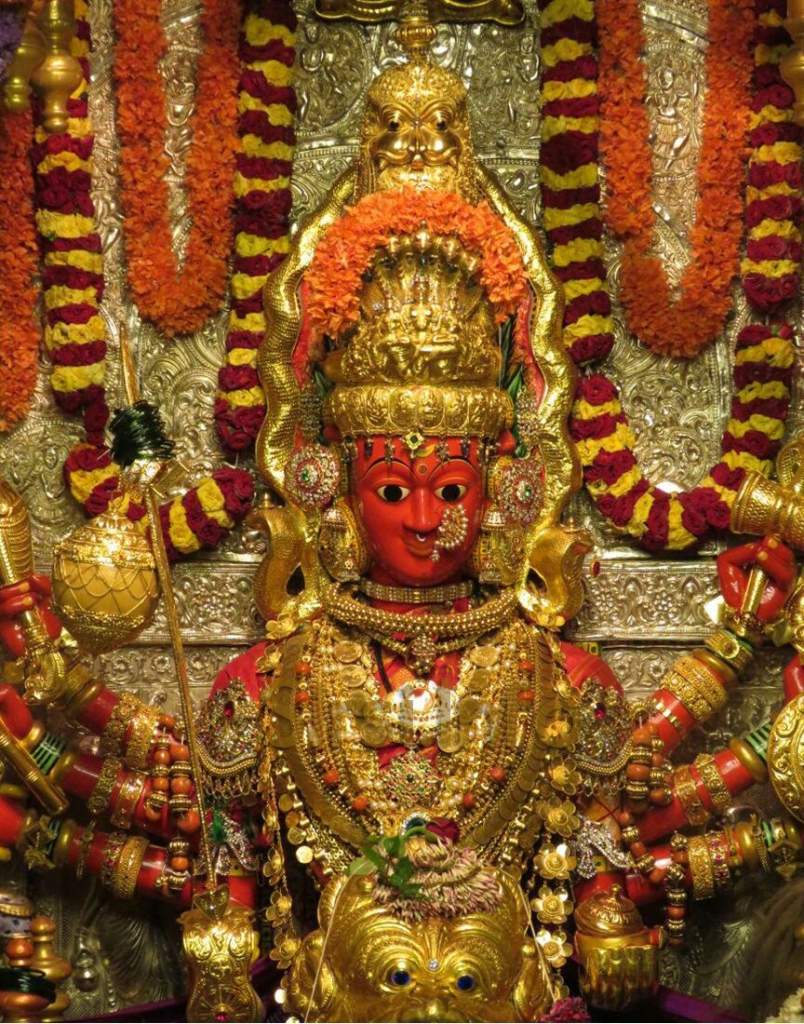 Shree Marikamba Goddess is also seen adorning lot of bangles in all her arms. There are designer bangles, traditional Patli bangles, coral bangles, broad bangles, Maharashtrian Tode bangles and more.
We bring you glimpse of Sirsi Shri Marikamba Jatre here: