Alia Bhat is the most loved bubbly girl of Bollywood. She rose to fame after her movie debut Student of the year, after which the actress has given many box office hits. Though we have seen her simple most of the times, the cute actress is also a jewellery lover. Her unique and extravagant jewellery collection is something to look out for.
Alia Bhat in bridal jewellery
Netizens are so much impressed with Alia's bridal jewellery that, they have recreated the same look as Alia for their own wedding. So what's so special about Alia's bridal jewellery? Lets decode it here. Alia chose uncut diamond statement necklace with matching earrings, jhumkas and maang tikka. Her head band or the Sheeshpatti was something unique and caught everyone's attention.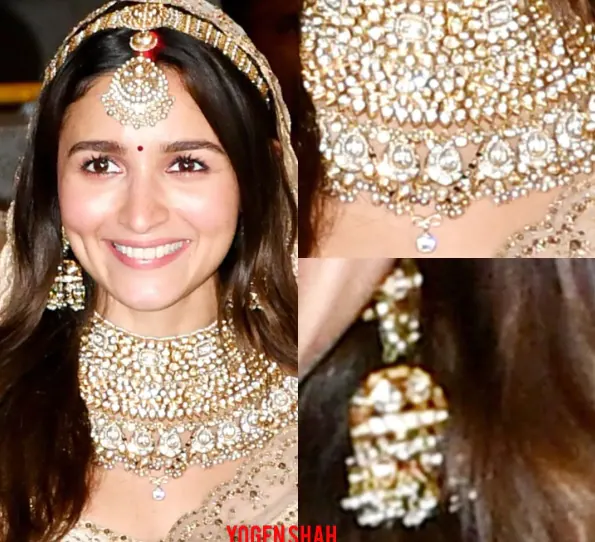 Alia Bhat in traditional jewellery
Alia portrayed the character of a Tamil Brahmin girl in the movie Two States and her traditional South Indian jewellery made her look a beautiful bride.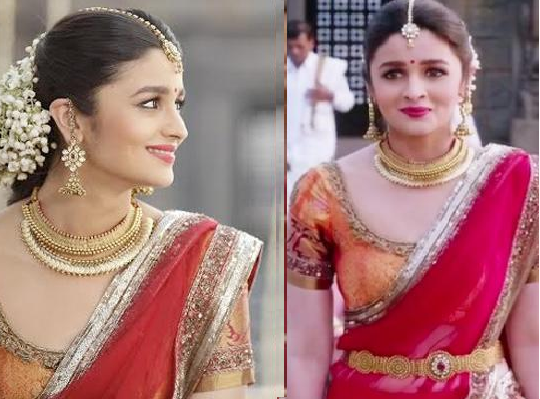 Alia can be seen in short gold necklace, kasu mala and vaddanam or the waist belt that completes her simple bridal look in the movie.
Alia in oversize chandbali earrings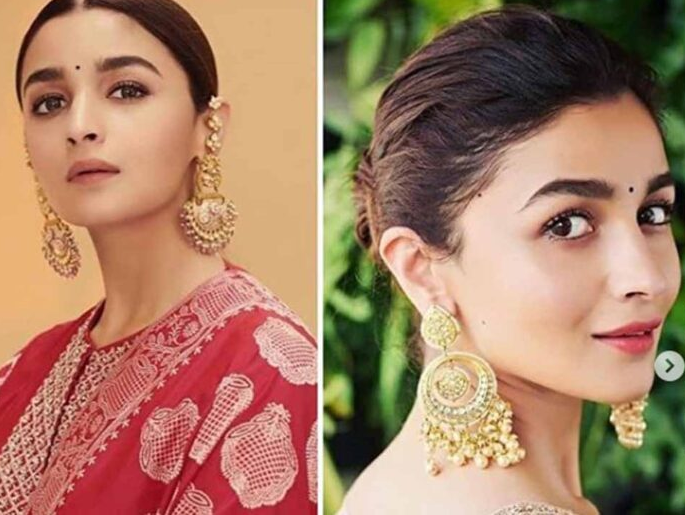 Alia's oversized chandbali earrings are a treat for the eyes. They stand out with traditional attire and needs no extra jewellery with them.
Alia's Stylish Maang tikka
Maang tikkas are an inevitable part of bridal jewellery. This head band maang tikka makes her look like a pretty princess.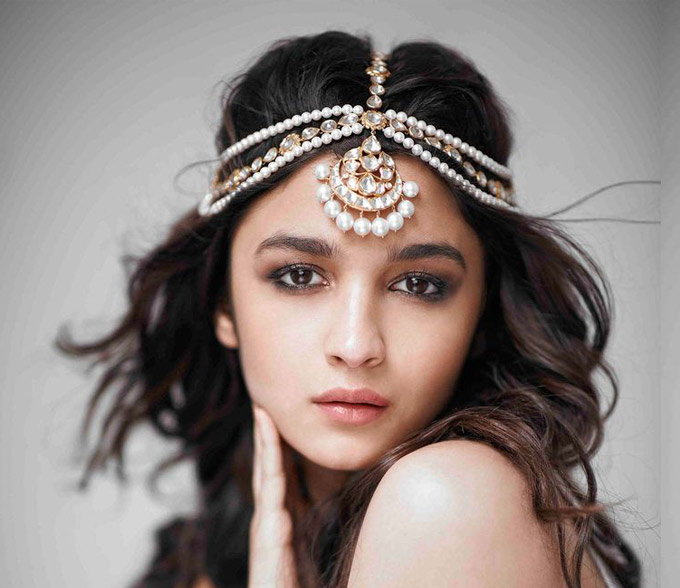 Alia Bhat in Meenakari Jewellery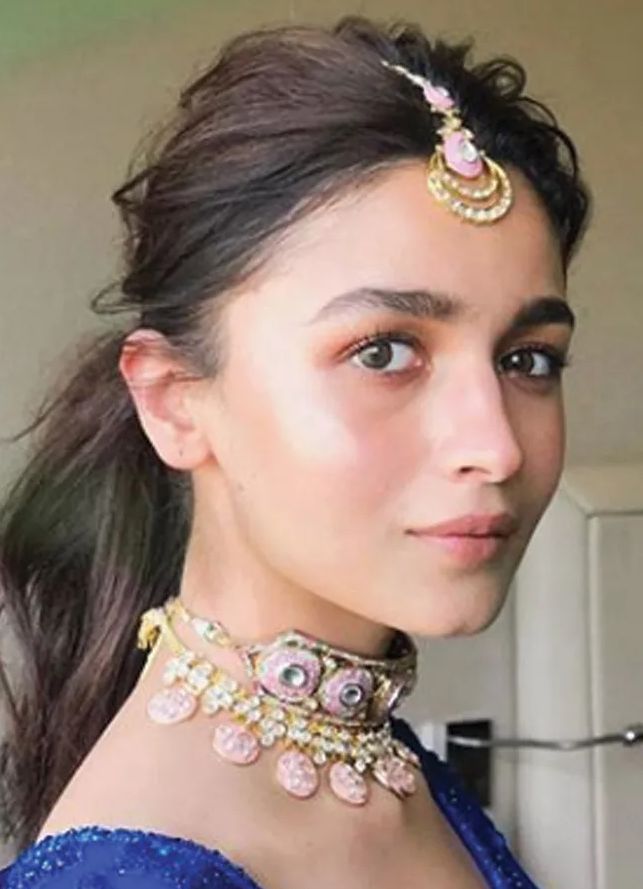 Meenakari jewellery look beautful since they are colorful. Meenakari jewellery exhibits a hint of royalty in every piece.
Alia Bhat in Bridal Kalires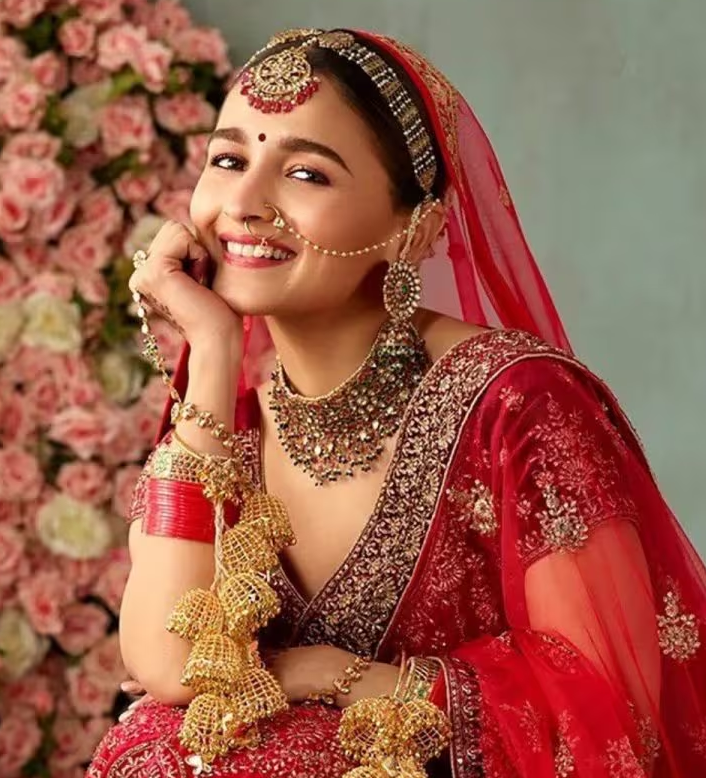 Those beautiful Kalires are prefect for a bride. Look out for more beautiful customized Kalire designs here.
Alia in Rajputi Jewellery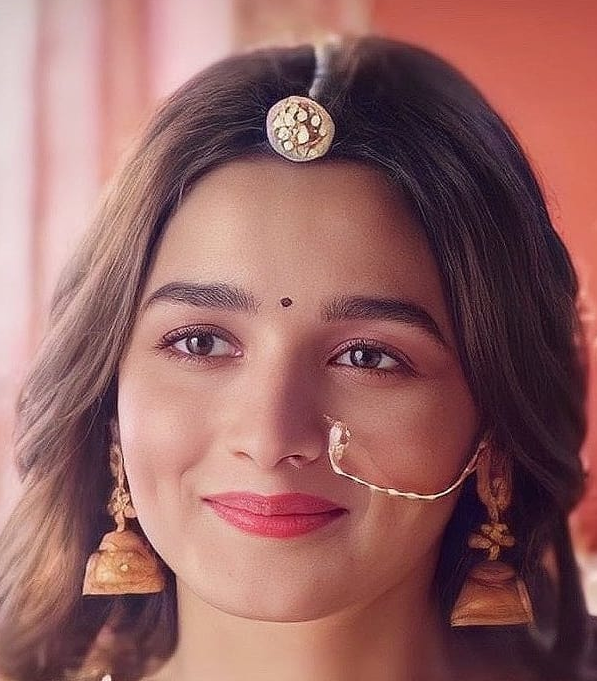 The pride of Rajasthani women, Borla Maang tikka is unique due to its unique circular design. Know more about Rajasthani jewellery here: Rajputi or Rajasthani Jewellery
Alia's Nose Ring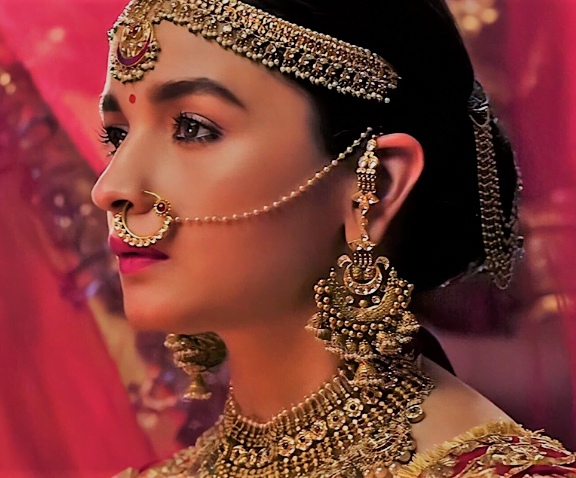 Alia looks ravishingly beautiful with all bridal jewellery in the above pic. Her oversized chandbali jhumka earrings, nose ring with chain and hair bun accessory stands out!
Alia's Bangle Collection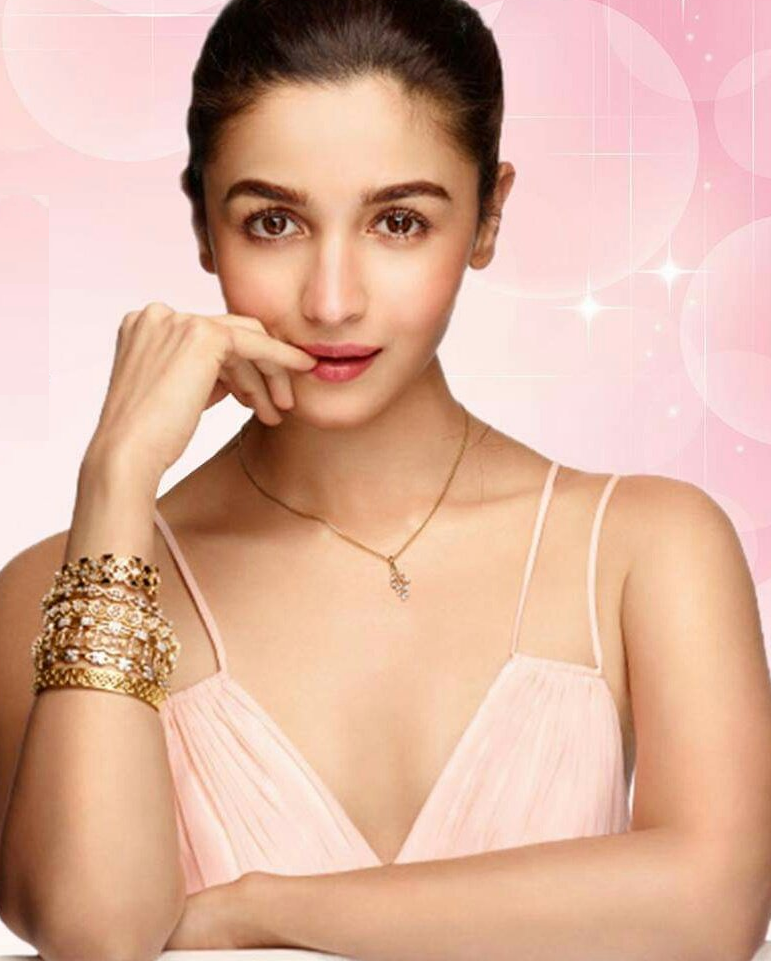 Alia can be seen wearing wristful of gold bangles of different designs. Know more about Different Types of Gold Bangles
Beautiful Finger Ring Collection of Alia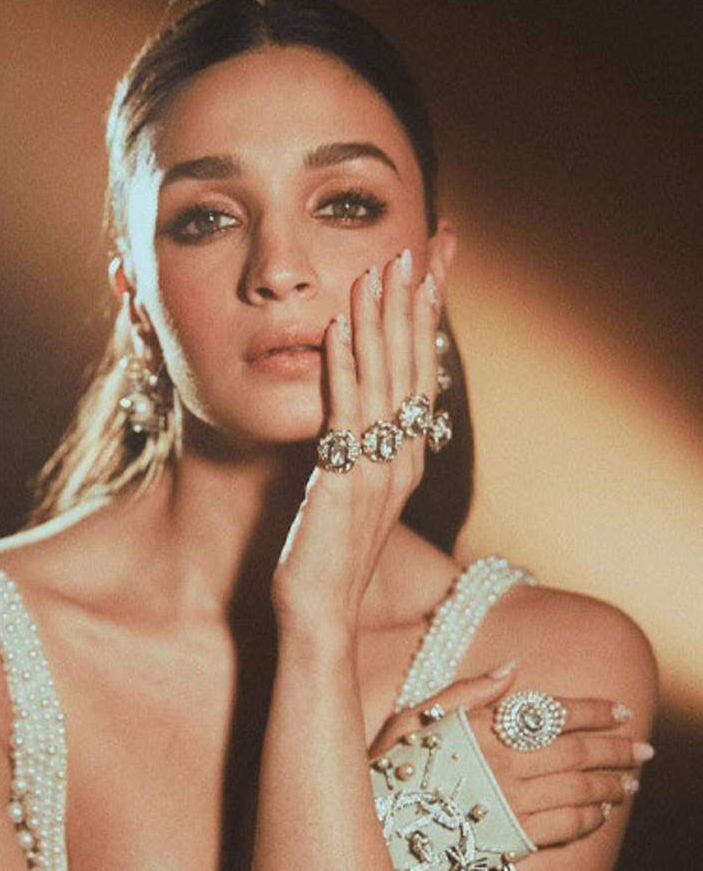 The pretty actress can be seen wearing similar rings in all fingers and an exclusive big cocktail ring.
Jhumkas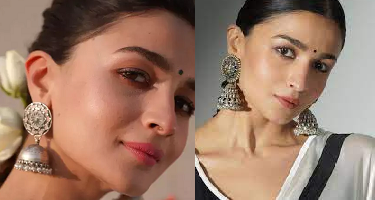 Alia has good collection of jhumkas of all types. In the above pic, Alia can be seen in oxidized silver jhumkas. Check out more oxidized silver jewellery collection here.
You may also read : Alia Bhat Jhumkas Collection
Alia in Diamond Jewellery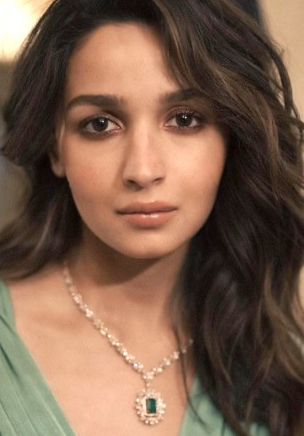 Check out more diamond necklace designs here.
Hoop Earrings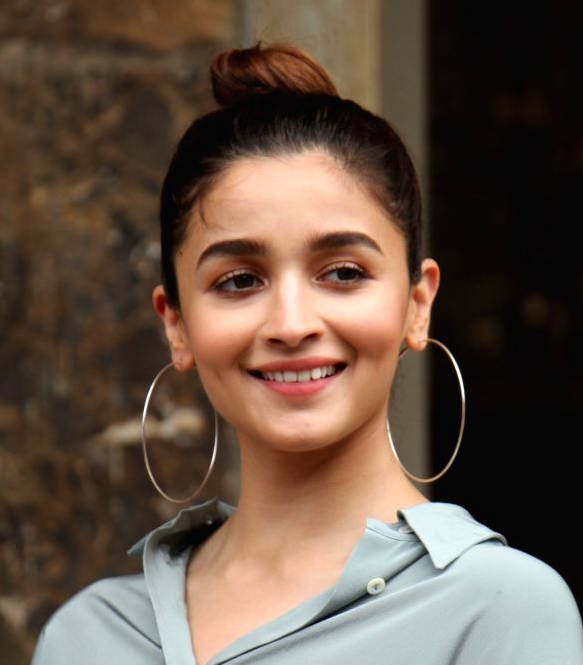 You may like similar hoop earrings in gold.
Big Studs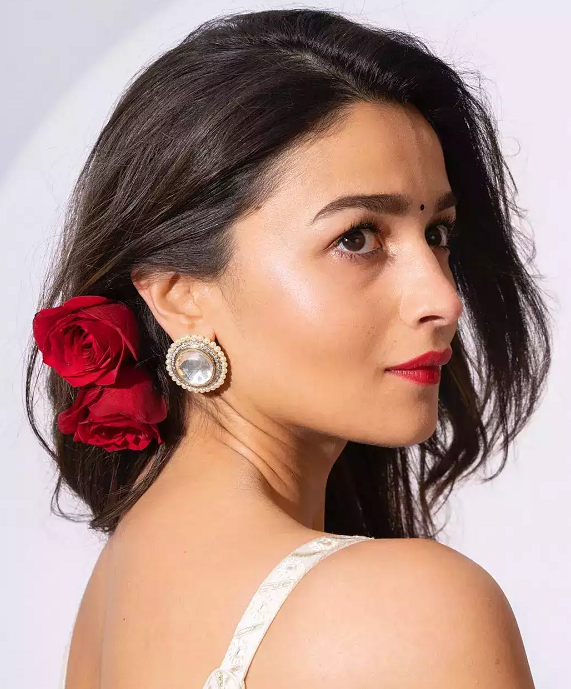 Everyday studs are smaller and easy to wear, while these big studs suits best for occasional wear.
Impressed with Alia Bhat Jewellery? Buy something similar here: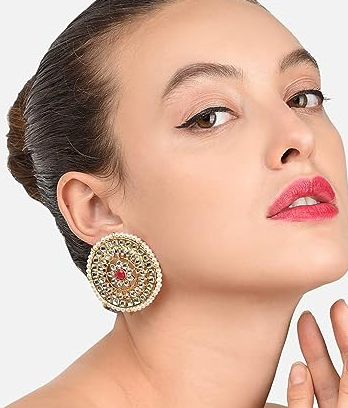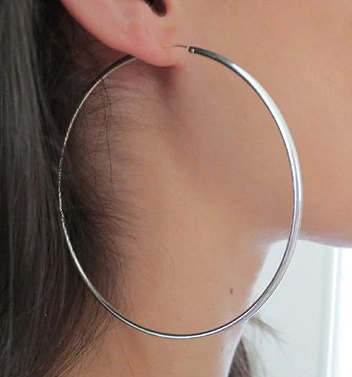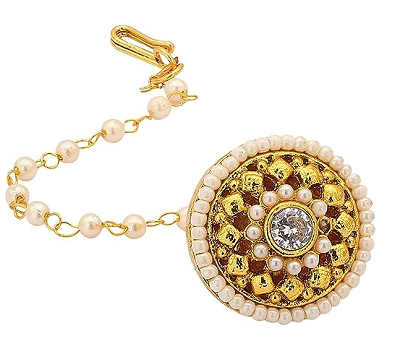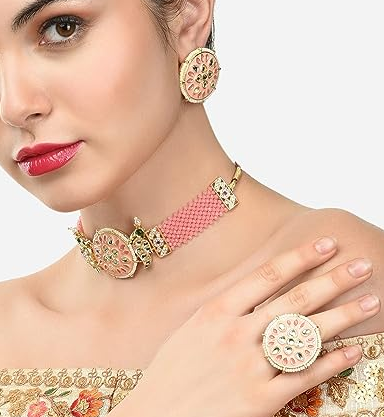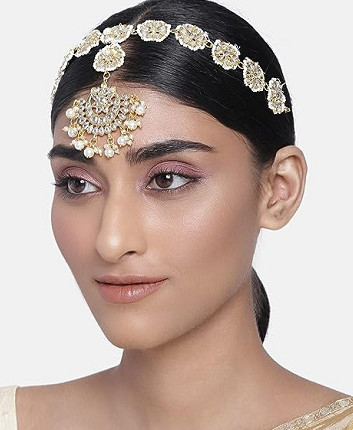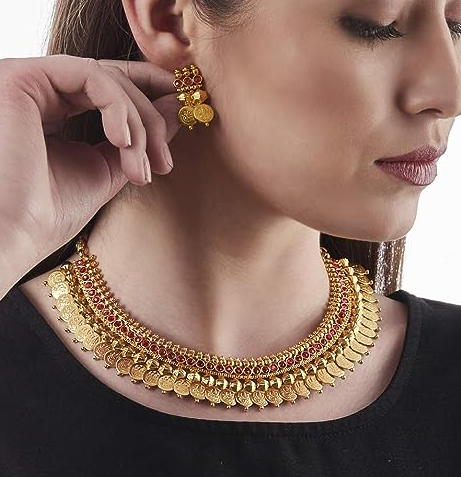 You may also read : Alia Bhat Jhumkas Collection