Bhanurekha Ganesan, well known by stage name Rekha is a well known actress in Hindi film industry. The veteran actress served in the industry for more than four decades. She has enacted many roles, from child actress to the role of a mother. Though Rekha was a versatile actress depicting various characters over the years with different looks, off late the actress is recognized by her typical dressing personality. Rekha can always be seen in silk saree with lot of jewellery matching her outfit in public.
Her obsession for jewellery is evident from the pics below! Check out various types of jewellery adorned by Rekha here.
Diamonds are those precious white jewellery that a woman can't resist. Rekha stuns in dazzling diamond earrings, diamond choker, diamond necklace and diamond bangles.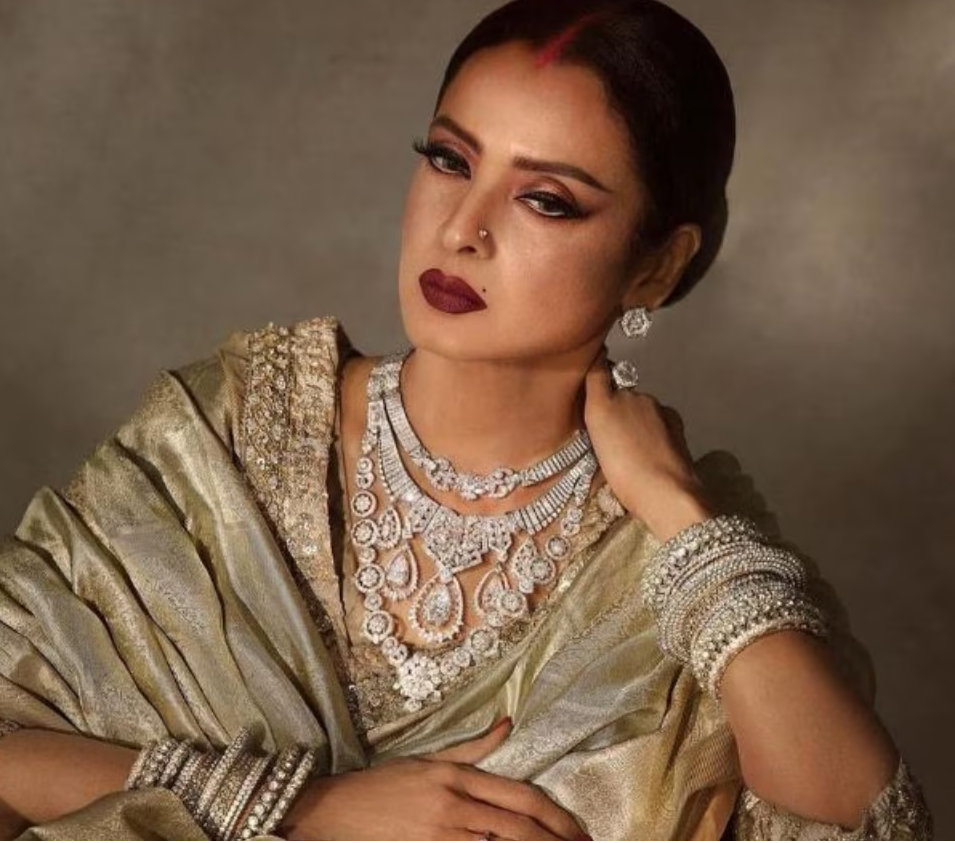 The uncut diamond jewellery, also known as polki jewellery is the latest trend among brides since they make perfect statement necklace.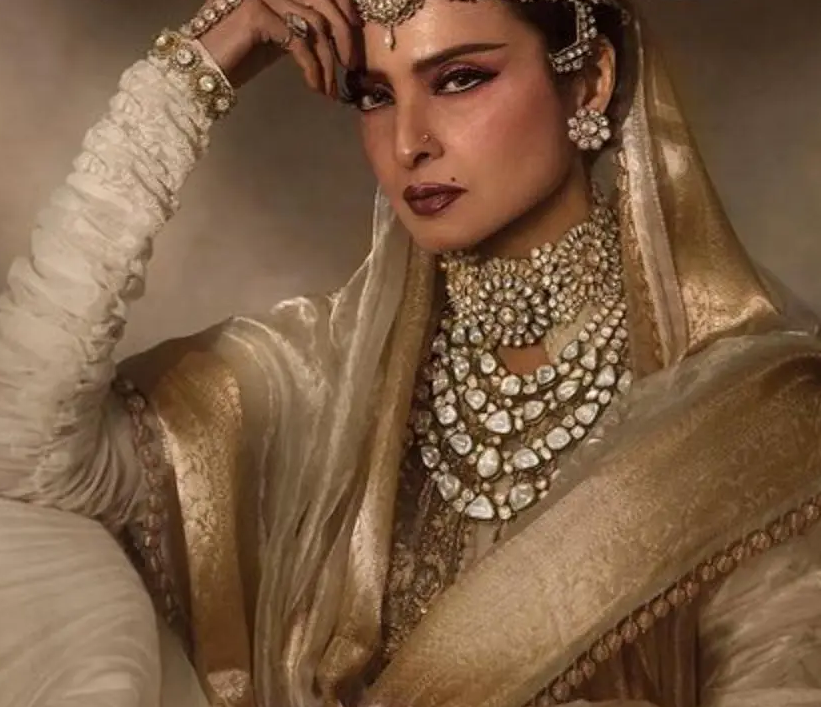 Antiques are back in trend. Rekha stuns in Antique Mango Mala necklace with precious kemp stones. Since Rekha hails from Chennai, this traditional look makes her look like a perfect South Indian.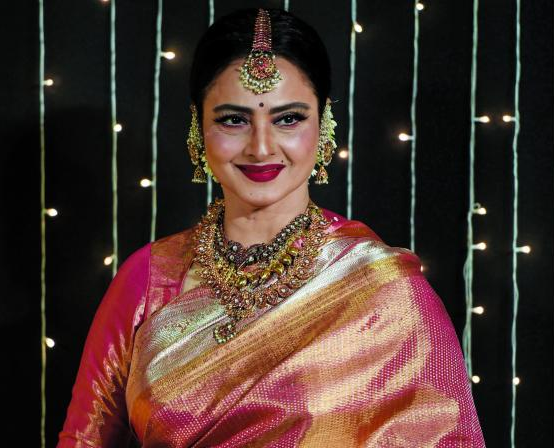 The precious red stone Ruby is a very common yet elegant stone used in jewellery. Rekha's stuns in ruby choker, ruby nose ring, ruby jhumkas and her special head jewellery has caught our attention.
Rajasthani Aad necklace is a very popular Rajputi jewellery, that Rekha can be seen wearing.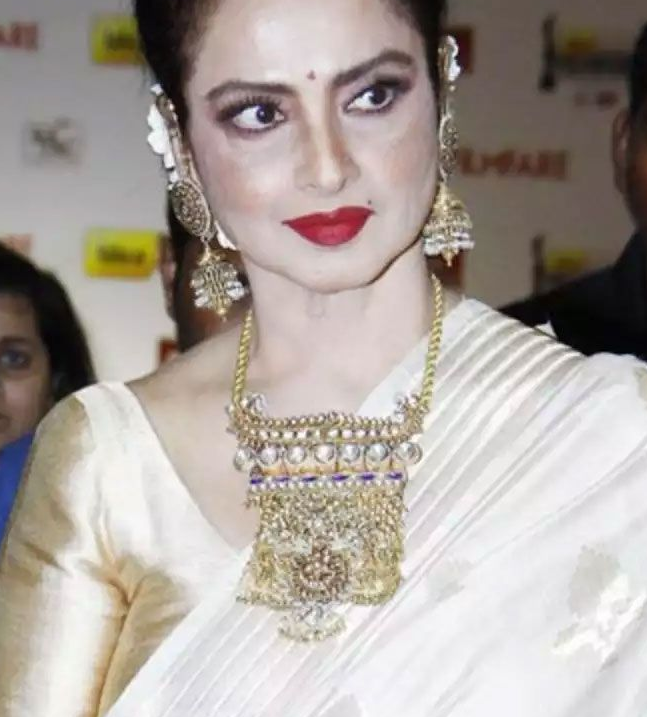 The beauty of Pearl Jewelry is that it creates an astonishingly feminine and sophisticated feel that goes beyond any other type of Jewelry and Rekha's pearl maang tikka, pear jhumkas with ear chains or bridal mattals, pearl guttapusalu necklace proves it!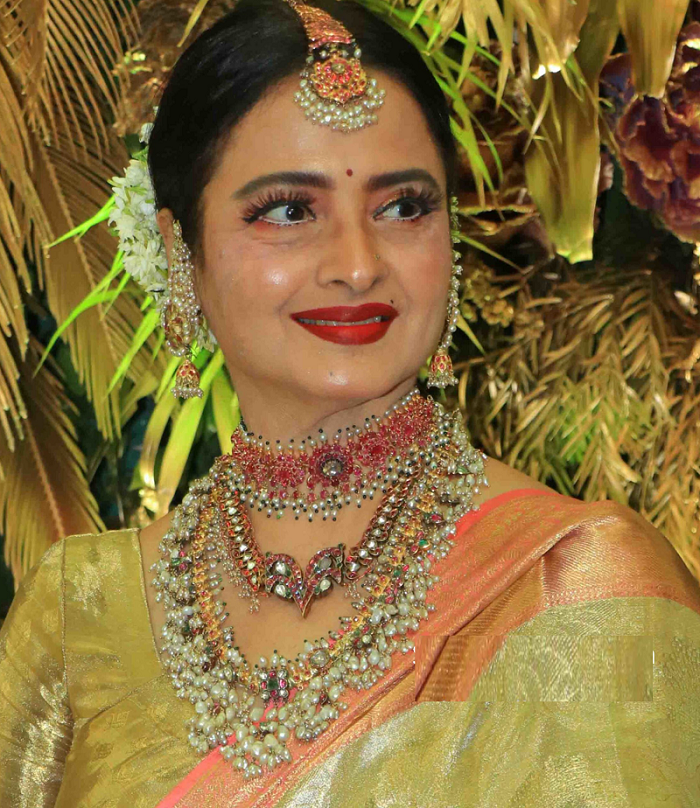 Rekha can be seen in all gold jewellery, but her shoulder jewellery, which is not so common Indian jewellery is something that has caught our attention.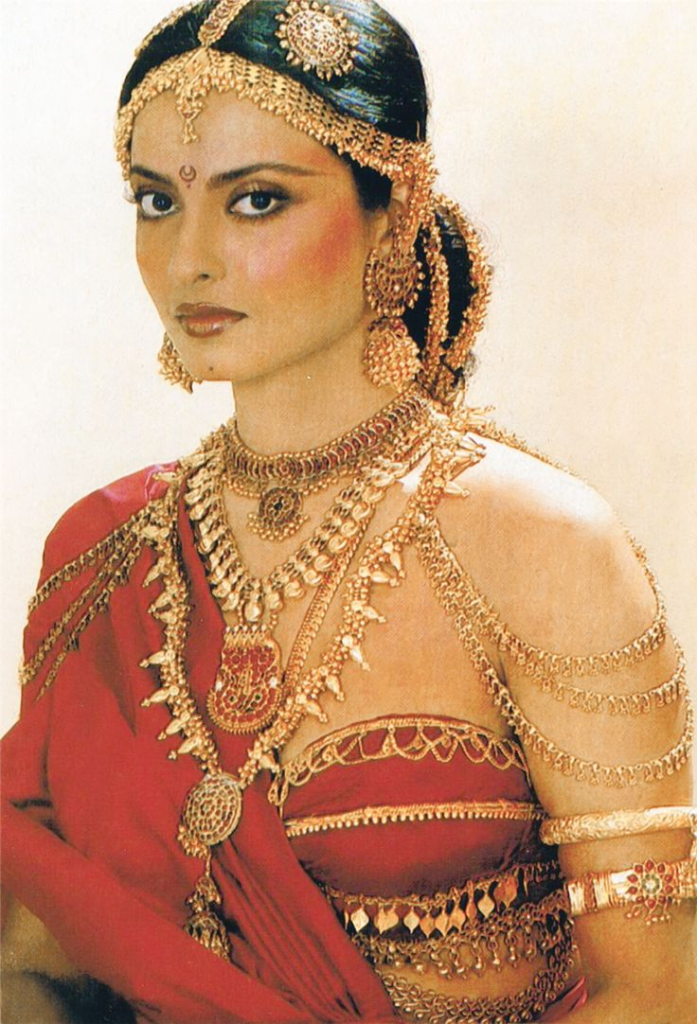 Those heavy hair jewellery of the 80's, are back in trend. These Sheeshpattis are now a bride's favourite.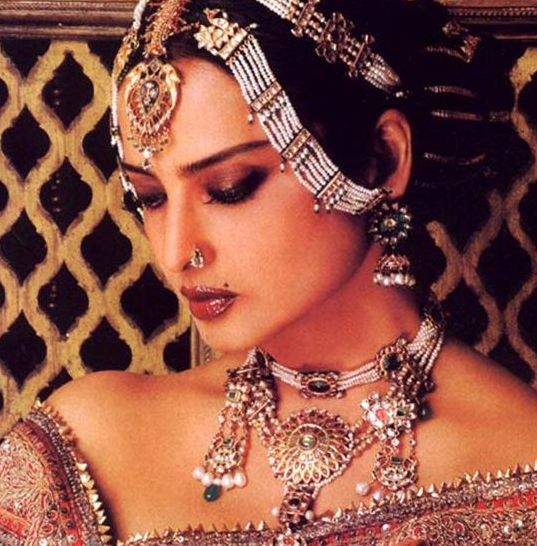 Jhumkas are a very popular ear jewellery that has never lost it charm. They are one such piece of jewellery that might never see an end.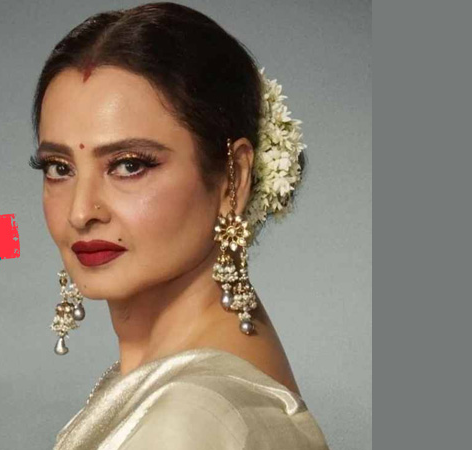 The traditional Lakshmi Jhumkas are a pride of South Indian jewellery. Know more about traditional jewellery here: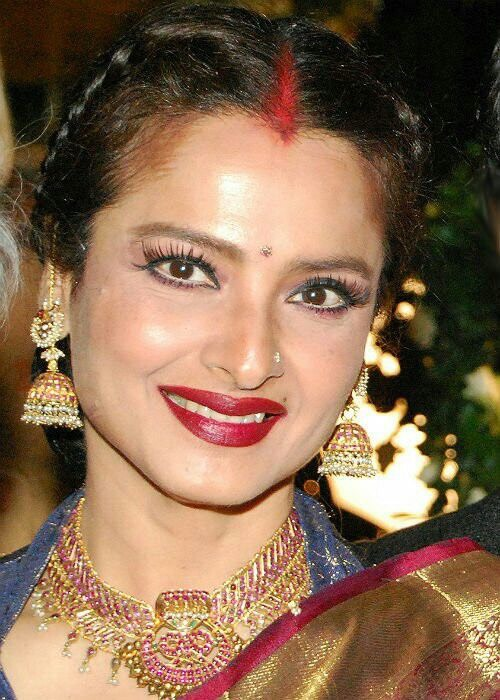 Passa or Jhoomars are an integral part of Islamic jewellery. Even Punjabis adorn them.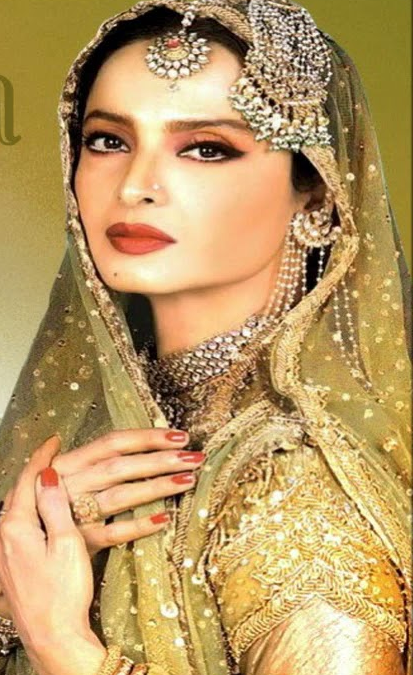 Know about different types of bangles here: Different Types Of Gold Bangles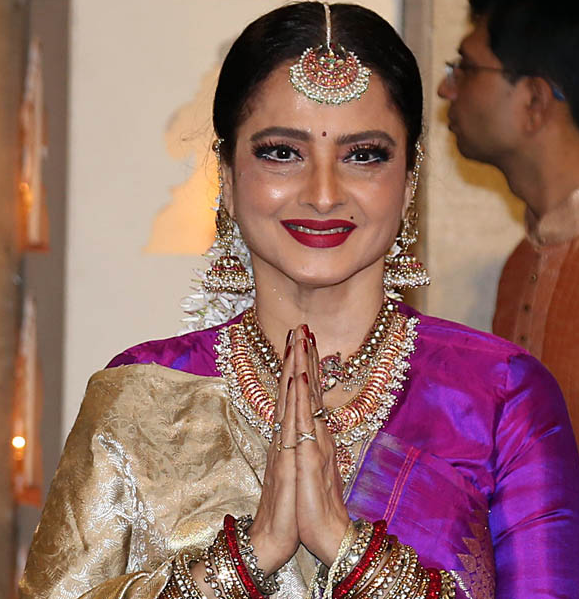 Rekha looks extraordinarily beautiful with heavy chandbali earrings and a statement choker.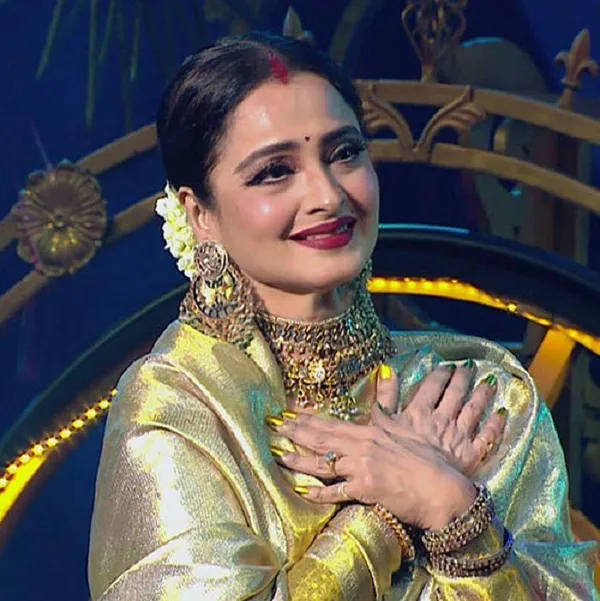 Chokers are special, since they need no other jewellery along with them to make the wearer look gorgeous.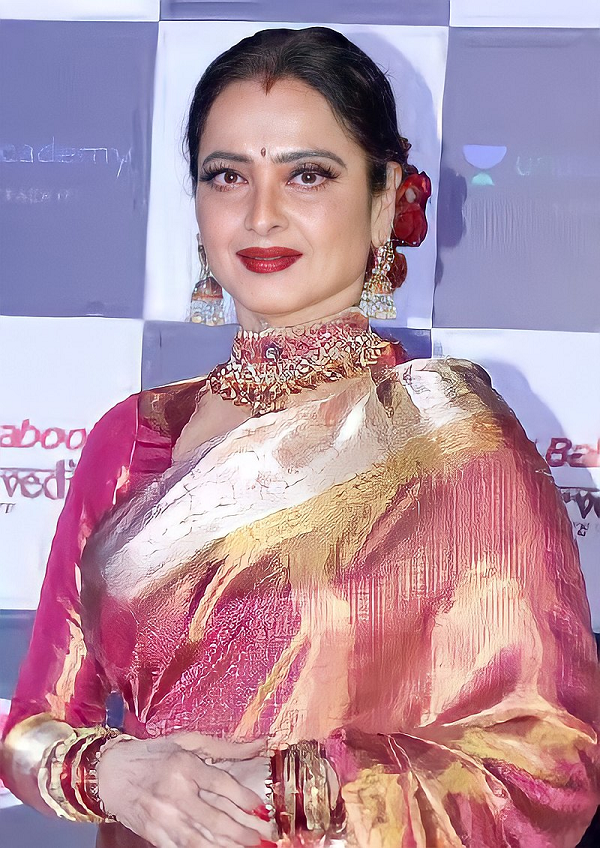 Buy jewellery inspired by Rekha here: